By Seth Eggert, Staff Writer
DUDE Wipes will follow Anthony Alfredo into the NASCAR Cup Series for his 2021 Rookie-of-the-Year campaign.
After sponsoring Alfredo at Talladega Superspeedway in the NASCAR Xfinity Series in 2020, DUDE Wipes will expand their sponsorship to six Cup Series races. DUDE Wipes will make their first appearance on the No. 38 Ford Mustang at Homestead-Miami Speedway.
The company will then be onboard Alfredo's Ford at Bristol Motor Speedway's dirt race, Kansas Speedway, New Hampshire Motor Speedway, the night race at Bristol, and Martinsville Speedway.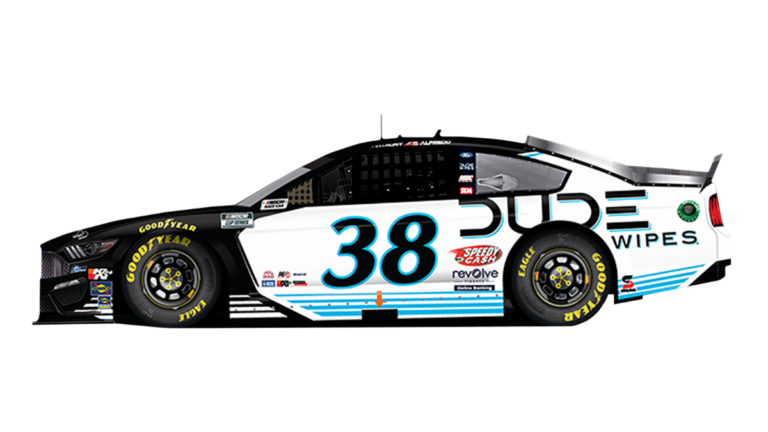 "DUDE Wipes can guarantee that Anthony will be the 'swaggiest' and most fresh on the circuit this year," said Ryan Meegan, Co-Founder, DUDE Products. "We're big fans of Anthony since meeting him last year. He's a great guy, driver and we are proud to have his back during his rookie year."
The race at Talladega was not the only event that DUDE Wipes sponsored Alfredo in 2020. While he finished sixth on track, the duo partnered for three eNASCAR Saturday Night Thunder events on iRacing. In the three eNASCAR events DUDE Wipes was onboard, Alfredo had a best finish of sixth.
"It's going to be a fun ride this year with DUDE Wipes and our team," said Alfredo. "DUDE Wipes was quick to step up when I came to Front Row Motorsports and into the NASCAR Cup Series. I really want to thank them for that. They are a young and aggressive company that fits well into what we're building on this season. I can't wait to get started next week."
The partnership with Front Row Motorsports and Alfredo is not the first foray into Cup for DUDE Wipes. DUDE Nation sponsored Go Fas Racing in three races, two with Matt DiBenedetto in 2018, and one with Corey LaJoie in 2019. DiBenedetto score the company its' best finish as a sponsor, 27th, at Pocono Raceway in 2018.
Alfredo has 32 combined starts between the NASCAR Xfinity Series and Camping World Truck Series. In the Xfinity Series, he has two top-five and nine top-10 finishes. In Trucks, Alfredo has two top-10s.
The 21-year-old will make his Cup Series debut in the Daytona 500 at Daytona International Speedway on Feb 14.
Feature Photo Credit: NKP / NKP Photo