By Briar Starr, Staff Writer
Ask anyone in motorsports for a name and you'll likely hear, Jeremy McGrath. He's the seven-time 250 Supercross champion who became the "King of Supercross" through his reign of terror in the mid-90s, winning many races and championships across the board.
The 50-year-old certainly changed the way of the Supercross world by bringing the sport to its popularity. In this feature interview, motorsport fans will learn of McGrath's upbringing from racing in the 125 class to transitioning to the 250 class along with learning the ropes of the sport. In addition, McGrath takes a look back and reflects on his rookie year(s), which took place from 1992 to 1993.
McGrath first partook in Supercross in the 1992 season, making six career starts on a part-time basis before eventually switching over to full-time in 1993. At the young age of 22, he discusses what the transition was like transitioning over from the 125cc to the 250s and how it was a dream come true for him to race against heroes.
"It's really every kid's dream," McGrath said, about making his 250 Supercross debut. "For me, the transition was realizing the dream. In 1992, I raced on my 250 a little bit in the East coast class and I had some great success. I led some laps and great holeshots and did a lot of things that most guys couldn't do. Honda had this track called Simi Valley and it was in Honda land and I used to ride there a lot."
"For me, it was a sign of hope because I was fast at that track on the 125s. When I raced some races in '92, it was like 'alright cool, I can race with these guys.' I led a bunch of laps and I think I had the speed to win those races, but I just wasn't confident enough. I think the transition was tougher mentally than say physically."
In the early years of McGrath's career, he had raced with multiple manufacturers such as Honda and Kawasaki. It's a rare instance nowadays as most riders stick with one manufacturer. However, back in the early days, McGrath said he was taking what was given him and didn't have a team ride yet.
"Up until that point, I hadn't succeeded in the amateur level," he said. "There were a lot of guys that were faster than me and getting a lot more support than me. So, I rode Yamaha for my early years, but then I wasn't getting much support there (Yamaha). There was a shop by my high school called "Raceway Honda" and there was a friend of ours there who ran the shop."
He told us 'why don't you come over and race Honda's and we'll get you hooked up.' I worked at the shop when I was going to school. It was one of those things that made sense from a family friend's perspective."
As McGrath entered the '93 season full-time as a competitor, he would win quickly in his career setting the standards high for him. However, he mentions it took a lot to get to the winning level as the year prior, McGrath just wasn't confident enough yet.
"There was some mental block that you have to work out with yourself when you're trying to beat your heroes," McGrath said. "In '93, I was like 'okay, I'm ready to go.' I was having a great off-season and great testing. At that point, I was on it and ready to go win races. Honestly, though, I still hadn't got past the part where I needed to beat my heroes to win."
"When I finally broke through mentally was when I won the first round at Anaheim. I won my first Supercross and that was a breakthrough moment for me. In the other races I was running up front, but kind of faltered a little bit. Just trying to figure out my speed. In the second round at Houston, I got fifth and then we came to Anaheim, and then in the final, I was riding behind Jeff Staton (former Supercross rider). I was like 'ah man, he's just not going that fast. I got to make the move and go.' I was able to make a pass to the inside line and make up some time and once I got into the lead, I put the hammer down and that was a big breakthrough night for me."
Before McGrath's first 250 career win, the California native made his first 250 starts at one of the biggest tracks in the U.S. – Daytona International Speedway. Unfortunately for McGrath, he didn't have the best of results finishing 20th in that race, but he remembers the race like it was yesterday and adds that Daytona wouldn't have been his first start.
"It was exciting because Daytona is a big place and it was bike week, he said." "However, if I had it my way, Daytona wouldn't have been my first start. Honestly, I wasn't very good in the mud, and that year (1992) it rained at the track. At that point in my career, I was still young and I didn't care about outdoor motocross yet. Later on, I got better at outdoor Supercross when I put my mind to it, but at that point, I just didn't have the right mindset."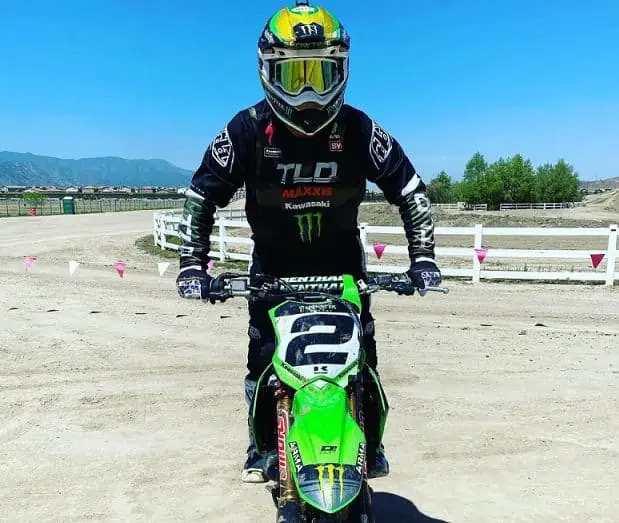 "The 20th place at Daytona was right on with my attitude at the time. The finish wasn't an indicator of what was going to happen in my career. It was like, 'okay, Honda thinks I should race Daytona, and then you can see Daytona for the next couple of years, my results weren't great. I had to grow up and get myself ready to race at Daytona. Eventually, Daytona became one of my favorite places to race later on in my career."
Despite having the poor finish at Daytona, McGrath would have some solid finishes along the way for the final five races of the '92 season including the best finish of fifth at Tampa. It seemed as though he was starting to come into his own before the '93 season, but McGrath explains that he hadn't met his full potential yet during the brief '92 schedule.
"I hadn't shown all my cards," McGrath said. "In the '92 season, the season was more so getting the experience and learning the ropes of Supercross. Then when the '93 season came along, I would have the full package as a rider. It's one of those things when you got to get in there and figure it out and that was kind of my plan. I didn't know what to expect other than fulfilling my dream."
The 1993 season will always be a special one for McGrath. After his first win at Anaheim, he later went on to score more victories in Seattle, San Diego, and Tampa before winning the first 250 Supercross Championship of his career. As he was winning those races and becoming a championship contender, McGrath said the most important thing to him was winning on Saturday.
"I had to remind myself that the most important thing was to win on Saturday," the California native said. "If I could win on Saturday, I could put myself in championship contention and that was my goal. Just win and everything else will take care of itself. I didn't think about the championship and I didn't care at that point. I was just having a great time winning races. Honestly, I never really thought about the championship that much in '93."
Eventually, the 1993 Supercross championship would be the first of six titles in McGrath's illustrious career. He would win the title by 57 points just a couple of races before the season ended. The Supercross rider recalls what it was like winning the first title of his career.
"Well, I won the championship two races before the season ended, so the final race was a little anticlimactic," McGrath said. "It was hard to imagine that was going to happen (winning the championship) at the start of the year when I entered the first round at Orlando. I thought honestly, I would be a fourth-place guy, but something just clicked. At the beginning of the year, I was just holding myself back because I was afraid to beat my heroes."
"For me, secretly I knew I had a shot at winning the championship in my mind, but to have that happen was pretty incredible. I don't think my team manager at the time was very shocked. After I won my first few races, I didn't expect anything else other than to win races. So, the championship to me was going to happen because I was winning. After that, going into the next season (1994) it was just business as usual."
Following his spectacular 1993 season, McGrath would set the Supercross world on fire by winning five more consecutive titles and being known as the "King of Supercross." However, after the 1996 season, he wouldn't win the title again due to a strange switch by Honda.
"Well, it's strange," he said about the next few seasons of his career." "I won four consecutive championships for Honda in the 90s. Unfortunately, Honda changed their bike and that's when I left them after the '96 season and won four titles in a row, which was a crazy move on my part. It was a crazy move for Honda to change their bike though too."
"Honestly, I needed to get remotivated at that time period. I was winning a lot, probably taking it for granted. All my heroes before that only had two championships. For me to win six, I was the only guy to do it at that time. Once I got one, I could get more. No one raced as long as I did and I was in uncharted waters for a long time."
As the six-time 250 Supercross champion continues to reflect on his career, he recalls some fond memories that happened early on.
"I was living the best life possible," McGrath said. "I used to read motocross magazines in school, look at them and be like 'wow if someday I could be like these guys.' To be able to live your dream like that and have it go well, it's pretty unbelievable. I was dominating the sport, taking the sport of Supercross to a new level. I was getting on ESPN, movie stars would watch me race, those kinds of things were pretty awesome."
After all, these years later, McGrath still has a lot of his merchandise in his collection thanks to his dad. He has a big hallway full of memorabilia in his house.
"My dad was a big rat pack collector," he added. "He saved everything. If you would come over to my house, you wouldn't believe what I have, I have a massive collection. I have bikes, gear, trophies, and helmets, I have all of them. Those are all stored in a hallway of my house and it's pretty badass. It's such a cool thing to go back down a little history. I enjoyed my career, it was everything I wanted. I loved Supercross until the day I quit racing and I still love it today."
"I'm just a little kid from the country and my dad is a mechanic by trade. We were very modest, as we didn't have a lot of money. We were in the middle of the pack at best. I didn't start racing until 14 years old and didn't start racing Supercross until 17 years old. My learning curve was very steep."
In addition to having a big memorabilia collection, McGrath gives his favorite victory of his career along with career moments.
"My first win at Anaheim in 1993 was something I'll never forget for the rest of my life," he said. "Winning the motocross championship when everyone said I wouldn't be good at motocross. I think overall winning Daytona Supercross is always hard, but I was able to win that three times in my career. I remember my last Supercross win that came against Ricky Carmichael. That was one of my favorite races in my life. Supercross has given me a life that I never thought I would have."
With all of the success McGrath has had in his career, the California native says he doesn't think he could do anything differently if given the chance.
"You know, if time travel was available, I don't think there would be anything that I would do differently," the Supercross star said. "The 1997 season would've been a season that I would've focused a little bit more on. Other than that, I probably would've gotten more disciplined and gotten more grown-up. As a grown-up now, I think to myself if I would've just buckled down, I most likely would have more championships to my name."
"However, I was just a kid living a rockstar life and trying to figure life out. I honestly thought I would be digging ditches or being a construction worker. I was a lazy kid by nature. Luckily I had some talent underneath me. It took me three to four years not to be lazy and once I figured that out, there was a massive reward for putting the work and time in."
In McGrath's career, the California native has scored 72 250 Supercross Series wins and seven Supercross championships that occurred from 1993 through 1996, 1998, and 2000.
PREVIOUS SUPERCROSS COVERAGE:
Photo Gallery – 2022 San Diego