The Kickin' Team
Jerry Jordan is a local, state and national award-winning investigative reporter recognized for his work by the National Newspaper Association, the Numismatic Literary Guild, the National Motorsports Press Association, the Texas Associated Press and Managing Editors, the Texas State Teachers' Association and the Press Club of Southeast Texas among others. He is also a business owner who changed his focus from exposing the corruption of elected officials to the more relaxed role of analyzing and reporting on auto racing worldwide. His past investigative journalism skills have helped him well in the auto racing world to cobble together numerous in-depth articles that have brought attention to issues in the industry.
Jerry founded Kickin' The Tires in 2001 and it's grown to a point where there are now 10 writers and photographers dedicated to covering all facets of motorsports. Without the dedication of those young professionals, the work of Kickin' the Tires and the dream Jerry had to create a sports media outlet would not be possible. He can be reached on his cell phone anytime at 409-498-1074.
---
Summer Bedgood has covered NASCAR and motorsports since 2009, writing for multiple publications during that time. In 2016, she was finally convinced to join Kickin' the Tires. Since that time, she now also serves in a PR capacity for CCM Racing. Summer lives in Topeka, Kansas and has an adorable dog named Mikey, and a cat, Luka, who truly runs the show in her house.
---
Growing up in Pennsylvania, Zach grew his interest in NASCAR into a career, covering more than 100 NASCAR Cup Series races since 2014. Zach is a dedicated and talented individual with an extensive resume of professional accolades. His creative talents have been utilized by some of the top people in entertainment and sports. He has served in a video production role with NASCAR on FOX, was a part of the CNN+ team and now works with NASCAR on NBC. Zach joined Kickin' The Tires in 2018 and is currently the company's senior reporter/photographer.
---
Matt Courson returns to Kickin' The Tires for a third year in 2021. He resides in Nashville, Tennessee, where he attends Middle Tennessee State University. He expects to graduate this Summer with a degree in Sports Media. When not at the racetrack, he enjoys traveling and taking in new sights across the country.
---
Growing up in Northern New Jersey, Seth grew up in a family of NASCAR fans. He was always determined to have a career in the industry. While in college, Seth bought a subscription to iRacing. As an avid iRacer, Seth took an opportunity to start a journalism career at iRacingNews, covering the iRacing.com IndyCar Open Oval Series. He spent four years at iRacingNews before moving towards motorsports coverage in the real world.
In 2016, Seth joined Tribute Racing, which then became Motorsports Tribune as a Staff Writer. That same year, he graduated from Mitchell Community College with an Associate's Degree in History. He joined the Kickin' the Tires team as a Staff Writer and eSports Editor in late 2019.
When he is not writing or covering NASCAR or iRacing, Seth works at Mitchell Community College as an Administrator in their Mooresville campus tutoring center. He is also qualified to tutor up to 38 different classes ranging from Communications to History to Math to various electives.
---
Justin's experience starts back in the mid-90s racing dirt bikes and ATVs. He won a local championship in 1999 and competed in multiple endurance grand prix races across Southern California. In 2015, he shifted from two wheels to four wheels, winning his first sprint kart race and finishing second in that championship. Now, he works as a race official with that very club while working on making a comeback to the track.
Simultaneously, his journalism career began with NASCAR and Supercross. First started with Speedway Media, he now works as the web developer and tech manager for Kickin' the Tires. He met his significant other at Las Vegas Motor Speedway, and after he and Rachel married in 2018, they together have covered West Coast races in karting, Supercross, NASCAR, drag racing, dirt racing, World of Outlaws, and even a visit to his original motocross club.
In 2022, Justin was recognized for two awards from the National Motorsports Press Association. He has also volunteered as a board member, and currently builds award-winning websites for various NASCAR and ARCA drivers and teams.
---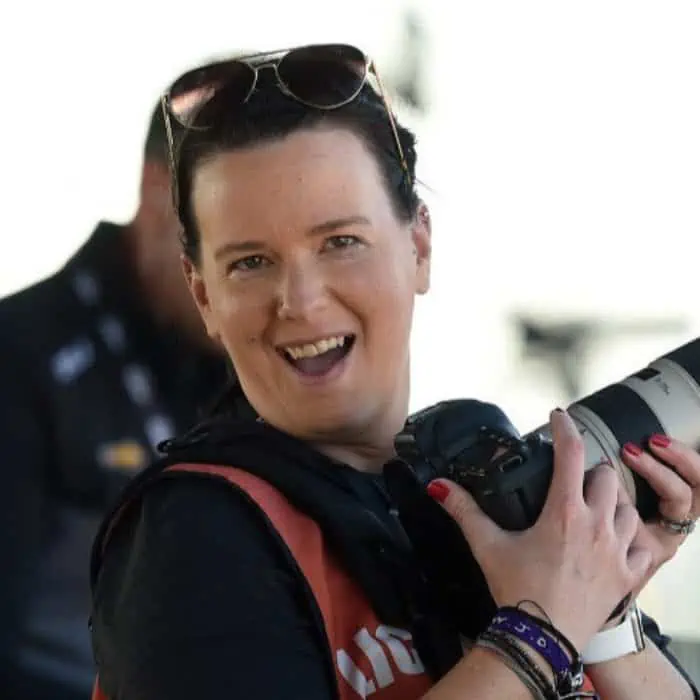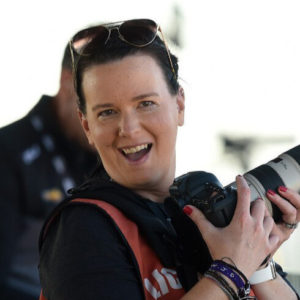 Rachel Schuoler is an award-winning photographer for Kickin' the Tires. With over a decade of experience, she has worked with some of the most recognized motorsport photo distributors with images appearing across official social media accounts, magazines and NASCAR partnered sites. She covers NASCAR full-time with additional experience in karting, dirt racing, Supercross, Motocross and other various disciplines.
In 2023, the National Motorsports Press Association recognized her work with a first-place award in the Open Photography category. Her career was spotlighted by her school during a 10-year alumni highlight. She naturally met her husband at the race track during the NASCAR events at Las Vegas Motor Speedway in 2017, and married the following year.
If it has an engine and wheels, she's shot it.
---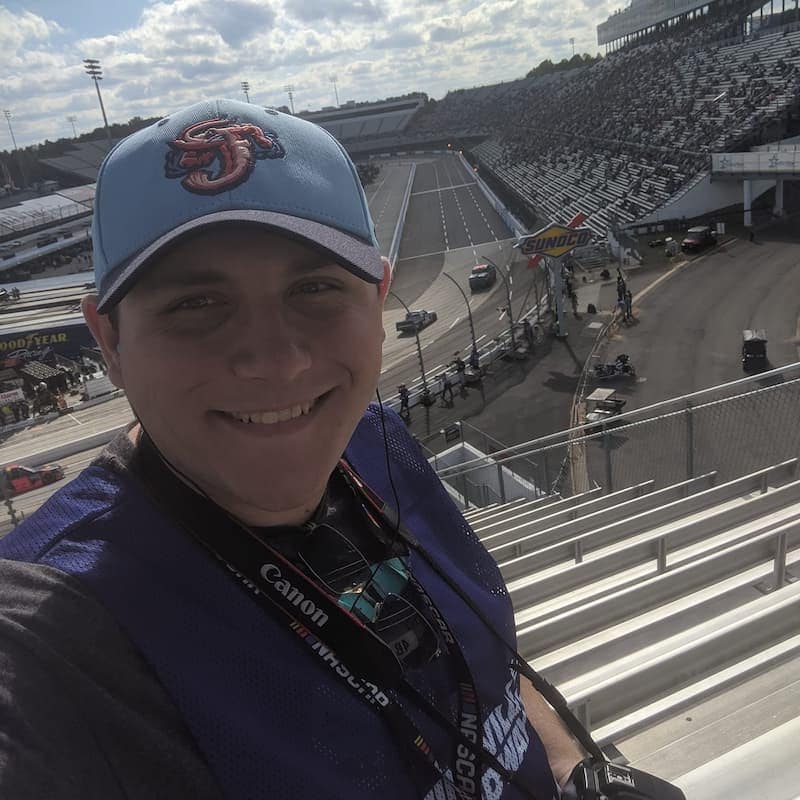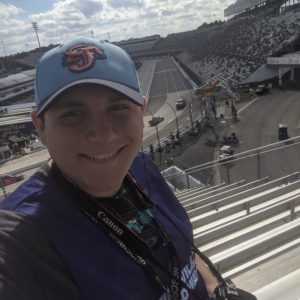 Christian Koelle made his debut with Kickin' the Tires in 2021, contributing ARCA Menards Series content. Koelle has been involved in the NASCAR Media scene since 2015, working for multiple outlets. Along with Kickin' in 2021, he joined Overbey Photography, shooting photos in all three NASCAR series for clients.
His favorite tracks include Nashville Superspeedway, Barber Motorsports Park, Iowa Speedway, Martinsville Speedway, Talladega Superspeedway, and Nashville Fairgrounds Speedway.
---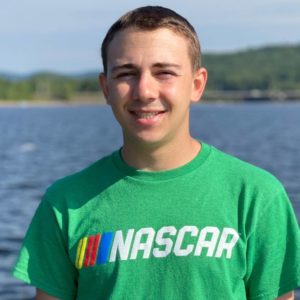 Born and raised in New York, Cole didn't seek a career around NASCAR until discovering it upon his move to Arizona. After attending his first race in 2008, he was determined to have a future in the sport and worked at attaining an Associate's Degree in Automotive Technologies through the Toyota T-Ten Program at Gateway Community College. It wasn't until he stepped away from the mechanical side and went back to school Cole was able to realize his professional calling — journalism.
Cole's introduction to the media world of NASCAR began in 2018, when he worked for Phoenix Raceway's in-house publication "Pit Notes." From there, he emphasized dedication to his craft by earning his Bachelor's Degree in Sports Journalism from the Walter Cronkite School of Journalism. Throughout his tenure, Cole freelanced for Popular Speed and had works published by outlets such as Arizona PBS, Jayski and Cronkite News while traveling the circuit out of pocket.
On top of contributing to Kickin' the Tires since earning his journalism degree, Cole serves as the motorsports reporter for the Arizona Republic and co-hosts a NASCAR betting show called "The Money Stop.