ANAHEIM, Calif. – With just eight points separating the championship lead, Hunter Lawrence knew how valuable snagging back to back victories would be in the 2022 250SX West Monster Energy AMA Supercross Championship. Coming hot off his second career 250SX West victory, momentum seemed to be in his favor.
Christian Craig started the first five races with three wins, but it was a surprise to find that entering Round 6, he would only hold a slim eight point advantage over Lawrence. What wasn't a surprise was to see both qualify in the top five at Anaheim 3 and both finishing one-two in the second heat race. And sure enough, the start of the Main Event saw the Yamaha-Honda rivalry build right at the gatedrop.
It appeared Craig would pull away, but Lawrence continued to find little bits around the track to keep pace with Craig. Both riders ran their fastest lap on Lap 4 of the 15-minute race, but tragedy struck Lawrence's championship hopes just a few laps later.
On Lap 7, the whoops – which had already claimed other front runners such as Nate Thrasher, Jalek Swoll, and Jerry Robin to name a few – proved to be treacherous. Toward the end of the whoops, the slippery surface slid the front tire out of line and Lawrence was along for the ride.
The Honda rider went over the handlebars.
The crowd roared with ooo's.
Then, silence.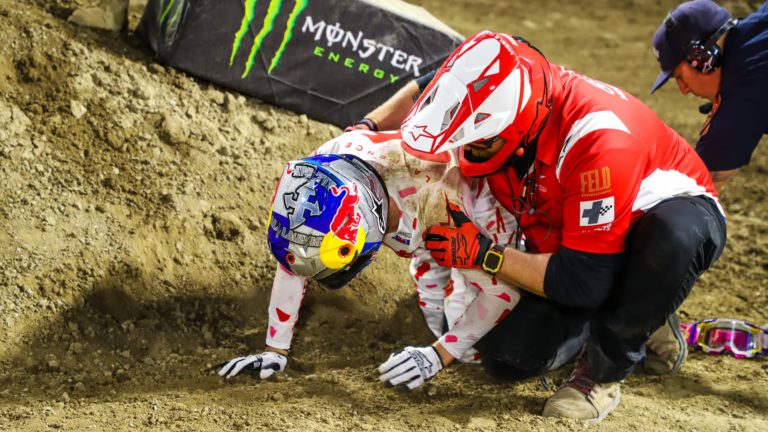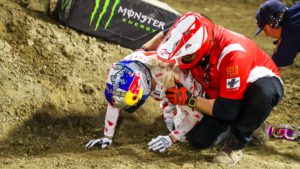 Lawrence wasn't getting up. The young ambitious Australian laid there between the last two humps as medical crew attended to him immediately.
The race finished with Craig claiming his fourth win of the season, but the other half of the race was that Lawrence was still being examined after the race. He was eventually able to get onto the Alpinestars medical cart and taken out of Angels Stadium.
That was Saturday night. Social media stayed quieter than the crowd. Buzz started to arise with rumors of what Lawrence's fate would be for his season.
But on Monday, Team Honda HRC published a press release that Lawrence was "all okay" from his crash.
"It was obviously a bit of a scare, with what could've been something pretty bad, but it checked out to be all okay as far as my body is concerned," said Lawrence in the press release.
It's no secret that the Lawrence brothers are ambitious for podiums, wins and championships. But it's also the nature of the sport of Supercross. That combined with an eight point deficit makes a second place even more unacceptable in the eyes of a rider.
"We were really going for the win, so we were laying it out there," continued Lawrence. "Second place seemed like the easy option, as we had extended a pretty good gap on third, but I was pushing for the win – I felt like that was a pretty defining race in the championship, and I wanted to go for it."
Other competitors also fell in the whoops but were able to recover, including other podium finishers Michael Mosiman and Vince Friese. The whoops have felt this way all year, as riders left and right have gone down at each of the six rounds. Injuries are no stranger to Supercross competition, just a bit untimely in their circumstances. Luckily, Lawrence dodged what could have been something far more serious.
"The whoops were super-gnarly, and going at full speed and pushing as fast as you can every lap, it's how the sport can be sometimes. I'm thankful to the team for supporting me."
Unfortunately, Lawrence was officially credited with an 18th place finish and now sits third in the championship standings, 29 points behind Craig and one point below Mosiman. Fortunately, there is still plenty of racing remaining and points to gain back with four more left on the 250SX West schedule. As the East division starts their season this weekend in Minneapolis, the West will take the dirt next in Round 7 at Seattle on March 26 on Lumen Field.