Cover photo courtesy of Feld Entertainment, Inc.
During Tuesday's 450SX main event in NRG Stadium at Houston 2 for the 2021 Monster Energy AMA Supercross season, rookie Chase Sexton held a comfortable lead for the opening laps of the race. On Lap 7, Sexton slid out in the end of the sand section and had a heavy crash into the following jump. Track officials and corner workers quickly put out the medical flag (white flag with red cross) in that section while they attended to last year's 250SX East champion.
According to race officials, four riders would receive penalties per AMA Rule 4.16.E.9.C for jumping in a section that displayed a red cross flag: Ken Roczen, Jason Anderson, Vince Friese and Martin Davalos.
All riders would keep their finishing positions, but each would lose championship points and purse money equal to two positions for the race, plus two additional points.
The penalty would consequently knock Roczen from the championship point lead down to fifth overall. He now sits four points behind Saturday's winner and new championship point leader Justin Barcia.
"I have never disrespected the Red Cross flag ever before and in my eyes this was clearly not a blatant violation," Roczen shared on social media with his disagreement.
According to the 2021 AMA Competition Rulebook, the medical flag "indicates that ambulances, safety vehicles or emergency personnel may be on the course. Competitors must show extreme caution, slow down, maintain position, not gain an advantage and wheels of the motorcycle must not leave the ground between the flag and the incident. Failure to do so may result in loss of position or a disqualification, subject to the referee's discretion."
Roczen explained further what led up to the on-track penalty.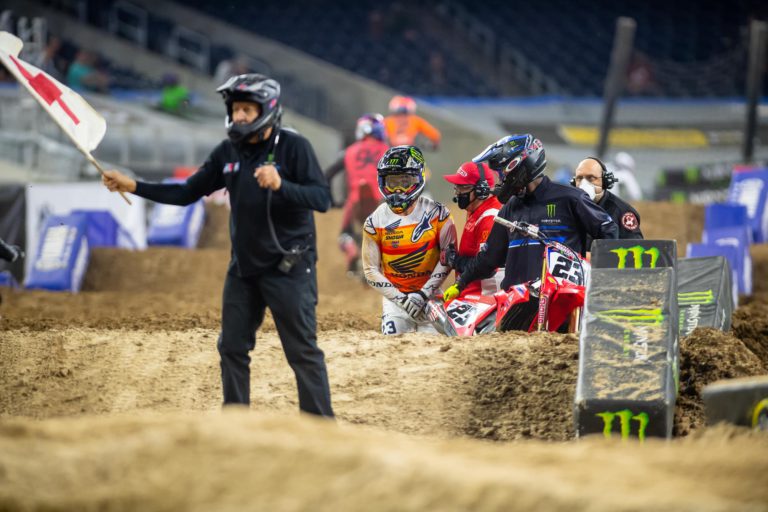 "I got docked four championship points because of jumping on a Red Cross flag," Roczen continued. "My vision at this part of the track was blocked because Dylan took the outside line and as I came around the sand turn he was positioned perfectly in front of the flag and I could not see it."
Despite the stern disagreement, Roczen let his fans know he's still focused on the championship.
"I have never disrespected the Red Cross flag ever before and in my eyes this was clearly not a blatant violation. I'll just deal with (it). That means no red plate. It's all good though."
Anderson finished Round 2 at Houston in eighth. With the penalty, he currently sits 13th in the Supercross standings. Friese finished 15th in the race and sits 17th in the standings. Davalos finished 20th in the race and is 21st in the standings.