By Seth Eggert, Associate Editor
LEVEL CROSS, N.C. – Confidence and pressure go hand in hand when new teams enter NASCAR. For fourth generation racer Thad Moffitt, that is only compounded as he continues the Petty family legacy with the new Faction46 team in the NASCAR Craftsman Truck Series.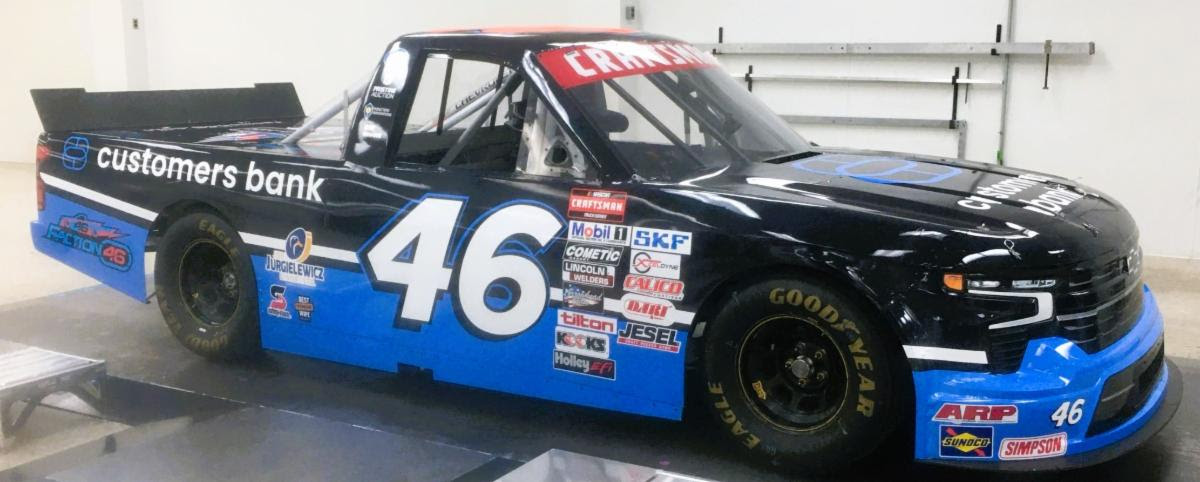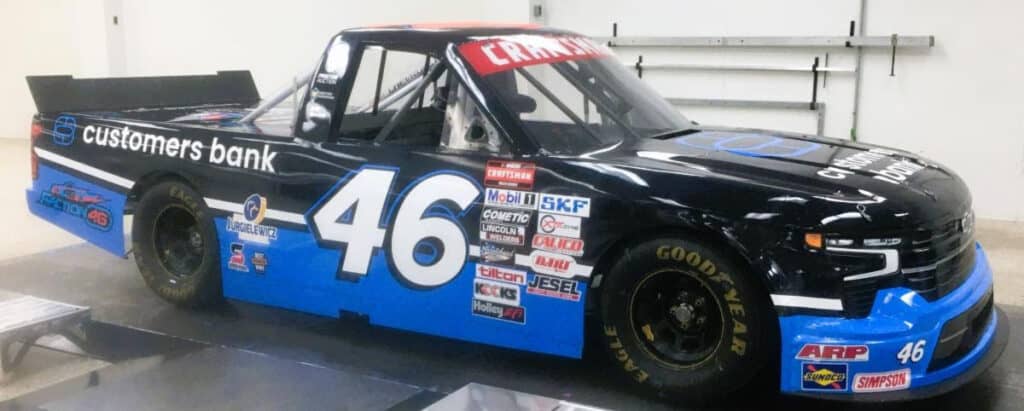 The new team, founded by Lane Moore, owner of Venture Food Stores, will have an alliance with Niece Motorsports. Moffitt will drive the No. 46 Chevrolet Silverado full-time, adding to the legacy started by his great-grandfather Lee Petty (42), grandfather Richard Petty (43), his uncle Kyle Petty (44), and cousin Adam Petty (45).
On top of the pit box for Moffitt will be veteran crew chief Doug George. The veteran crew chief has two victories in the Truck Series, both with Kyle Busch in 2009. Most recently, George led the CR7 Motorsports team with Colby Howard.
"I think that, like grandpa said, we're starting a new deal," Moffitt stated. "Yes, we have some help from Niece, but a new deal with a new team I just met Doug a couple weeks ago. To go and form that relationship is going to be something that we have to do over the next couple of weeks in couple of months and then and get ready."
The alliance with Niece Motorsports has the potential to propel the Faction46 team up the running order. The Al Niece-owned team has eight victories in the Truck Series, four of which came in 2023 with Carson Hocevar. The Cody Efaw led operation has made the Championship 4 twice, first in 2019 with Ross Chastain, and last year with Hocevar.
"I wouldn't be surprised at all if we surprised a lot of people this year and make a playoff run," Moffitt said. "I think with Niece's equipment and with Chevy support, I think that we'll have everything that we need to have that caliber of truck. A lot of it falls on me on my end, which I'm ready for."
With the family tradition comes added pressure. Combined, Lee Petty and Richard Petty earned 10 championships and 254 victories in the NASCAR Cup Series. Both were inducted into the NASCAR Hall of Fame. The family pedigree has, in part, always meant early expectations were high for Kyle Petty, Adam Petty, and ultimately for Moffitt.
While Moffitt understands the pressure and recognizes that he will always have to deal with it while he's racing, he doesn't expect anything dramatically different. He and his grandfather spend time together like any normal family would, watching football, racing, fishing, etc. For Moffitt, he's never known Richard Petty as anyone other than grandpa.
"For me, it's really cool to get to carry on the family tradition, there's a lot that goes into it, but at the end of the day, we're just a family," Moffitt said. "I know that there's been some cool accomplishments. I get the question what's it like to be Richard Petty's grandson, which is a tough question for me to answer because (I don't know) what's it like not to be Richard Petty's grandson. I guess this is my counter question.
"I mean, we just, we watch football, we watch racing, we shoot, we go fishing, we travel together, we just do grandpa, grandson things. At the end of the day, a family is what this was all built on, and then we just had a similar (interest) which was racing, and it turned into 10 championships and 75 years of racing, and so it'sbeen incredible and for me to get to add on to that legacy is just, I mean you can't really put it into words for me.
"I've lived under this pressure umbrella since I decided to do this thing. Everywhere I unload, I'm Richard Petty's grandson. No matter what. (There's) no getting away from it. You kind of just learn to deal with it. (I'm) just really grateful for this opportunity and I think that I think we'll be really competitive."
As with any family dynamic, Moffitt does get advice from his grandfather. In 2022, that advice was front and center at Daytona Int'l Speedway. Richard Petty was hesitant about Moffitt having to 're-learn' the aerodynamics of racing a truck prior to his NASCAR National Touring Series debut after competing in the ARCA Menards Series. In total, Moffitt made four Truck starts that season with a best finish of 18th at Daytona.
Fast forward two years and the lessons of watching others' success has changed everything.
Carson Hocevar, Todd Gilliland, and Zane Smith have all largely skipped competing in the NASCAR Xfinity Series. The trio jumped from the Truck Series up to the Cup Series. Hocevar had strong runs in the NASCAR Next Gen Cup car for Legacy Motor Club. Likewise, Gilliland had a strong second full-time season in Cup. Smith had mixed results driving for both Rick Ware Racing and Front Row Motorsports but turned heads when he filled-in for Chris Buescher at RFK Racing in 2022.
While the Cup car, Xfinity car, and Truck all drive differently, the aerodynamics and momentum of the Next Gen car are more akin to the Truck. The driving styles are not completely identical, but the similarities and success others have had has not gone unnoticed.
"I think that the Next Gen car changed everything," Moffitt explained. "Nobody really at the time that Grandpa made those comments (in 2022), saw that coming. At the time, the Xfinity car drove really similar to the Cup car, so it didn't make sense. But now from what we understand, the truck almost drives more like the Next Gen cars. Really all three of them completely drive differently now.
"But you watch people like what Hocevar did last year, what Gilliland did, and what Smith's doing, going from the truck straight to the Next Gen car. I think they're a little more comparable now than what the Xfinity and the Next Gen car."
Moffitt's No. 46 Chevrolet will carry sponsorship from Venture Food Stores as well as longtime Petty family sponsors Clean Harbors, Safety-Kleen, Customers Bank, Pristine Auction, Joe Jurgielewicz and Son, America's Tastiest Duck, Induction Innovations and Best Working Wipes. The team has opportunities for more partnerships as well.
Moffitt will make his debut the Faction46 team in the Fresh From Florida 250 at Daytona on Friday, February 16, 2024. The race will be broadcast on Fox Sports 1, the Motor Racing Network, and SiriusXM NASCAR Radio, channel 90.