By Seth Eggert, Staff Writer
While the inaugural eRacr Roval Racing Series was a walk in the park for Matt Danson, the Legacy Pocono Raceway – International proved more competitive.
While Danson led the most laps in this virtual No. 30 Logitech G Altus Chevrolet Camaro ZL1 1LE, his competition was never far behind. Michael Gonzales and Liam Sheen both took control of the race prior to the halfway break. Gonzales only fell behind in the closing laps of the one-hour race.
Danson qualified on pole and led the first two laps before sliding off course. That allowed Sheen to take the top spot. He led Danson, Gonzales, and Andy Trupiano as the quartet ran within two seconds of one another.
The 'follow the leader train' went to the extreme at the 15-minute mark. Sheen missed his braking point entering turn one and slid off track. Gonzales and Danson followed suit as the trio gave virtual Pocono a free mowing. The virtual No. 72 of Gonzales was the first back on the pavement and took control of the lead.
Follow the leader here at Pocono, even if you may not want to follow the leader!

All racers can relate to this!

Absolutely insane 4 way battle for the lead here in the eRacr Roval Racing Series Round 2!

Tune in: https://t.co/JbB9zqXFpH pic.twitter.com/plVBVwrtm9

— eRacr.gg (@eRacr_gg) July 24, 2021
Gonzales led until the halfway break. During pit stops, a faster stop allowed Danson to leave pit road with the lead. The A Class driver never looked back. Gonzales kept in touch until a challenge from Sheen. That allowed Danson to pull away. Two spins for Sheen dropped him down the running order, giving Trupiano the final spot on the podium.
"I certainly made [Pocono] more difficult for myself at times," admitted Danson. "Turn one is such a doozy because you don't see the brake (markers) at all. If you've missed your braking, as I did on lap two or three, you've just got to be careful here. Just had to pace ourselves and I completely under drove.
"I just didn't brake enough and allowed myself to drive off the track like a dummy. It's easy to lose concentration, make a small mistake, and have that turn into a big [mistake]. We're lucky to keep it off the fence and live another day."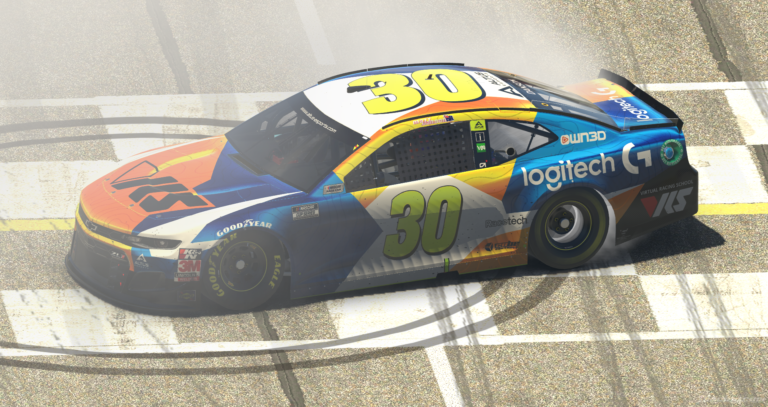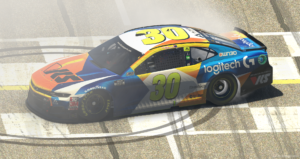 The battle in the B Class division was a runaway for Matt Taylor. Although Gary Weaver was the best starter in the division, Taylor worked his way up to the lead in the virtual No. 8 eRacr Chevrolet Camaro SS. Once in the top spot, he cruised to victory with Weaver and Brian Szabelski rounding out the B Class podium.
"I learned my lesson on tire strategy last week for sure," explained Taylor. "I haven't really driven the stock car that much, so all of this is pretty new. Just trying to learn that. I wanted to avenge last week's mistake for sure.
"The biggest thing is the downshifting under brakes, controlling wheelspin and learning that. I drive the (virtual historic Formula 1) Lotus 79 a lot and that car slides around. I think that prepared me for this. Tire fall off and everything else is entirely a new thing to deal with."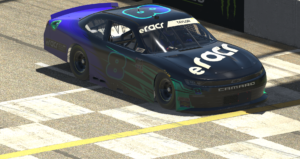 The battle in the Ballistipax C Class proved to be amongst the most competitive. Jeremy Breault and Hunter Reece battled for the top spot while David Grantham battled back from multiple issues. The C Class winner from Texas Motor Speedway had a poor qualifying effort, pit stop miscue, and a late-race spin. Despite all of that, Grantham climbed back through the Ballistipax division to capture the final spot on the podium.
Meanwhile, Breault's virtual No. 74 Smeal Racing Designs Chevrolet Silverado cruised to a seven-second victory in class. That also provided Team Chevy its second straight lock out of winning all three classes in the eRacr Roval Racing Series.
"It was slick, (the track) was really slick," stated Breault. "It was just a game of controlling the throttle off of those really slow corners. I wasn't getting much grip in the middle of the corners. I had zero clue of what I was doing out there. Had zero practice going into this so I'm surprised that I even won.
"I was thinking second or third (place finish) because the 6 (Grantham) and the 5 (Brandon Paunetto) were the class of the field in the first half. Knew on that restart that was going to be the only time I'd be able to get the 5. So, I raced him hard going into turn one, through the infield section, and then I got him when he messed up coming out of one of the slow corners."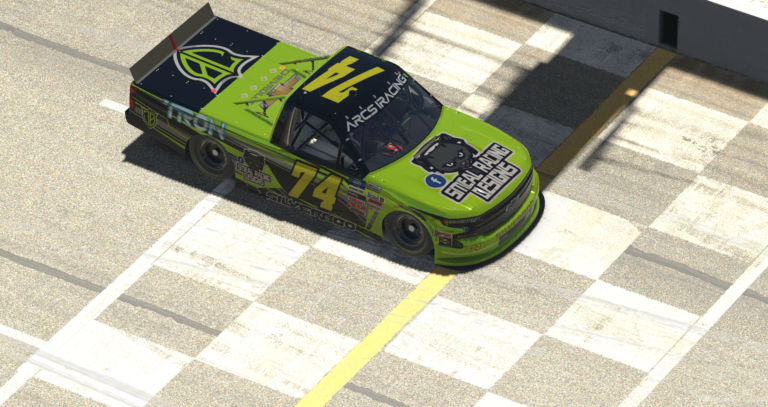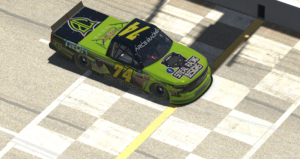 Next up for the eRacr Roval Racing Series is a visit to the virtual Indianapolis Motor Speedway Road Course. Coverage starts at eRacr's Twitch channel Saturday, July 31, at 7:00 p.m. ET.
The results:
1. 30-Matt Danson (A) [1], 2. 72-Michael Gonzales (A) [2], 3. 7-Andy Trupiano (A) [3], 4. 8-Matt Taylor (B) [12], 5. 82-James D. Gibson (A) [6], 6. 07-Gary Weaver (B) [7], 7. 74-Jeremy Breault (C) [17], 8. 044-Hunter Reece (C) [16], 9. 6-David Grantham (C) [23], 10. 85-Brian Szabelski (B) [9], 11. 5-Brandon Paunetto (C) [15], 12. 999-Joseph Selby (B) [8], 13. 13-Phillip Bupp (B) [14], 14. 1-Dustin Ping (C) [18], 15. 49-Arthur Rymer (B) [10], 16. 28-Caleb Breece (C) [24], 17. 26-DG Swiss (C) [20], 18. 87-Clint Roberts (C) [19], 19. 71-Stacy Hunter (C) [21], 20. 16-Ben McDonnell (B) [13], 21. 02-Liam Sheen (A) [4], 22. 53-Justin Melillo (B) [11], 23. 21-Thomas Fensler (C) [22], 24. 93-Joshua Chin (A) [5], 25. 22-Brandon Watkins (C) [25].
Lead Changes: Three among three drivers.
Lap Leader(s): Matt Danson 1-2, Liam Sheen 3-10, Michael Gonzales 11-20, Matt Danson 21-36.
Laps Led: Matt Danson 18, Michael Gonzales 10, Liam Sheen 8.
Caution Flags: One for Three Laps.
Margin of Victory: 2.260 seconds.
Time of Race: One hour, 50.926 seconds.
Average Speed: 89.810 MPH.
Pole Winner: 30-Matt Danson (A), One minute, 28.952 seconds (102.392 MPH).
Class Designation: A (NASCAR Cup Cars), B (NASCAR Xfinity Cars) C (NASCAR Camping World Trucks).
Featured Photo Credit: Photo by Seth Eggert / Kickin' the Tires