By Seth Eggert, Staff Writer
The second half of the Roush Performance eSports NASCAR Past and Future iRacing event came down to a battle between teammates, Carl Dodson and Geoffrey Souza.
A restart with 13 laps to go in the 50-lap race at the virtual Michigan International Speedway, the lead pack of NASCAR Next Gen cars was cut by two separate spins. One by Rockingham Speedway runner-up Blake McCandless allowed the top-five to break away from the field. Over the next 10 laps, the leaders blistering pace dropped several one or more laps behind the field.
With three to go, Adam Pettet, Matt Hummel, and Trenton McMillion started jockeying for position. That allowed both Dodson and Souza to slip away. The duo slowly built their lead to be about five seconds, allowing them to decide the winner amongst themselves.
Souza searched for a way by his teammate high and low. He attempted to use the draft in his No. 4 Ford Mustang to slingshot his way to the lead. However, Dodson kept the momentum in his No. 29 Chevrolet and held Souza off for the win and the $100 iRacing.com gift card.
"My team is the reason I won tonight," Dodson humbly explained. "Driver talent on these tracks and these packages has to come into play a little bit. You have to understand the dynamics of the draft and how people are going to get runs on you. Without my teammates Geoffrey and Don behind me protecting that line and telling me what's going on, it couldn't happen without a good team. Triad Racing really has come a long way since we formed earlier this year."
Pettet, Hummel, and McMillion completed the top-five. Greg Maconi, Don Avery, Alexander Fafinski, Jeffrey Maconi, and Paul Slavonik rounded out the top-10. Chris Papa, who finished out of the race ran the fastest lap before he was swept up in an accident.
Although only two cautions took place in the 100-mile race, both changed the complexion of the event. The first caution was for a multi-car pileup. That collected nine cars, sapping energy away from the draft.
The second caution came just in time for the leaders to pit for fuel. That also trapped several a lap down that pitted under green between the two caution flags.
Like Rockingham, several drivers used paint schemes inspired by RFK Racing. A No. 6 Castrol Ford Mustang, No. 90 RFK Racing Test car, and a No. 23 Matt Kenseth-inspired DeWalt car were all on track. The best finishing of the RFK Racing inspired cars was Greg Maconi's Greg Biffle Roush Performance Ford Mustang in sixth.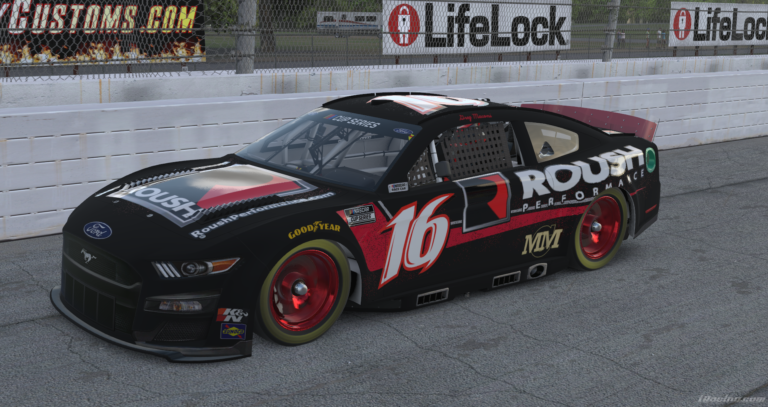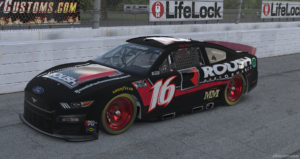 The results:
1. 29-Carl Dodson [1] ($100), 2. 4-Geoffrey Souza [2], 3. 58-Adam Pettet [19], 4. 93-Matt Hummel [12], 5. 18-Trenton McMillion [7], 6. 16-Greg Maconi [13], 7. 45-Don Avery [5], 8. 908-Alexander Fafinski [11], 9. 03-Jeffrey Maconi [24], 10. 528-Paul Slavonik [9], 11. 59-David Levine [23], 12. 90-Kyle Patee [8], 13. 71-Alexander Cardinale IV [28], 14. 17-Stephen Baker [21], 15. 92-Aaron Russell [4], 16. Jamie Barnard [10], 17. 57-Kyle Quintrall [20], 18. 14-Zachary Arnold [14], 19. 7-Rolando Falgueras [22], 20. 98-Bret Malone [17], 21. 211-Blake McCandless [27], 22. 948-Carl Modoff [18], 23. 13-Chris Papa [15], 24. 83-David Brown [3], 25. 28-Jesse Atchison [26], 26. 24-Cody Riggs [25], 27. 04-Cody Porter [6], 28. Eliezer Campos [16].
Lead Changes: Four among three drivers.
Lap Leader(s): Carl Dodson 1-9, Greg Maconi 10-16, Carl Dodson 17-29, Matt Hummel 30, Carl Dodson 31-50.
Laps Led: Carl Dodson 42, Greg Maconi 7, Matt Hummel 1.
Hard Charger(s): 58-Adam Pettet (+16).
Caution Flags: Two for Six Laps.
Margin of Victory: 0.067 seconds.
Time of Race: 38 minutes, 30.144 seconds.
Average Speed: 155.834 MPH.
Pole Winner: 29-Carl Dodson, 39.780 seconds (180.996 MPH).
Fastest Lap: 13-Chris Papa, 38.515 seconds (186.940 MPH).
Featured Photo Credit: Photo by Seth Eggert / Kickin' the Tires.