By Seth Eggert, Staff Writer
After a hard-fought battle, Logan Helton took the checkered flag as the Shenandoah Shine Legends of the Future Series dedicated the race to a family member of one of their competitors.
Battle for the Lead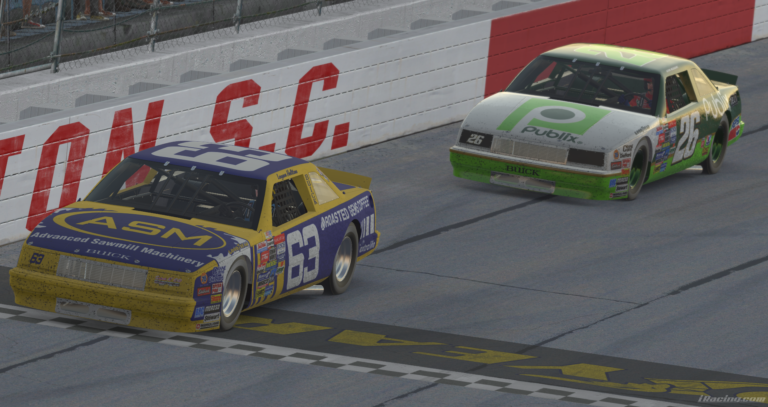 On the final single-file restart of the race at Darlington Raceway, Helton's No. 63 Advanced Sawmill Machinery / Roasted Gems Coffee Buick took the battle to race leader Kevin McAdams.
The duo fought side-by-side around 'The Track Too Tough To Tame' until the caution waved. Helton barely beat McAdam's No. 26 Publix Buick for the top spot. Per the iRacing league's rules, the ensuing restarts were double-file with under 25 laps to go.
The double-file restarts shifted the advantage from second place to race leader Helton. McAdams struggled on every subsequent restart, allowing the 2021 Retro 500 competitor to extend the gap each time.
Taking the Win
On the final restart, the gap that Helton opened up was not as dramatic as his previous ones. However, McAdams didn't have enough time to close in. A massive pile-up off Turn 2 didn't bring out the caution, further preventing the points leader from closing the gap.
Helton took the checkered flag with about a car length of space back to McAdams. After the second field consuming wreck in two weeks, Michael Cosey Jr, John Gorlinsky, and Matthew Zwack rounded out the top-five.
"That win is for J.D. Willis," Helton said. "I know he's had a tough time recently and it feels really good to get that win. He came into our chat before the race and said 'I want one of you guys to win the race.' I did what I could out there to get it.
"It was really stressful. I knew what lanes I had to pick because of where Larry (Pace) was. Larry was my biggest threat on those new tires. I was just choosing top or bottom depending on if he was in third or fourth. It turned out pretty well. I had a lot of fun in this car, especially at Darlington."
Larry Pace, Jackson van Volkinburg, Tyler Dubosh, Sean Peleg, and Cole Fralick completed the top-10. Peleg's ninth-place run came after some Days of Thunder style heroics through the carnage. Polesitter David Brown finished 11th after being collected in several wrecks.
Honoring A Competitor's Family
While the race was slowed 14 times for cautions, that was ultimately not the story of the event. The race sponsorship changed this week to support a member of the Legends of the Future and iRacing community, J.D. Willis.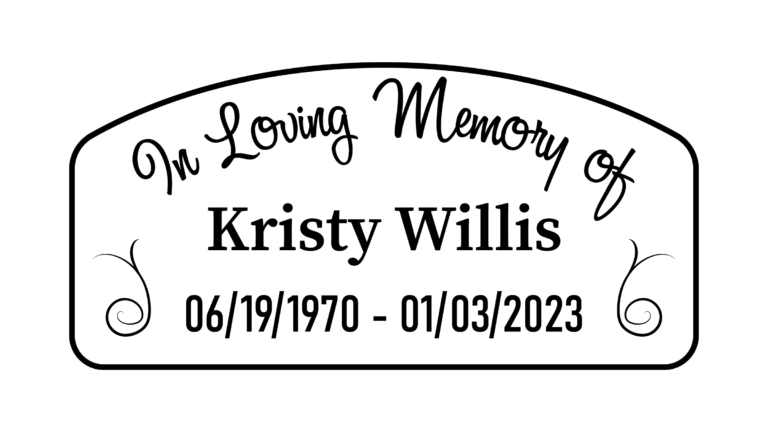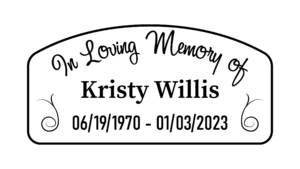 The Kirsty Willis 205 honored J.D.'s mother, who passed away earlier in the week. While J.D. did not participate in the race, he was watching, even hopping into various Discord channels to chat with those on track. The 'All In 650' has also pledged that all sponsorship and entry fees will go to the Willis family.
This was not the first time that the iRacing community has rallied around one of their own in their time of need. Monday Night Racing rallied around Josh Mendoza following the passing of his brother. Both FTF Racing and Monday Night Racing paid tribute to Seth Eggert's family following the passing of his mother.
Much like their real-world counterparts in NASCAR, the iRacing community is, at its heart, a family.
The next Legends of the Future event is qualifying for the Barr Visuals Legends 500.
The results:
1. 63-Logan Helton [6], 2. 26-Kevin McAdams [3], 3. 99-Michael Cosey Jr [4], 4. 28-John Gorlinsky [28], 5. 78-Matthew Zwack [9], 6. 00-Larry Pace [14], 7. 97-Jackson van Volkinburg [24], 8. 60-Tyler Dubosh [16], 9. 17-Sean Peleg [21], 10. 15-Cole Fralick [32], 11. 83-David Brown [1], 12. 043-Joshua Cronin [41], 13. 90-Michael Sturgill [26], 14. 22-Alex Kolonics [5], 15. 49-Art Rymer [30], 16. 99-Mitchell Riggs [13], 17. 58-Michael Frisch [2], 18. 74-Dylan Roberts [8], 19. 69-Ashton Schleiss [12], 20. 70-Davis Warren [27], 21. 123-Eric Smith [20], 22. 04-Gabriel Mauricio [18], 23. 39-Daniel Faulkingham [7], 24. 98-Matt Taylor [35], 25. 80-Brandon Kettelle [22], 26. 66-Blake Reynolds [11], 27. 818-Ethan Courter [37], 28. 86-Tyler Garey [9], 29. 87-Adam Martin [39], 30. 79-Danny Thomson [33], 31. 76-Quami Scott [17], 32. 53-Justin Melillo [38], 33. 32-Shawn Butler [10], 34. 61-Lane Tidwell [31], 35. 35-Santiago Tirres [23], 36. 6-Chritsopher Norris [40], 37. 19-Wyatt Tinsley [25], 38. 015-Michael Guariglia [16], 39. 041-Josh Parker [36], 40. 14-Chris Jahnke [19], 40. 121-Jake Poulin [34], 41. 14-Chris Jahnke [19], 42. 31-David Cabrera [43], 43. 2-Chris Davis [42].
Lead Changes: Nine among seven drivers.
Lap Leader(s): David Brown 1-18, Daniel Faulkingham 19-28, Michael Cosey Jr 29-50, Art Rymer 51, John Gorlinsky 52-64, Kevin McAdams 65-96, Michael Cosey Jr 97-108, Daniel Faulkingham 109-120, Kevin McAdams 121-127, Logan Helton 128-150.
Laps Led: Kevin McAdams 39, Michael Cosey Jr 34, Logan Helton 23, Daniel Faulkingham 22, David Brown 18, John Gorlinsky 13, Art Rymer 1.
Hard Charger(s): 043-Joshua Cronin (+29).
Caution Flags: 14 for 55 Laps.
Margin of Victory: 0.162 seconds.
Time of Race: One hour, 59 minutes, 30.106 seconds.
Average Speed: 102.877 MPH.
Pole Winner: 83-David Brown, 31.142 seconds, 157.909 MPH.
Fastest Lap: 17-Sean Peleg, Lap 126, 31.459 seconds, 156.318 MPH.