By Seth Eggert, Staff Writer
After a strong but brief battle, Mitchell deJong picked up his first win of the eNASCAR Coca-Cola iRacing Series victory at Watkins Glen International.
Battle for the Lead
deJong ran down race leader, and pole sitter, Bobby Zalenski eight laps into the 45-lap race. Over the course of the next five laps the 23XI Racing driver hounded Zalenski for the top spot. deJong's No. 23 Logitech G Toyota Camry TRD pulled alongside the Joe Gibbs Racing driver several times. Each time the Sophomore driver relented, choosing patience with Zalenski's No. 18 Interstate Batteries Toyota.
Exiting Turn 1 on Lap 13, deJong once again pulled alongside Zalenski. The veteran doored his competitor attempting to defend. deJong returned the favor and cleared Zalenski for the lead entered the esses. At that point, the 23XI Racing driver never looked back and drove off into the distance.
Taking the Win
Though Zalenski was three tenths faster than those behind him, deJong was a tenth faster than him. In the caution-free race, the only chance to catch the No. 23 was a mistake. However, Zalenski was the one to make the mistake, stopping short in his pit box. That only increased the gap between the two leaders. deJong handily took the checkered flag with over six seconds back to Zalenski.
"It's unbelievable," deJong admitted. "Last year the road courses went well for me, pretty consistently up until this track. It was a great feeling, but I have the sense that I should do well here. This (road course racing) is what I grew up in on iRacing. This season has been such a struggle. The first road course we had was very difficult, but we were kind of close at the end.
"This one here, I felt really good, we had some good prep. To be honest, I completely messed up qualifying, almost wrecked three times on the lap. I was pretty certain that (my chances of winning) were over, but then the cards just fell into place. I had to fight for everything that I could get on the track. I'm so excited with the result. It's incredible."
Notables
Graham Bowlin, Steven Wilson, and Casey Kirwan rounded out the top-five. Vicente Salas, Nick Ottinger, Dylan Duval, Michael Conti, and Dylan Ault completed the top-10. For Ault, he was the eNASCAR Rookie of the Race. It was also a career best finish for the Letarte eSports driver after an intense battle with former champion Conti. The veteran took notice of the respect that Ault gave throughout their battle for position.
Though the race went caution-free it was not without incident. Defending eNASCAR Coca-Cola iRacing Series champion Keegan Leahy was penalized for speeding on pit road while running inside the top-10. Leahy ultimately finished 28th. Donovan Strauss was also penalized for speeding and finished 32nd, one lap down.
Championship Implications
Both Corey Vincent and Garrett Manes spun in the closing laps. Vincent spun after contact from Allen Boes in the Carousel. Manes meanwhile clipped the wall with two laps to go and spun into the tire wall exiting the Carousel.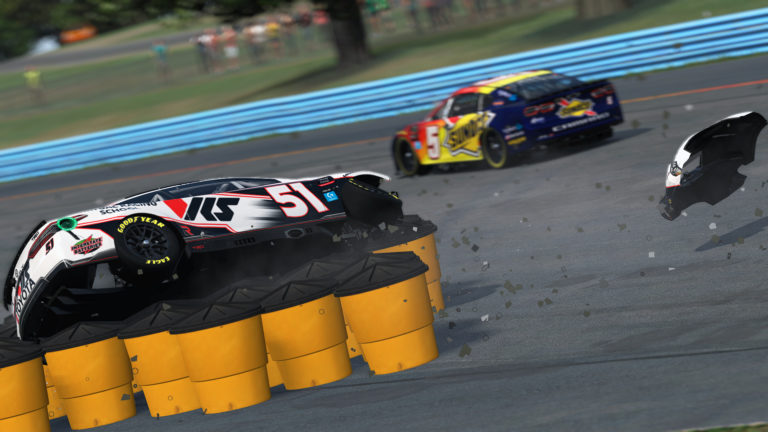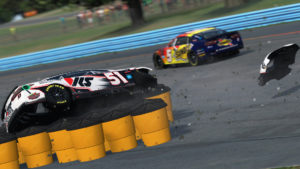 The most consequential incidents of the race involved four-time eNASCAR champion Ray Alfalla and 2019 champion Zack Novak. Both drivers spun in the esses on the opening lap in a multi-car incident. Both continued, but contact exiting the Carousel ultimately proved costly. Novak appeared to break loose. In correcting his car, the No. 5 Rise eSports entry hip-checked the No. 51 Virtual Racing School Toyota. Alfalla skidded at high speed into sand barrels, destroying his car.
Alfalla was forced to tow back to pit lane. Though he eventually returned to the race, 21 laps down, he only gained four positions. The finish dropped Alfalla out of the top-20 in points. He is 13-points behind the 20th-place cutline, currently held by Leahy. To be eligible for the eNASCAR Playoffs, Alfalla has to move back inside the top-20 at the end of the race at Darlington Raceway on Tuesday, August 30.
Though deJong was the 10th different winner this season, Alfalla being outside the eligibility requirements currently puts his Joe Gibbs Racing teammate, Zalenski, into the playoffs. The driver of the No. 18 has a two-point cushion over Novak. Much like their real-life counterparts in the NASCAR Cup Series, Novak and Zalenski are inside the top-10 in regular season points and facing possible elimination from the eNASCAR Playoffs.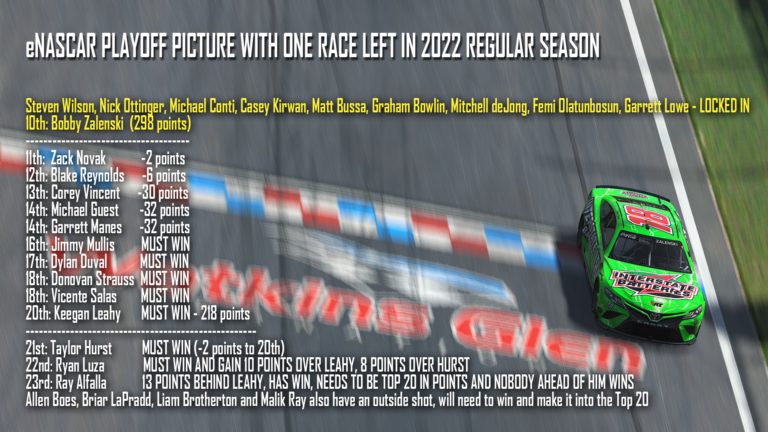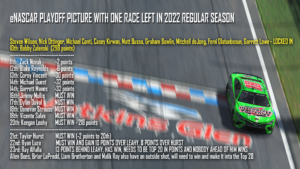 The results:
1. 23-Mitchell deJong [4], 2. 18-Bobby Zalenski [1], 3. 48-Graham Bowlin [2], 4. 10-Steven Wilson [7], 5. 95-Casey Kirwan [10], 6. 19-Vicente Salas [3], 7. 25-Nick Ottinger [6], 8. 41-Dylan Duval [8], 9. 8-Michael Conti [23], 10. 40-Dylan Ault [12], 11. 55-Allen Boes [15], 12. 21-Garrett Lowe [11], 13. 15-Blake Reynolds [13], 14. 46-Jimmy Mullis [38], 15. 24-Cody Byus [14], 16. 97-Logan Clampitt [9], 17. 31-Garrett Manes [21], 18. 4-Ryan Luza [26], 19. 3-Corey Vincent [17], 20. 75-Matt Bussa [16], 21. 33-Taylor Hurst [27], 22. 36-Brian Mercurio [20], 23. 6-Parker Retzlaff [19], 24. 17-Kaden Honeycutt [18], 25. 5-Zack Novak [36], 26. 2-Liam Brotherton [40], 27. 43-Kollin Keister [29], 28. 45-Keegan Leahy [5], 29. 16-Blade Whitt [30], 30. 79-Femi Olatunbosun [25], 31. 9-Michael Guest [33], 32. 20-Donovan Strauss [22], 33. 54-Kyle Peddle [35], 34. 69-Collin Bowden [31], 35. 88-Briar LaPradd [32], 36. 51-Ray Alfalla [28], 37. 14-Nickolas Shelton [37], 38. 42-Darik Bourdeau [24], 39. 12-Derek Justis [39], 40. 7-Malik Ray [34].
Lead Changes: One amongst two drivers.
Lap Leader(s): Bobby Zalenski 1-12, Mitchell deJong 13-45.
Laps Led: Mitchell deJong 33, Bobby Zalenski 12.
Hard Charger(s): 46-Jimmy Mullis, Rise eSports (+24).
Rookie of the Race: 40-Dylan Ault, Letarte eSports, 10th.
Caution Flags: None.
Margin of Victory: 6.842 seconds.
Time of Race: 52 minutes, 14.611 seconds.
Average Speed: 126.619 MPH.
Pole Winner: 18-Bobby Zalenski, Joe Gibbs Racing, Lap 42, 1:08.538 minutes (128.688 MPH).
Fastest Lap: 23-Mitchell deJong, 23XI Racing, 1:08.517 minutes (128.727 MPH).
Featured Photo Credit: Photo by Justin Melillo.