By Seth Eggert, Staff Writer
After relegation and leaving his team, Vicente Salas made a statement at the virtual Phoenix Raceway with a dominant win.
Racing As An Independent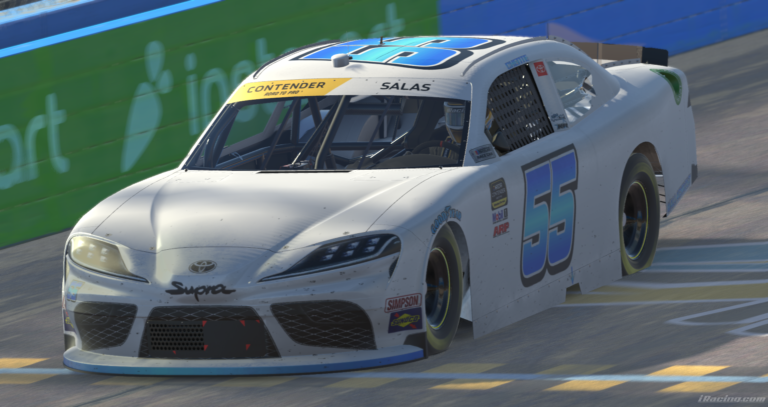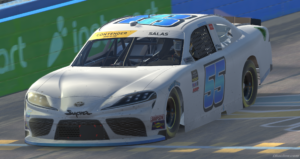 The Williams eSports driver missed the top-20 in the eNASCAR Coca-Cola iRacing Series by just a handful of points. That relegated the second-year driver down to the eNASCAR iRacing Contender Series.
In addition to that Salas left the Legacy eSports team alliance between the Coca-Cola and Contender Series seasons. That left the Temecula, Calif. native in an unsponsored, independent virtual No. 55 Toyota Supra.
Though he wasn't aligned with other teams, Salas worked with NASCAR Camping World Truck Series driver Carson Hocevar and Jonathon Platt for the 110-lap race at 'The Diamond in the Desert.'
Adding to Salas' domination, he ran the fastest lap of the race just after a restart on lap six.
Salas took the lead from polesitter Jordy Lopez Jr just 18 laps into the race and never looked back. Outside of green flag pit stops, he held station around three seconds ahead of Lopez. Salas cruised to take the checkered flag 2.892 seconds ahead of the Altus eSports driver.
"A lot has happened in the last week that has changed the course of iRacing for me and the way I look at it," Salas admitted. "I'm really seeing the people that care about me, the people that are there for me. I owe this win to three guys, we're a small team.
"Dave is the mastermind behind this car. He killed (the setup) on it, Jonathon Platt spotting the entire race, and Carson Hocevar for being there, supporting me, giving me the real-life instructions. Huge thank you to those guys. I can't believe that we did it."
Notables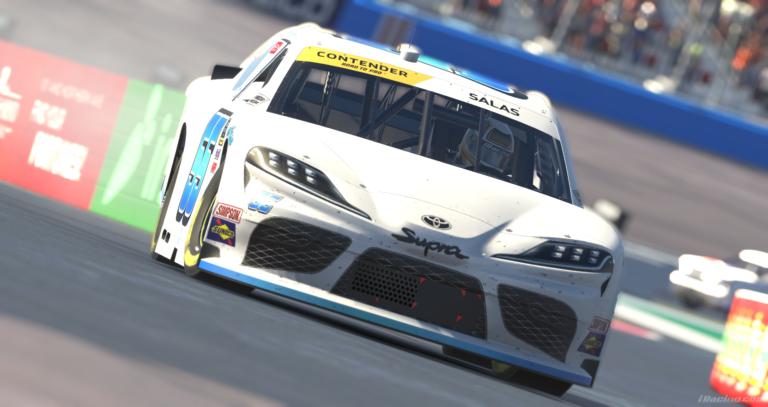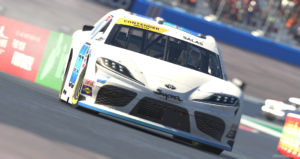 Tucker Minter, Joey Brown, and Darik Bourdeau completed the top-five. Ryan Doucette, Wyatt Tinsley, Cody Byus, Seth DeMerchant, and Tyler Garey rounded out the top-10 finishers.
Parker White was the hard charger of the race, climbing 23 positions from 40th to 17th.
Four-time eNASCAR Coca-Cola iRacing Series champion Ray Alfalla finished 28th.
Returning Drivers
For Brown, the top-five finish came in his first attempt to rejoin the eNASCAR Coca-Cola iRacing Series since 2014. He spent two years in the series, scoring three victories.
Others attempting to return to the Coca-Cola Series include Casey Tucker, four-time winner Kevin King, and Doucette. Tucker finished 22nd after leading two laps. King finished 26th.
The race was slowed just once for a multi-car accident on the first lap. Malik Ray was sent spinning in front of the field collecting several others.
Next for the eNASCAR iRacing Contender Series is a trip to the virtual Homestead-Miami Speedway on Tuesday, November 8 at 9:00 p.m.
The race will be streamed at enascar.com/live, iRacing's Twitch, YouTube and other social media channels.
The results:
1. 55-Vicente Salas [3], 2. 4-Jordy Lopez Jr [1], 3. 10-Tucker Minter [2], 4. 14-Joey Brown [4], 5. 04-Darik Bourdeau [7], 6. 77-Ryan Doucette [5], 7. 20-Wyatt Tinsley [9], 8. 27-Cody Byus [8], 9. 57-Seth DeMerchant [6], 10. 26-Tyler Garey [13], 11. 67-Timmy Holmes [12], 12. 21-Allen Boes [11], 13. 42-Dylan Ault [33], 14. 13-Daniel Buttafuoco [10], 15. 8-Kollin Keister [15], 16-Daniel Faulkingham [14], 17. 95-Parker White [40], 18. 88-Briar LaPradd [32], 19. 96-Boyd Hoggan [35], 20. 41-Brian Mercurio [22], 21. 30-Kaden Honeycutt [16], 22. 28-Casey Tucker [29], 23. 99-Michael Cosey Jr [23], 24. 6-Andrew Navarro [25], 25. 53-Brandon McKissic [24], 26. 29-Kevin King [20], 27. 7-Blade Whitt [39], 28. 51-Ray Alfalla [36], 29. 31-Derek Justis [26], 30. 81-Kyle Meyers [31], 31. 66-Christopher Pfeffer [38], 32. 11-Christopher Hill [27], 33. 33-Taylor Hurst [18], 34. 36-Brenden Koehler [21], 35. 43-James Wenzel [17], 36. 1-Malik Ray [19], 37. 32-Daniel Smallwood [37], 38. 12-Jonathon Dulaney [30], 39. 76-Blaze Crawford [28], 40. 69-Collin Bowden [34].
Lead Changes: Five amongst five drivers.
Lap Leader(s): Jordy Lopez Jr 1-17, Vicente Salas 18-55, Boyd Hoggan 56-57, Casey Tucker 58-59, Taylor Hurst 61-77, Vicente Salas 78-110.
Laps Led: Vicente Salas 71, Taylor Hurst 18, Jordy Lopez Jr 17, Boyd Hoggan 2, Casey Tucker 2.
Hard Charger(s): 95-Parker White (+23).
Caution Flags: One for Three Laps.
Margin of Victory: 2.892 seconds.
Time of Race: 53 minutes, 38.666 seconds.
Average Speed: 123.032 MPH.
Pole Winner: 4-Jordy Lopez Jr, 26.362 seconds, 136.560 MPH.
Fastest Lap: 55-Vicente Salas, Lap 6, 26.850 seconds, 134.078 MPH.
Strength of Field: 7,100 Average iRating.