By Justin Schuoler, Staff Writer
DAYTONA BEACH, Fla. – Three-quarters of a century of a southern sport brings many southern traditions. Infield camping is filled with cookouts, barbeque pits, and shot-gunned beers. Fans from across the states bring their motorhomes for their favorite race or for NASCAR's popular tracks.
But at Daytona International Speedway, there is one quite entertaining event that makes even the newest fans laugh: introducing the chaos of wheelbarrow racing.
Few tracks have stayed on the NASCAR Cup Series schedule for more than 25 years. But for the wheelbarrow racing at Daytona, it's been hosted for nearly 30.
Meet the four hosts that make it possible: Cush Revette, Kenny Penrod, Bobby Dexter, and Dave Wiggins.
"We have a group of people that come from Oswego, Tampa, South Carolina, and we've been running wheelbarrow races here in Daytona since 1996, longer than I can remember," introduced Revette. "It gives some adult entertainment. We do have some kids come early in the show, but we run them every Friday and Saturday night after the races here in the infield."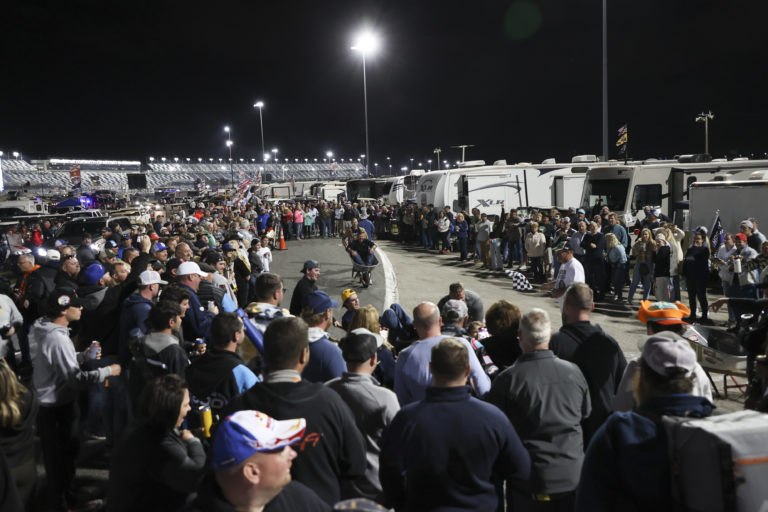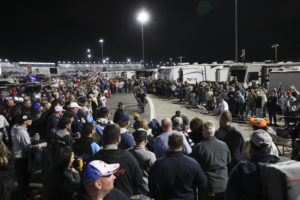 It started as just a fun activity to pass the time during a rainout at the speedway. While they now have nearly 10 wheelbarrows, it started with just two. And when I heard that, I couldn't help but think of the Henry Ford quote when asked when automobile racing started: "when the second car was built."
"We were here with another group from Jacksonville," Penrod continued. "They were behind us and it started raining, and for some reason we got a couple wheelbarrows out, started messing around. Next thing we know, we had people all around us. It just turned into a bigger and bigger thing. Cush took it over."
"It was seriously disorganized," laughed Revette. "Not that it's organized now, just mass chaos."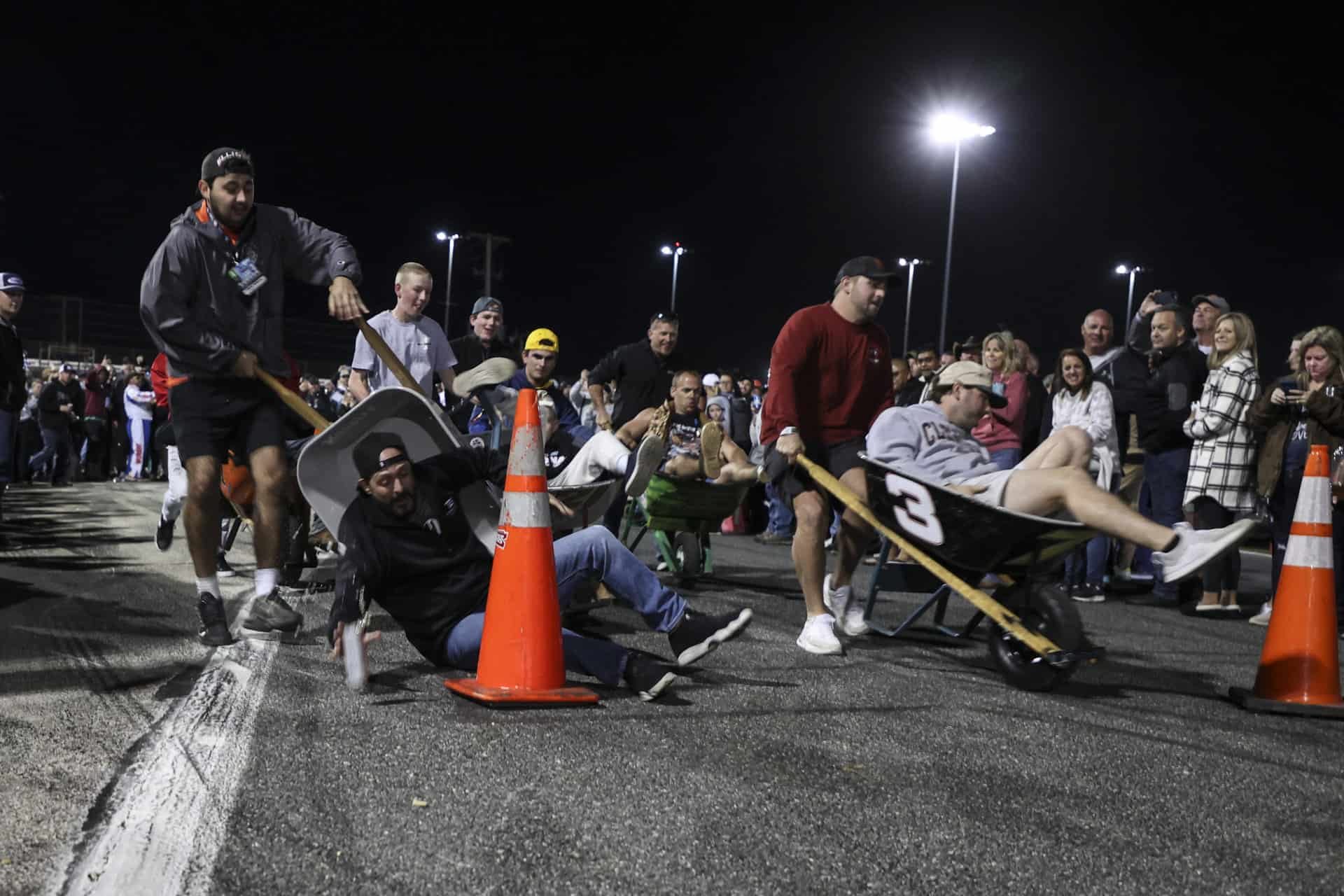 The tradition celebrates its 28th anniversary by continuing the wild fun at the Daytona infield. Even though Revette and his group have handled the festivities in whole for the last 15 years, every year never ceases to amaze them.
"They'll show up in different outfits and costumes," Revette shared. "We had a dinosaur run one race. Drivers come out to watch. The Blue Angel pilots have come by. Jeff Gordon was here last year. We had Kyle Larson, Blaney, the year before Chase Elliott, Michael McDowell. Larson put his kid and run the kid down through the wheelbarrow races.
"We have celebrities too. Sometimes we'll design a wheelbarrow for them and their group."
And the designs do not hold back. One wheelbarrow is designed with old parts, beaten and bruised but not destroyed, and is nicknamed the "Redneck Wheelchair." Let's not forget to mention some of the older designs that still run, including one to commemorate the Wood Brothers legendary No. 21 car and the famous No. 3 of Dale Earnhardt. Another wheelbarrow is wrapped to look like one giant watermelon for Ross Chastain.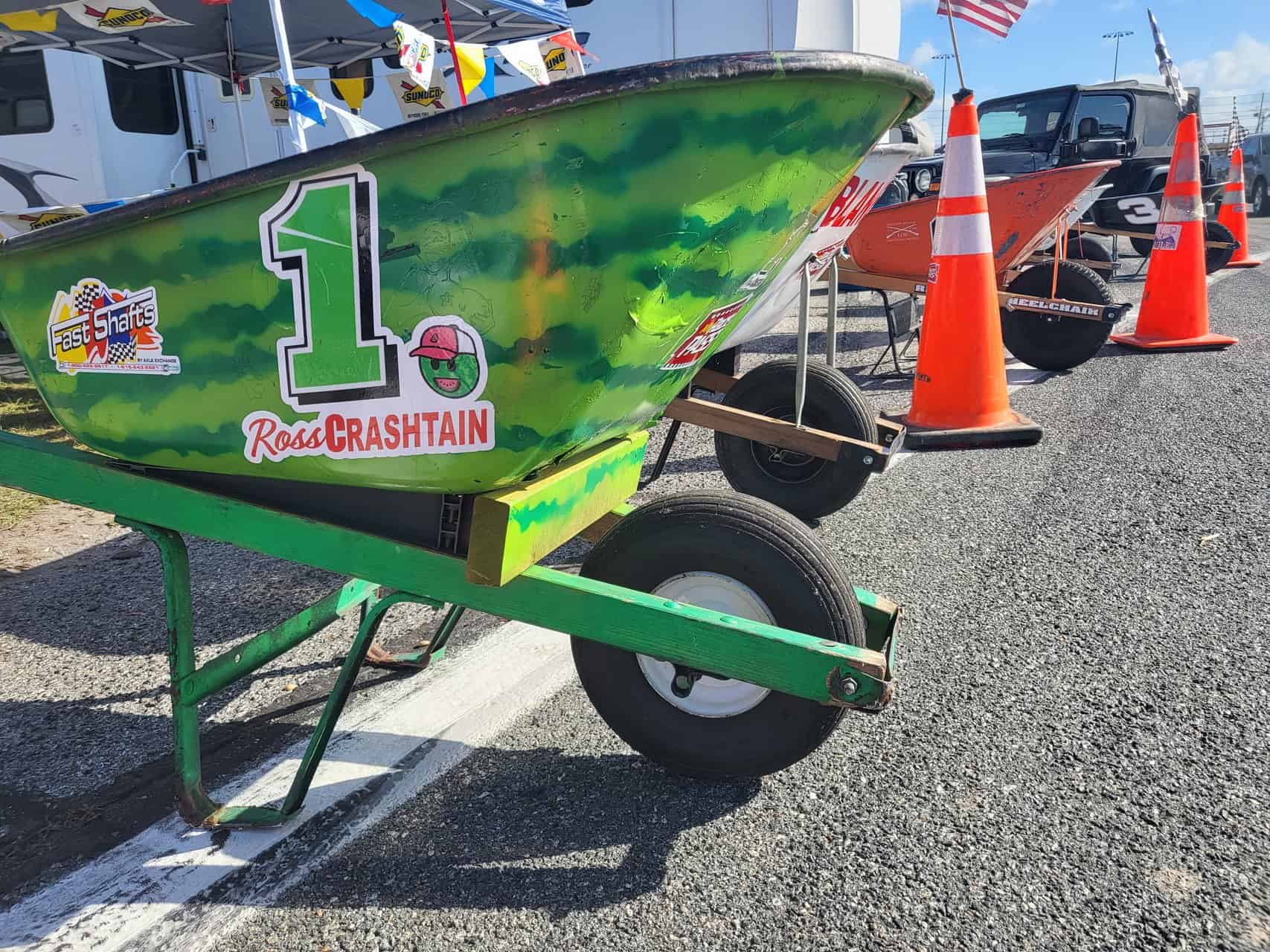 "We've got the Melon Man," cheered Revette. "That's a new addition to the fleet. We got him nicknamed on the wheelbarrow 'Ross Crashtain.' And he's a Florida guy, which I'm Floridian so I'm kinda partial to the guy. He's up and coming. It was a tough road to get to where he's at now, but he raked and scraped to get to where he's at now. Now he's famous. He's like the pass in the grass guy, except he's the guy that rode the wall all around to qualify (for the Championship 4)."
You might think this is just some reckless party event that capitalizes on the anarchy of infield camping, but the four friends have found new ways to make it about giving back to the community. They've worked with local law enforcement to make it a safer environment for participants. They have also taken the nickname "Redneck Wheelchair" to a literal sense. This year's Daytona 500 saw a sold out crowd of over 100,000 in attendance, giving spectacular awareness and exposure to the Darrell Gwynn Foundation, a non-profit organization that helps supply medical wheelchairs.
"Every year we try to build a new wheelbarrow," Revette said. "We wanted to honor somebody that's been in the business for a while. I see Darrell Gwynn come by a lot, he's a drag racer. I go to the Rod and Reels fishing tournament with him for the benefit for the people that have problems and need wheelchairs. Those wheelchairs are very expensive. He has a foundation that helps kids get their wheelchairs.
"I'm not a member of their foundation, but I try to do my part."
It takes everybody's effort to keep the wheelbarrow races going. While the four are hoping for a young team to take over so they can retire, they still enjoy every bit of it. With all the upkeep, transportation, and storage, they are waiting for somebody to pick up the baton and run with it. For now, they continue to work out of their shop in Tampa, looking forward to new stories every February.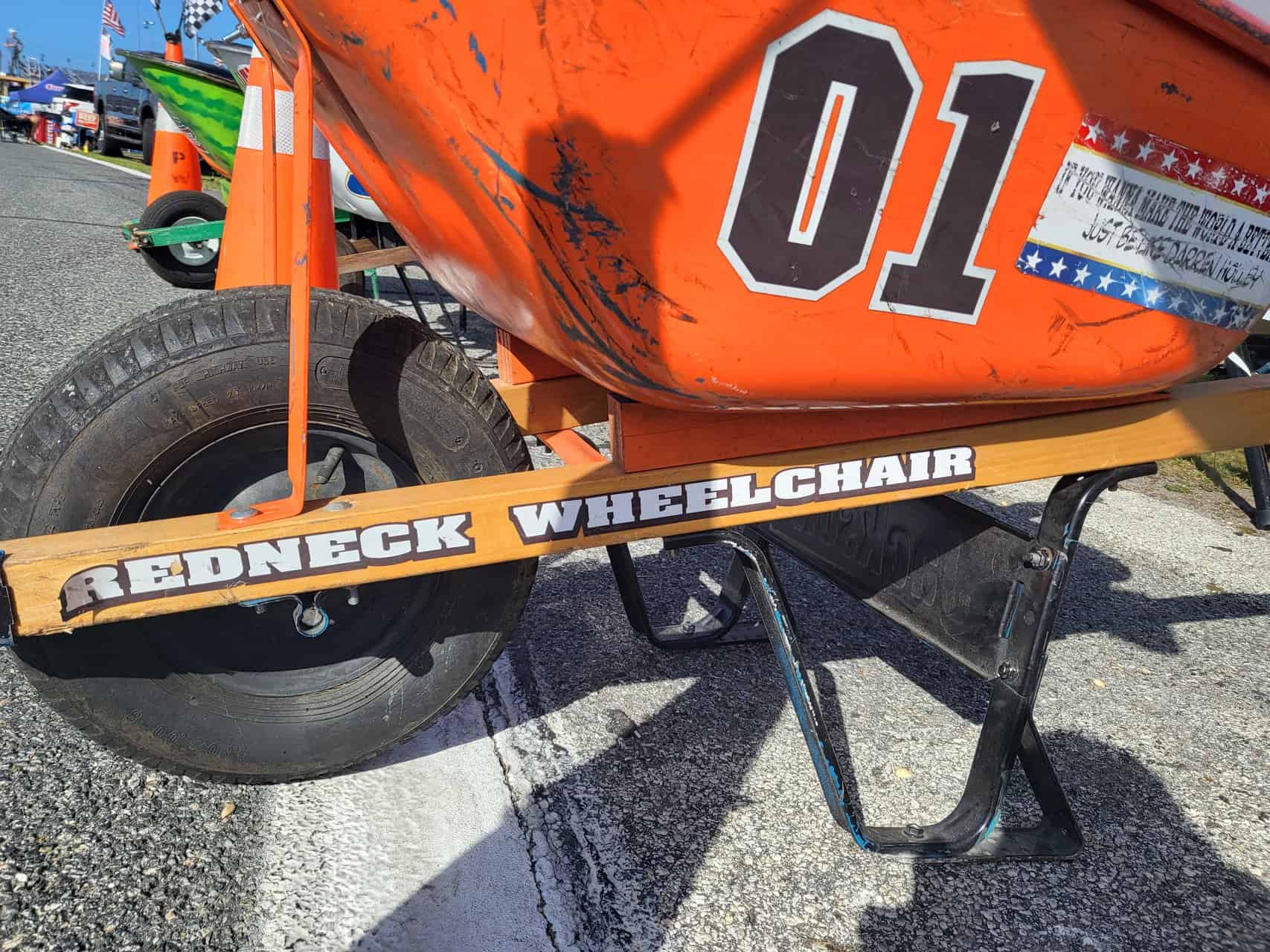 Florida truly has brought a lot of racing to NASCAR. Chastain grew up as a watermelon farmer from Florida, but Aric Almirola is also a fellow Sunshine State resident. Also from Tampa, many in the beaches of Daytona know his family and their involvement in motorsports.
"Aric Almirola, I raced with his grandfather, Sammy Rodriguez at East Bay Speedway," reflected Revette. "We've got a short track program we run with some vintage cars, and Aric Almirola's grandfather was one of the best sprint car drivers I'd seen. He developed the Dirt Devils Speedway for all the up and coming kids. It started as a small go kart track, but it's turned into a full-time job. You see some kids come in with their parents with big long haulers and enclosed trailers with go karts.
"It's been open for 15 years now. For the young kids, it's a great thing to have a semi-professional track for their go karts."
The connections all fall back to the traditional old school trades. Most were involved in the construction industry, but Revette and Wiggins met working together at nuclear plants. Penrod jumped into the scene just shy of the new millennium, and Dexter recently joined forces too.
"I met these guys in '99," said Penrod. "I was down for the (wheelbarrow) racing. I can do that. Maybe not the crashing, but I can do the racing. It used to be a drag, but now we race up and down. Dave is from Canada, and this was about the same time they met him. But the only person that ever beat me was him."
"No one ever beat him before that," Dexter chuckled, poking at Penrod.
"We're really scattered all over the place," Revette added. "Luther Designs from New York help design our wheelbarrows. I work nuclear power plants, so traveling around, I meet friends. Bobby comes down and stays here in the winter. But the people you meet developed into what we have here."
The one-wheel, two-handle tandem is planned for every Great American Race. Amidst the carnage, they reflected on their best memories, and when asked what their wildest of races was, Penrod's answer couldn't have been more perfect.
"After midnight."