By Christian Koelle, Staff Writer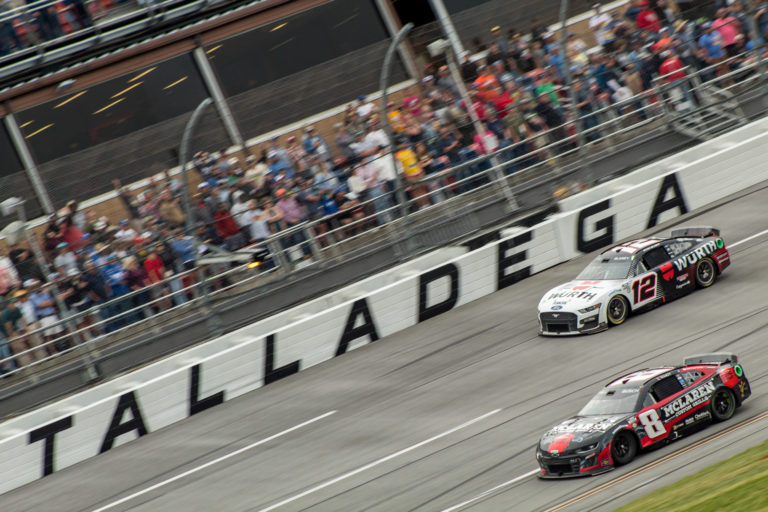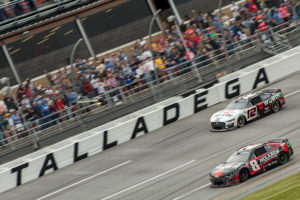 TALLADEGA, AL. – Kyle Busch earned his first Talladega victory since 2008 Sunday Afternoon after beating Ryan Blaney by a bit as the caution was thrown for a crash involving Bubba Wallace. Despite considering himself as just getting "lucky" Sunday during the GEICO 500, Busch still tallied his second victory of the 2023 season. The victory was the 62nd victory of his career putting him alone as the ninth all-time winner in the NASCAR Cup Series.
Despite the victory, Busch talked about how the racing during the day just wasn't what he personally wanted to see.
"It was like a 200-mile-per-hour parade lap," said Busch. "It is just hard to make passes and make enough room to make passes and move through or get enough gap to the inside to fall in and try to cycle up then get enough of a gap to the outside and cycle up. It was just really really hard today."
Busch seemed to run solidly during the GEICO 500 on Sunday but denoted that the stat sheet would not show that they contended for the victory until it really counted. The vision of the race Sunday was that pit road was the most treacherous place for drivers Sunday as both Tyler Reddick and Chase Briscoes faced issues earlier on in the race. Busch even spoke to where coming back on track and catching the Fords during the race caused some issues and pushed him to the back.
"We got up front there for a little bit," said Busch. "We came off of pit road in that second stage I believe behind Chase (Elliott) and the 24 was with us and then we caught up with the Fords and we all got misconjabulated and it shucked me to the back so I was in the back again. Our average running position and where we ran most of the day wouldn't show that we contended much but we'll take it when they come."
Sunday's race at Talladega featured 56 lead changes, just one less than the 2022 fall race. It was the most for a spring Talladega race since the 2020 June race featured 57. From the blind eye, it seemed as if Busch was correct as drivers had to work extra hard to make it through the field to the front. Whether it be Erik Jones' top push from the rear of the field or just constant moving up and down much like Busch had mentioned in the post race press conference above.
Whether it be a parade ride around the Talladega Superspeedway or a drive down I-20 with 38 other cars, it took strategy to win Sunday's race at Talladega. It just so happened that Busch and his No. 8 McLaren Custom Grills Chevrolet had the best strategy when the checkered flag was displayed.