By Vincent Delforge, special to KickinTheTires.net
September 23, 2021, Star Nursery 150 at The Bullring at Las Vegas Motor Speedway, Las Vegas, NV (150 laps/56.25 miles)
This Thursday will be the seventh race of the season in the ARCA Menards West Series. The season will then continue in Roseville, CA on October 9 before the season finale in Phoenix, AZ on November 6.
The Star Nursery 150 is a night race. The green flag is scheduled to wave around 8:30 p.m. (PT). It will count 150 laps for 56.25 miles. The Las Vegas Bullring is a .375-mile asphalt short track. The show will be provided by a beautiful entry list made up of 24 drivers.
But before that, as always, a little history.
Track History
The Las Vegas Speedrome, located in Clark County, Las Vegas, Nevada consists of a road course and drag strip, opening in 1972, a 3/8-mile short track opening in 1985 and finally a 1.5-mile superspeedway opening in September 1996.
Las Vegas is the only automobile complex to have been on the West Series calendar in three different configurations since 1994. Indeed, the short track that interests us today was used for the first time between 1994 and 1995 before giving way to a series of 10 races on the Las Vegas Motor Speedway (1.5-mile) between 1996 and 2002.
The West Series even competed on the two tracks of the Las Vegas complex (the Bullring and the Motor Speedway) between 2001 and 2002 before a final race in 2003 on the short track. In this 'I love you and then I leave you' relationship, the West Series will return to the Bullring once again between 2011 and 2012 before another hiatus.
However, the umpteenth comeback will be next door on the Las Vegas Motor Speedway Dirt Track (.500-mile dirt) in 2018 and 2019 for the last two seasons under the NASCAR banner. Eventually the Bullring regained its place on the West calendar under the ARCA banner last year for two races.
In total, the Bullring will have hosted nine races between 1994 and 2020. Last year Sam Mayer won the first race for GMS Racing in February and Gracie Trotter won the second for BMR in September. The win for Trotter was the first for a woman in an ARCA-sanctioned event.
Note that there was also a combined race between the West and the NASCAR Cup Series in 1955 at Las Vegas Park Speedway, a 1.0-mile dirt oval that no longer exists today. As well as the Craig Road Speedway, a 0.250-mile asphalt short track located in North Las Vegas and used nine times between 1970 and 1979. If we really want to talk about all the tracks frequented by the West Series in Las Vegas, it must not be forgotten the road track located on the Caesars Palace parking in 1983.
Only one team can claim to have won on the Speedway, the Bullring, and the Dirt track. Who is it? Bill McAnally Racing of course! Brendan Gaughan won on the Speedway in 2001, Hailie Deegan on the dirt track in 2019. Austin Cameron (2003) and Trotter (2020) on the Bullring.
Speaking of female racers, with Trotter's victory last year, it should be noted that a new record will be broken this Thursday in the West Series. There will be five women on the grid for the start!
In Memory of Teddy Hiraoka
This year a new Japanese driver made his West Series debut, Hiroyuki Ueno. He ran three races with Kart Idaho Racing, John Wood's team. Both races at Irwindale as well as the one in Colorado. The context being particularly moving because two days before we had just learned with sadness of the death of Teddy Hiraoka, a friend and spotter of Hiroyuki's. The West Series may have lost one of its members, but they will stay in our hearts forever.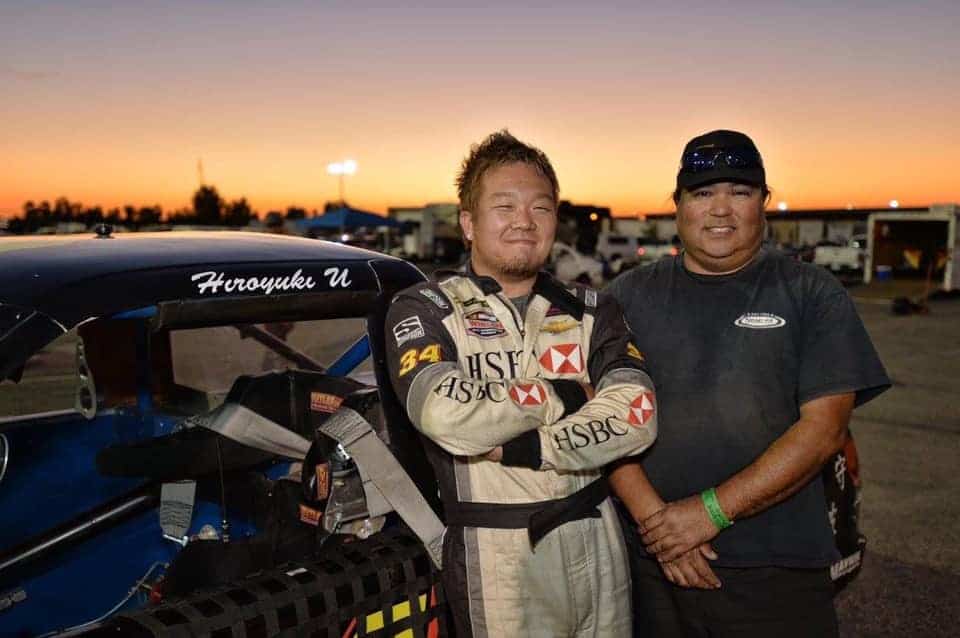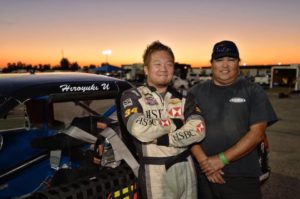 Get to know Hiroyuki Ueno
Vincent Delforge: To begin with, can you tell us a little more about yourself?
Hiroyuki Ueno: "I was born in July 1977, and I raised in Osaka Japan. I currently live in Okinawa. In addition to being a racing driver, I am a self-employed entrepreneur in Japan. This is how I finance my races.
"I do different things and one of them is to offer my services in Okinawa for former American soldiers who do not have cars. To drive them to the hospital, to the restaurant, to the airport, … There is no Uber service in Japan and the taxi is very expensive. (Note: In 1945, there was the battle on the island of Okinawa. This is where the Himeyuri Peace Memorial is located, frequented today by many American veterans and their families)."
VD: How did you develop your passion for motorsport and more specifically for NASCAR and at what age? Tell us about your first racing experience, what was it?
HU: "I started (my passion for racing) when I was 16-years-old. For four or five years I competed in motorcycle races in Japan with my brother. A few years after I founded my first company, I was working on designing my own car from 1997. It took a few years to get there. Then I started to go to the track to test my car and develop it. I took a liking to driving car on the circuit. I was already almost 30 years old.
"At that time, I was no longer racing motorcycles, but the passion was still there, so I started doing endurance races and time trials. I was 37-years-old when I debuted on ovals in NASCAR-type races for the first time. It was in California. And I even got the Southwest Tour Trucks (SWTT) Series Rookie of the Year award in 2016."
VD: You have been riding ovals in the USA for several years now, since you have participated in the Southwest Tour Truck Series since 2015. Why did you come to race in the USA?
HU: "It's a very funny story. I have been divorced three times. In May 2015. I fled to the United States because I didn't want to get back with my third ex-wife. With my friend Teddy, we went to Sonoma Speedway. I watched NASCAR for the first time. I didn't know much about NASCAR before.
"And the sounds of the V8 made me sleep … Teddy called out to me by saying but how can you sleep in the grandstand! Indeed, the sound of a V8 is a lullaby for me. Then I stayed with my friend Teddy's aunt for three months. I met Teddy Hiraoka for the first time in 2001. Since then, we have never left each other."
VD: On July 3rd you made your ARCA Menards West Series debut in Irwindale. How did this opportunity come about?
HU: "I looked for this opportunity, I participated because I was able to find a sponsor.
Michael St. Onge helped us out when I attended. His son, Zack St Onge is the 2016 SWTT Champion."
VD: You've run three races in the West so far. The two races of Irwindale and that of Colorado. You have shown that you have the spirit: 'never give up!' By going after your races despite the problems. How do you rate your learning curve? Are you satisfied with your results?
HU: "I can't be happy with the results. But I learned a lot during my three races. I had a good experience. Above all, I knew what not to do. Skipping steps by trying to drive too fast."
VD: With a bunch of old hands and true NASCAR enthusiasts such as John Wood, Mike Holleran, Susan McCarty… Was it easy to integrate into their team? What are your plans for the future?
HU: "They welcomed me very kindly. I believe that if we spend time together and overcome problems together, I can become a member of the team. We plan to participate in more races in 2022 than this year."
VD: It is with sadness that we learned of the passing of Teddy Hiraoka. You had been friends for a long time, and he was also your spotter. What are some of your best memories that you can share with him in motorsports?
HU: "I accepted reality little by little. It's hard to lose your best friend. I have too many memories with Teddy that I would never have enough time to talk about it.
"Teddy has always been my spotter since I started (racing) in the United States of America. He didn't congratulate me easily. Because I tend to get carried away if something goes wrong. He knew what to say to help me refocus. If I had kissed the wall. But he also congratulated me sometimes.
"For example, when we did our first lap on the Madera circuit in 2017. We got 3rd place that day. He said we were so close to winning! That now we knew we could win!
It is one of my best memories of the race. We were like brothers. My best partner.
Rest in peace Tomohiro Teddy Hiraoka."
What happened to Todd Souza in Portland?
We saw, from the pace laps, the Toyota No. 13 of Todd Souza was not running properly. The engine shutting down for no reason. In pitlane Michael Munoz, the crew chief and the whole CCR team checking every element of the car. Electric problem? No. Ignition problem? No.
"The engine would restart at times before shutting down again. Todd managed to get back on track for a lap before the engine stopped again. Fuel line problem? No, the pump was working well. It was a disaster for Souza in the championship.
After the race, further analysis of the car was conducted, and water was discovered in the tank of Todd's car. How did water get mixed with gasoline? ARCA officials took the issue very seriously. An investigation is being carried out. The fuel can supplied by Sunoco was seized as well as the images from the security cameras.
Either Sunoco accidentally supplied a fuel can with water in it… (But how did water end up in it?) … or someone on the garage put water in the can. This would then be an act of sabotage. Whatever happens, the damage is done. Title hopes for Souza were drowned in this sad affair.
A father – son duo in the top-10!
In Portland, if the second position of P.J. Pedroncelli did not really surprise us, the ninth position of his father Paul was a pleasant surprise. A father / son duo together in the top-10 of a West Series race has not happened since 2013 in Tooele, UT with Canadians Carl, and Daryl Harr. Daryl the son was seventh and Carl 10th. And they too drove in their family team just like the Pedroncelli's today. But P.J. and Paul still have some work ahead of them because the Harr's did this nine times during their careers between 2004 and 2013.
A Detailed look at the entry list:
No. 1 Jolynn 'JoJo' Wilkinson (Bill McAnally Racing)
Jolynn will be racing his second career race after Colorado in July. A first convincing experience with a nice eighth position under the checkered flag. In addition to her races in SLM, she continued her apprenticeship within the BMRDA. Finishing second in the last race on September 18 in Roseville, CA. It will wear the number 1. Something very rare at BMR. Indeed, this number has so far only been used twice by the team. The first time in 1997 with Tony Taranto at Portland Speedway, OR and the second time with Michael Waltrip in his very last West Series race in 2014 at Roseville.
No. 4 Eric 'Bubba' Nascimento (Nascimento Racing)
With his small family team, Bubba performed very well so far. The victim of a collision on the first lap in Portland, he could not do better than 11th. But in Colorado, on another .375-mile short track, he had been a contender for victory, securing his first career top-5. He will be a serious contender for victory.
No. 5 Kyle Keller (Pitts Racing)
Jerry Pitts has a second car in Vegas. In addition to Takuma Koga, local driver Kyle Keller will compete for the team. Last year in his West Series debut on a track he knows by heart, he had been impressive race, finishing fourth. He continued his demonstration with a sixth position at Bakersfield. An excellent driver in a great car, this is a combination that could prove to be a winner this Thursday! Veteran crew chief Charlie Wilson is back on duty for the occasion.
No. 6 Trevor Huddleston (Bruncati Racing)
Fifth and then 12th last year at LVMS Bullring, Trevor is consistent in his inconsistency to achieve several good results in a row. In Portland, he had a race that mirrored his season. At times fast and at times much less. His seventh position, his second-best result of the season after the sixth obtained at Irwindale, will hardly console him. Bill Sedgwick, his crew chief, will he manage to take Huddleston to Victory Lane as he had done here with Ron Hornaday, Jr … in 1994? Wait and see!
No. 7 Takuma Koga (Pitts Racing)
Incredible Takuma. While one would have thought his race was going to end in Portland's first chicane after climbing over Jake Drew's car, he was able to straighten the bar and even run faster and faster to get fifth! Matching his best career result of 2017 on the Orange Show Speedway quarter mile in San Bernardino, CA. He has already raced the Bullring three times, finishing 19th (2003) and 11th and sixth respectively last year.
No. 9 Jake Drew (Bruncati Racing)
What a disappointment for Jake in Portland, he had to wait several minutes stopped on the finish line he had crossed first to finally receive a penalty of 30 seconds for missing the turn 2. Finally ranked 10th, he lost precious points against Jesse Love, but he is closer than ever to securing his first "real" victory. The rookie is from the champion class, no doubt about it!
No. 11 TBD Rich DeLong III (Kart Idaho Racing)
Big disappointment because it should have been the big return to the West Series of Rich DeLong III. His last race was in 2019 in Sonoma. And for the first time since 2013, he would not have been behind the wheel of his own car. Unfortunately, three days before the race, the deal with his sponsor was unsuccessful and he will not be in Las Vegas. John Wood has since made the car available for hire.
No. 13 Todd Souza (Central Coast Racing)
Todd will have a taste for revenge after his Portland woes. Eighth and fifth respectively in 2020 on the Bullring, he has the opportunity to save a season that had started so well by aiming for victory.
No. 16 Jesse Love (Bill McAnally Racing)
In Portland, Jesse had a race worthy of the champion he is. Failing to be able to aim for victory, he aimed and obtained a good third position. And that's quite rare in Portland, his car was almost intact under the checkered flag. Jesse trying to avoid unnecessary contact. It's also about being a champion. Knowing how to win and knowing how to take big points when victory is not possible. Last year at the Bullring he had two top-5s with second and third positions respectively. As well as a pole position.
No. 17E Taylor Gray (David Gilliland Racing)
The latest West Series winner in Portland after finishing third in the race, Taylor couldn't have enjoyed the same luck last week in Bristol in the East Series final. No one was penalized and he remained third. He will discover the LVMS Bullring but that is absolutely not a problem for him. He is still a candidate for at least a top-5.
No. 17W Amber Slagle (Cook-McGowan Racing)
For her debut at Irwindale, she had been impressive in qualifying with the fourth fastest time. But her race was made difficult due to technical problems. The team gives her the opportunity to finish the job here and show everyone that she is a great driver.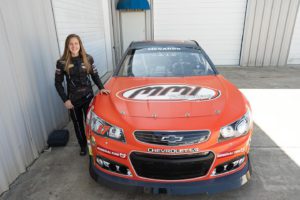 No. 19 Amber Balcaen (Bill McAnally Racing)
Amber, the Canadian, is more experienced in West / East type cars than the other Amber. In addition to doing a large part of the BMR Driver Academy races, she has already raced in New Smyrna, FL in 2017 in the East Series in addition to the two Irwindale, CA races in the West Series this year. She hasn't really impressed us in the last two races. Even if the last one got better with an 11th position.
No. 21 Josh Fanopoulos (Kart Idaho Racing)
Josh focused his efforts in 2020 on his local championship at Meridian Speedway. He returns with his No. 21 Chevrolet for the last three races of the season. He will discover the LVMS Bullring, but the small, short tracks are precisely the type of circuit where he is most comfortable.
No. 27 Bobby Hillis, Jr. (Fierce Creature Racing)
Disappointment in Portland. Bobby had announced that he was aiming for at least a top-10 or even a top-5. However, with a team made up at the last minute of volunteers, he almost won his bet. Finally, 14th, Fierce Creature Racing was able to be fast for a good part of the race.
Larry Gaylord had served as interim crew chief replacing Ed Ash. Still recovering of Covid, Ed will once again be absent from Las Vegas. His replacement will be announced this Thursday. Bobby has already done four races at the Bullring with as best result of an eighth position in September 2020.
No. 31 Paul Pedroncelli (P.J. Pedroncelli Racing)
Paul Pedroncelli, the father, comes to have fun but he has a very good level of driving on the road track. As proof, after an 11th position in Sonoma for his debut, he obtained his first top-10 in Portland with the ninth position. On oval, he is there to prepare the backup car of his son. But if P.J. has no problem in practice, Paul will start the race with the main goal of not damaging the car.
No. 33 Paul "P.J." Pedroncelli (P.J. Pedroncelli Racing)
P.J. continues to impress us this season. He, who had a "modest" first West Series career under the NASCAR banner in the mid-2000s, made a surprising comeback under ARCA this year. PJ has earned three top-fives, four top-10s and one pole position in six races. He is third in the championship 20 points behind Jesse Love. He has never raced at LVMS Bullring.
No. 38 Stafford Smith (Kart Idaho Racing)
For his return to the West Series, Stafford found the way to the top 10 with a nice eighth position. He could have even hoped for better if he hadn't been pushed off the track on the last restart. He will debut on the Las Vegas short track, but this is the type of track for him.
Indeed, he is comfortable on very small ovals since it was at Meridian Speedway that he obtained his best career result in 2016 with a seventh position. He switches cars within the Kart Idaho Racing team, going from No. 08 to No. 38.
No. 42 Christian Rose (Cook Racing Technologies with McGowan Racing)
Every West Series race has its rookie. This honor goes to Christian Rose, originally from Martinsburg, West Virginia. He will be the second West Virginia driver to participate in a West Series race since the series' inception in 1954. The only other was Cale Conley when he entered his one and only race in Phoenix in 2012 where he finished third after to have achieved the pole.
Christian began his racing career in December 2018 at the age of almost 24. Diagnosed with dyslexia, he has been able to overcome difficulties since his childhood, complete his studies and has been a Late Models driver for Cook Racing Technologies since 2020.
No. 51 Dean Thompson (High Point Racing with Bruncati Racing)
After missing the Irwindale race due to the Covid, Dean made the decision not to do the Portland race to focus on securing his second Late Models Championship title at Irwindale. He succeeded! He comes back with a full of confidence and intends to aim for victory. Offside for the championship, that will be his one and only goal by the end of the season, to win races!
No. 54 Joey Iest (Naake-Klauer Motorsports)
Joey has long been a victim of bad luck in the West Series, but since race three of the season at Irwindale he has never finished worse than fourth. Conversely, in the East Series he hasn't had much success in the last three races. In Bristol he had a very tight car before losing three laps due to a flat tire. Last year he had made both races at the Bullring without making it into the top 10 due to mechanical problems despite excellent qualifying.
No. 77 Mariah Boudrieau (Performance P-1 Motorsports)
Mariah is back for her third career race. Twice 13th in Irwindale and Colorado, she hopes to do better. She just got a nice 10th position (out of 23 drivers) during her Late Models race at Colorado National Speedway after a nice comeback from 20th position on the starting grid.
It will be an opportunity for her to show her true potential behind the wheel of a heavy and powerful West Series car. The best PP1M result at the Las Vegas Bullring was achieved by Steve Portenga, fourth in 2003. Last year with Takuma Koga, the team were respectively 11th and sixth.
No. 88 Bridget Burgess (BMI Racing)
Bad luck for our young Australian in Portland when she clearly had the speed to get a top 10 position or better. She already has experience at the Las Vegas Bullring having done both races last year. If the first race had not been a success because of the engine running on seven cylinders. But it had obtained a nice seventh position in the second race. What remains to this day her best career result.
No. 99 Cole Moore (Bill McAnally Racing)
The Portland race ended badly for Cole due to a mechanical problem. This caused him to lose valuable points against his teammate Jesse Love in the battle for the championship. He is now 20 behind. The Bullring will be an important step. Either he manages to reverse the trend and narrow the gap, or it will be almost too late. For that he must obtain his first victory.
The Star Nursery 150 is scheduled for Thursday, Sept. 23, with a start time of 8:30 p.m. PT / 11:30 p.m. ET. The race will be shown live on NBC Sports Gold's TrackPass with a live audio feed available on ARCARacing.com. A delayed broadcast of the event will air on NBCSN on Thursday, Sept. 30, 5 p.m. ET
Three hours before the race, there will be a unique one hour and 15-minute combined practice and qualifying session to determine the starting grid.
Now it's time for the show.
All results here: www.racing-reference.info/entrylist/2021-07/AW/
Featured Photo Credit: Photo Courtesy of Christian Rose via Vincent Delforge.