By Vincent Delforge, special to KickinTheTires.net
Since the inception of the current ARCA Menards Series West in 1954, there's been nearly 200 race winners and 39 champions in 68 seasons. Among those champions is two-time champion Greg Pursley. The Parker, CA native won the championship in 2011 and 2014. His stint in the West Series lasted 11 years between 1999 and 2015. In 100 races, he had 20 wins, 58 top-fives, 75 top-10s and 20 poles. He also led 2269 laps in 43 different races. Impressive statistics.
Born on January 4, 1968, the young Pursley very quickly wanted to become a racing driver. It must be said that he was bathed since his birth in a family linked to the world of motorsport. If he first tried a career on two wheels in motocross, it is finally late at almost 25-years-old that he will start his career on four wheels. Imagine that in our time, 25-year-old drivers are already almost considered veterans! It's a safe bet that if Pursley had started younger on four wheels, his name would surely appear more than twice in the list of champions of the West Series. And above all, it's a safe bet that he could have had a career in the different NASCAR national series. But with "if"…
This in no way detracts from his talent, his passion, his determination which he has always shown on the tracks. Both feared and admired by his opponents whether in Super Late Models at his hometrack in Irwindale, CA, the NASCAR Southwest Tour, the NASCAR West Series or anywhere else he has raced.
Pursley's story is one of friendship with another great man from the West Series, I named Gene Price. Together they built a real winning machine: Gene Price Motorsports (GPM). Pursley will have done everything with Price. From mechanic to driver to crew chief and now the two friends still do business together. Their common initials G.P. having linked their destinies forever. Without forgetting a third man, of all the successes, the crew chief Jerry Pitts.
Finally, you will see that like Peter Parker who became Spider-Man after being bitten by a spider giving him extraordinary powers, Pursley's career reached new heights after being stung twice by a scorpion in early 2011. Curious but Pursley is from a town called Parker… The same name as the hero of Spider-man. Pure coincidence? From there to imagine a cause-and-effect link on its results. No one will ever know!
The races, it is in family that the Pursley lived it. It was rare to see him on a Victory Lane without his wife Heidi or his children Tyler and Taylor. Now a grandfather, he must prepare to tell his driver adventures to the new generation.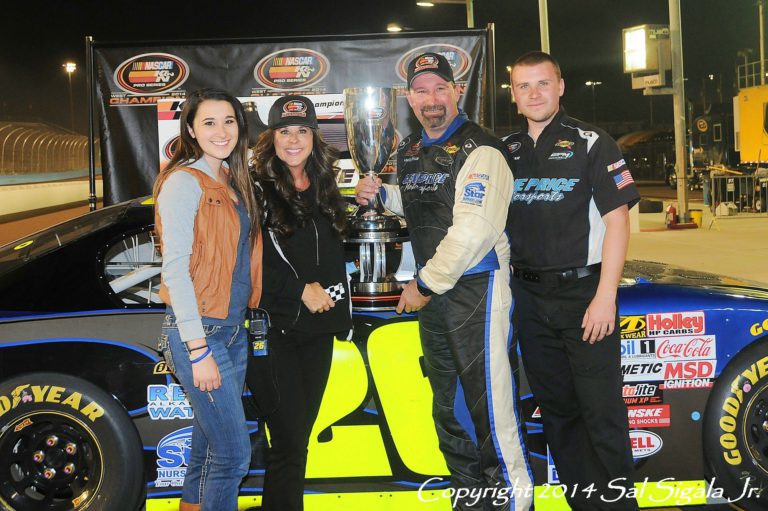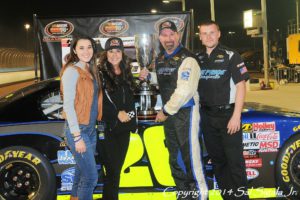 After Price in 2017, Pursley was inducted into the West Coast Stock Car Motorsports Hall of Fame in 2018. In 2020 they were joined by Pitts. The fabulous trio being once again reunited. Recognized by all as part of the legend.
Vincent Delforge: Let's start from the beginning. How did you get your passion for racing and at what age? Did you have a favorite driver when you were a child?
Greg Pursley: "I grew up surrounded by racing of all sorts at a young age. My Dad (Note: Russ Pursley) was Mickey Thompson's crew chief for his top-fuel funny-car and was involved in several other series as well.
"In my younger years I raced motocross which led to road racing motorcycles with 16 straight wins in my class. This resulted in a bad crash which put me in a wheelchair for two months. Due to this crash, I decided to transition to road racing cars. My car racing career started at the late age of 25 at Willow Springs racing Late Model cars.
"Dale Earnhardt was my favorite driver that always caught my eye for his driving style and talent."
VD: Before a young Greg Pursley for the first time in 1995 in Mesa Marin in the NASCAR Featherlite Southwest Tour what was your background? Karting, Bandolero?
GP: "Motocross on various tracks, Road Racing Motorcycles at Willow Springs and a few other tracks, Road Racing Late Model Cars at Willow Springs, Late Model at Mesa Marin. And after what you know with the NASCAR Southwest tour and NASCAR West Series."
VD: You ran several seasons in the NASCAR Featherlite Southwest Tour. A beautiful series with high level races. You continued in this series until 2006 with very good results. What memories do you keep from this period? The series was very formative, it did a lot in your development as a driver. Did that make the transition to the NASCAR West Series cars easier (now ARCA West)?
GP: "I built a SW Tour car in the early days, did a few races here and there. This led me to the opportunity of driving for some very good car owners such as Tom Fry in the 98 car. We had the inaugural pole at the LA Street Race, led many laps, a lot of good top three finishes, second at the Copper World Classic in Phoenix almost winning that race and winning two races at my home track Irwindale Speedway against Kurt Busch and other high-level drivers at the time.
"After Busch advanced, I replaced him in Craig Keough's Star Nursery No. 70 Southwest Tour with multiple good runs and top three finishes with them. At that time, I felt like the Southwest Tour was one of the best stock car touring series for top level talent. It was a good mixture of talented, experienced and new and upcoming drivers."
VD: Your first West Series race was at Mesa Marin in 1999. How did this opportunity come about and what memories do you keep of this first race?
GP: "My first West race in 1999 with Tom Fry in the 98 Ford Taurus and it was bought from Jack Roush. It was a previous 'TV Guide' car (Note: driven by Kevin Lepage in Cup). My Southwest Tour team and Crew Chief was the one who ran the car. It was a one-off race just to see how we'd do. After that we qualified okay and ran in the middle of the pack. It was a big transition going from a lightweight Southwest Tour car to a heavy, full bodied stock car. I had lots of fun and learned a lot."
VD: You had to wait until 2002 to see you again in the West Series for your first full season with PP1M, Joe Nava's team. Two top-fives, five top-10s. A good season for a rookie even though it's Mike David who gets the ROTY title. What memories do you keep from this first season?
GP: "That was my first full year in a West car with multiple different sponsors on the car for funding. We had many good finishes in that car, but it was a big learning curve making the transition going to multiple other tracks and sizes. But it was a good rookie fight throughout the season with Mike David and Brett Thompson."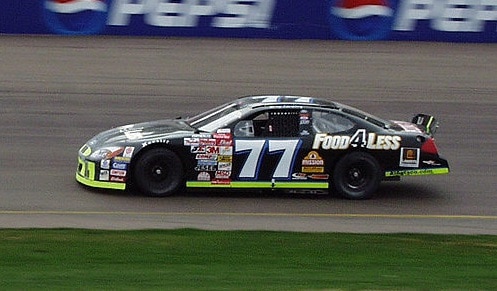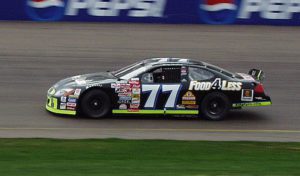 VD: Let's talk about the Las Vegas Bullring race. Finish sixth but 25 laps from the checkered you were the leader. It was even you who had the most laps in the lead. What happened? You came so close to your first victory that day.
GP: "We had a very good, competitive car that day. We qualified well and ended up taking the lead from Austin Cameron early in the race. We battled him for the lead all the way from 20 to go and had a left rear tire go down. It was heartbreaking that race as I wanted my first win so badly."
VD: Why after a good first season did the adventure with PP1M stop? More generally how come you didn't have another ride the following year? Lack of budget, did you have other priorities?
GP: "Joe Nava and his team were all great guys, and we had a lot of fun racing together but as we all know funding was becoming more and more difficult to secure to run a full season.
"After not being able to secure a second year in the West Series, I went back to a SLM at Irwindale Speedway in 2003/2004 driving for Dave Hayes in the No. 13 car. He's another great car owner and team. This became a pivotal point in my racing career. In 2003 we won five races and took home the Miller Big 10 Championship at Irwindale Speedway. We had many fierce battles with Rip Michels. We started out as each other's nemeses but in the end we both ended up being better drivers from racing each other as hard as we could.
"In 2004 we went back to run for the Championship and unbelievably won 13 out of 18 races which led us to win the Dodge Weekly Series National Championship. As we know, this was damn near impossible. It was one of those years where everything just clicked and went right."
Note: For the record in 2002, the champion was Eric Norris, and his crew chief was Pitts. We will come back to Pitts later.
VD: Five years later, in 2007, you made a timid comeback with PP1M in Irwindale. An experience that will come to an end following an electrical problem. Was it just a one-off? You drove No. 70, a number that you wore for years in the Southwest Series. Did he have a special meaning for you?
GP: "That was a one-off race at my home track in order to prepare for the Toyota All Star Showdown at the end of the season for the West Series Race portion of the program. We put 70 on the car as I believe the No. 77 was taken by a fulltime driver during that time."
(PP1M's 77 was driven by Mike Gallegos at the time)
VD: In 2007 you won the Toyota All-Star Showdown in SLM. With a backup car from Price for whom you worked as a crew chief. Price had planned to quit motorsport at the time. Was this race a way of saying thanks to you?
GP: "I asked Gene early in the year if I could run his backup car in the inaugural SLM portion at Irwindale for the Toyota All Star Showdown. Unbelievably we qualified second, ran in the front all the way, and won the race. Another epic battle between myself and Rip Michels at our home track."
VD: 2008 was a very important year in your career as a driver. You bought a West Series car to do some racing. But you asked Gene Price for help with your first race in Phoenix. It just had to be a logistical help to get you started. But after the race you're going to have a chat with Gene. You told him about the Iowa Speedway race … and we know the rest. Together you built an incredible winning machine. What did you say to Gene to get him back into motorsport and start this NASCAR West Series adventure?
GP: "After the 2007 win, Gene's team was finished racing. I bought myself a West car to run one off races. I bought an old Nationwide Series car and asked Gene if he'd sponsor a one-time race at Phoenix. With the help of Junior Joiner putting, it together and setting it up we went to Phoenix and ended up running really well. but ended up crashing out due to a broken track bar.
"When returning home, I decided to stop by Gene's house in Parker, AZ to thank him for his support and helping. Of course, our conversation turned to bench racing and we said, 'let's go try another one at Iowa Speedway.'"
VD: You are not going to do things halfway. The 2008-2009 offseason was managed because from the first race in 2009 at Thunder Hill, Victory Lane awaits you! How did you set things up during the offseason? What memories do you keep of this first career victory?
GP: "I started off with the one car, so we bought a couple more from RCR (Richard Childress Racing) and a Roush Racing road (course) car for the 2009 season. At this point, all the cars were being housed at Joiner's shop in Bakersfield, Calif. while the new GPM shop was being built in Parker, AZ.
"At this point Joiner had Danny Crafton come in to be our crew chief as he was so busy with his Truck Series responsibilities. Right out of the box we won at Thunder Hill in Texas. It was a cold, rainy day at track that I had never seen before. We qualified in the top five and ran in the front all night that came to a green/white/checker finish between Mike David, Eric Holmes and myself and I walked away with the trophy!"
VD: In the final in Roseville, for the first time on the entry list is the name of Jerry Pitts as crew chief. In the history of NASCAR, there have been many driver-crew chief duos that have gone down in the history of the discipline. Petty-Inman, Gordon-Evernham, Johnson-Knaus, Ray and Fred Elder. How would you define the driver-crew chief relationship you had with Jerry? Because it takes a real chemistry for it to work.
GP: "My car chief, Denny Moyer was able to set up a meeting with Pitts as soon as we found out he was available, and we didn't have a crew chief. The minute I met Jerry, we just clicked and got along great. At that point, I knew this was going to be very good."
VD: The stats at the end of the 2009 season were excellent with one win, eight top-fives, 10 top-10s and one pole in 13 races and third in the championship. Did you expect such a result? In addition, for the other drivers, media, fans, you had just changed your status from that of an outsider to that of a favorite.
GP: "The 2009 season was an excellent start with a new start up team. Fortunately racing as long as I have, knowing a lot of great crew members and being able to pick your team at that point was a big help in that success."
VD: In 2010, the season was difficult. Between the third and eighth race, you experienced several problems including three accidents. But the end of the season was excellent with two victories in Tooele and Phoenix. This set the pace for the following years. What changed at the end of the 2010 season allowing you to reach such a level of performance?
GP: "The 2010 season with the start of Pitts as our crew chief didn't go as planned. Pretty much every track I found something to run over which resulted in many flat tires. Leading races, blowing tires, and crashing while leading didn't give us the finishes we knew we were eventually going to get. It just hadn't come together yet.
"Towards the end of the season, we finally won a road course race at Miller Motorsports Park (Tooele, Utah) and won that race through the checkered flag with a flat tire of course! We went on to win the last race at Phoenix International Raceway which started to turn things around for us. Sometimes I would rather have no luck, than bad luck."
"We went into the end of the 2010 season to the Toyota All Star Showdown and again, took the lead of the race with eight to go, yellow came out for a crash and I found the debris to run over for another flat tire. Flat tires were the story of our season."
VD: That's the crowning glory in 2011. An early victory in Phoenix and then five more wins in the next seven races. Then you will get many other podiums consolidating your leadership in the championship. What memories do you keep of this season and this first championship? Did there have to be a big party after the race?
GP: "Going into the 2011 season with Jerry Pitts we knew we had a good shot at winning the Championship and it turned out to be one of those years with a win right out of the box at Phoenix and then went on to win five more races and dominate that year. Again, it was one of those years, this time, when nothing could go wrong. We had the Championship won in Roseville, with one race to go. We had a big party in the driver's lot at the track in our motorhomes into the next day."
VD: With 12 top-fives in 14 races, you almost made a perfect copy! You were in the lead in Portland when your engine broke and you dominated the final in Phoenix early in the race before having an accident 40 laps from the end. Is it difficult to have to give up when you are leading a race?
GP: "It's always difficult to give up leading the race when you know you're good. Portland we were driving away with the lead when the engine blew up. Phoenix we had led most laps and with 40 to go after a yellow, got wrecked after a restart while leading the race. That's all part of racing that you have to deal with. The thing you have to understand in racing, there's more lows than highs and you have to learn to balance them out."
VD: It shows that you were a very good driver on all types of tracks. From the bullring to the 1-Mile via the road circuit. Personally, what is your favorite type of track and why?
GP: "Although I don't have a "favorite", I really enjoyed road racing at Sears Point (Sonoma Raceway) and that's one race I always wanted to win and never achieved it. I also love Phoenix International Raceway, and some of our most exciting races and finishes were at Miller Motorsports Park in Tooele. I have to mention, my hometown track, Irwindale Speedway as most of my best memories are at this track. Also, the iconic Evergreen Speedway in Washington was a favorite too."
"I enjoy all these types of racing. I grew up road racing and raced all the small bullring type tracks in SLM and Southwest Tour and the big track stuff came in through the West Series."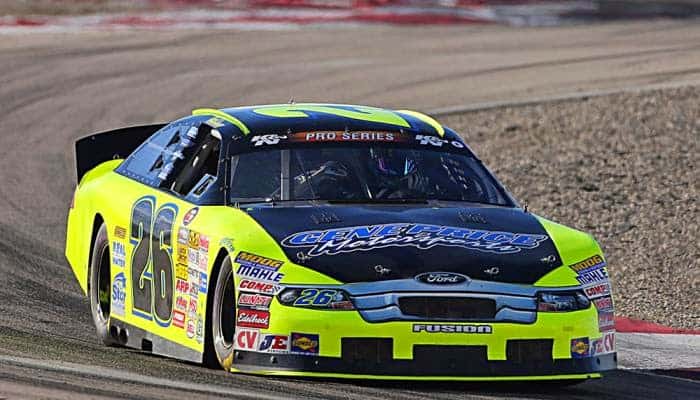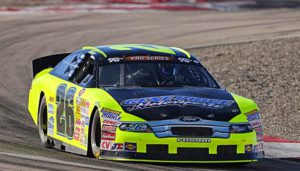 VD: 2011 was also the first year that GPM entered two cars. With Dylan Kwasniewski, you formed an excellent duo. Was the understanding between you immediate? Did his presence allow the pilot that you were to take a new step? Because as soon as he was your teammate, your level of performance skyrocketed. You wanted to show the youngster who was the boss?
GP: "Yes in 2011 Dylan came into the picture, and he was a good, young kid. He has a lot of talent and ability and really listened. That being said, Gene made it known we were to race each other hard and clean, not taking each other out. Dylan was a great kid to work with.
"He was very talented, and we ended up racing each other no matter what side by side, every race it seemed. Through all that brought both of our levels of performance up. In the final third of the 2011 season, Dylan ended up winning a few races and Rookie of the Year title. A great moment for GPM!"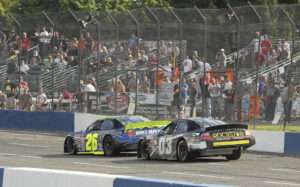 VD: Let's leave the West Series aside for a moment to talk about the four NASCAR Truck Series races that you did between 2010 and 2011. It was just for fun where did you have other ambitions with Gene Price? Do more racing? A full season? Because in your first race in Iowa you finish eighth!
GP: "We bought two trucks to Kevin Harvick Inc. which ended up being both Ron Hornaday, Jr. trucks. One short track and one big track truck. We picked the first race at Iowa Speedway as we had many good races and experience there in the West Series. Qualified sixth and ran in the top five until we were involved in a crash on a restart (On lap 114, Hornaday got into the back of the truck and Pursley goes for a spun around in the frontstretch grass).
"We had to come in and work on the truck and ended up finishing eight which was a great run for us. It's very hard to do one off races in that series or up due to not having the availability of the track data and setup/tire information of these trucks which run on radial tires that we're not used to (the tires used in the West Series were bias ply at the time). The Truck Series I feel is a great, very competitive racing series but to fund a full series truck from a smaller team like us wasn't going to be possible."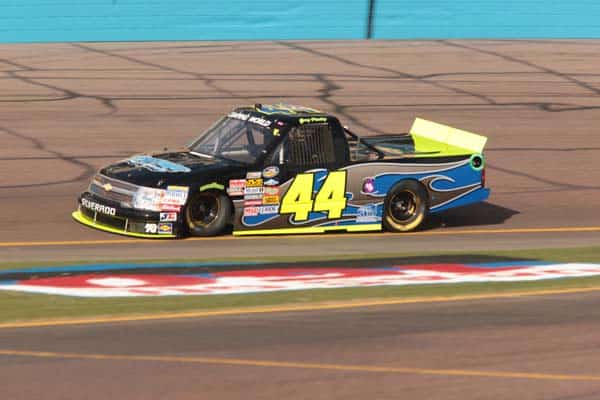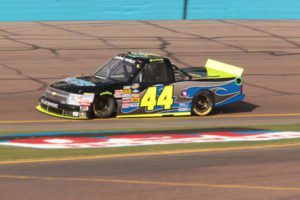 VD: In 2012, you exploded your statistics with 14 top-10 in 15 races! You earned four more victories … lost the lead in the championship in the penultimate race of the season at Roseville. Curiously, you were 13th in qualifying and the race. Your only misstep of the season. The curse of the No. 13? What happened that day?
GP: "For some reason we just didn't have it together that day as we were always trying new stuff to stay ahead at the gate. I'm not superstitious about the No. 13 as I won a National Championship with that number and the No. 26 arrived as it's 13 doubled."
VD: Yet the No. 13 is a number that matters to you. You were champion in 2004 with this number and it's the one you chose to ride in the West Series but since it was already assigned to Todd Souza, you finally took the 26. What does the No. 13 mean to you?
GP: "My previous team owner Dave Hayes always ran the No. 13 so that's where it all started. Tried to carry to the West series and it wasn't available, so I doubled it. As simple as that!"
VD: Dylan wins the championship in 2012 with six small points ahead! Infuriating or, on the contrary, proud to see the kid at such a level? To have seen him grow up with you.
GP: "It was good all the way around for GPM and Dylan. We had a lot of fun and learned a lot racing each other hard that year which brought both of our racing games up a little. It's true what they say, teammates race each other harder than anyone else on the track.
"The teammate is your first reference in racing. You know the car he has. The engine he has. So, you want to show that with the same material, you're the best. There are no excuses! This also provided GPM with a 1-2 finish in the points and two consecutive championships."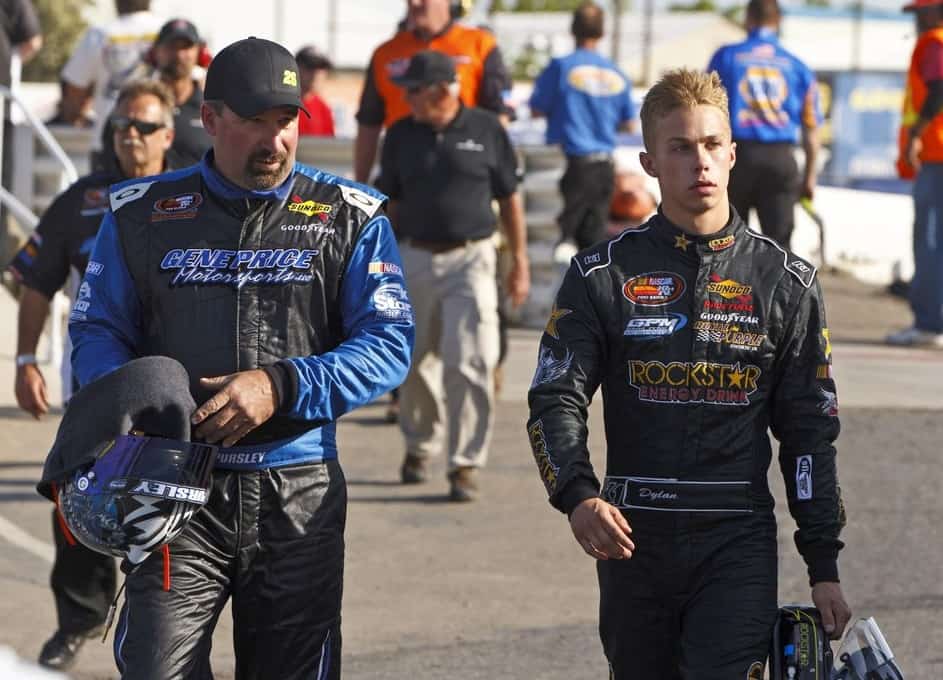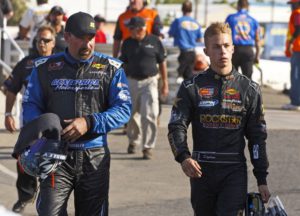 VD: GPM in the West Series is a team that was originally built around and designed for you. But it showed the strength and cohesion that existed between the whole team members. I mentioned the winning machine earlier when talking about GPM. Reaching the level of Bob Bruncati or Bill McAnally is one thing but dominating this way for years in a row has been incredible. What do you think was GPM's strength? What were the secret ingredients?
GP: "When building the GPM team, Gene's number one rule was to go and have fun. Being around racing the many years I have and having many friends in the racing industry and being able to handpick guys that I knew could get the job done is one of the main parts.
"One other main thing is having everybody communicating on the same page. We were very fortunate to have a team that did just that. Probably the main reason was the communication between me and Pitts as we synced right off the bat. He was the pivotal part in our success at GPM. I was the lucky one that got to turn the steering wheel."
VD: In 2013, Dylan left for the East Series, change of teammate for you with the arrival of young Canadian Cameron Hayley. Like almost every year you win the opening race in Phoenix and Hayley is second. The GPM machine seemed to be back for another season of domination.
But in the end Hayley will be second in the championship and you 'only' third. The fault mainly with a difficult race in Sonoma where you finish 21st while Derek Thorn wins the race. The points lost that day (23) were completely made up because Thorn was champion with 15 points ahead of you. What happened in Sonoma? A circuit where oddly you have never won in the West Series.
GP: "That race was the turning point for us losing a lot of points due to an ignition failure leading the race putting us way back in the field and not being able to recover. Due to the stiff competition it's very hard to make up a chunk of points we just lost in one or two races, and it just didn't happen."
VD: Let's talk for a moment about the UNOH Battle at the Beach race in Daytona. You dominated despite it being a real crash fest. After 127 laps in the lead, you get wrecked by another young driver. What memories do you keep of this race? Was there sometimes a real lack of respect for certain drivers?
GP: "That was definitely a heartbreaker of a race wanting to win that one badly. We prepared months in advance actually calling and getting a track map, going to Las Vegas and renting a parking lot at the drag strip, setting up an exact replica of the track with cones that we were going to. We tested many times in preparation for that Daytona race as we knew that was going to be one of the short tracks crown jewel races on a big stage with live TV."
"Dominating 3/4 of the race and getting taken out by a young driver on a restart from three rows back was hard to swallow. There is definitely a difference in young drivers coming up that pay for their rides compared to someone who's been around racing for many years and builds and works on their own equipment.
"I feel you may have more respect when you work on these and really understand what goes into building, setting up, maintaining, and paying for a good car. Also, the mindset between a veteran and a rookie is going to be different based off experience. At least our teammate (Note: Cameron Hayley) got the win in the major crash fest at the end of the race. All that hard work beforehand hadn't been in vain."
VD: In 2014, firstly you no longer have a teammate at GPM and secondly you are no longer the driver who wins the most races as was the case in the three previous years. But you were very consistent at the forefront, lead the most laps, still earn two victories. The icing on the cake was your second championship. What does it feel like to be a two-time champion? Does one of the two titles that has more flavor than the other for you?
GP: "We knew 2014 was possibly the last year for GPM and really wanted that last title. We tried to be as smart and consistent as possible which led to leading the most laps, winning two races and finishing second multiple times. Anytime you're in victory lane is a special time as we all know there's always going to be someone that's better and surpasses you so enjoy it while you can."
"As far as championships go, 2011 was the first West Championship which was really cool but the 2014 one was just as special as we knew it was our last one."
VD: Gene Price having decided to put an end to the GPM adventure at the end of 2014. He told me that among all the reasons which had made him make this decision, that one of them was the black flag during the last restart at Bakersfield. Looking back, how do you feel about this penalty? You had dominated this race.
GP: "Yes that race was a hard one for us as that would have been three wins in a row at Bakersfield. All the previous restarts that we had were all good and never had been warned. For some reason the last green-white-checkered restart they decided they didn't like it and penalized us putting us to the last car on the lead lap.
"Honestly, I never understood that one myself, watching it many times played back I still can't figure it out. This definitely put the nail in the coffin for Gene. After that race we all knew as a team this would be our last season."
VD: I'm going to repeat the exact same question I asked Gene Price. "You have the same GP initials. In the end, the whole GPM adventure was first and foremost Gene-Greg Price-Pursley Motorsports? Is GPM the story of a true friendship, the key to your success?"
GP: "Absolutely. Neither of us would be where we are today without each other. Gene for sure made my career what it is today allowing me to do it with the best possible resources available."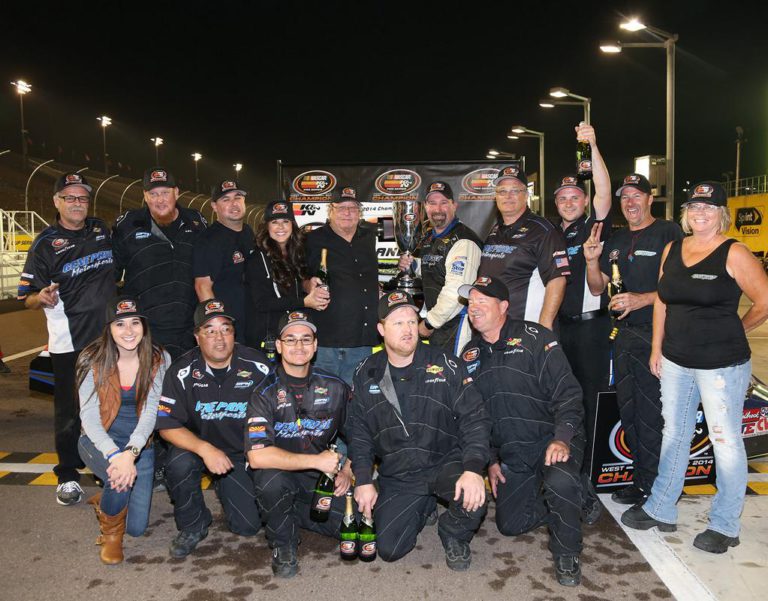 VD: Why didn't you try to put your title on the line in 2015 for a third crown? You were on top. Out of loyalty to Gene Price? Or you wanted to move on?
GP: "I started with Gene and ended with Gene. I have a tremendous sense of loyalty and to retire as Champions, we couldn't go out any better way."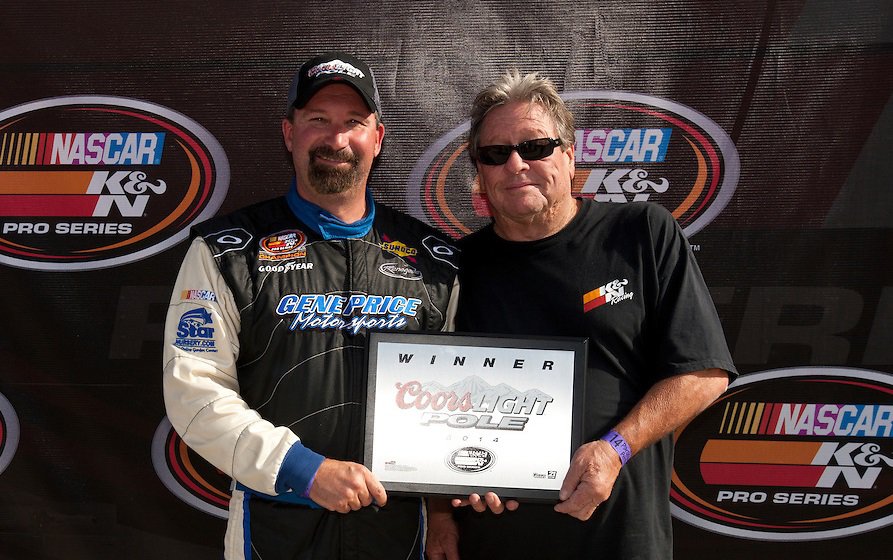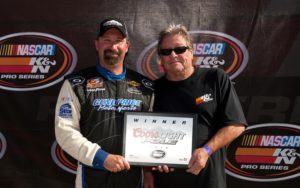 VD: Finally, the GPM adventure continued with the purchase of the equipment by Jerry Pitts and Jeff Jefferson the following year. With them that you came back in the last race of 2015 to compete in your 100th career race in the West Series. Was this last race for fun?
GP: "Yes it was. I wanted to get 100 races and wanted to do it at one of my favorite tracks, Phoenix International Raceway where we've had a lot of success. One of the main ingredients was missing Jerry Pitts and my old team."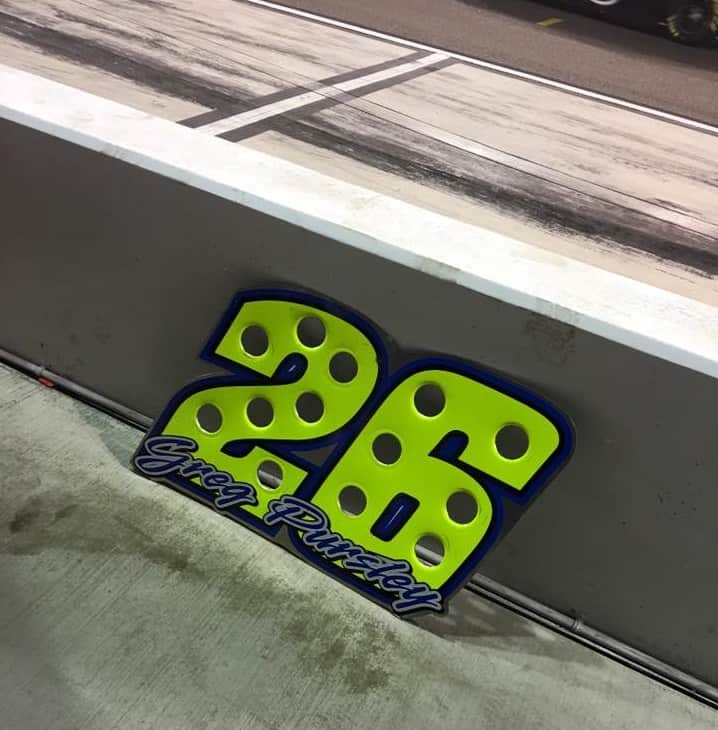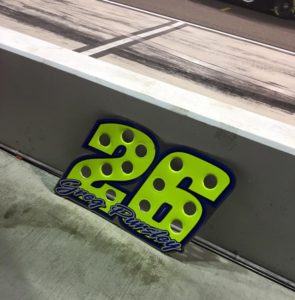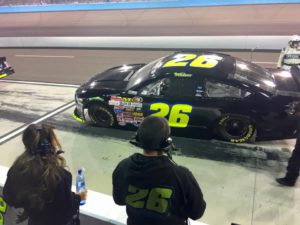 VD: You're retired from the West Series, but not in everyday life. Do you sometimes miss the adrenaline rush of the races? Or are your current occupations sufficient for your happiness? Because the adventure between the Price and Pursley families still continue. Can you tell us about it?
GP: "The first two years was very difficult stepping away from being a race car driver. Now going into 2022, it's not as hard and we have a great business in a high-end boat storage to keep me busy and my time occupied at GPM."
VD: Finally, we will discuss your statistics in the West Series (100 races, 20 wins, 58 top-fives, 75 top-10s, 20 poles). First of all, with 20 victories, you are in the top-six of the most victorious drivers in the history of the series. Among your 20 victories, could you establish your top three for us of those of which you are most proud and why?
GP: "The first win at Phoenix in 2010 as I love that track. I consider it one of my home tracks. I've been racing there many years back to the Southwest Tour days finishing second there many times."
"The win at Irwindale Speedway in 2011. It was the main home track of our 2004 National Championship and many wins there in Southwest Tour and Super Late Model."
"One of our many road course wins would have to be the Portland International Raceway (2012) win which we dominated that day when everything went right."
VD: Which were your best races, not necessarily wins, those of which you're most proud? Can you give us two or three and for what reason?
GP: "All three victories at Phoenix Raceway as they are very hard to get with all the competition that come from different touring series."
"Winning at Monroe on the Evergreen Speedway in Washington due to it being an iconic track within the West Series and it being the home track for the Jefferson brothers that were a big part of GPM." (Note: the Jefferson family being from Naches in the state of Washington. Another example that Jeff Jefferson was the crew chief of Greg's teammates at GPM)
"Our last race at Sears Point (Sonoma) was a good one where we battled Kyle Larson for the lead and ended up finishing second to him."
VD: Among all your competitors, which do you prefer to run with? That you knew the fight on the track would be tough but clean?
GP: "Back in the early days of the NASCAR West Series it was very competitive series and always hard racing. I'd say we've probably had the best battles and most fun racing against David Mayhew, Eric Holmes and Mike David. We all had been around a while and had respect for each other and always raced each other very hard.
I always loved racing Dylan (Kwasniewski) because we always raced each other hard and clean."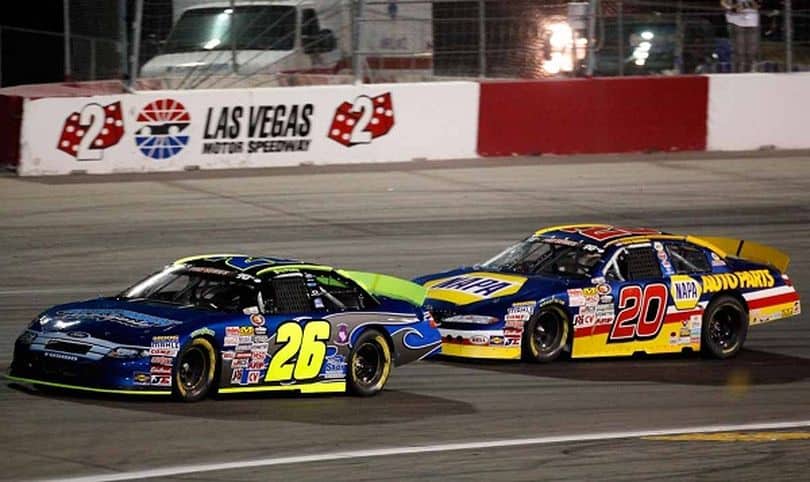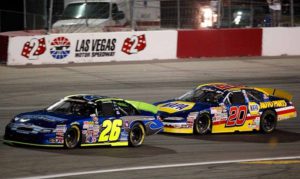 VD: Nowadays, the races are shorter, there are no longer ovals like Fontana, the drivers are mostly very young. What is your take on the West Series races today?
GP: "I think coming up in the West Series as I did, made you a well-rounded driver for all types of tracks going from a 2.0-Mile Fontana, to a one and half mile Vegas, to a road course, to a short track. It seems that doesn't happen anymore in this series. It seems to me there isn't a lot of veterans left in the West Series for the up-and-coming drivers to look to for leadership. The leadership of the veterans is how these young drivers learn how to race each other hard but with respect."
"The West Series is still a great steppingstone for young drivers that (aspire) for moving on to the higher series of racing – such as the Truck Series and up. Sometimes I think they try and progress young drivers too quickly. "
VD: Finally, can you tell us about the strangest thing you have experienced during your career in the West Series?
GP: "The beginning of the 2011 season started off great with the win at Phoenix. Then turned very strange when I was stung by a scorpion and almost died. I was airlifted to Vegas and was in Intensive Care Unit for a week not knowing if I was going to make it or not. I made it through this to barely make the race at Roseville leading the most laps and finishing second to Holmes."
(At the beginning of April 2011, in the middle of the night, Greg was walking through his kitchen when he was stung twice by a scorpion).
It is on this anecdote that we close the Pursley chapter of the fabulous history of the West Series. He is and will forever remain a fantastic driver whose statistics are and will be the dream of many young drivers in the years to come.
I suggest you browse his statistics in more detail by clicking on this link: www.racing-reference.info/driver/Greg_Pursley/
Special thanks to both Greg and his wife Heidi Pursley for the time they devoted to this article.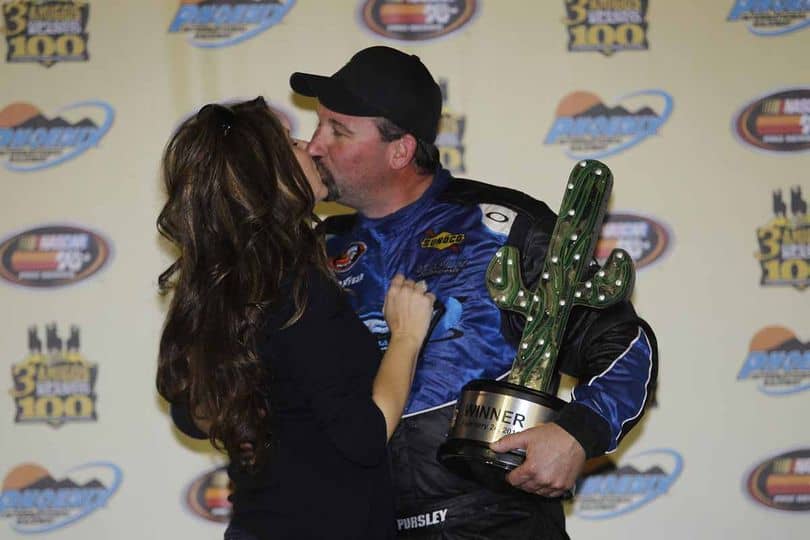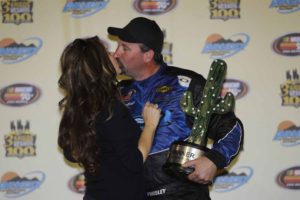 Featured Photo Credit: Photo Courtesy of Jason O. Watson via Vincent Delforge.