By Vincent Delforge, special to KickinTheTires.net
*The title of the article is a nod to his dual career in the West Series. Zero for the first period where he wore the No. 0 and which was unsuccessful and Hero for the second period (the current) where he acquired the status of race winner and championship contender. A look back at the two lives in the West Series of P.J. Pedroncelli.
Paul Pedroncelli, Jr. aka "P.J." is the story of a young Californian who dreamed of a career in motorsport. It must be said that the region is rich in drivers who have reached the heights of NASCAR or other series. With the Ritchie Ginther, Dan Gurney, Parnelli Jones, Jack McCoy, Rick Mears, Ron Hornaday, Jeff Gordon, and Jimmie Johnson to name a few.
But motorsport is a world where money is king. You can have all the talent in the world, if you can't afford to start and climb the ladder to attract sponsors, the dream stops.
Born April 25, 1990, and living in Sonoma, Calif., in wine country. This detail is important, you will see. P.J., like many, started car racing in the local series. With the help of his parents, he tried the adventure. But it was hard, and he had to put an end to his dream after a few years.
Then at the age of 29, in 2018, professionally established, when the desire, which had never completely disappeared, resurfaced. He told himself that he had to start again. First for fun. That fun created the desire to do more. Then came the COVID-19 pandemic. However, it is "thanks" to this that P.J. made the decision to make his first full-time season in ARCA Menards Series West in 2021 at 31. The situation had changed. It is from there that one of the most uniquely beautiful stories of the West Series was written.
And it is with P.J. that we will retrace this incredible story.
How it all began
Vincent Delforge: Let's start from the beginning. How did you get your passion for racing and at what age? Having a father driver and living in Sonoma, CA, known worldwide for its racing circuit, must that help make a little boy dream? Did you have a favorite driver, a model?
P.J. Pedroncelli: "Like most racers I grew up watching my dad race, and that is where my love for this sport came from. My favorite driver growing up was Tony Stewart. I loved his straight to the point no bullshit attitude."
VD: If I'm not mistaken, you started the "pro level" car race in 2006 in the ASA Hoosier Tire Modified Series on tracks like Orange Show, Altamont, Madera, Ukiah? With interesting results. But before that what was your background? Karting, Bandoleros?
P.J. P: "I first started in a "Bomber" where there is a driver and passenger in the car. I started racing at 14. I then moved into asphalt modifieds. Then into 360 Sprint Cars a hand full of times. Also raced a road course Chevrolet Camaro at Sonoma raceway. All this from about that 15–18-year-old range. I then moved into the NASCAR series which at the time was called NASCAR Camping World Series West (Now ARCA Menards Series West)."
Note: In 2007, P.J. ran a few races in the Lucas Oil West Modified Series, and an ASA Modified in Elkin, NC, a 360 Sprint Car in Petaluma, CA.
First attempt 2008-2011
Some remember it, some don't. It is true that Paul Pedroncelli, Jr. only did a few races a year with his Chevrolet bearing a large No. 0. And therein lies the problem. Underfunded, with little experience, life on the West Series tracks was tough but formative. Back to this first experience.
VD: Finally, with relatively little experience, how dare you get into the NASCAR West Series? Your father, Paul, has been your main support on and off the tracks from the start. How did you make this decision?
P.J. P: "We jumped into the West Series with some hope that someone would notice me and help me through my racing career. "
VD: How did you prepare for your season? Where did your car come from? Funding? Did you do everything with your family? Your father being your crew chief.
P.J. P: "My dad and mom purchased two cars from a team back East. They both were ex-DEI cars. One circle track car and a 'combo car.' My parents fully funded my entire racing. Which was hard. We were always decent on speed but just didn't have the funding really be truly competitive. We really didn't know much about the cars and was really kind of shooting from the hip back then."
"In all honesty, knowing what I know now, about how much it takes to go fast, I look back and think wow we had no real idea of what was going on and we still ran pretty good for what we had."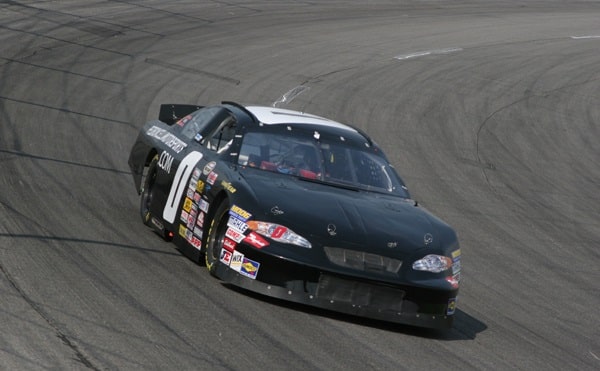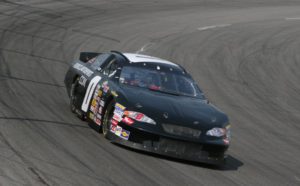 VD: Why the choice of No. 0?
P.J. P: "I don't really Remember why I chose the No. 0 when we started West racing."
VD: Finally, the small family team Pedroncelli Motorsports found themselves with teams of the caliber of Bruncati Racing, Bill McAnally Racing, Golden Gates Racing, MMI, PP1M. The debut at Irwindale on July 4, 2008, was difficult? What memories do you keep of this first race?
P.J. P: "We will always remember our first West race. It was at Irwindale and was 115 degrees. Hands down the hottest race we have ever been too. I've never been to Irwindale until that point so right off the bat being in a style car I've never been in and a track I've never been to was definitely a challenge. We started the first practice with an oil tank gasket leaking. So, we had to get that changed. Which left me with very little practice time. Maybe about 10-15 minutes."
"I don't really remember to much about the race other than I felt like it took forever. I was used to short 25-40 lap races and then Going to a 150-race felt like forever."
VD: Both then and now, the short track brawl is a constant war. Is running on a short track more tiring mentally than physically? How do you prepare for the races? You run, bodybuilding, cycling, because it can get very hot in a stock car especially under the sun and with the heat of the engine.
P.J. P: "I feel that it's good mix of mentally and physically tiring. Making sure you're staying calm and hitting your points and at the same time staying up on the wheel."
"I wish I could have more time to work out and exercise more before races, but my busy schedule has my time limited. I do have horses and try and ride once a week. If you don't ride horses than you may not know how good of a workout it is for your legs and core."
VD: In 2008, you made the choice to participate only on the California short tracks. For budgetary concerns? Because you only had one chassis for this type of track?
P.J. P: "In 2008, yes for both reasons, we raced locally and with a single car."
VD: In Altamont, your fourth race, you have an accident with car No. 21 of David Mayhew who finished second in the race. DNF due to a damaged suspension. It's not easy to race with the leaders who come back hard on the last ones and don't give them a freebie. Sometimes it's 'get out of my way!' Was the learning difficult?
P.J. P: "Altamont was my favorite track growing up. I love the speed. Always had good success there in fact it was the only track I had won at in the Modifieds. I remember that race I qualified in the top-20 I believe out of a lot of cars. I don't remember how many cars, but I remember it was a lot more than a normal field.
"So, I was happy with that. I think I had worked my way up almost in the top-10. The contact with Mayhew was really a racing deal. People checked up in front of us and David got in the back of me and spun me out. Wasn't really anyone's fault. Just racing."
VD: Your father was the crew chief. In the end, it wasn't that bad with the best result being a 14th place finish in Douglas County. It encourages you to do it again in 2009. With the same car? What impact did 2008 have on the preparation for 2009?
P.J. P: "I think the first year in the West Series was ok. But yes, it encouraged us to do it again. With the same car. We learned some more things about setup for the car and implemented them for 2009 and it helped."
VD: 2009 started badly with a crash in Madera. An accident with Blake Koch this time. You were aiming for the top-10 in this race. A month and a half later in Douglas County you get your best result with a 12th position.
P.J. P: "We started at Madera another track I had lots of laps at and felt very confident. We qualified in the top-10 I believe and was running close to top-five. A car spun in front of me, and I had nowhere to go and ended our night. Fortunately, bad luck sometimes left us alone like in Douglas County!"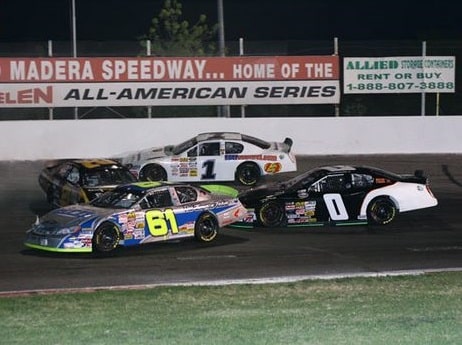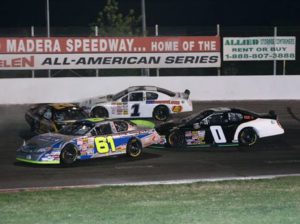 VD: Because the next race was at your place in Sonoma. Correct me if I'm wrong, but this was your first race (at this level) on a road course? 40th and last on the starting grid and finally 27th in the race, six laps behind the winner. What memories do you keep of this race?
P.J. P: "Sonoma was my first ever road course race. I have very little experience, some NASA (Note: National Auto Sports Association) stuff with one of my dad's Camaro but that doesn't compare to these cars. My inexperience showed as I wheel hopped it going into 11 in qualifying and wrecked the car pretty bad.
"The only good from that race was that even when we were trying to fix the car to get it 'raceable' for the race the next day, is when Richard Petty came walking by and stopped and talked to me. He saw that I was upset with myself wrecking my parents' car and told me a story about his first ever race at Sonoma. He told me he overshot Turn 1, went off the track and hit the wall and broke his foot. Aside from that I was not a great race to remember."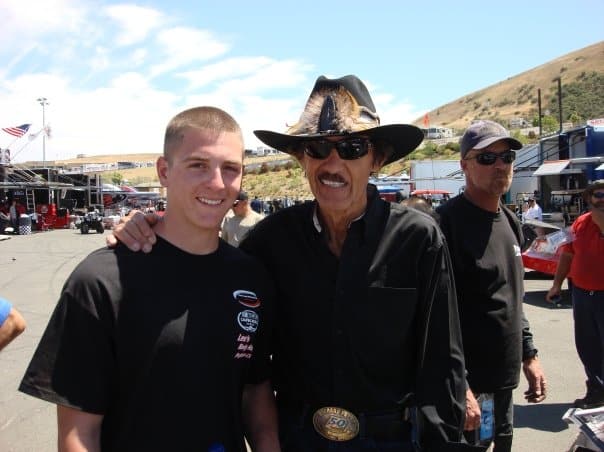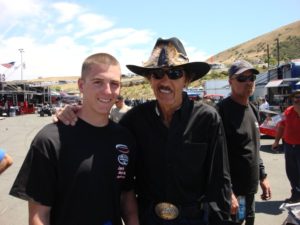 Here's an excerpt from the article Rich Rupprecht (The Press Democrat. June 20, 2009) wrote about the Sonoma race and P.J.'s explanations.
'Paul Pedroncelli Jr. of Sonoma, also 19, finished 27th in the 40-car field. It wasn't that bad of a race, considering Pedroncelli's car had no fenders or front hood at the start because of a crash during qualifying on Saturday.
Just making it out there was good, said Pedroncelli Jr. It's not as good as I wanted, but I lost a lot of ground each time in the high-speed corners. I was getting used to the track. Yesterday, just killed us.
Pedroncelli Jr. said it was a clean race, until about the final 20 laps. Then everybody was getting antsy, he said.'
VD: The next race in Roseville is not going to be successful. Another accident with the No. 21. In two years, you have had three accidents and each time with car No. 21. Wasn't that the crazy love between you?
P.J. P: "Pure coincidence! But Roseville was another race going good and ending badly. In fact, that's what it felt like most of my early West series career felt like. Lots of bad luck."
VD: 2010 again was a partial season. Unlike 2009, your best race will be Sonoma. Your first lead lap finish in 20th. How do you explain such a progression? Like many pilots, did you do a driving school on a road circuit? Or was it the car?
P.J. P: "After my poor run at Sonoma and it being my home track, I felt like I wanted to prove something. I wanted to learn how to road race. So, I bought a 125cc shifter Kart and practiced as much as I could with it. Out of all the cars I've ever driven. That Kart is what I think really made me the driver I am now. You learn so much from them and the speed is crazy. Makes it feel like slow motion going from a Kart to a West car. As far as handling goes."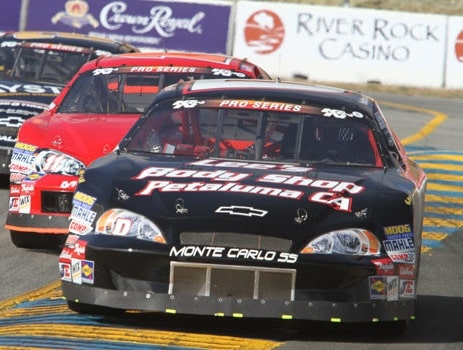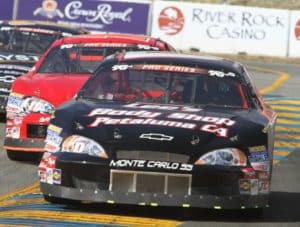 VD: Another question, but between 2008 and 2010. Did you always use the same chassis? Or was Pedroncelli Motorsports better equipped?
P.J. P: "Yes 2008-2010 we ran one car for road course and one for circle tracks."
VD: Only race in 2011, that of Sonoma and we still see an improvement with a nice 13th. And there were some very good drivers in the race with for example the winner Joey Logano. Yet it will be your only race of the year. You will be DNQ in the final in Roseville. But why was your 2011 season so short? Was it getting financially complicated? Professional reason?
P.J. P: "2011 we realized we didn't have the money to compete with these guys and felt that our only good shot is Sonoma because a driver can make up for a not so good car there. I again focused more on road racing and karts to keep gaining as much experience as possible to help me. Finishing 13th made all that extra road race effort feel like it paid off and some bad luck was going away."
"Then Roseville came. We lost a fuel pump in practice and didn't get any practice in. I ended up not making the race because of getting bumped for the provisionals."
VD: You still participated in a few local races between 2012 and 2014. Then you launched your Pedroncelli Mobile Bottling business. Back then you thought you were done with auto racing?
P.J. P: "2012 we decided it was enough and I realized I wasn't going to get to live my dream of racing for a living. We raced occasionally with Modifieds again for a couple years. Until 2014 when I started a Mobile Wine bottling company. I took a year or so off really focusing on that and growing the business."
Second attempt 2019-2021
P.J. has changed. If he came back, it's to do things right. Everything is new. New car, new number, new crew chief… new name! Don't say Paul anymore, but name him P.J. This small change forcing NASCAR statisticians like me to rewrite everything! A bit like when Darrell Wallace Jr. became Bubba Wallace!
VD: Then there was an almost eight-year hiatus before you returned to NASCAR West Series in Sonoma in 2019. What made you decide to get back behind the wheel in NASCAR? Did you bought a new chassis?
P.J. P: "After buying out another Mobile wine bottling company and it taking off well, my dad and I went to the 2018 Sonoma west race to watch out hood friend Rodd Kneeland run his car. It gave me the itch and the love I have for West cars came back. Our West cars we already had were outdated bodies and technology, so I decided I would buy my first Racecar myself. So, I found a true road course specific car that belonged to Steve Portenga, and it really paid off."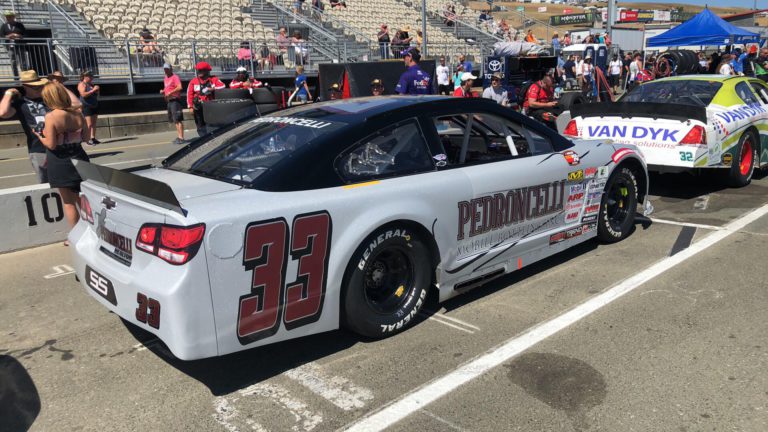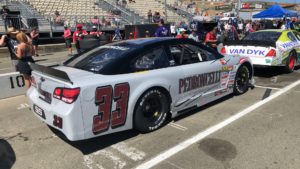 VD: New number with the No. 33. Why this change of a car number? A special meaning?
P.J. P: "I changed to No. 33 because that was my dad number back when he was racing and having success. And the amount of bad luck I had with the No. 0 it was time for change."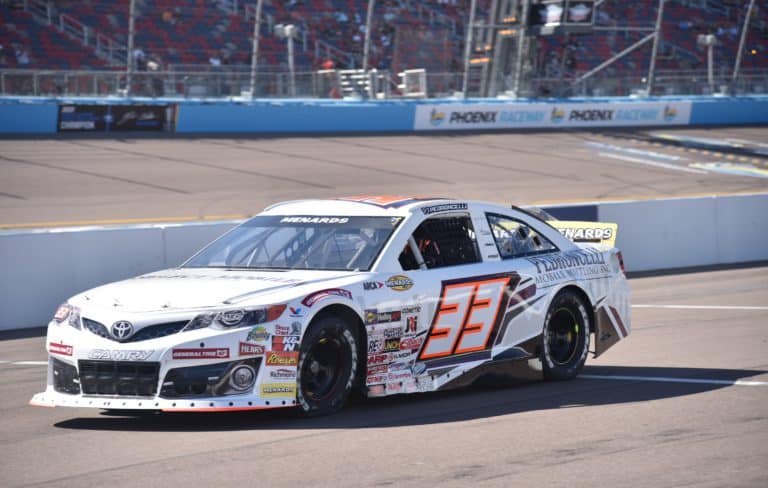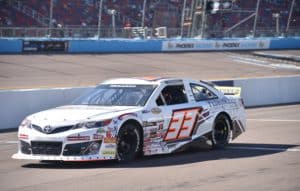 VD: The experience of 2019 having been positive; you had planned to repeat the Sonoma race in 2010. But due to the Covid-19 pandemic it was canceled. Then the 2021 calendar was released and you thought to yourself there are only nine races. Why not do the whole championship?
P.J. P: "My dad and I went and watched the 2020 Roseville West race and we both were impressed with how things have changed due to COVID. It made the days easier and not as long (on track). Then when the schedule came out and it was only nine races, I thought what the heck I'm going to buy the best circle track car I can find and run the whole season."
VD: For 2021, the preparation is quite different, you had to acquire other chassis, a renowned crew chief with Ty Joiner. From the start we see that the ambitions are no longer the same. We feel that the project is mature on paper. How did you prepare for the 2021 season? What were your ambitions before the start of the season? Have fun above all?
P.J. P: "From there it went from yeah let's go have some fun, to, well if I'm spending this kind of money I might as well do it right and find someone that knows what they're doing to these cars to make them fast. I was down at Mike David's shop picking up my modified that I had him work on and told him my plan. I asked him who could crew chief for me, and Mike referred me to Ty (note: Ty Joiner). And man, that was the best thing that has happen to me. I kind of told Ty, I said look I don't have millions to spend on racing like the rest of the guys we are competing against but I'm willing to spend money on what it takes if it will really make us fast and up front."
Note: Mike David is a former West Series driver, champion in 2007.
VD: It is often forgotten, but unlike Cup Series drivers or young rookies, West drivers have a weekday job. For example, your father, who was your teammate in 2021 is a firefighter in Sonoma with another driver, Rodd Kneeland. In addition to all this and family life, to devote time to Pedroncelli Racing and prepare for the races, the days must be busy! Can you tell us more about that?
P.J. P: "Unfortunately, I don't get the joys to just show up and race like most of the guys/kids we run against. I have two mobile wine bottling companies that keep me very busy, along with rental properties and many other projects. It keeps me busy that's for sure. I do it to myself though, I feel if I'm not accomplishing something or not work on a new deal that I'm not progressing. So, I find another business or revenue stream to get into.
"2021 was the busiest I have ever been. From the business, my wife Tyler and I having our third child in the middle bush bottling season and in the middle of race season, adding on to our house to accommodate for the third child and me doing owner builder, taking on another project, a scare with my mom having to have a triple heart bypass surgery, life in general, and then racing stacked on top of all of that. 2021 felt like it was just one thing after another.
"Rodd Kneeland is an Amazing guy and a big help with our team. He is a longtime friend of the family. We all have a great time together when we are going racing. It makes racing fun. And obviously finishing good helps the rides home."
Note: Rodd Kneeland, when not driving in the West Series himself, is the crew chief of car No. 31, driven by Paul Pedroncelli. His involvement in the team is daily.
VD: At the first race in Phoenix, with the drivers of the ARCA National Series you finished 11th. For your return to the oval, did you expect such a good result?
P.J. P: "The race at Phoenix, for me was to just finish the race and bring the car home in one piece, because if that car gets wrecked bad then we won't have a car to do the circle tracks. But it went way better than I had hoped. We actually had probably the best West car there. But had a miss hap on pit road and with a new team and crew guys. There was a miscommunication, and the tires pressures got swapped so I had left side air pressure on the right-side tires, and right-side pressures on the left for the halfway point."
"I think I was up to seventh before the halfway point. Then as soon as we put the new tires on, I knew something was wrong. We got some cautions and were able to diagnose that the air pressures were backwards. We were able to get the pressure back close, but the car never was right after that."
"Still ended up with a 11th which still felt like a win for me, but it also felt good knowing we had a car competitive enough to run with the top West guys."
VD: Next is Sonoma. For the first time Pedroncelli Racing lines up two cars with your father's No. 31. Was it a dream to ride together in the same race? Especially since the dream materialized into a great result. An excellent third place for you, your best career result at the time and in addition your father finished 13th. Looking back, how do you analyze your Sonoma run?
P.J. P: "The Sonoma race was really cool, I got to run my first west race against my dad. And having my best finish on top of that was amazing. That will hold lots of memories that weekend."
VD: At Irwindale, your engine breaks. Your father is here again. Originally, he was scheduled to do all the other races this season? From the next race his role seemed well defined. He drove the 31 which is your backup car. If you had a problem during practice, you had to take his car. Except in Portland, he essentially did 'start and park.'
P.J. P: "The first Irwindale race is what i think of and keeps me awake at night, knowing if I didn't blow an engine that race that I would have won a championship. So, the plans have changed a bit. We had to preserve our engines. Having two cars was also a lot of work for our small family team."
VD: Sixth in Colorado in the fifth race, the second at Irwindale, marked a new turning point in your season. You get your first career pole and a new third position. Your best result on oval. At that moment you tell yourself that the championship is possible or not yet?
P.J. P: "Colorado was interesting, it was a track I had never been too, and practice/qualifying had rained out. So, my first laps there was at the drop of the green flag. I was ok with sixth considering the circumstances. The second Irwindale race felt good. Getting my first pole and a strong third place finish I felt like we had a chance at the championship if we could keep running consistently up front with no more bad luck."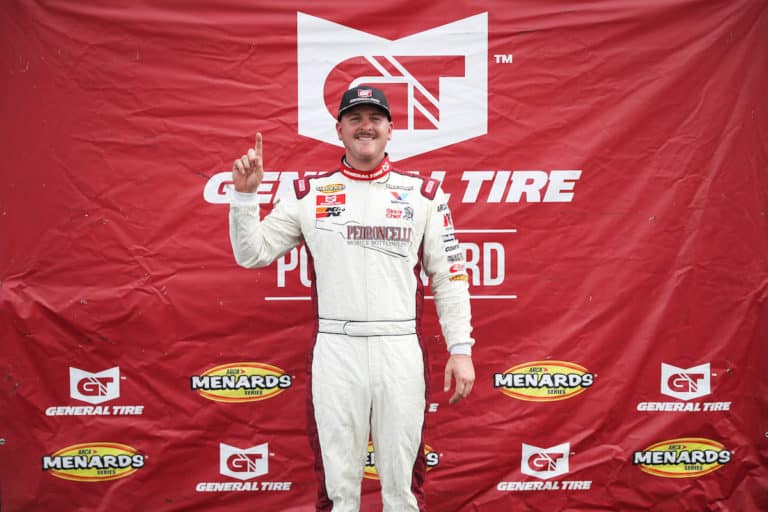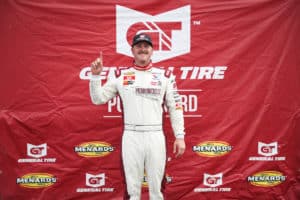 VD: The Portland road race is going to be confirmation that you have a great car on the road. Following the penalties of Jake Drew and Eric Nascimento, you finished second. The icing on the cake your father obtains his first top-10 in his career with the ninth position. First time since 2013 and the Harr family (Carl and Daryl) that a father / son duo has finished in the top-10. You were third in the championship. A good memory for the Pedroncelli family?
P.J. P: "I think the Portland race is my most frustrating race of the year. I feel I had the fastest car, I had to come from the back four different times. Finally got back into second with eight laps to go and then had the right rear tire valve stem core start backing out losing tire pressure. I fell back to fourth but got lucky and ended up second. But also, to have my dad get his first top-10 was pretty damn cool and for us to be on a short list of fathers and sons to finish inside the top 10 in the same race is pretty cool."
VD: Seventh on the Las Vegas Bullring before the consecration in Roseville. What revenge. In 2011 you failed to qualify and 10 years later you won your first victory on this same short track! Looking back, can you tell us about your race and especially the last restart?
P.J. P: "Vegas was a ok points night. Vegas has never really been good to me when I have raced there so I took a seventh and ran well."
"Roseville, really a shocker. 10 years prior I didn't even make the race then my first time back I won the race. It was roller coaster race also. Started ninth got up to fifth then got involved in a racing incident where I thought Travis (Milburn) was going to run high based off his entry, so I dived down low and got into the back of him. We both ended up having to go to the back.
"I felt really bad for Travis as we both were kind of teammates that race and or cars came from the same shop for that race. I ended up keeping pushing forward and got all the way back to second. Was stoked with a second place considering what all went on that race."
"The caution came out with one lap to go, and I was pretty upset with that in the car. My car wasn't firing off that good on restarts and I didn't want someone to get into the back of me and spin me out. On the final restart the car fired off hood and it stuck. I was struggling in (Turns) 1 and 2 all night. But in (Turns) 3 and 4 the car was great. So, I knew if I could somehow hang with Joey (Iest) through (Turns) 1 and 2 I'd be able to get him off of (Turn) 4.
"Sure enough that's what happen. It was the greatest feeling to pull off a move like that. Kind of like one you dream about a last lap underdog pass for the win. Then to have all of our friends and family there to witness it was amazing."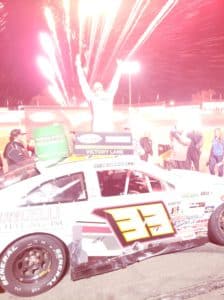 VD: You approach the final in Phoenix with just one point behind the championship leader. There are even seven of you who can mathematically obtain the crown. A good qualifying session. But the race is not going to go as planned. Pushed by an opponent, you do a 360. Luckily you don't touch anything and can take the track again.
However, you will lose a lap and then benefit from the free pass. At that moment, what is going on in your mind? Are you losing hope? Are you thirsty for revenge? Because the race is still long.
P.J. P: "The championship race, we went into the race fairly confident because of how well we ran there in the spring. I went there with one thing in mind just finish ahead of the seven other cars. Qualifying we did that. And the car felt good doing so, so I was pretty excited for the race.
"On the second lap I got spun by the 17. Luckily didn't touch anything and was able to keep the car going but the tires were flat spotted bad. The car just wasn't the same after that and we struggled. Ended up fourth in points."
And now?
VD: Finally, you finish the championship in the fourth position just five points behind the champion. Disappointed to come by so close? Or on the contrary confident in your abilities and ready to become champion in 2022? Because it must be said, your status has changed from that of an outsider to that of favorite. In 2022, there will no longer be the element of surprise. Everyone knows that you have to beware of No. 33! How are you preparing and seeing the 2022 season? A two-car team?
P.J. P: "It was a very disappointing result obviously. Another what if; if I didn't get spun. What would have happen? After that result it did nothing but make me want to go do it again even more. Knowing we were so close to a championship with so many hurdles to overcome all season long makes me feel we have what it takes to try and go again for a championship.
"We haven't decided yet if we will run two cars again full time. It was an amazing experience getting the race with my dad but it's also a lot of work, and we may want to focus on just one car to help get more wins and maybe that championship opportunity again."
It is with these words that we close the book retracing the career of P.J. Pedroncelli in the West Series. But it was Volume 1. It's up to him to write the first chapter of Volume 2 in 2022. And since you don't change a winning team, this year Ty Joiner will again be the crew chief of P.J.
You have it understood, the only objective will be to win the championship. It is certain that the No. 33 car will be a candidate for victory in every race.
The 2022 ARCA Menards Series West season opener will take place in Phoenix Raceway in Avondale, AZ on March 11th.
All P.J. stats are available here: www.racing-reference.info/driver/pedropa01/