BRISTOL, Tenn. – Sammy Smith knew going into Thursday night's Bush's Beans 200 at Bristol Motor Speedway that all he had to do was finish well, and he'd collect plenty of hardware for his trophy case, but at the end of the night, well was an understatement for Smith's dominance.
The 18-year-old Iowan crushed the combined ARCA Menards Series and ARCA Menards Series East field at The Last Great Colosseum for his fifth ARCA East triumph of the season, putting a flourish on his second straight championship season in the regional division.
Smith took command on lap 12 from pseudo-teammate and NASCAR Xfinity Series star Brandon Jones and led the rest of the way, taking the checkered flag despite a late challenge from Jones on a green-white-checkered finish.
A caution with nine laps left – after Ashton Higgins spun from a top-10 running spot on the backstretch and hit the inside wall – set up the dash to the end. While Jones leaned on Smith coming to the white flag, Smith was too strong and pulled clear on the final lap.
Thursday also marked Smith's fourth win against the ARCA national field this season as well, and it allowed him to also clinch the 10-race Sioux Chief Showdown mini-series championship, held annually inside the larger ARCA Menards Series schedule.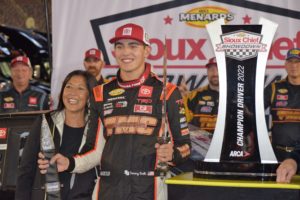 Naturally, all of the accolades led to a sizable celebration, both in victory lane and at the champion's stage.
"That was a tough restart there (at the end)," Smith admitted. "I knew Brandon wouldn't make it easy on me, but I'm glad we were able to pull it off.
"Obviously, winning the two championships tonight means a lot, but I was telling my guys beforehand that it wouldn't be the same if we didn't win the race to go along with it," he added. "That was our goal coming in and I'm glad that we were able to accomplish it."
Though disappointed with a runner-up finish, Jones believes the lessons he learned in his ARCA appearance will pay dividends for him when he returns to the Xfinity Series at Bristol on Friday night.
"Hopefully we gave everyone a show at the end," Jones lamented. "I thought our Camry really came alive there in the last 30 laps or so. We really started to catch Sammy in traffic … but I had flashbacks when that late caution came out.
"Knowing the position Sammy was in, I didn't want to rough him up too much, but we raced hard and clean," he continued. "I gave it all I had, and I think I just got in too deep in turns three and four (coming to the white). It would have been tough to beat him without staying side by side with him there off the corner."
Behind the two Toyota young guns, Taylor Gray rebounded from a spin in the second segment of the 200-lap event to finish third, followed by Rajah Caruth and Daniel Dye.
Parker Chase, Andres Perez de Lara, Andy Jankowiak, Connor Mosack and Jesse Love closed the top 10.
Smith's five ARCA East wins this year saw him lead more than 800 laps during the seven-race schedule, with a worst finish of fifth at Dover (Del.) Motor Speedway in late April.
Of note, Kyle Busch Motorsports claimed the ARCA East owner's championship to go along with Smith's driver's title.
With the ARCA Menards Series East season in the books, the ARCA Menards Series takes its national championship battle to Salem (Ind.) Speedway on Oct. 1 for the penultimate race of the year. Nick Sanchez leads Dye by a slim five-point margin entering the Herr's Snacks 200.