By Vincent Delforge, special to KickinTheTires.net
Todd Souza and his family team CCR for Central Coast Racing will take part in his 15th season in the ARCA Menards West Series in 2022. The driver who has proudly sported the No. 13 since his debut in 2006 hopes to ward off fate and offer this number often associated with the bad luck the place he really deserves, namely the first position!
Todd and his friend Michael Munoz form one of the oldest driver/crew chief duos in the history of the West Series. They have worked together for 97 races. It works well since they have already collected 14 top-fives, 51 top-10s, and above all a victory at the road course in Tooele, Utah in 2008.
After competing in the championship until the final at Phoenix last year, CCR is leaving with a knife between its teeth and intends to win the 2022 championship. A year that will see the Souza/Munoz duo reach the 100-race milestone on April 23 at Bakersfield, CA.
No. 13 will use a Ford Fusion and the Illmor engine at both Phoenix races as well as the three road races in partnership with David Gilliland Racing (DGR). For the six short track races No. 13 will be the usual Toyota Camry with the spec engine. The car will sport the traditional black, blue and white colors of Central Coast Cabinets, the family business. Because with the Souzas, racing is a family affair.
This is a combined Q&A with Souza and Munoz.
Vincent Delforge: After an excellent start to the 2021 season where you were leader of the championship, the second part was more complicated especially the disillusionment of Portland. However, the penultimate race at Roseville showed that you had lost none of your talents. Looking back, how did you experience this 2021 season made up of ups and downs?
Todd Souza: "Exactly. It was ups and downs. We were thriving on achieving what we set out to achieve and suddenly our season comes to a halt with potential sabotage to our fuel. No other way to describe it than disheartening and suspicious. Hard to recover from DNF points that didn't reflect a single thing our team did wrong. Our overall finish didn't reflect our team or the strides we made."
Michael Munoz: "Having played in the championship last year until the last race was a great success, especially after several complicated races. Portland was where we were going to spread the point lead. We had the best car there and we were positive we had something for them. Unfortunately, we had some bad fuel, that never happens and had to investigate the cause to ensure no more bad fuels gets out. We have since moved on from that and focus on one race at a time."
VD: Last year during the Phoenix and Sonoma races you drove a Ford in technical partnership with DGR. Will this partnership be renewed this year?
TS: "We are happy to be retaining a consistent relationship with David Gilliland and his DGR team for the for the foreseeable future!"
MM: "David Gilliland and I have been friends since the early 2000's. We bought and still have his car that was used to win the Xfinity series race (Note: in 2006 at Kentucky Speedway). Over the years we have continued to do business together and he has always been a great supporter to me and Central Coast Racing.
"DGR brings a checklist of things to helm me stay on my "A-Game". CCR is one of the smallest teams in the ARCA West Series and the only single car team to run with the top teams each race. I need all the help I can get in order to be able to run with the top teams. Naturally, I make mistakes like every human and it's nice to have DGR to lean on and keep me and guide me in the right direction as much as possible."
VD: What do you think of the abandonment of the long portion with 'The Carousel' and the return of the short version with 'The Chute' to Sonoma this year?
TS: "Oh I'm excited about any road course. I'm very confident on either course. What matters is the result at the end of the race."
VD: With three races out of nine on road courses (one Sonoma and twice at Portland), do you think the physiognomy of the championship will be different? Having skills on road circuits could make the difference more than in previous years. Good omens for you?
TS: "I'm obviously happy about the three road courses this year. Everyone knows they're my favorite even though I have equally good finishes at both kinds of tracks. I'd love the road courses to make the difference. There's a few of us this year in this series that will benefit."
VD: Michael, as crew chief, what is the most challenging? Do the setups for an oval or a road circuit?
MM: "An oval or road course setup to me is the same workload. I always take the necessary steps to get to the numbers I need in order to have a good race car."
VD: You will begin your 15th year in the West Series (the sixth full-time). What are your goals for 2022? Reconnect with victory, the championship?
TS: "Our goals for 2022 are to win a championship no more no less."
MM: "I hope we can accomplish it this year in 2022. We had a great shot at it last year. We had the points lead for a handful of races and unfortunately, we had two bad races that hurt us. I think we will have more shots at Victory Lane by having good runs and the win will come."
VD: On April 23 in Bakersfield, you will make your 100th career start in the West Series. When you started in 2006, did you imagine having such a long career? Will you sport a special paint scheme to celebrate?
TS: "I probably didn't think I'd have 100 starts. I never really thought about it. I'm excited to still be competitive. I can't see us doing a special paint scheme to commemorate it!"
VD: Excluding Bill Schmitt with Jim Schmitt (236); Ray Elder with Richard Elder (216) who are far ahead. Did you know that on September 3 in Portland, you and Michael Munoz will become the 3rd driver/crew chief duo having made the most races together in the history of the West Series since 1954 with 105 starts. Surpassing Scotty Cain with Bill Clinton (104). In addition to the friendship that binds you, how do you explain the secrets of such a long collaboration?
TS: "We both have a lot of fight in us and don't know how to quit. As long as we are able to grow our program every year we plan on racing."
MM: "No, I had no idea. However, I have been in the series for a long time, so I'm not surprised to hear that. It's an honor to be recognized of that position. The key to our relationship is to always stay positive and be open to communicate not only about racing but life in general. We discuss situations and do our best to turn negative events into positive lessons.
"Todd is one of the hardest working men I know. He works his tail off to make this all happen and I see every day. With that being said, he drives me to be better and to try and match his ability to push hard every day. He has a monumental role in my life and I'm extremely thankful for the Souza family. Todd is dedicated to his employees so it makes it easy to go into battle every week and face the challenges and emotions of a race weekend."
VD: After a few difficult years, the West Series saw a resurgence of interest last year with more drivers at the start of the races. There will be a lot of people this year again. How do you see the future of the series? Always more young drivers? More races?
TS: « A few years ago it was definitely on the decline. But the few years it's headed to be stronger than ever. It's always going to be filled with young drivers because it's a steppingstone for most of them. It looks like this year the schedule is headed back toward more races like it should be.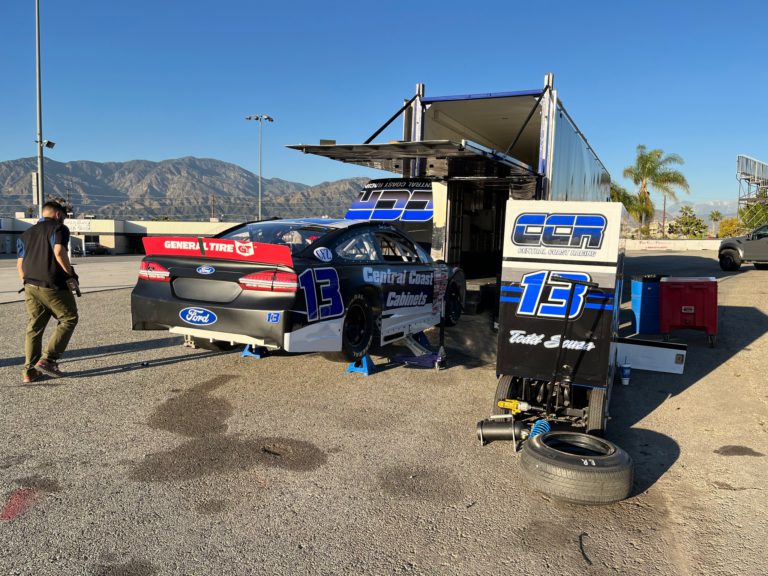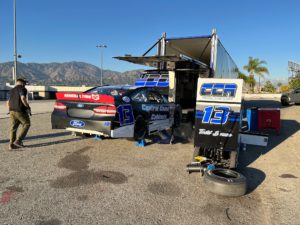 VD: Satisfied with your private pre-season tests?
TS: "The practice a couple weeks ago at Irwindale wasn't private. It was their (Note: ARCA Menards West Series) open test day. It was just really a shakedown, and we ran the Phoenix set up. The practice was really good! Just got to get through these first three races and get to the road races to capitalize.
MM: "Practice went well with the Ford and the Ilmor engine (Note: CCR usually uses the spec engine on short tracks). We got to work on some small things we have been talking about so that was productive. Practice is always nice for confidence, working out little bugs and just to be at the track going through the motions."
The 2022 ARCA Menards Series West season has 11 races between March and November.
The 2022 ARCA Menards Series West season opener will take place in Phoenix Raceway in Avondale, AZ on March 11th. A combination race with the ARCA Menards national Series. And the first race of the 2022 Sioux Chief Showdown.
All Todd Souza stats are available here: www.racing-reference.info/driver/Todd_Souza/
Personal message: Life can be beautiful as it can sometimes be cruel. Many people suffer from degenerative diseases or cancer all over the world. Men, women of all ages but also children. Medical research is essential to overcome these diseases. But developing treatments and/or supporting patients and their families is expensive. If you have the opportunity to make a donation for cancer research or to support an association helping the sick, do so. There is no small donation. Every donation is a good donation. Every dollar matters. Don't hesitate to support the association of your choice. They are all important. Thanks for reading.
Featured Photo Credit: Photo Courtesy of Kelly Souza via Vincent Delforge.