By Jerry Jordan, Editor
CHICAGO – No doubt, the NASCAR Cup Series drivers will be out watching Saturday's Loop 121 Xfinity Series race to get an idea of the chaos they can expect for Sunday's Grant Park 220 because, apparently, their SIM work hasn't given them a warm and fuzzy feeling about the race.
Asked where he thought the trouble spots were around the Chicago Street Course, last week's Cup Series winner at Nashville Superspeedway, Ross Chastain, was pretty clear he knows them all, pretty well.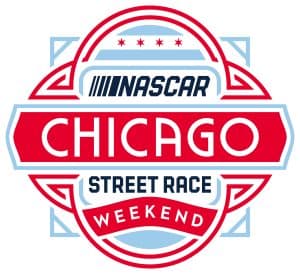 "Yeah, 12 of them," Chastain told Kickin' the Tires. "I wrecked in every corner, okay. But that is what is so great about modern technology is that you just stop, hit reset, and you fire right back off."
But he said that isn't how he plans to race on Sunday. In fact, fans may see a much more subdued Chastain behind the wheel of the No. 1 Advent Health Chevrolet Camaro ZL1. The Trackhouse Racing driver said he has to refocus and keep himself in check because he's found out from his simulator time, there is little to no room for error at NASCAR's first-ever street race.
"Now, I rein that in. I don't attack like I did in there (in the simulator)," Chastain said. "I bring that down and I will be working up to it. So, if you don't see super-fast laps right off the bat from me, that is not an accident. Now, do I want to go out and be the fastest and win everything and win the pole like last week? Of course. I am a competitor. But I am not just focused on lap times and firing off, because I know the penalty and it has been my main focus this week is keeping that aggression level down in practice (on the simulator)."
But Chastain's analysis is not uncommon. Both Brad Keselowski and Chris Buescher, who drive Ford Mustangs for RoushFenwayKeselowski Racing, said they became very familiar with the walls around the course during their time in the simulator. In fact, Keselowski, the wily veteran and 2012 NASCAR Cup Series Champion, didn't make it a lap before wiping out.
"Well, I wrecked a lot more than Chris did. So, whatever that's worth," Keselowski said. "I watched him run for 10 or 20 laps and not really hit a wall. Then I went out there, and I think I hit every one of them."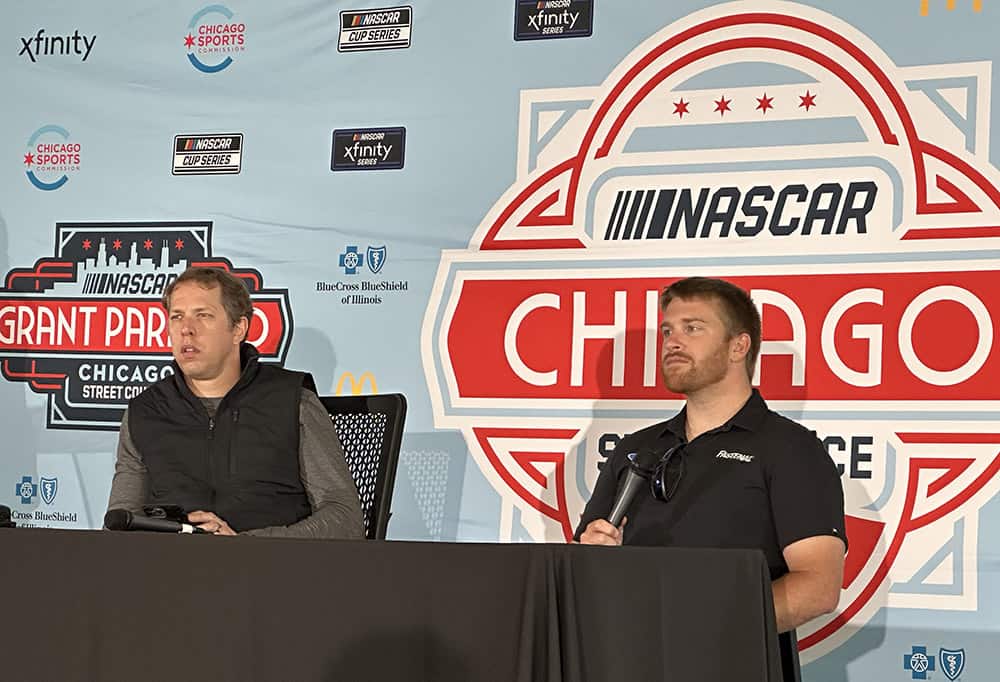 Buescher, who grew up racing around north Texas and southern Oklahoma, has over 100 wins in the former Texas Motor Speedway Legends events. He won the ARCA Series championship in 2012 and won the Xfinity Series championship in 2015.
Although his background is in oval racing, he has developed a knack for turning right and left and his first NASCAR Xfinity Series win came at the Mid-Ohio Sportscar Course. He conceded that through the years, he has upped his skill level on the road courses that NASCAR races on. However, he confessed to Kickin' the Tires – after hearing what Keselowski said about his laps in the simulator – that things didn't start off so well.
"I got there several hours before he (Keselowski) did, and I hit every wall before that," Buescher said. "It made it look good by that time, but I promise you, it was not a smooth start. There was a decent amount of iRacing as well when we didn't have our Ford (simulator) time that I tried to run in. I'm just more about figuring the course out, a little less of reading into just the setup side of things. I wrecked a whole lot of stuff over there (iRacing) as well."
Buescher said he was able to get a new perspective of the track after his spotter sent him photos he took walking around the track. He said he has an idea where fans might see drivers potentially have trouble around the 2.2-mile course. However, he won't know more until he actually gets in the car and makes some laps on the track but don't expect him to be rushing to be the fastest on the speed charts.
"I think we definitely have ideas about places that make us a little bit nervous on track," he said. "They (the turns) are going to be snug. Just some of the pictures I got from my spotter earlier today make the fountain corner look way different than I feel like it appeared in the simulator. It looks much tighter on the entry and exit of the fountain loop – Turns 8, 9 and 10. I don't know how we come up with numbering our corners on road courses, because for some road courses that would be one corner and at Watkins Glen it'd be four – I can't keep up. That one looks different, so we'll need to get on track to get a read on it and see. That's the only way to do it. The simulator definitely helps but I'd say mostly everybody has been on it and has run some amount of laps. I'm hoping it's as close as it could possibly be but, we have to get on track and figure it out."
The three regulars in the NASCAR Cup Series weren't alone in their trepidation about racing around the course and what kind of trouble may ensue. A guy, who is a veteran racer on road courses and street courses around the world is also a little bit nerved up. Jenson Button, who won the 2009 Formula 1 championship, was equally as candid about his experience in the simulator … and it went about the same as every other driver questioned on Friday.
'Am I going to make the corner or not?' At some point, you go past the point of no return' – Jenson Button, driver of the Rick Ware Racing No. 15 Ford Mustang

"I spun coming out of the pits, so it wasn't a good start." Button said. "Once you get up to speed … the throttle control is nuts around here. You really have to modulate the gas pedal – there's a lot of modulation, especially because there are so many bumps. Laterally loaded when you get on the throttle, it's really tough. Straight-ahead traction is fine. The big area where we'll be struggling, I think, is Turn 3 to Turn 4. That fast right kink, before you turn right over the bridge in that really narrow path of the course, there is no room for error. When you come through Turn 3, it's quite bumpy as you hit the brakes, so the car is moving so much through the braking zones, and trying to pick your apex point is really difficult. it gets to a point where you have to think, 'Am I going to make the corner or not?' At some point, you go past the point of no return.'"
Button added there are some options in areas with a runoff or safety escape road but those are very few around the track. He, like the other drivers, predicted a very exciting and perhaps chaotic Cup Series race when the green flag is waved on Sunday.