By Jerry Jordan, Editor
JUSTIN, Tx – With fans in the stands cheering him on, Austin Dillon won the O'Reilly Auto Parts 500 at Texas Motor Speedway and pulled his Richard Childress Racing teammate, Tyler Reddick, across the line with him for a 1-2 finish – Dillon's first win since 2018.
Following the race, Dillon celebrated on the track with burnouts at the start/finish line as fans cheered him on and then went to Victory Lane. He requested water and was then seen kneeling in Victory Lane before, a short time later, he was taken to the care center for heat-related issues. After being cleared from the care center, he said, the heat was pretty intense inside the car throughout the day and he tried to stay focused to do everything he could think of to keep the lead but one thing did stick in his mind towards the end of the race.
"Only thing going through my head was the damn car was really hot," Dillon said, as he and the media began to laugh. "Yep, I got a couple IVs in me, feeling great. I felt great once I kind of got in the air‑conditioning. I was kind of wanting to come back out.  I gave it all. I left it all out there. At least I can say that. Left it all out on the track. The infield care center did a great job of taking care of myself. Kurt Busch, too. Kurt is okay (Busch received IV fluids and was cleared by medical staff). We're actually flying back together so it worked out okay.
"The second to last restart, when that caution came out, I kind of had gotten tight into three. I don't know if it was just because I was giving it all I had there at the end. That caution came out. I'm sure a lot of people were hoping it would go green right there. I think it was good for us. It cooled our tires back down, allowed me to fire it back in there that green‑white‑checkered. What a call by Justin. I mean, he's done a great job all year of putting us in good positions when it comes to track position. All three of my Cup wins are with Justin (Alexander, crew chief). Love the guy. I can't thank him enough for everything he's done for me and my family. He's been putting great products out there.  He deals with me. I'm not the easiest individual in the world to deal with. I can get cranky from time to time. It's just because I'm passionate and I'm a grinder. I feel like I can go out there and compete week in and week out with these guys. This was a huge win for our company"
For anyone saying the win was an "upset" or fluke, Dillon's crew chief on the No. 3 Chevrolet, Justin Alexander, said they better think again because they earned their win, holding off former NASCAR Cup Series champions Joey Logano and Kyle Busch and Reddick on three restarts over the final 26 laps.
"I think some people don't give Austin enough credit," Alexander said. "They think he may not be good enough to win races. They don't give this team enough credit. From that perspective I do think we're a bit of an underdog to some of these teams, bigger teams. In that respect, yeah, maybe it is a little bit of an upset.
"But we didn't back into this win. We didn't fluke win. It wasn't a fuel mileage deal. We went up to the front, raced them at the end. The car had every bit of speed we needed to win this race. Our cars have had a lot of speed all year. It's really about execution. We did put it all together today."
Dillon followed up his crew chief's comments saying he doesn't really care what the haters say about him. He is focused on doing the best for RCR and his guys. Everything else is basically just noise.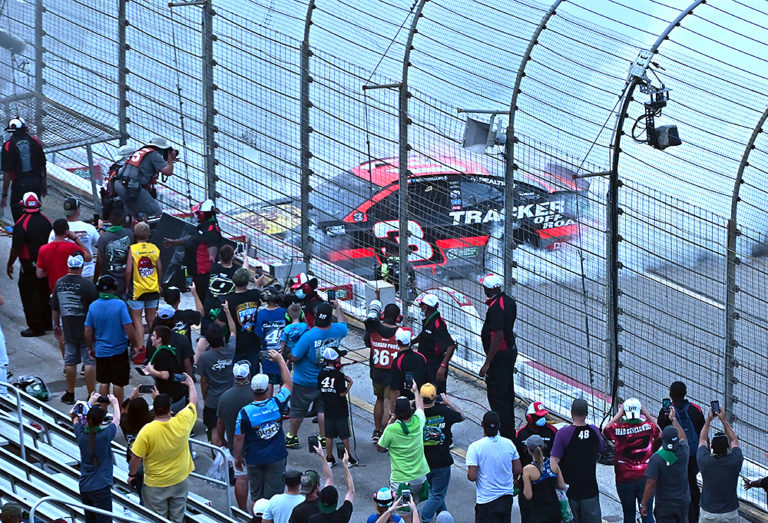 "I don't know. It's okay, man," Dillon said. "Sports are sports. You got to have someone you don't like. Maybe it's just my background, where I come from. But I got a lot of people that love me, too. It doesn't bother me at all really. They can either get on the bandwagon and love me … It's okay. It's part of sports. Haters are gonna hate sometimes, but we'll be all right."
The win marked the first time since 2018 that Dillon had visited Victory Lane and it was the first time since 2011 that RCR had finished a race locking up the first and second spots. That happened at Talladega Superspeedway when Clint Bowyer held off Jeff Burton to take the win. Team owner Richard Chidress said the accomplishment at Texas Motor Speedway was special.
"It means a tremendous amount because we've struggled, and everyone knows that, but Chevy has really worked hard and put together a great car for us," Childress said. "To be able to go out and be able to win in a Chevy and be 1‑2 today, it meant a lot. RCR (Richard Childress Racing) and ECR (Earnhardt Childress Racing Technologies), we've got so many partners that stuck with us through the whole thing. To be able to have them bring the win home, a second‑place finish for Cat (Caterpillar), it's just amazing."
For Reddick, the back-to-back Xfinity Series champion now racing at the Cup Series level, it was a Catch 22 situation. He might have been able to rough up Dillon's No. 3 but wrecking your teammate isn't a good plan. And when that teammate is also the grandson of the team owner, it could come with consequences. Not to mention there is always a chance that both cars could be taken out of contention to win and that could be a career-ending move. But Reddick did think about it, briefly.
"I just tried to do it as best as I could," Reddick said. "I'm not going to lie, he did a really good job in the restart zone of keeping me from getting into a rhythm, being able to work with the 18 behind us, who is one of the best. Had me all jacked up. Kyle (Busch) couldn't give me the pushes that he was wanting to give me for himself to battle with the 3.  Just got to continue to work on that. A lot of these restarts throughout the year, we've been in mid-pack, we haven't had the opportunity to play with that on the front row. Just came down to that launch. That's something that I didn't do a great job of during the last couple restarts.
"It's just one of those deals where it's risk versus reward. For us, to race against my teammate, as much as it's my responsibility to win for this Cat (Caterpillar) Oil and Gas Chevrolet, I don't want to take a win opportunity away from either RCR car. Just trying to race as hard as I can without getting the 3 in a position where he lifts, slides up, makes me lift, the cars behind us have an opportunity there to win that race."