By Seth Eggert, Staff Writer
MOORESVILLE, N.C. – Once again Brandon Brown shifts to B.J. McLeod Motorsports, this time for the Drive for the Cure 250 at the Charlotte Motor Speedway ROVAL.
The last time Brown drove for McLeod, he earned the organization's best qualifying effort by a NASCAR Xfinity Series regular. The Woodbridge, VA native qualified 13th at Bristol Motor Speedway.
Moving forward to the ROVAL, Brown will be in the No. 78 Chevrolet Camaro SS. The home race for many teams, including McLeod's, gives the 29-year-old added motivation to perform well in front of friends and family.
"It'll be great to be in front of a lot of friends and family here in Charlotte. That'll increase the motivation," Brown explained. "I just want to do well. It feels like an off-weekend without it actually being an off-weekend. It'll just be nice to not have to block out an entire day for travel or stay in a hotel. It'll be nice to work from home, so to speak."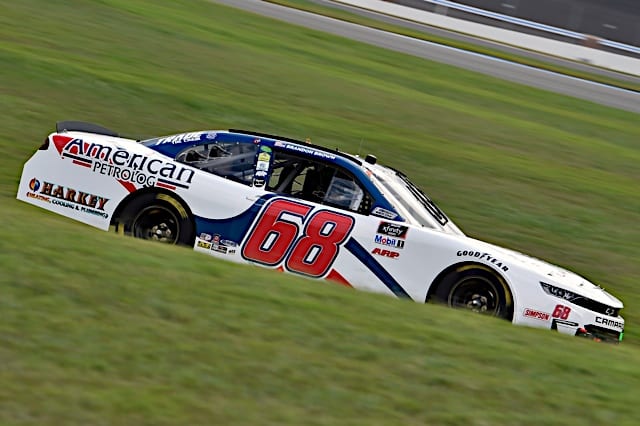 Brown has three starts at the ROVAL. His best finish, 17th, came in his first start at the hybrid track in 2019. Brown finished 22nd at the track last season and was among those that encountered adversity in the 2020 monsoon.
"We've always run strong at the ROVAL," Brown recalled. "We just haven't been able to click off the finishes. In the rain, the ROVAL's drainage system wasn't superb.. We were taken out by a puddle. We just need a result that matches the effort. Also, it's the playoffs, and the playoff drivers are driving way more aggressively than normal."
The unique difficulty of the ROVAL is compounded by its placement on the Xfinity Series schedule. As a NASCAR Playoff elimination race, it forces the Playoff drivers to be more aggressive. The layout of the track, curbing (turtles), and close quarters can lead to many issues on race day.
"The difficulty of the ROVAL is a combination of the pressure that comes with it," Brown admitted. "The track itself can be pretty demanding on equipment, with the larger turtles to keep you within the lines, the lack of runoff room in a lot of areas and then with limited road course experience. Finding the speed at road courses is tough because every corner matters. Each corner translates to the next."
Brown enters the ROVAL 16th in points, 38 behind Anthony Alfredo in 15th. He is 115-points ahead of Labbe in 20th.
The Drive for the Cure 250 at the Charlotte Motor Speedway ROVAL is scheduled for Saturday, October 8 at 3:00 p.m. ET on NBC. The race will also be broadcast on the Performance Racing Network and SiriusXM NASCAR Radio, channel 90.