By Seth Eggert, Staff Writer
A rough start to the 2023 NASCAR Cup Series season became a little brighter for Bubba Wallace as he scored a top-five finish in Sunday afternoon's Pennzoil 400.
Through the first two caution free Stages of the 400-mile race, Wallace's No. 23 Columbia Sportwear Company Toyota Camry TRD ran well inside the top-10. While his 23XI Racing machine didn't have the same speed as the Hendrick Motorsports Chevrolets, it did contend with his Toyota Racing brethren from Joe Gibbs Racing (JGR).
The Bootie Barker-led team worked to adjust improve the car to Wallace's liking. While the Mobile, AL native moved up the running order, it appeared to still be a struggle to understand what his Gen 7 Toyota was asking for. At times the NASCAR Cup Series team even went back on adjustments to further improve the car.
"(It was) mentally exhausting just trying to decipher exactly what our Columbia Toyota Camry TRD needed to be better," Wallace admitted. "We lacked a lot of things. I was just having a debrief with the guys on how to be better if we came back (here) tomorrow. I don't know if it's an overnight project, but we've got some time.
"Just proud of our efforts, we never gave up were right there in the top seven or eight, just biding our time. I was going to settle for sixth and the caution came out, here we go. (Hendrick) dominated the whole race. We've got to have a good debrief tomorrow to figure out what we need to do back at the shop to be better. We've got a lot of smart people to figure it out between 23XI, JGR, TRD."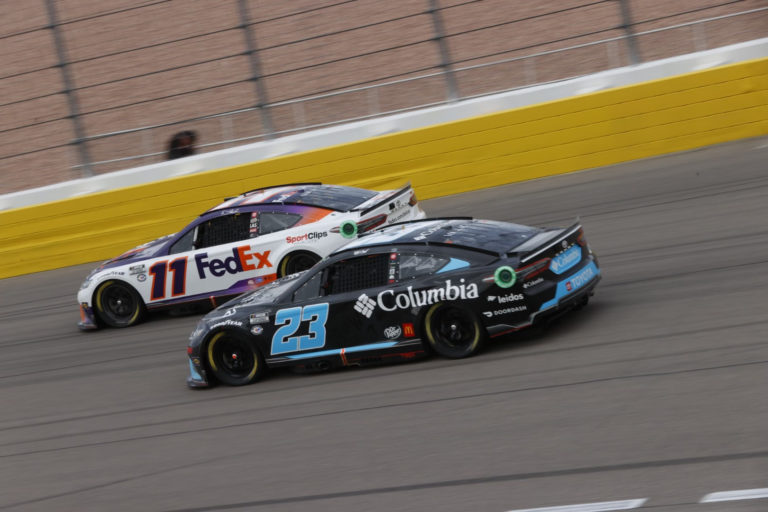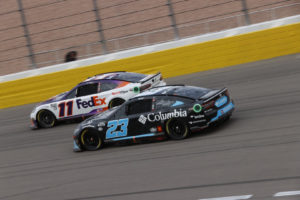 Having stalled out in sixth, the 29-year-old prepared to take the checkered flag comfortably inside the top-10. Then a caution with four laps to go provided a late-race boost to a team that has struggled to finish a race this year, though those results were due to factors largely out of their control.
On the final restart in overtime Wallace followed Alex Bowman up the middle. The move shifted him ahead of his team owner Denny Hamlin as well as Martin Truex, Jr. However, he had nothing for the Hendrick Motorsports Chevrolets and took the checkered flag in fourth.
While he didn't have the same speed, he had at Las Vegas Motor Speedway or Kansas Speedway in the Playoffs last year, the turnaround in results was a huge confidence boots for Wallace.
"100 percent, you continue to carry that confidence knowing that you've got to roll into that this season, carry that, and be proud of that," Wallace stated. "Our team knows what we're doing and what we're here to do. We just have to go out and execute and we did that today. Pit crew did a great job, we gave up some spots here and there, but they learned from their mistakes and rebounded. They kept us in the game all day."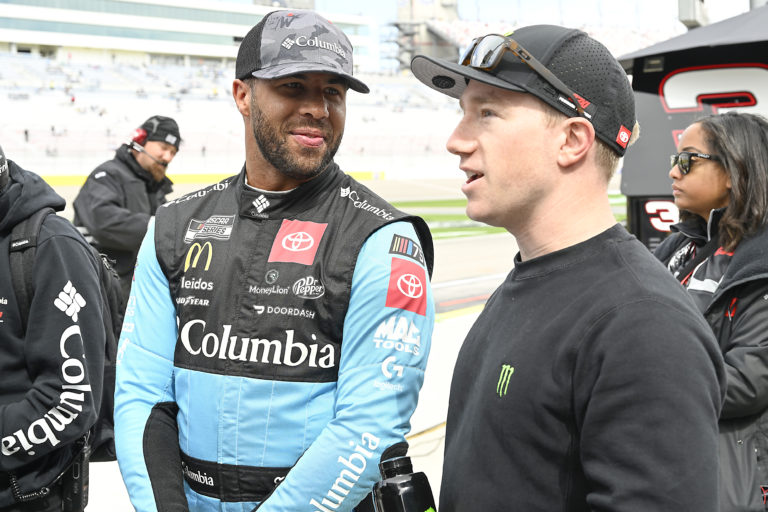 Wallace's fourth-place finish wasn't just his first top-five of the season, but the best finish for 23XI Racing's full-time drivers in 2023. His best finish of the season prior to Las Vegas, 20th, was in the Daytona 500 when he was swept up in an accident on the final lap. 23XI's best finish prior to Las Vegas was Travis Pastrana's 11th-place at Daytona.
Though Wallace's teammate, Tyler Reddick, finished 15th, 'Sin City' was a marked improvement for the fortunes of results for both of 23XI's cars. Reddick had climbed inside the top-10 before contact in with the outside wall dropped him down the running order.
"Reddick was fast, (he) was rolling there, and I was like 'damnit, here comes the 45,'" Wallace joked. "He was ripping the top and then I think he ripped it too hard. I think for both of us we wanted to come in and get a solid finish, get the finish that we deserve. I think we're on the right track for that. We've got some ground to make up from these first two races to be in contention, and we've got fast cars."
The fourth-place finish, combined with and eighth place and a sixth-place finish in the two Stages moved Wallace up the championship points standings. He climbed from 26th to 16th, 60-points behind leader Ross Chastain.
Next for Wallace and his 23XI team is the Ruoff Mortgage 500 at Phoenix Raceway. His best finish at the 1-mile track is 10th, which came in the Playoff race in 2018.
The Phoenix race will be broadcast on Sunday, March 12 at 3:30 p.m. ET on FOX, the Motor Racing Network, and SiriusXM NASCAR Radio, channel 90.