By Seth Eggert, Associate Editor
DARLINGTON, S.C. – NASCAR's Throwback Weekend marked the best race of the season so far for Harrison Burton as he scored a top-10 in Sunday's Goodyear 400.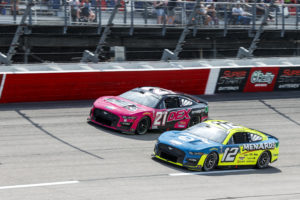 Throwing back to an iconic paint scheme of his father, Jeff Burton, Harrison Burton embraced the pink and black colors on his No. 21 DEX Imaging Ford Mustang. The younger Burton slowly climbed up the running order late in the 400-mile race at Darlington Raceway.
When a caution waved with 16 laps to go, Burton's Wood Brothers Racing Ford was just inside the top-15. On the ensuing restart, the Huntersville, N.C. native narrowly avoided a multi-car pileup that eliminated or wounded many of those ahead of him, putting him 10th. When the leaders wrecked on the next restart, Burton had jumped into the top-five.
In overtime, Burton restarted well, but like Bubba Wallace, was pinned in behind damaged cars. That pitted the two drivers against one another around 'The Track Too Tough to Tame.' Ultimately, Wallace cleared Burton for fifth coming to the checkered flag.
"It was (my best race of the year)," Burton admitted. "For us it was a combination of a lot of things. We had the lap time all day and that was exciting. I feel like we've been building that way where we have these runs throughout races and it's like 'oh my god, we're really fast.' Last week, it felt that way, but we were in position.
"We have potential here, found some things that I like as a driver, and it seems to be working. This was a complete day for us, and we made mistakes along the way whether it was me, the pit crew, or whatever. There's a few things that normally we clean up that normally we have to, to get a good finish like this.
"With our speed, we're able to overcome those mistakes. For us, that's a big deal, but I hate it, I made a mistake. You now know that we're better off and able to recover. That's a good thing for us."
Despite the speed, the mistakes that Burton made kept the 22-year-old outside the top-10 at the end of both Stages. That kept him from earning additional points.
The sixth-place finish was Burton's first top-10 of the 2023 NASCAR Cup Series season. It was also the third top-10 of his Cup Series career.
The top-10 finish moved Burton from 31st to 30th in the points standings, 253-points behind leader Ross Chastain. He is also 99-points behind the playoff cutline, currently held by fellow Ford Performance driver Chase Briscoe.
Next for Burton is the NASCAR All-Star Open at North Wilkesboro Speedway. With no wins, he has to race his way into the main event or win the fan vote to be eligible. Outside of iRacing and work on simulators, he has no previous experience at the historic racetrack.
The NASCAR All-Star Race and All-Star Open are scheduled for Sunday, May 21 at 8:00 p.m. on Fox Sports 1. The race will also be broadcast on the Motor Racing Network and SiriusXM NASCAR Radio, channel 90.