By Seth Eggert, Staff Writer
TALLADEGA, Ala. – A clean car, Stage points, and a top-five finish at the end of the YellaWood 500 meant that Denny Hamlin accomplished his goals at Talladega Superspeedway.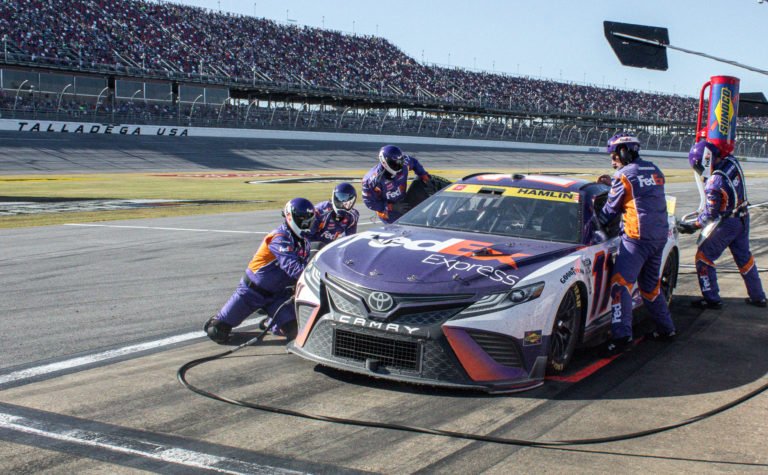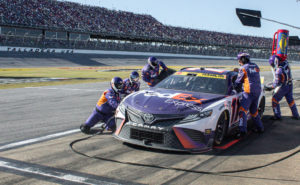 In a two-lap dash to the finish, Hamlin found himself lined up behind Ryan Blaney, Chase Elliott, and Michael McDowell. The NASCAR Cup Series driver had a choice to make as Elliott jumped up to take control of the outside lane.
Otherwise boxed in, Hamlin's No. 11 FedEx Express Toyota Camry could have followed Elliott. However, that risked being left out to dry in the middle and finishing outside the top-15.
The Joe Gibbs Racing driver ultimately opted to stay line. That decision ultimately allowed Hamlin to score a fifth-place finish as Elliott, Blaney, and Erik Jones battled for the win. The Chesterfield, VA native narrowly beat Jones to the line for fifth without a scratch.
"Then we tried to go and get a good finish and that's what we did," Hamlin stated. "Overall, a good day. I was able to give Chase (Elliott) a push right there and I thought about, 'should I go with him and force three wide.'
"But I'm on the bottom and I know I've always got someone coming up behind me. Then I'd be in the middle and the risk wasn't worth going back to 15th and getting stuck in the middle. To me, this is a three-race season that we have and we're points racing."
Long before the two-lap dash that ultimately settled the race, Hamlin was up front. As the final lap of Stage 1 began, Hamlin was in the lead. The 41-year-old lost his drafting partner, William Byron, allowing Blaney to take the Stage win. Hamlin finished second in the Stage, netting nine points.
"It's just so hard to pass," Hamlin explained. "It's just a train of two lines. You really can't run three-wide with this car so you just have to sit behind whoever is right there in front of you and hope you can push that line a little bit forward. Hopefully, they switch lanes, and you can leap forward. That's kind of what we've got right now so I feel like we executed a pretty good day. Our goal going into the day was five stage points and we got more than five the first Stage and none in Stage 2."
The fifth-place finish and Stage points leave Hamlin fourth in points, 21 above the cutline. Few, if any, drivers on the NASCAR Playoff grid have a decent cushion entering the Charlotte Motor Speedway ROVAL.
Hamlin's best finish at 'The ROVAL,' also a fifth-place finish, came last season. Results alone don't offer a reprieve with the unpredictable nature of the Charlotte road course.
"Certainly, this week's results didn't give us any comfort for next week," Hamlin admitted. "The Roval is always crazy and obviously we need to get our program really good on road courses. But it gives us somewhat of a cushion there to survive the day and make sure we do the things we know how to do and don't get in trouble.
"We should be fine, but you never know. You could have a winner from the bottom four and everything changes. We're going to do everything we can to fight. Live to race another day."
The fifth-place finish was Hamlin's eighth this season and the 208th of his career. Uncharacteristically this is the fewest number of top-five results for him since 2014. Hamlin only earned seven top-five finishes that year.
The Bank of America ROVAL 400 at the Charlotte Motor Speedway ROVAL is scheduled for Sunday, October 7 at 2:00 p.m. ET on NBC.
The race will also be broadcast on the Performance Racing Network and SiriusXM NASCAR Radio channel 90.