By Seth Eggert, Staff Writer
DARLINGTON, S.C. – Another in-car fire on a NASCAR Next Gen Ford Mustang ended the Cook Out Southern 500 early for both Kevin Harvick and J.J. Yeley.
No. 4 Ablaze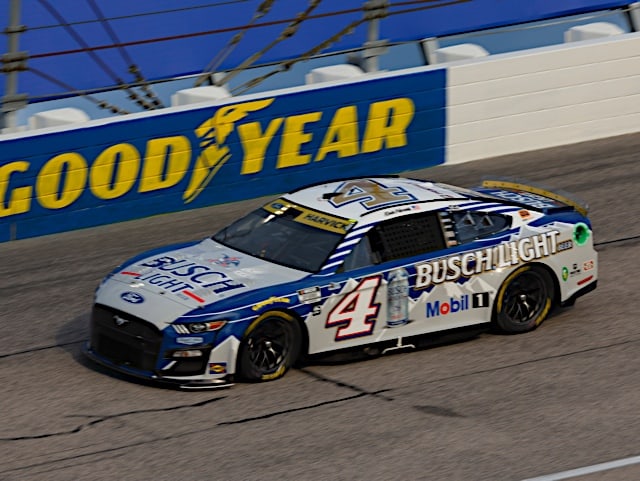 In the middle of a round of green flag pit stops at Darlington Raceway, Harvick slowed. The 2014 NASCAR Cup Series champion's No. 4 Busch Light Retro Ford Mustang's right side rocker panel was on fire. It was already on fire for several laps. When Harvick stopped the fire quickly spread to the left side of the car. It was already inside the cockpit, igniting the dashboard.
"The rocker was on fire for a couple laps," explained Harvick. "I just stopped because I couldn't see anymore because the flames were coming through the dash, and I couldn't make myself sit in there and burn up."
Kevin Harvick's car bursts into flames! #NASCARPlayoffs

📺 : @USA_Network pic.twitter.com/WWW53y2y3d

— NASCAR on NBC (@NASCARonNBC) September 5, 2022
Another Fire
During the clean-up of Harvick's car, J.J. Yeley brought his No. 15 Jacob Companies / Parts Plus Ford to pit road. NASCAR officials were forced to waive off the restart as Yeley's car was engulfed in flames as well. Though the Rick Ware Racing machine's fire was not as dramatic as Harvick's.
The fires on Harvick and Yeley's cars are the fourth and fifth fires since the race at the Indianapolis Motor Speedway Road Course. At the road course, both Chris Buescher and Joey Logano had in-car fires. Though, those fires were because of contact knocking the energy absorbent foam against the exhaust. NASCAR has addressed that issue.
"I'm sure it's just crappy parts on the race car like we've seen so many times," stated Harvick. "They haven't fixed anything. It's kind of like the safety stuff. We just let it keep going and keep going. The car started burning and as it burned the flames started coming through the dash. I ran a couple laps and then as the flame got bigger it started burning stuff up and I think right there you see all the brake fluid that was probably coming out the brakes and part of the brake line, but the fire was coming through the dash."
Briscoe's Fire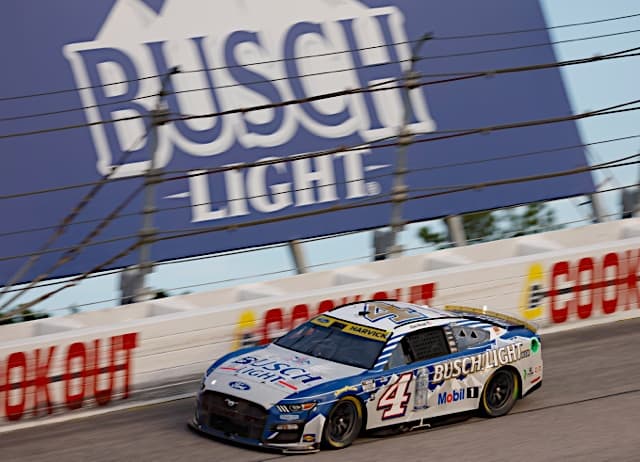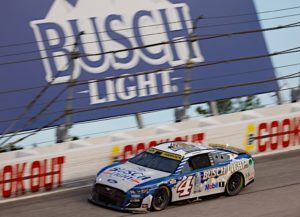 The third fire was on Chase Briscoe's No. 14 Ford at Richmond Raceway. The Stewart-Haas Racing driver circulated for multiple laps with his right front rocker panel on fire. When the fire refused to extinguish on its' own, Briscoe pitting, costing him several laps.
"I don't know what (Harvick's) fire was," explained Briscoe. "I know the 15 car he caught on fire, and it looked like it was the exact same thing I had a Richmond. I don't know if Kevin was an engine or the same thing that I had, if it's the same thing that I had, it's definitely a concern because it keeps happening to us. we got to figure it out, whatever the issue is and make sure it doesn't happen again just because obviously it buried both of us now. Just go on next week, hopefully we can find the issue, whatever that is, and make sure it doesn't happen again."
"Whether the parts are super expensive or cheap or whatever the case may be, it's the same for everybody those. I guess the interesting thing is how we keep having the same problem. I don't know if it's just a Ford thing or something that is just different with the (part) manufacturer side, but we definitely need to figure it out. If it keeps happening, we're definitely in trouble."
Ford Coincidence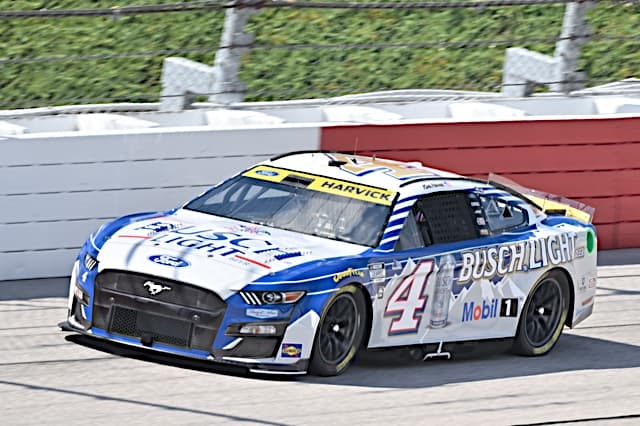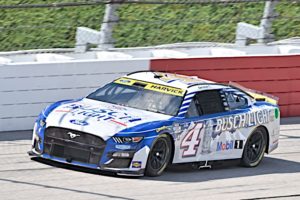 The only commonality to date between the fires is that they've occurred on Ford Mustangs. With Harvick's taking place in the opening race of the NASCAR Playoffs, the concern from fellow Ford drivers if high. In part it's the fact that fires are taking place at all, let alone that so far the only manufacturer affected is Ford.
"I worry about (what happened to Harvick) for two reasons," explained Logano. "One, it took him a lot of points away from today and he's racing for a championship of stuff that's out of his control, out of his team's control. That's concerning. Secondly, it's concerning that his car is on fire. Maybe that's the first thing it should be concerning is that cars are still catching on fire. (We've) got to fix that. It should be a concern [that it's mainly Fords catching on fire]."
Points Position
As a result of his in-car fire, Harvick was credited with a 33rd-place finish. With no Stage points earned, the Bakersfield, Calif. native now sits 16th on the Playoff Grid. Harvick is 13-points behind the playoff cutline, currently held by Daniel Suarez.
"What a disaster for no reason," lamented Harvick. "We didn't touch the wall. We didn't touch a car and here we are in the pits with a burned-up car, and we can't finish the race during the playoffs because of crappy ass parts."
The next race in the NASCAR Cup Series Playoffs is the Hollywood Casino 400 at Kansas Speedway on Sunday, September 11, at 3:00 p.m. ET on USA Network. The race will also be broadcasted on the Motor Racing Network and SiriusXM NASCAR Radio Channel 90.
Featured Photo Credit: Photo by Harold Hinson / Harold Hinson Photography.