By Jerry Jordan, Editor
DAYTONA BEACH, Fla. – Even a seven-time Cup Series Champion needs advice from time to time on what to do behind the wheel and that has certainly been the case for Jimmie Johnson as he embarks on his first Daytona 500 race in NASCAR's new(ish) racecar.
Johnson returned to NASCAR in November as team owner, buying in as a primary partner in Petty-GMS Racing, which is now Legacy Motor Club. Previously, he officially retired from the Cup Series in 2020 and then took the wheel of an IndyCar ride in 2021. Since then, Johnson hasn't had a chance to race the new Next Gen car that debuted in 2022.
His only foray behind the wheel has been at a January test held at Phoenix Raceway where he proclaimed it drove "drastically different" than the cars he drove before leaving the series. Needing all the help he can get, he confirmed he's been getting input from Erik Jones and Noah Gragson on the nuances of the new car and he definitely feels like a rookie in some ways.
"It's probably awkward for them, but for me, I genuinely need some help. I just don't know this car," Johnson said. "I felt things at Phoenix that I didn't expect to feel with the car and the way it drives on bump stops and the sequential gearbox and trying to find the most efficient and quickest way shift, how and when you downshift.
"The steering system was much more sensitive and different than I thought. The yaw window in sliding the car was way different than I anticipated. I always liked to drive a loose car and I spent a career driving loose cars. You can't drive this one sideways. It just doesn't happen the way it creates downforce. So I've been doing a lot more learning from them, and I hope I haven't freaked them out."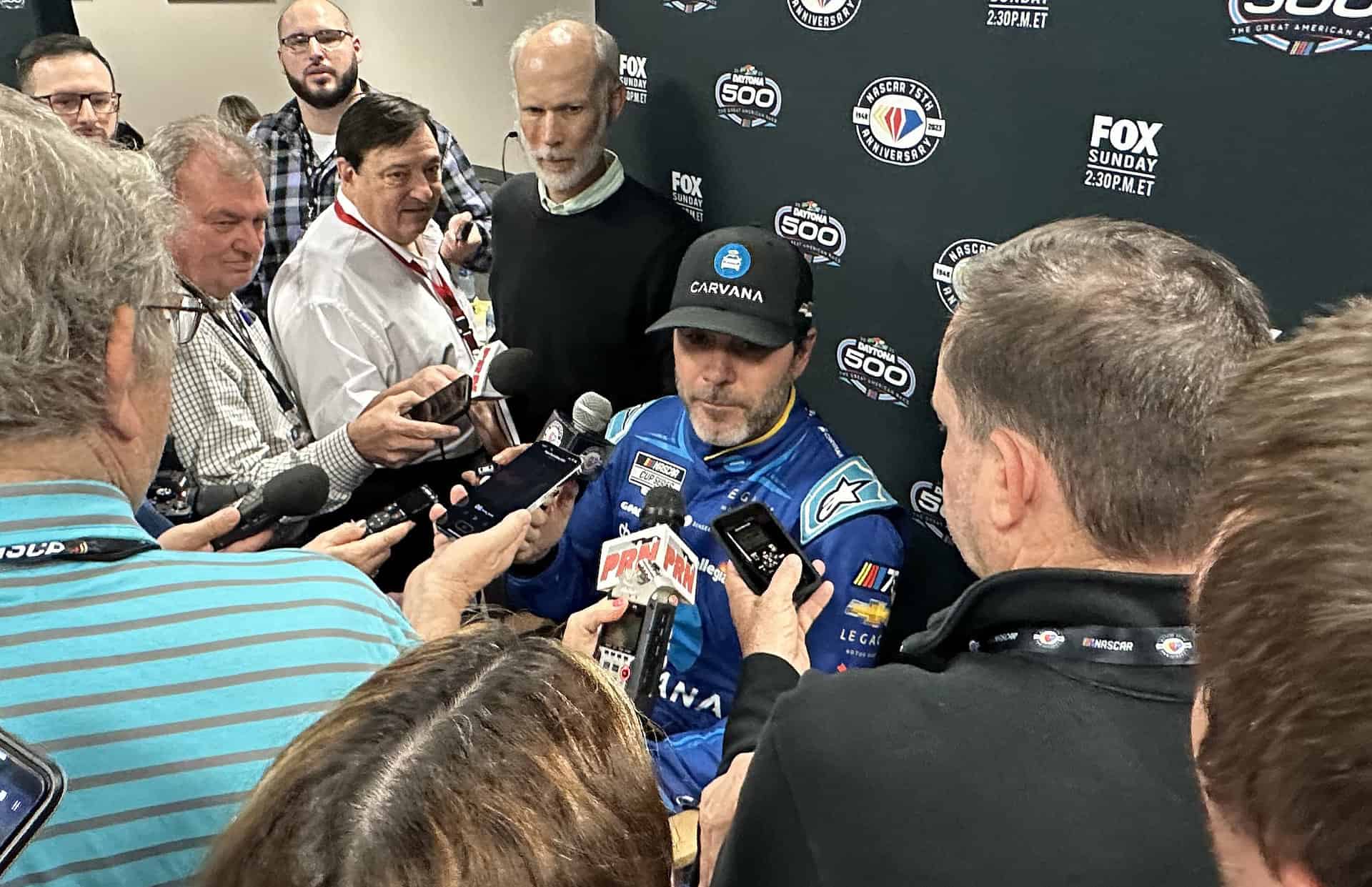 For his part, Jones said Johnson really wants to take in as much information as he can and his desire to learn is also helping the team, overall. Since Johnson is a co-owner of Legacy Motor Club, Jones said it was a weird scenario when media members asked him about being the future hall of famer's mentor.
"Yeah, for at least a minute. It is odd," Jones said. "We were at the Phoenix (Raceway) test and he was asking me some questions out there. And then he was asking me some questions the other day about coming here. It's weird. I didn't think Jimmie would ever be asking me anything along the way in my career. It's cool, though. It's something that – hey, I'll take it while I can get it.
"I've known Jimmie for a lot of years and never really had the chance to really work with him like this on anything, so it's been fun to see how his mind works on some of this stuff."
Gragson said one thing he has learned from Johnson is that you are never too old to learn something. He wasn't making fun of their age differences, though. He explained that he hopes conversations with him, Johnson and Jones will help push the team in a positive direction with any one of them capable of making it to Victory Lane.
"What's cool is that Jimmie is very humble and is always asking for advice and trying to learn," Gragson said. "That's one thing I've gotten from him – that you can always learn no matter what. So, he's asked both Erik and I questions, Erik and I have both asked him questions, Jimmie and I have both asked Erik questions, so it's kind of like a knowledge triangle where we're all trying to be better. I'm probably the weakest link in the triangle, but we're all trying to help each other to be better.
"He's really hands-on and he truly believes in what they're trying to build over there. It's exciting to see it go from paper and ideas to being a legit brand now. It's pretty cool. He's been a great mentor throughout my career so far. Now that we're teammates, I can really learn from a great and successful racecar driver like Jimmie (and it) is a perfect place for where I need to be in my career."
Johnson said he has also learned that both of the younger drivers have their workout regimens – something he is well-known for and he has been monitoring the progress. However, he did joke that he's seen a little too much of Gragson.
"The first thing that comes to mind is Noah wants a six-pack," Johnson laughed. "I know that has nothing to do with racing but if I see his stomach again for his progress report on his diet and his fitness plan, I'm going to lose my stuff! He's been so much fun. Both are super-talented but absolutely go about their days differently. I've really enjoyed working with both of them."
Jokes aside, Johnson said that although Gragson and Jones have completely different personalities, they are both committed, and they both want to be the best they can be.