By Seth Eggert, Staff Writer
After putting a complete race together, Brad Keselowski finally scored his first top-five as for RFK Racing at Homestead-Miami Speedway.
Keselowski's No. 6 Violet Defense Ford Mustang ran inside the top-10 throughout much of the Dixie Vodka 400. An untimely caution in the middle of green flag pit stops on lap 211 came after he had pitted. However, the Rochester Hills, MI native had un-lapped himself before the caution waved.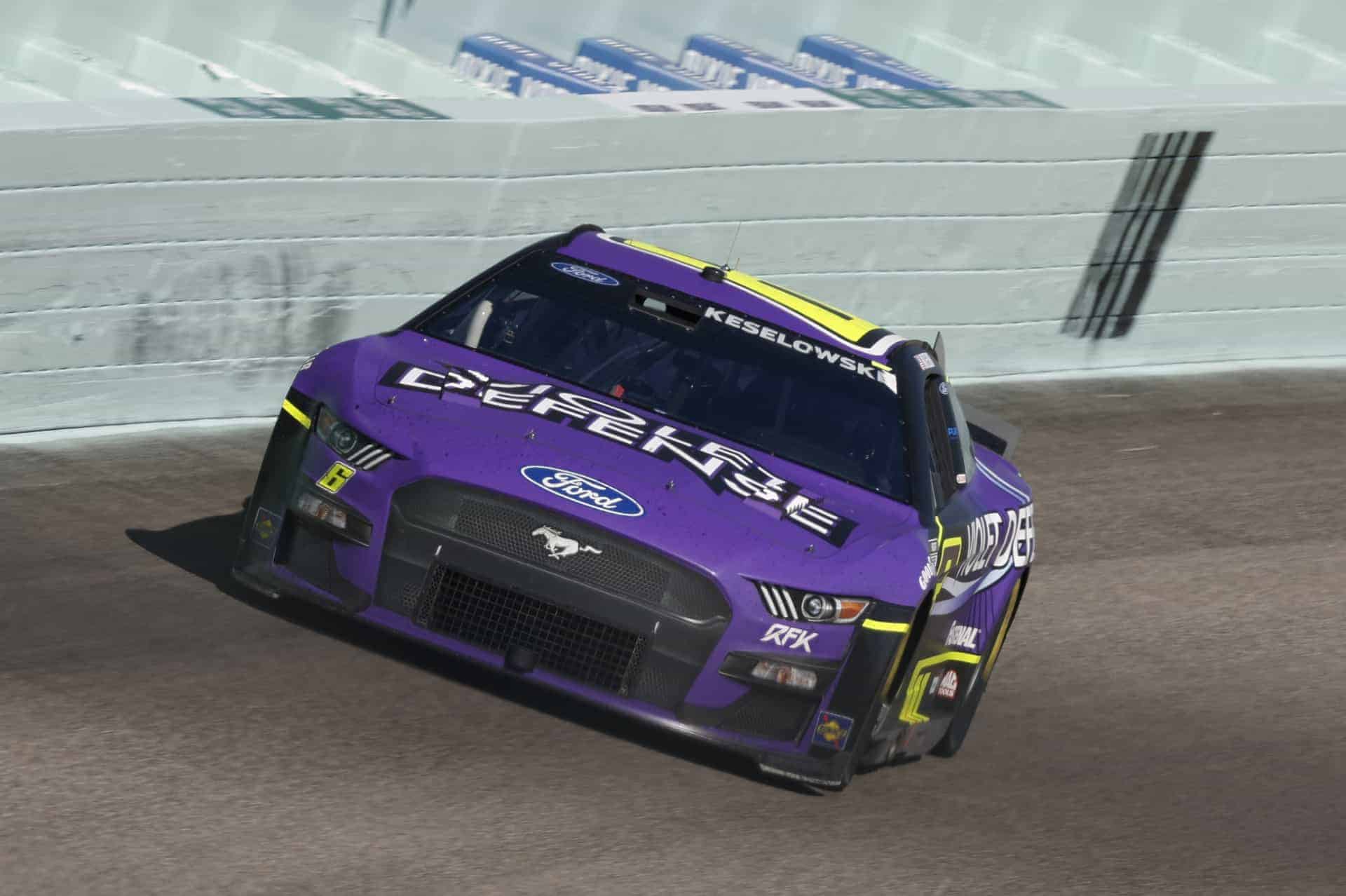 That allowed Keselowski to duck onto pit road once again. He restarted inside the top-10 and quietly moved forward. Another caution with 22 laps to go moved the Ford Performance driver further up the running order. Keselowski avoided trouble on pit road as Martin Truex Jr spun off the nose of eventual race winner Kyle Larson.
On the final restart of the day, Keselowski found himself battling with Austin Dillon, Kevin Harvick, and NASCAR Playoffs driver Denny Hamlin. The 2012 NASCAR Cup Series champion held off Harvick. He snuck by Hamlin as the Playoff driver's handling shifted. In the closing laps Keselowski also held off a late charge from Truex.
When the checkered flag waved, the 38-year-old crossed the line in fifth. It was Keselowski's first top-five finish since he became a co-owner of RFK Racing and took over the No. 6 Ford Mustang.
"Top-10 all day today and we finished it off with a top-five finish," Keselowski explained. "We had a top-10 qualifying run, scored a lot of points. It was a solid day. We're building momentum and trying to get ourselves to where we can win races and contend for championships. We've got a lot more gains to make during the off-season. I'm starting to get my hands around what we need to be better and it's starting to show."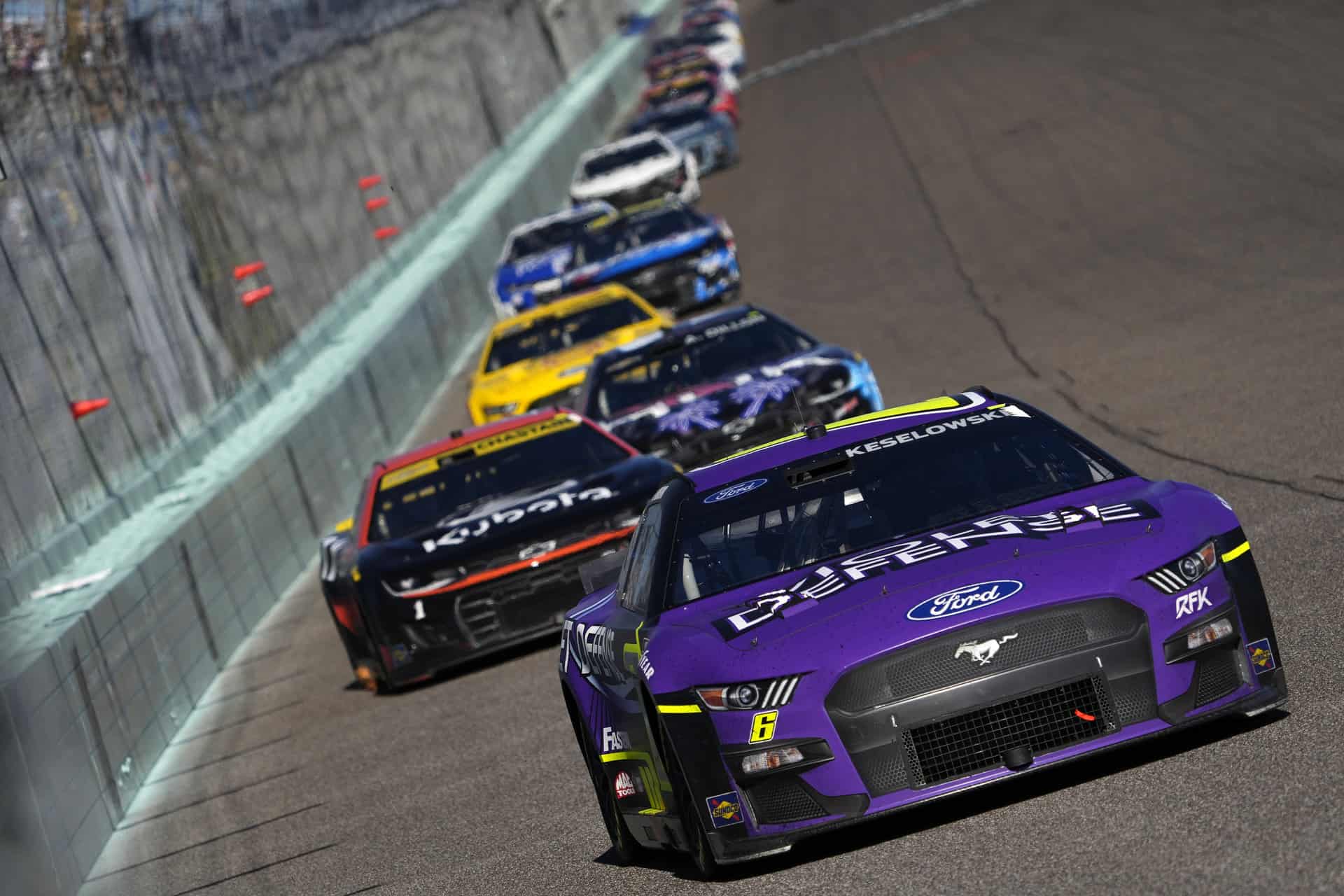 Keselowski's strong day started after he qualified ninth. He followed that qualifying effort with top-10s in both Stages. Keselowski finished seventh in Stage 1 and fifth in Stage 2.
Though not in the NASCAR Playoffs, the driver-owner has one eye on the 2023 NASCAR Cup Series season and the final two races of the 2022 season. Keselowski still has openings for the team's sponsorship lineup for next season.
"We would like to have some more sponsors next year, we have a few openings," Keselowski admitted. "Hopeful that runs like this show the strength that we have and the promise for next season. We're not done with this season. We've still got two races left and we want to win."
The fifth-place finish was both the first top-five for Keselowski this season and his sixth top-10 finish. It was also the 139th top-five finish of his career.
While not in the NASCAR Playoffs, Keselowski is still working to stay in the top-25 in points. The fifth-place finish keeps him 24th in the points standings, 66 ahead of Ricky Stenhouse Jr. Keselowski is just six points behind Michael McDowell in 23rd.
In the Owner Points standing's, the RFK Racing No. 6 is just six points ahead of the 23XI Racing No. 23 for 25th. The Kaulig Racing No. 16 is another 37-points behind. Both of those cars have had multiple drivers this season.
Next for Keselowski is the Xfinity 500 at Martinsville Speedway on Sunday, October 30, at 2:00 p.m. on NBC. The race will also be broadcast on both the Motor Racing Network and SiriusXM NASCAR Radio, channel 90.