Featured Photo Credit: Photo by Lewis Franck special to kickinthetires.net
By Seth Eggert, Staff Writer
Brad Keselowski becoming a driver-owner at Roush Fenway Racing marks the latest move in a youth movement that has developed in NASCAR's ownership ranks.
The Rochester Hills, MI native will drive the No. 6 Ford Mustang in addition to his team ownership role. Keselowski joins Denny Hamlin and BJ McLeod as a driver-owners on the NASCAR Cup Series grid. Hamlin drives for Joe Gibbs Racing and co-owns 23XI Racing with sports legend Michael Jordan. McLeod co-owns Live Fast Motorsports with former NASCAR driver Matt Tifft.
23XI Racing and Live Fast Motorsports are just two of three new teams on the 2021 NASCAR Cup Series grid. Trackhouse Racing, co-owned by former driver Justin Marks and rapper Armando Christian Perez (Pitbull) fields the No. 99 for Daniel Suarez. Trackhouse recently announced that they had purchased Chip Ganassi Racing in its' entirety.
Jeff Gordon is taking a vice-chairman role at Hendrick Motorsports. The four-time Cup Series champion last competed in 2016 in a substitute role.
In total, six organizations in the 2022 NASCAR Cup Series field will have recently retired or active drivers as owners. Live Fast's Tifft is the youngest owner on the grid at 25-years-old. By comparison, Keselowski, at 37-years-old, is buying into a team co-owned by 79-year-old Jack Roush, and 72-year-old John Henry of Fenway Sports Group.
"I feel like there's a season of change, but I don't see a lot of the ownership going away," explained Keselowski. "I see some fresher faces. We can look at Jeff Gordon taking on a more active role with Hendrick Motorsports. You have the Trackhouse transition with Ganassi. There's probably a few more to come. It's natural overtime to see those transitions.
"I think it's a good sign for the sport, for NASCAR for the owners to be reinvesting in the sport. It's going through a bit of a metamorphosis. I'm proud to be a part of it."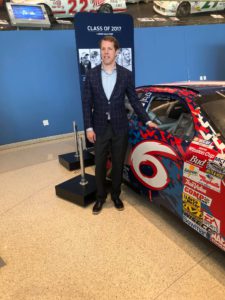 The 2012 Cup Series champion previously owned a NASCAR Camping World Truck Series team from 2008 through 2017. The team finished runner-up in points twice and scored 11 wins in 305 starts. 18 drivers competed for Keselowski's team throughout its' history with nine still competing in NASCAR. Seven will be on the Cup Series grid in 2022.
In addition to the new driver-owners that have joined the NASCAR ownership ranks in recent years, other businessmen have become team owners. Matt Kaulig recently announced that he would be entering the Cup Series his Kaulig Racing team. Scott Borchetta entered the NASCAR Xfinity Series, fielding a car for Jade Buford under the Big Machine Racing banner.
Further investment in NASCAR team ownership in the Xfinity and Camping World Truck Series can also be attributed to other former drivers. In Xfinity, Dale Earnhardt Jr. has spearheaded JR Motorsports. Meanwhile in the Truck Series, David Gilliland and Johnny Gray field several entries. Active driver Kyle Busch also fields three entries in the Truck Series.
"I think we're heading out of the dark ages for the business side of the sport," admitted Roush. "Any person that knew the competitive challenges who would have just taken some smart money and invested in the sport. Now we're seeing some new owners come in. I think that Brad's not the last of the drivers to say that they'd like to have a piece of the action when they get out of the driver's seat."
The introduction of the charter system is now reaching its' intended purpose. Although the barrier to become a NASCAR Cup Series team owner is high, both it and the Next Gen car have produced more intrigue in team ownership. GMS Racing, JR Motorsports, and 23XI Racing are among the teams that have been rumored to be in the market for a new and or an additional charter.
"We were very close to considering a third charter," explained Steve Newmark, President of Roush Fenway Racing. "Jack and John Henry would have 10 teams today if they could. They would like us to be at the max. Realistically when we evaluated and looked at the charter market. It was kind of a double-edged sword. It's starting to look like the reason we created it. There's a higher barrier for entry and there's real value with the charter.
"The ultimate decision wasn't a financial one. Our goal is to be winning races and compete for championships all the time. We need to take our two teams and solidify those first."
The fresh, and mostly younger, faces in NASCAR team owners are evidence that the youth movement in the sport extends beyond the drivers and to the decision makers.
Video by Lewis Franck special to kickinthetires.net