By Matt Courson, Staff Writer
HAMPTON, Ga. — Despite being involved in an accident on pit road, Michael McDowell rallied to finish fourth in Sunday's Quaker State 400 at Atlanta Motor Speedway. It is McDowell's first top-five of the 2023 season.
McDowell and team elected to stay out and not pit under caution for Stage Two and cycled to the front. McDowell talked about the intensity of racing AJ Allmendinger and Daniel Suarez lap after lap not knowing when rain was going to come and end the race.
"You put three guys that haven't won a race and need to get into the playoffs and to know that rain was coming," McDowell said. "It was stinking intense. It was elbows out for sure. I wish I could have held them off. We all know what we're fighting for and we were really close to it."
Earlier in the race, McDowell made contact with Martin Truex Jr. on pit road causing damage to the right front fender. But McDowell does not think it hurt the car, but it certainly did not help.
"I never saw the damage," McDowell said. "When I went back out there, I didn't feel like I was dragging or slow. I felt like we were gonna be okay but I'm sure it didn't help. I felt like I could take runs and make passes and still make moves toward the front. For whatever reason that area wasn't sensitive. I still had good speed and it drove okay. I'm happy with the repair that they did on pit road and Travis (Peterson, crew chief) did a great job calling the race and getting us track position when we needed it. I think we had a really good car tonight, getting stage points in both stages."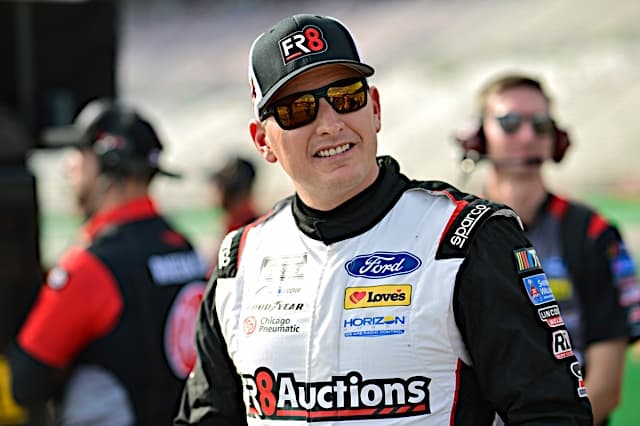 The top-five effort stings for McDowell after being so close to reaching Victory Lane.
"It's tough to swallow because we were close," he said. "But we were also close because we took a big risk and stayed out there and took the track position. I feel like the gamble had the potential to pay off.
"I had a shot at winning the race and didn't get a done. Its a good points day that will get us closer to the cutline for pointing our way in. It stinks, with no damage we might have had a chance of holding those guys off but just needed a bit more speed with the nose banged in a bit. "
McDowell enters Loudon tied with Daniel Suarez for 16th in Playoff Standings, just three points above the cutline.
"I wish it was by 30-points (above the cutline), we've got tough weeks coming up," McDowell said post-race. "This was a big week because points swing quite a bit here with a good finish or you end up crashing 30th and not a lot of points. This was one of those races where we had to maximize (points). I felt like we scored stage points in all stages and did what we needed to do. We just gotta keep that rolling. We have seven more weeks to execute perfectly."