By Seth Eggert, Staff Writer
The journey from the NASCAR Drive for Diversity program to NASCAR Cup Series winner started in 2010 for Bubba Wallace. In those 11 years, Wallace had earned wins in multiple levels of the stock car racing ladder. He's won in the ARCA Menards Series East and NASCAR Camping World Truck Series. Wallace became the face NASCAR's inclusivity changes, and mentored the next generation of drivers coming through the diversity program.
In those 11 years, the Drive for Diversity program has evolved. From a group of 10 or more drivers, the program now focuses on between six to eight drivers each year. It also now includes a youth program. The Max Siegel-owned Rev Racing, which fields the cars for the Drive for Diversity program, expanded into the ARCA Menards Series in 2021 with Nick Sanchez. The team will field a second car for Rajah Caruth in 2022.
During Wallace's time with Rev Racing he earned six victories, including his NASCAR K&N Pro Series East (now ARCA Menards Series East) debut at Greenville-Pickens Speedway. His best points finish in the K&N Pro Series was a runner-up finish in 2012.
Since then, he's earned six wins in the Truck Series and a historic win at Talladega Superspeedway in the Cup Series. Wallace's Cup Series win made him just the second African American driver to win in the Cup Series. The first win by an African American driver was by Wendell Scott in 1963. The No. 23 McDonald's / DoorDash Toyota Camry also marked the first win by an African American principal owner, Michael Jordan.
"It's been 11 years since I was part of that program and it's just super cool," admitted Wallace. "Max has done a great job with everything, all of them there (at Rev Racing). There's some avenues that we can work out to be even better. I give a lot of my praise and credit to them, to that organization and what NASCAR has done with that program… it's really cool. So yeah, full circle sounds right."
Wallace was amongst the earliest classes of the Drive for Diversity program. For the Mobile, AL native, learning new tracks at the regional and national levels was something that he preferred to do on his own. His current 23XI Racing team co-owner, Denny Hamlin, stated on SiriusXM NASCAR that Wallace is like a sponge, soaking up information.
As an alumnus of the Drive for Diversity program, and now a Cup Series winner, Wallace is more than ready to offer advice to the next generation. Whether it's' over social media, the phone, or in person, he's more than happy to offer suggestions and explain upcoming tracks. One driver that he has taken under his wing is current Drive for Diversity competitor Caruth.
"My social media lines are open; my phone lines are open," explained Wallace. "They always come up and talk, even sit here, waiting on pictures. What I like about Rajah, he was talking about Bristol and the PJ1 stuff. He was like, 'Hey, I need help for Kansas.' So, we spent 30 seconds right there talking about Kansas. It's stuff like that. I appreciate that, but at the same time, that's 180 degrees different from what I do because if I need to learn about Kansas, I got to figure it out on my own.
"So, props to him for asking. If other drivers are like, I am then I don't blame them. For me, the part of everything that you learn is figuring out on your own. I've always said that if I could go back, I would ask more questions. But I don't think I will, because then it seems a little bit easier, and I liked the challenge."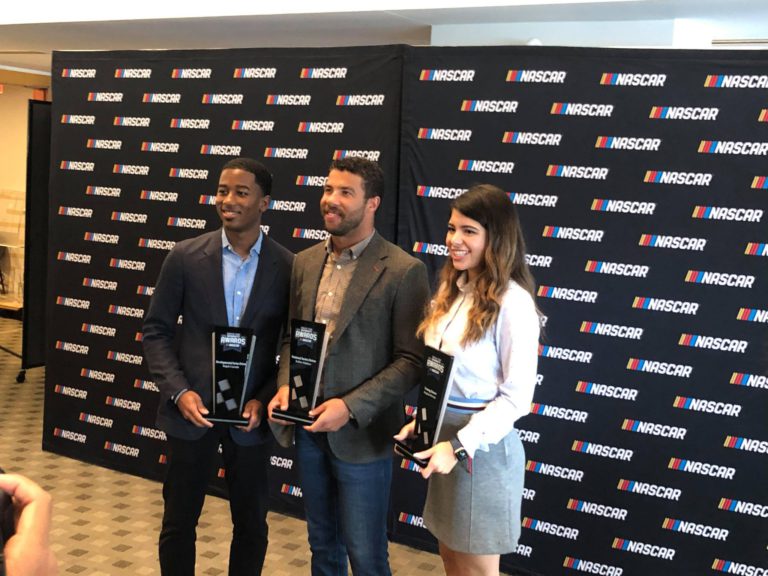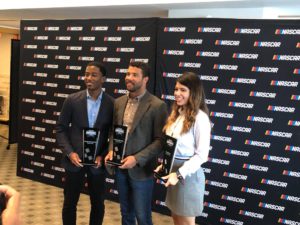 Part of Wallace's journey included making a difference in the landscape of NASCAR; not just in the garage or on the grid, but in the grandstands and the fan base. Following the killings of Ahmaud Arbery and George Floyd, Wallace lobbied NASCAR for an inclusive and positive change. He lobbied for a statement, which came at Atlanta Motor Speedway, and for the removal and ban of the Confederate Flag from NASCAR-sanctioned events. The lobbying was successful as the sanctioning body banned the symbol on June 10, 2020.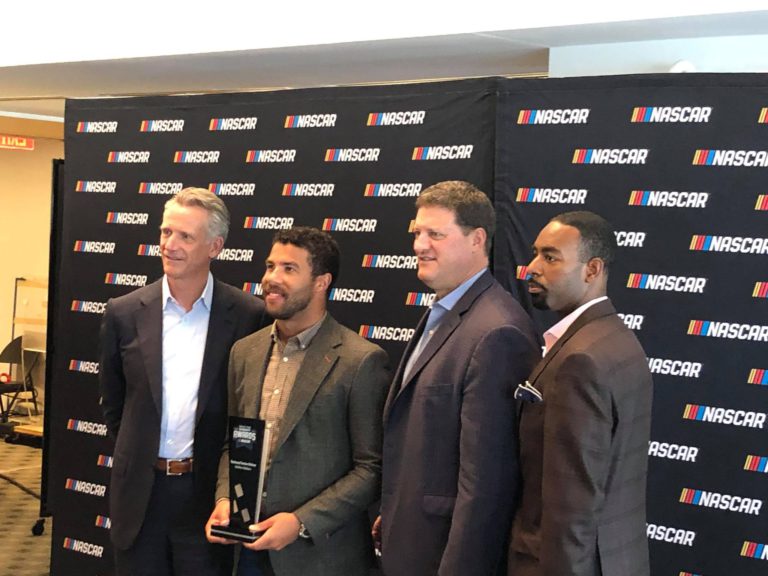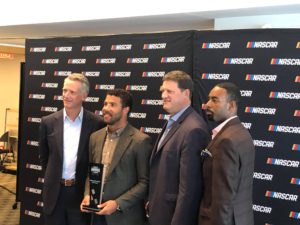 Wallace followed this up by having #BlackLivesMatter on his No. 43 Richard Petty Motorsports Chevrolet Camaro ZL1 1LE at Martinsville Speedway. The slogan 'Compassion, Love, Understanding' was emblazoned on the hood of his car. Although some fans balked and were critical of Wallace due to their prejudices, the 28-year-old took the high road.
Embracing his role as both a driver and now a mentor, Wallace believes that each driver in the Drive for Diversity program has made it to this level on their own merit. Each driver, as he alludes to, is talented despite the struggles and difficulties of competing in the upper levels of stock car racing.
"As long as you always just give your best effort, put your best foot forward," stated Wallace. "You got to this level for a reason, don't give up now. It's tough. You get to this level, and you don't know much about the car. You don't know much about the team, then you have to learn all that stuff.
"At the same time, you just go out and race on the weekends and you're going up against guys that in the Late Models have been doing it for 20, 30 years. I mean, you're at the K&N (ARCA Regional) level where money talks and you got a lot of big teams doing this stuff. You have to bring it and you have to learn, and go out and just do what you know how to do best. Never give up."
The actions, mentorship, and on track talents for Wallace were rewarded on October 7, 2021. He was awarded with the NASCAR Drive for Diversity National Series Driver Award. The award was presented to Wallace on account of his advocacy for positive change and championing of diversity initiatives. The award and his victory at Talladega in the Cup Series has now made his long journey come full circle.
Wallace returns to the track for the Bank of America ROVAL 400 at the Charlotte Motor Speedway Roval on Sunday, October 10.
Featured Photo Credit: Photo by Harold Hinson / Harold Hinson Photography.