By Cole Cusumano, Staff Writer
Late September is a perennially crucial time of the year across the world of professional sports. For Arizona, the conclusion of the Round of 16 in the NASCAR Cup Series Playoffs means there's less than 50 days until a champion is crowned at Phoenix Raceway.
To celebrate, the Arizona Diamondbacks hosted NASCAR Night at Chase Field, where they brought out some serious star-power to help wave the green flag for a heated division matchup against the San Francisco Giants.
Headlining the event was 1999 Cup Champion Dale Jarrett. Sporting a white Dbacks jersey with the No. 88 in black front and turquoise piping, the Hall of Famer got to take the field for batting practice before the game.
"It's exhilarating," Jarrett said. "When you're able to hit a couple solid, it makes you want to do it even more. I still love to watch the game of baseball. Whether I'm on the road or at home, I'm always watching.
"It was fun to get back into it. I started playing when I was five years old. Now I have a son Zach that has played, went to college, got drafted (and) went to triple-a. I've thrown thousands of pitches to him, but I never got on the other side to swing the bat."
One week prior, Jarrett met his son Zach – who is an outfielder for the Gastonia Honey Hunters – in North Carolina, where they went to practice at Hickory High School. They mainly worked on developing a good batting stance and swing speed.
Jarrett opted to go the "Pete Alonso route" by keeping his hands low and "taking it to the ball." He also found a way to honor his son by wearing his black-and-gold Franklin gloves while taking cuts in the cage.
"He helped me," Jarrett said. "He was throwing to me and he gave me a few ideas. I [also] constantly watch MLB Network, so I realized … I had to change where I held the bat. That helped me start connecting more
"I think the biggest thing was just to kind of judge the speed. Forty and 50 mph from that distance is different than what it used to be. I didn't want to be swinging way too late at it, so I let a couple (pitches) go by to try and see."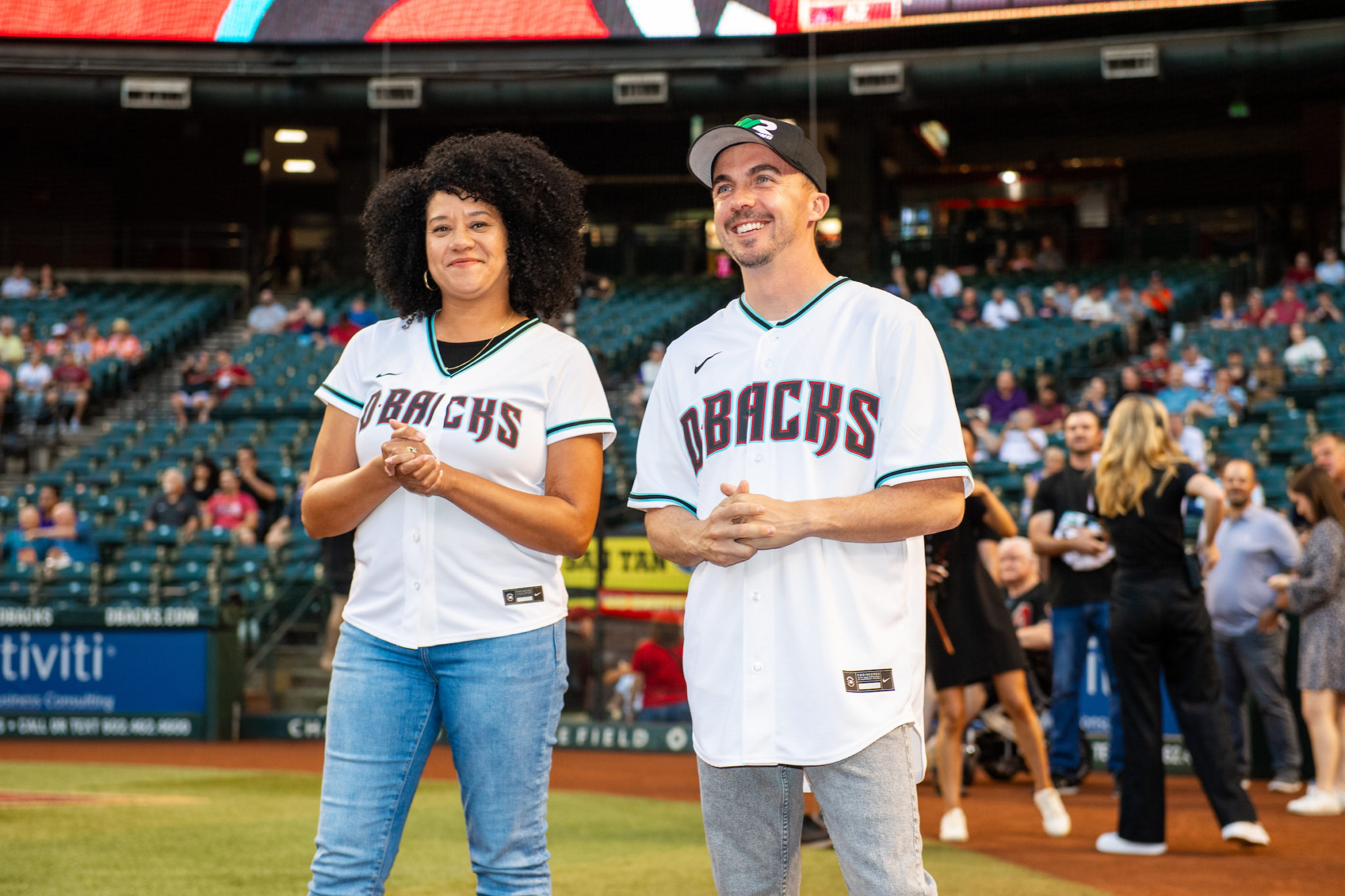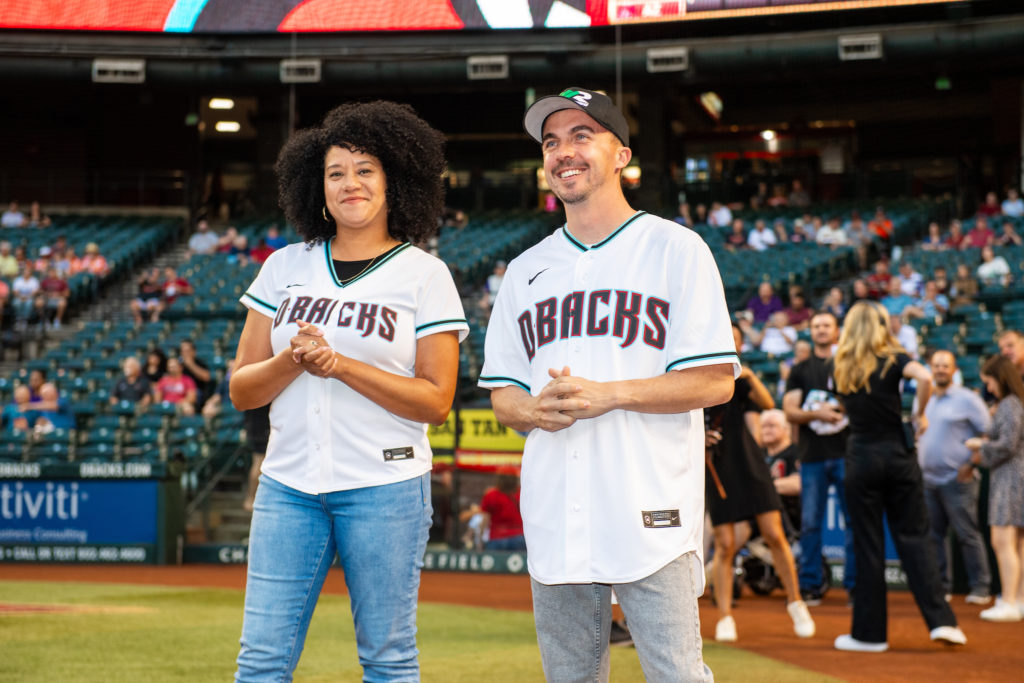 After taking batting practice, Jarrett got the chance to take pictures with players and chat with coaches Jeff Banister and Dave McKay before he got to throw out the ceremonial first pitch. He was then joined on the field by Phoenix Raceway Track President Latasha Causey and actor-turned-racer Frankie Muniz.
During the game, the trio of motorsports-esteemed Arizonans hung out on the promenade, where they signed autographs and took pictures with fans by the Bill France Cup. They also got the chance to best Muniz's hot-lap time set in a racing simulator provided by Sim Seats.
NASCAR and Jarrett proved to be a good-luck charm for the Dbacks, after he delivered a strike down the middle to Andrew Saalfrank for the first pitch in what would end up being a series-sweep against division rivals.
"I know the Dbacks went through a little slump, which you're going to (have) in any season and any sport," Jarrett said. "But what they've been doing here lately … They've got a nice run going.
'Even though I've only been here a couple years – you want to follow the home teams and hope they can do well. I just hope they can get in the playoffs and make a run."
Entering the night, Arizona had a half-game lead as one of the final teams who would qualify for a National League Wild Card spot with the Giants trailing by two games. By the following evening, the Dbacks would extend their lead by 1.5 games, while San Francisco slipped three out.
With 10 games remaining in the regular season, the Dbacks appear to be in position to make their first playoff appearance since 2017.
"You have to root for the local teams," Muniz said. "When I moved here in 2008, I immediately became a Cardinals fan, a Coyotes and a Diamondbacks fan. We haven't had the most success, but at the same time, you got to stay loyal.
"That's the biggest thing. When you go through the tough years, it makes the good years so much sweeter. It's been fun watching the Dbacks this year."