By Jerry Jordan, Editor
LOUDON, N.H. – Being a NASCAR fan is a hard – especially during a global pandemic that has led to seemingly ever-changing government regulations, attendance restrictions and criticism from the "Karens" of the world pointing fingers because they believe gathering for a sporting event is a social distancing failure that will lead to a catastrophic spread of COVID-19.
Despite the criticisms, regulations and restrictions more than 12,000 loyal race fans descended on New Hampshire Motor Speedway – one of them was me.
In an effort to see exactly what fans go through before, during and after a race with the new normal that I've defined as "Pandemic Racing," I took a COVID-19 test, passed it with flying colors (and some say being negative is bad but that's just my attitude), then boarded a plane, flew to Boston, went to my rental car and headed off to New Hampshire. It was relatively uneventful aside from Boston traffic and having to attest that I was negative for COVID-19 when I checked into my hotel, but remember I had my test results, so all was good.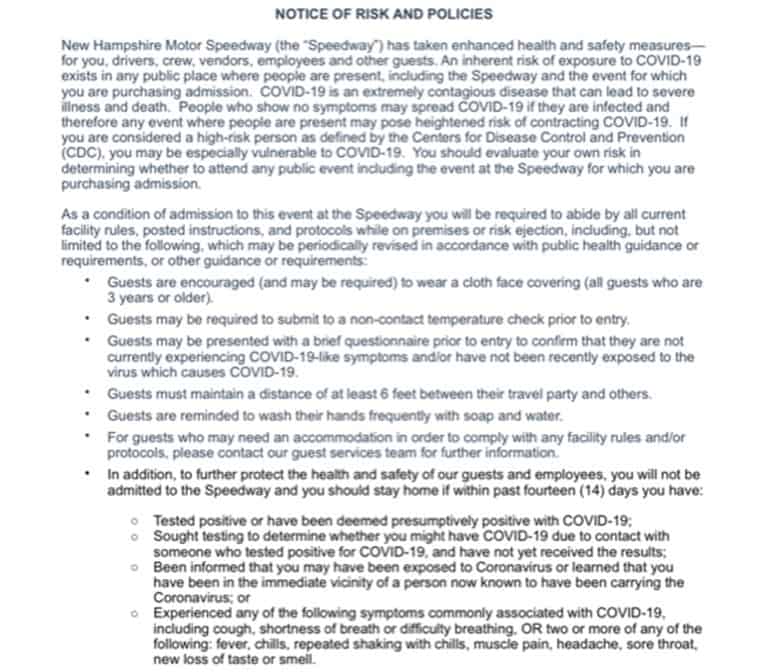 NASCAR reporters aren't known to travel light, so my first task was to try and pare down my 42-pound backpack (it's two-pounds overweight for most airlines' overhead bins) filled with cameras, lenses, laptops, race scanners, a Fanvision, audio recorders and microphones into a 14-inch by 14-inch clear plastic bag that offered no protection for my gear and began to show small tears within minutes of my cramming as much as I could inside.
It then dawned on me that I hadn't actually purchased a ticket for the race. I didn't even know how much a race ticket would cost. The $50 tickets were sold out and I wasn't sure I wanted to shell out a C-note for a top-tier ticket given social distancing requirements couldn't guarantee me prime seating. So, I opted for the mid-level $70 ticket. Mind you, all of this was done over a cell phone via hotel Wi-Fi that no doubt had the same encryption and security measures as the Pentagon. And for those who are somewhat technologically challenged, in the world of NASCAR and the new norm of electronic tickets, one must link their Ticketmaster account to their NHMS account in order for the said ticket to actually show up. And when my ticket first appeared in the NHMS app, it didn't have a seating location leaving me to wonder if I had done something wrong. A short time later, I confirmed I was in Section NH Row 9 Seat 8 – it was 30-plus rows below and to the left of the press box.
The NHMS app gave me access to a "Virtual Fan Zone" but it was somewhat underwhelming and was more designed to push advertising and click links to sponsors than giving fans free swag or chances to win prizes. If there was more to it than a single chance to win two free nights at Foxwoods Casino, I couldn't figure it out. Geico wanted fans to buy car insurance, Planet Fitness (which I need to use) sought new members, TrackPass touted their subscription plans and the New Hampshire Lottery wanted to remind everyone it has contributed "$2 billion and counting" to NH schools but they weren't giving people a free chance at the action in their "Lucky For Life" game.
Fast-forward to race day, I drove to the track and followed the masses to the South Entrance of the property. This was much different than I'm used to because media usually enters at the main gate, makes a left through the tunnel and parks a few hundred feet from the media center. But I wasn't media on this day, I was a "fan." So, over the river and through the woods I went, feeling like I was going to grandmother's house with thousands of my closest "friends." They were NASCAR fans, so they must be friendly, right?
As we caravanned to the parking lot, there were hundreds of pickups and cars lining each side of the roadway with BBQ grills billowing smoke, loud music filling the air and nary a hand without some form of adult beverage in it. I knew from my back-to-back runs of Chasing the Chase/Playoff Pursuit that NASCAR fans knew how to party and it was on like Donkey Kong in New Hampshire. These fans may have only had a few hours to celebrate NASCAR's return to the Granite State but they were taking full advantage of the opportunity.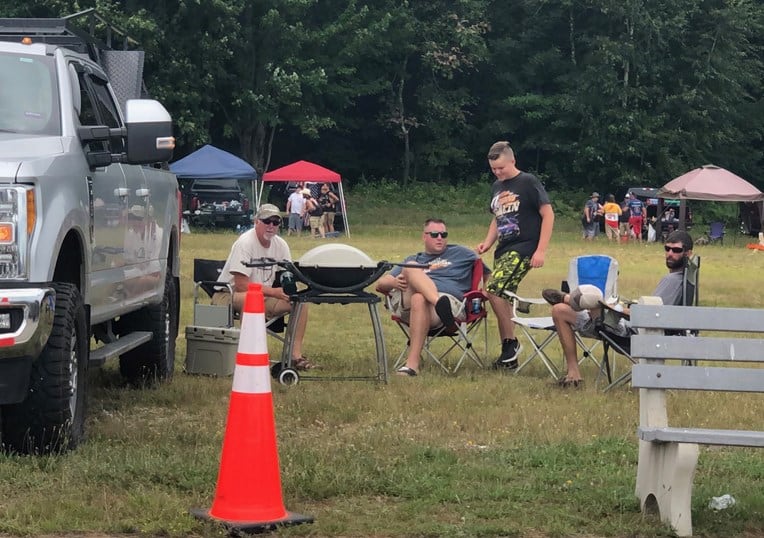 I headed to Lot S2, where I once parked during my first-ever trip to NHMS a decade, or so, before. It wasn't bad parking and it was free. And if it's free, it's for me. The smell of charcoal and beer greeted me as I opened the door on my rental car. I was offered free food. Yes, I accepted it with a smile and a "thank you." We chatted for a few seconds but never exchanged names, they were Joey Logano fans – surprise, hailing from Connecticut, he's considered local.
As I looked around, I was impressed at the number of people who had figured out how to buy tickets electronically and were brave enough to battle the searing sun that burned overhead. But off in the distance, I saw clouds. A hot sun and rapidly forming clouds are a recipe for rain and when NASCAR comes to a town, it is known to end a thousand years of drought.
I grabbed my 14-inch by 14-inch plastic bag containing only my camera, a telephoto lens, a microphone, recorder, two race scanners, earbuds, a bottle of water, some Kickin' the Tires swag to give away and a backup mask in case I had an part failure and couldn't clear inspection. I felt naked without a computer and cradled my plastic bag as if it were a newborn child, protecting it from the bumps and bruises of its surroundings. Should any of the small tears in my 14-inch by 14-inch plastic bag grow larger, the contents would surely crash to the concrete. And then I walked. I made it across the main road near the infield tunnel and took a left to the main grandstands and walked some more.
I was three hours early for the green flag and the gates weren't open, so I joined thousands of fans – faces covered with masks and bandanas – as they attempted to socially distance themselves. Then the rain came. Luckily, I spotted a tent and worked my way to it avoiding the heaviest shower. Other fans huddled in their respective groups and donned rain gear or converted trash bags into makeshift rain ponchos. Still, everyone tried to keep their groups apart as a local television station took the opportunity to catch everyone on camera. I tweeted a photo and congratulated fans for their ingenuity and ability socially distance themselves given unideal circumstances and that tweet was met quickly with snarky replies. I already knew that some of my media colleagues were as much opposed to fans being at the racetrack as the "Karens" who predicted a Corona-pocalypse following the fan-filled race at Texas Motor Speedway were just two weeks earlier. Interestingly, there has not been reports of an uptick in COVID-19 following any NASCAR event during the pandemic. I guess the sanctioning body and the racetracks are doing something right.
When the skies cleared, there were still thousands of race fans waiting to enter the track only now many of them were soaked. That's when the clouds dispersed and the sun boiled away the rain and steam could be rising from the asphalt. The area turned into an outdoor sauna but NASCAR fans weren't discouraged. Some even made jokes about NASCAR bringing the rains with it. (Next Story: NASCAR ends apocalyptic drought by expanding schedule worldwide).
Suddenly, the thousands of fans began moving en masse. The gates were opened and they were eager to get inside, find their seats, buy souvenirs and partake of whatever concessions were open. With large yellow dots on the ground reminding people to keep their distance to help stop the spread of COVID-19, groups of fans walked towards the entrance. They had their temperatures checked, security looked at their 14-inch by 14-inch plastic bags and then they fumbled through the screens on their phone to have their electronic ticket scanned.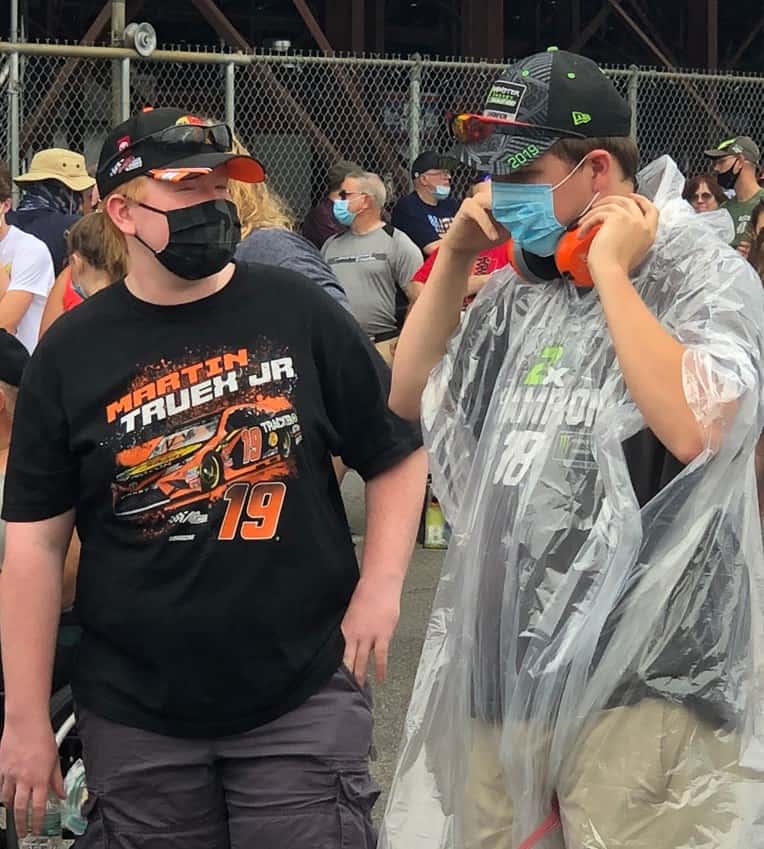 Now, it was my turn.
I walked forward and the track employee shot a laser beam from a handheld temperature device towards my forehead. He paused and looked at the readout. He looked at me, as I wondered if my temperature had spiked due to the heat and humidity. He pointed the device at me again and then gave me the "all clear." Curious, I asked to see my temperature – 97.4 degrees. Turns out I am just cold-blooded … or a zombie. Now, off to have my electronic ticket scanned and, of course, I couldn't find my ticket on the app. A quick hands-free tutoring by the young ticket-checker and I was granted passage into NASCAR-land at NHMS but no sooner than I cleared the gates, my primary mask blew and I had to go to the backup.
There weren't many places to buy souvenirs, just a few Speedway Motorsports Inc. (SMI) trailers and a single Chase Elliott souvenir hauler but fans lined up 30-deep and four-across to buy swag and support their favorite drivers. Since I haven't purchased souvenirs at a racetrack since the Fanatics tents went away, I'm not sure if there was a good selection, or not, but I bought a few trinkets and watched as fans loaded up on T-shirts, diecasts and stickers. The lines were long and, again, most people tried to distance themselves as much as possible. What was disconcerting was witnessing a local news photographer taking photos of the crowd at the very moment the Army's explosive ordnance team was trying to drive between the fans lined up for souvenirs and the back of the NHMS grandstands. That photo could make it appear as if fans weren't spacing out when they actually had been bunched up trying to avoid passing vehicles.
No one was taking cash – a mistake I made that forced the vendor to uncharacteristically pull away from accepting my potentially COVID-contaminated greenbacks. It was a credit card only affair but thanks to the folks at Cash-2-Card, I was able to put a few bucks on a pre-paid debit card and buy whatever I wanted. The fact that there were no cameras on the machine or ways to "refill" the card immediately gave me ideas of how this could be used anonymously away from the track for less than pure purposes but I digress. There were several fans taking advantage of the services, which only cost $2 for a card. And Thomas Smith (unfortunate name considering the scenario I had concocted in my head. LOL) was there from Cash-2-Card to educate me on the product.
So, now it was back to the concession stand where I paid $12 for a Diet Coke and a lukewarm chicken parmesan sandwich. I don't drink beer but the line for the adult beverage wasn't too long, probably because there were only about 12,000 people in attendance.
I finished my food and with my drink in hand, I headed off to find my seat. It was directly in front of Kyle Busch's pit stall, so I was ready to see crew chief Adam Stevens and crew in action. For $70 my seats were far better than I expected, and I could have thrown a hotdog across pit road had I wanted NASCAR's security team to pay me a visit.
I watched as the seats continued to fill. The track has roughly 76,000 seats – 105,000 fewer seats than Texas Motor Speedway – so the 12,000-plus in attendance gave the appearance of having exponentially more people there than two weeks prior when 17,000-plus showed up at TMS. A note to anyone attending a NASCAR race, be sure to bring paper towels to wipe off the seats before you sit down. My rookie mistake left me with large streaks of dirt across the backside of my jeans giving the impression … well anyways.
It was actually exciting to watch the pre-race festivities, prayer and fans cheering as the national anthems for the United States and Canada were both performed. New Hampshire Gov. Chris Sununu spoke to the fans and expressed his appreciation for their understanding involving the regulations put in place due to the COVID-19 pandemic. He and track officials had deliberated over how many people should be allowed to attend and what the criteria should be.
It wasn't long before I learned another difference between being a NASCAR "fan" and being a member of the NASCAR "media." I couldn't access the media Wi-Fi. It wasn't that I didn't know the password, I just wasn't close enough to the press box to get a good signal and I couldn't find a fan Wi-Fi at NHMS. My tweets weren't going out and my cell phone reception was spotty – another thing media members take for granted as they sit in air-conditioned surroundings with cold drinks and food nearby. When I pointed this out in one of the few tweets that escaped to the social media realm, I was reminded I was supposed to be a "fan" and not pilfering the media Wi-Fi. Fans don't always have access to Wi-Fi or decent cell phone reception. Of course, at some tracks, neither does the media.
Aric Almirola was on the pole and he made the opening pace laps with Denny Hamlin to his outside. He got the jump as the green flag fell and led the first two laps. Then Brad Keselowski – the eventual race winner – and Hamlin put on a show. So much for watching Kyle Busch work the field, he hit the wall on Lap 15 and word over his radio was "f**k it, pack up and go to the house" as he drove down pit road, skipping his pit stall and parking his car behind the No. 18 hauler. Matt Kenseth brought out three cautions before retiring for the day but aside from a few peeks at the front by Chase Elliott, Kevin Harvick and Ryan Blaney it was an intense Hamlin-Keselowski battle.
And then it wasn't.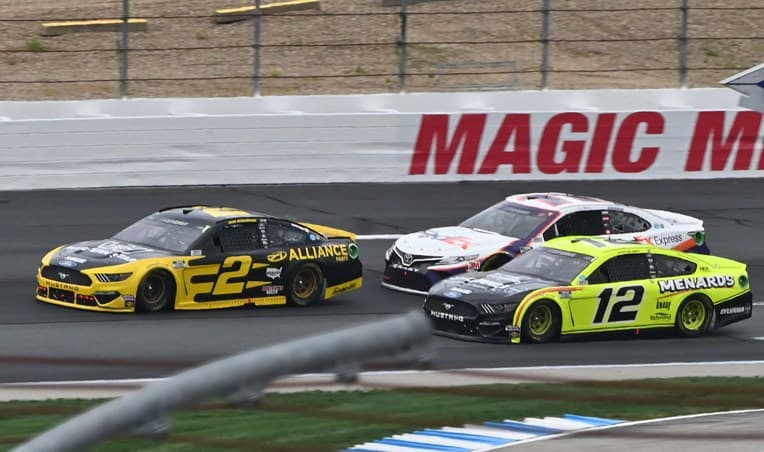 As Keselowski came down pit road to ready his car for Stage 3, the in-car radio crackled "Joker." Almost as if asking a question, the reply was, "yeah Joker?"
Whatever "Joker" is it makes Keselowski go fast because he took off in Stage 3 and never looked back. He wasn't really challenged by anyone and made the final 81 laps look more like a sanitized game of chase than a battle for the checkered flag.
And thus was the end of my first race as a "fan" in NASCAR. It was time to pack up and head back to Boston to catch my flight the next morning. But before I left, I spoke with several fans – all of whom were excited to be at the track, even those who weren't Keselowski fans. You couldn't help but appreciate the dedication of the fans, who battled heat, rain, humidity and extreme scrutiny from those watching to ensure they followed COVID-19 protocols and socially distanced themselves for fear of public shaming on television or social media.
It was an eye-opening experience and a realization of sorts that the next time I hear a fan complain about what they do, or don't like, about NASCAR, I need to listen. It doesn't matter what package the sanctioning body creates or whether there are stages, playoffs, choose cones, elimination rounds or bonus points – if the fans enjoy their experience at the track we need to appreciate their input, support and dollars because without them there is no NASCAR despite the roughly $27 million brought in from TV rights each week. Companies won't advertise if no one is watching.
So, to the underappreciated NASCAR fan forced to carry their belongings to the track in a 14-inch by 14-inch clear plastic bag, I have suffered your pain and I applaud your patience and commitment to the sport. Thanks for being a fan. You can find me in the press box next week at Daytona International Speedway.