Cover photo by Harold Hinson Photography.
Matt DiBenedetto has openly shared his list of circled tracks for the 2020 season with his move to Wood Brothers Racing. Tracks that require drivers to lift off the throttle have been his strength, including the 0.5-mile short track of Bristol Motor Speedway where he earned his first career runner-up finish.
But even he couldn't have thought that Las Vegas Motor Speedway would be his next two career-best finishes. DiBenedetto charged his way to second back in late February in the closing laps of the Pennzoil 400 Presented by Jiffy Lube, and on Sunday night, took advantage of timely cautions, pit strategy and a little bit of Las Vegas gambling to battle for the South Point 400 trophy. He led eight laps but came up one spot short behind Kurt Busch in the end.
"It's heartbreaking to come that close," DiBenedetto shared with NBC Sports after the race. "We chose the outside, but once we lost control. He was getting us on the restarts. I love driving for this team, so I hope to keep doing it. I just want to put them into victory lane so bad. We'll get us one."
All the lead lap cars pitted back during the fourth caution on Lap 193, roughly 10 laps longer than the estimated fuel window, so many drivers were looking to slice the rest of the race in half. During green flag pit stops on Lap 236, Jimmie Johnson struggled through Turn 2 after getting the "Lucky Dog" pass on the most recent caution, discovering a flat tire down the backstretch. Debris scattered on the apron with a large piece of metal finding its way onto the racing surface. The yellow was untimely for many front-runners and a majority of the Playoff drivers, but a jackpot was hit for drivers like Kurt Busch and DiBenedetto who caught a break during the pit stop cycle.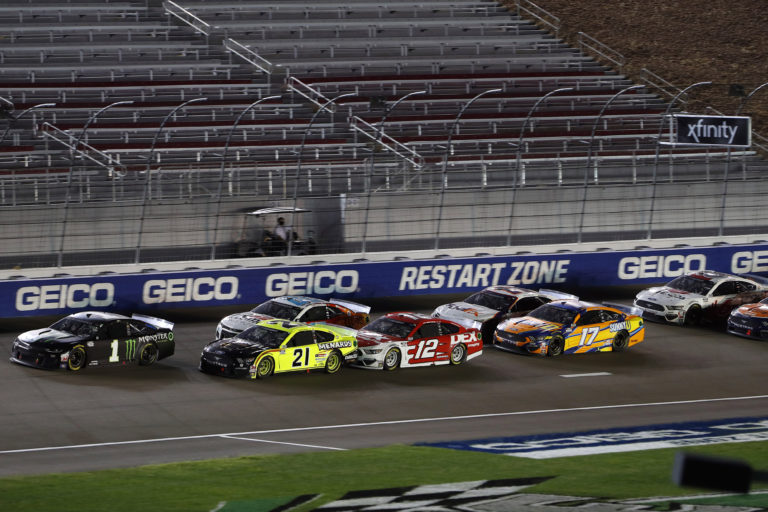 "Once we lost control of the lead and he (Kurt Busch) got a good push and took the lead, that was tough," DiBenedetto reflected on the final set of restarts. "I knew with the remaining restarts, he had a really big advantage on us as far as our differences in gear ratios. That hurt us and made it tough for the rest of the race. I know my teammate, Ryan Blaney, tried to push me on the last (restart), so I appreciate that a lot. We had a car if it was out in clean air could have won the thing."
But the pressure isn't getting to DiBenedetto anymore, at least the pressure to perform. He's beginning to become comfortable running up front with now his third career second place finish and his career-best eighth top 10 result of the 2020 season.
"I don't think pressure really bothers me much anymore," stated a confident DiBenedetto. "I've been in so many stressful situations throughout my career that have pretty much groomed me to be prepped for whatever. (We) only have great tracks coming up and we're strong as a team, we can contend for wins."
The elephant in the room has been DiBenedetto and Wood Brothers Racing yet to officially announce a resigning for next year or for a multi-season deal. However, DiBenedetto now has a different approach closing out this year to his uncertain future.
"I think it (the concern) would be in a lot of situations," said DiBenedetto on his ride and contract situation for next year. "But in this one in particular, one, the relationship myself and the Woods have is incredible. They are the best people, beyond an amazing family, and our alliance with Team Penske is great."
His lack of concern evermore strengthens his confidence going into the final six races of the 2020 season with some of his best tracks left on the schedule, including next weekend at Talladega Superspeedway. Despite being knocked out of the NASCAR Cup Series Playoffs last weekend in the Round of 16, DiBenedetto still wants to spoil the party with one goal in mind.
"We want to get win No. 100 for the Woods so bad."