By Seth Eggert, Staff Writer
DAYTONA BEACH, Fla. – In a race that struggled to find its' footing and was ultimately shortened by rain, Christian Eckes took home a third-place finish during Friday night's NASCAR Craftsman Truck Series season opener at Daytona Int'l Speedway.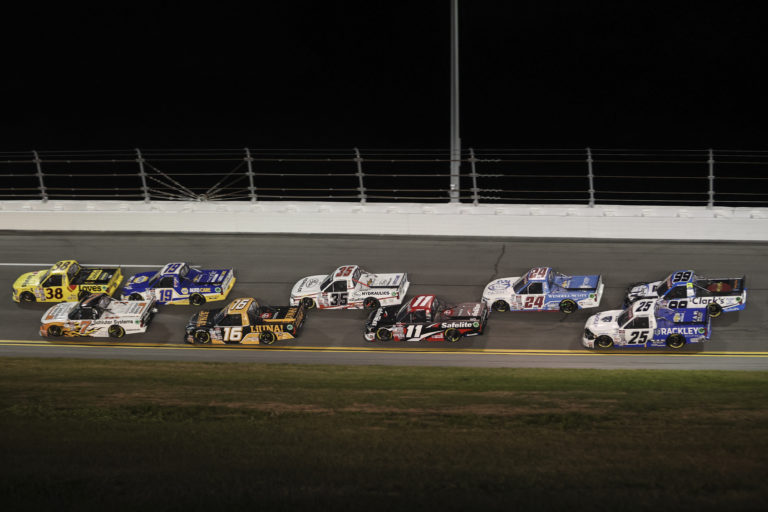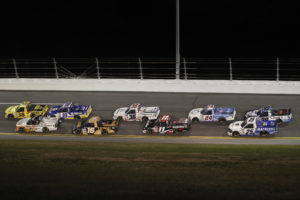 The NextEra Energy 250 was slowed seven times by cautions, of which rain was a factor in five of the cautions. Multiple times as Eckes lined up for the restart in the No. 19 NAPA Auto Care Chevrolet Silverado, rain moved in.
While Eckes clearly learned how to win a Stage at a superspeedway, he has yet to find victory lane. Last year's attempts at overtime cost the 22-year-old a chance at victory. This year, rain ended the McAnally-Hilgemann Racing driver's hopes.
"I feel like I'm going to have to write a book one day, a thousand ways how to lose a speedway race," Eckes joked. "Last year we lost two of them on a green-white-checkered, this year we lost them due to rain. I felt like we had a really fast No. 19 NAPA Auto Care Chevrolet, and yeah, that sucks. I wish we could have finished it out."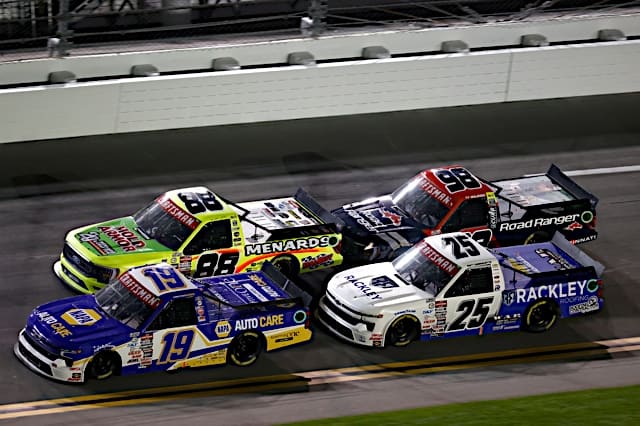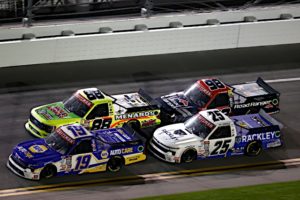 Despite the chaos of several on-track incidents and the rain, Eckes kept the nose of his Chevrolet clean. That innate ability to run up front and avoid the mayhem allowed the Middletown, N.Y. native to leave Daytona with 16 Stage points, which handed Eckes the NASCAR Craftsman Truck Series points leader.
This is the first time that he has controlled the points standings in his Truck Series career. His previous best points position was second following the Homestead-Miami Speedway race in 2020.
Although Eckes leaves Daytona with the points lead, he leaves the 2.5-mile track disappointed. The natural talent to run up front that the Chevy Racing driver hasn't led to a victory on a superspeedway to date.
"Obviously, I want to finish these races off," Eckes admitted. "This is why I'm here. I'm here to win. It's good always to be running up front and to win stages and lead laps, but we're here to win. That's what we set out to do. To finish third is disappointing for sure."
The third-place finish for Eckes was his 21st top-five in his 69th career Truck Series start. The next Truck race for the 2019 ARCA Menards Series champion is the Victoria's Voice Foundation 200 at Las Vegas Motor Speedway on Friday, March 3. The Las Vegas race is one that Eckes won in 2021.
The Victoria's Voice Foundation 200 is scheduled for 9:00 p.m. ET on March 3 on Fox Sports 1. The race will also be broadcast on the Motor Racing Network and SiriusXM NASCAR Radio, channel 90.