By Seth Eggert, Associate Editor
BRISTOL, Tenn – Who won and lost in Thursday's night's UNOH 200 was determined by where and how race leader Christian Eckes caught lapped traffic.
In the closing laps of the NASCAR Craftsman Truck Series race at Bristol Motor Speedway, Eckes was being hounded by Corey Heim. However, the traction compound made 'The Last Great Colosseum' a single-lane groove around the inside. That made lapped traffic, and the ability to pass them, key for both Eckes and Heim.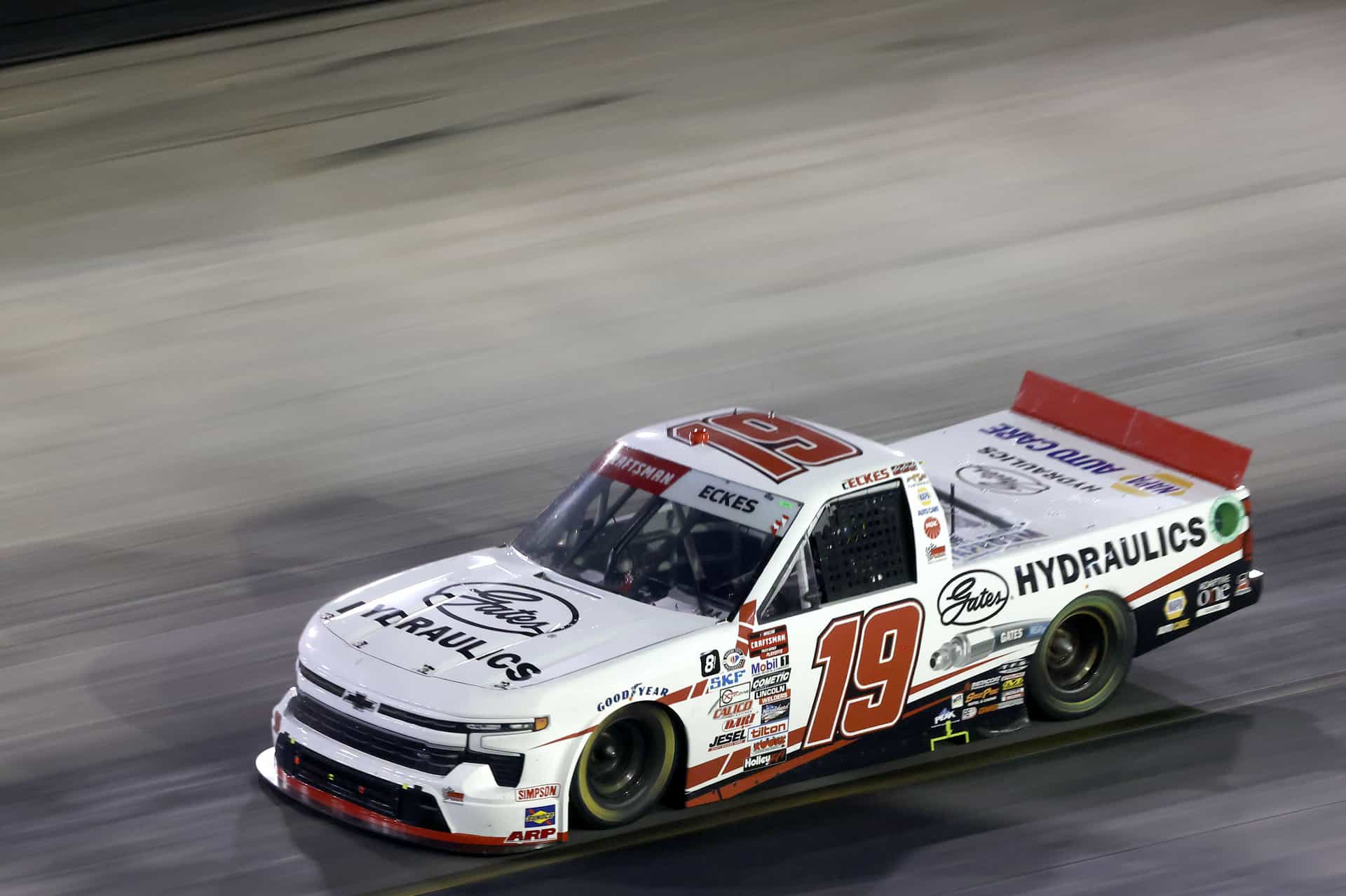 The two NASCAR Playoffs contenders caught a group of several trucks including Ty Majeski with five laps to go. Among that group was Heim's TRICON Garage teammate Tanner Gray. It was the second lap that Gray was losing to the leaders. As he checked up to give Eckes leeway, it made the McAnally Hilgemann Racing driver tight. The No. 19 Gates Hydraulics Chevrolet Silverado slipped up the banking just enough for Heim to sneak by.
Eckes ultimately took the checkered flag in second. He felt that Heim's teammates ultimately impacted the result, but refused to let that be an excuse.
"He didn't really even block me but (I want) him to run his own damn race," Eckes explained. "I mean, that's kind of the thing, right? I got tight because I had to pull off the wall at the last second because he checked up. I'm not trying to make excuses. We lost the race; we weren't good enough. But (it) sucks regardless." 
Eckes finished one spot shy of a perfect race. In a day of track position racing, he swept the first two stages for the first time in his Truck Series career. While the playoff points won't apply in the final round of playoffs, the stage points do add to Eckes' points cushion. The 20 additional points left the veteran driver 29 above the cutline.
"I just got tight," Eckes said. "We were losing grip there pretty quickly and it was a track position game, but at the same time, we need to be better at the end. Regardless how I feel about his teammates blocking for him,it is what it is, and we got to move on."
The runner-up finish was the ninth top-five for Eckes this season, marking a new single-season career high. It was also the 22-year-old's milestone 50th career top-10 finish.
Next for Eckes is the unpredictability of Talladega Superspeedway. In two career starts at the 2.66-mile track he has one top-five finish in last year's event. The Middletown, N.Y. native also has two top-five finishes at the other traditional drafting track, Daytona Int'l Speedway.
The NASCAR Craftsman Truck Series race at Talladega is scheduled for Saturday, September 30 at 1:00 p.m. ET on Fox Sports 1. The race will also be broadcast on the Motor Racing Network and SiriusXM NASCAR Radio, channel 90.