By Briar Starr, Staff Writer
In this edition of first seasons, where Kickin' The Tires looks back at a driver's career past or present, we catch up with former NASCAR driver Casey Mears.
During this interview, Mears discusses how he entered the sport in 2002 driving the No. 66 Phillips Wayne Jesel-owned Dodge. He goes in-depth about how he got connected with the team in late 2001, going down the NASCAR route instead of IndyCar, and how he managed expectations as a rookie driver. Furthermore, Mears talks about other memories such as his first start at Daytona International Speedway in 2002, his first win in Chicagoland Speedway in 2006 coming with Chip Ganassi Racing, and a Cup Series win coming in the Coca-Cola 600 in 2007 for Hendrick Motorsports.
Following a few seasons in the Indy Light Series (now known as Indy NXT), Mears made the switch to NASCAR at the end of the 2001 NASCAR Busch Series (now known as the NASCAR Xfinity Series) season, driving for the No. 66 Wayne Jesel's Phillips Racing Chevrolet. While he made the leap to the stock car world, Mears indicated that NASCAR really wasn't his original plan in the first place.
"(Racing in NASCAR) was a mixed bag of feelings for me, honestly," Mears said. "I was pursuing heavily in Indy Lights and my dream when I was younger was to go the Open-Wheel route.
"Quite honestly, the NASCAR opportunity happened quite randomly. I was in Indianapolis for one year, where we really struggled. I had some prospects the following year for CART and it was still unclear what series I was going to go with. During all that year, Dan Luginbuhl (Former Team President of Penske Racing South) was a friend of Wayne and was Roger Penske's right-hand guy for years."
"Dan came to me and told me that Wayne was looking for a driver since he was starting up a Busch Series team. I told Dan that I don't have much stock car experience, but I'm definitely interested in learning what (NASCAR) is all about. Before I knew it, my dad (Roger Mears) was a shop foreman at Chip Ganassi, and was updating me on what was going on. I came out and it was intriguing to me, and I ended up going the NASCAR route for 18 years."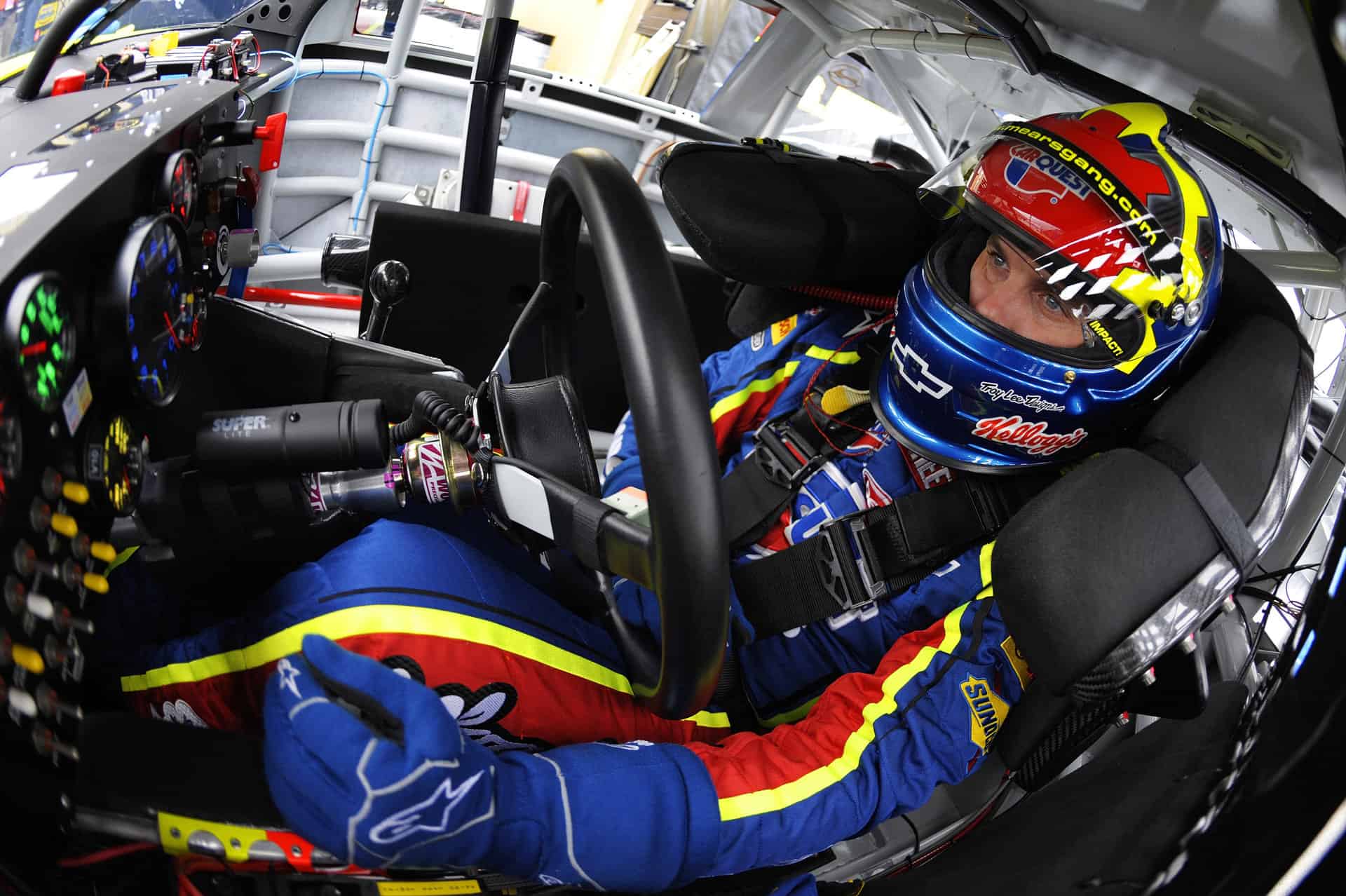 Toward the end of the 2001 season, it was announced Mears would be racing for Jesel and his team full-time in the Busch Series for the 2002 season. The No. 66 team switched from Chevrolet to Dodge for the 2002 season. The former NASCAR driver says he doesn't really know when he first met Wayne, but stated the team had big plans.
"Wayne was a super great guy, one of the best guys out there," he stated. "They had big plans of hopefully in the future having some Penske support. He wanted to do his own engine program because he was an engine tuner himself. When he bought the team, it was a big undertaking.
"It was a bit of a struggle because we didn't have the financial support to drive for and work with."
The California native entered NASCAR on a full-time schedule right away in the 2002 season. In some cases, most drivers already have a head start by competing on a part-time schedule the year prior before going full-time. In Mears's case, he raced full-time in his first year, but often wishes he had more starts in the 2001 season.
"For sure, there was no doubt I was thrown to the wolves a little bit," Mears said. "The guys I was racing with had been racing for a few years and for me, I had zero stock car experience. The only stock car experience I had was when Andy Graves (Former Team Manager at Chip Ganassi Racing) had me come out to do a 500-mile engine test in Lakeland, Florida.
"I drove Sterling Marlin's stock car and I had driven 500 miles in it. I used his seat and steering wheel, and I could not fit in it. That was the only experience I had in a stock car prior to joining with Wayne."
With the Mears name being synonymous in motorsports with an illustrious history in IndyCar racing, there are potentially a lot of expectations placed on the driver to do well. Despite Casey having the name, he feels that having the name didn't bother him much at all.
"In the garage area during my early years, not a lot of drivers expected a lot out of me since I was coming from open-wheel racing," he added. "My limited amount of experience in a stock car, the drivers knew it was going to be an uphill battle for me. There wasn't a lot of success with drivers coming from the IndyCar side, however, that gave me a little leeway to not have a lot of pressure.
"I know initially, my team was just hoping to finish inside the top 20, and we exceeded those expectations multiple times. I felt like we were on track for a decent season relative to my experience. I learned a lot early on and I believe my weak link was the short tracks. You know, Richmond, Phoenix, and those kind of places. The discipline driving at those places was difficult to pick up."
Mears' first start in NASCAR came at the Homestead-Miami Speedway in November of 2001, where he started 21st and finished 28th, four laps down. He recalls what it was like for him to make his debut and if he had any nerves leading up to the race itself.
"I was really excited about the race actually," the two-time NASCAR winner said. "My team just wanted me to get experience, keep the fenders on it, and get a decent result. I remember in qualifying trim, that was one of my strong suits when I first got into stock cars.
"What I really struggled with was when the team pulled the tape off the nose and lost all that downforce. What is it supposed to feel like in race trim and to be successful? I know after the race, my team was extremely happy. The race didn't have a lot of cautions and midway through that race, our speed drastically picked up due to the adjustments."
By heading into the 2002 season and having a race underneath his belt, the then-young 23-year-old was getting ready to compete in his first full-time schedule in NASCAR. While there were some nerves, the California native was more excited than anything, but noted there were challenges along the way.
"I was super excited and being at a young age to drive a stock car was huge," Mears said. "I was naive and I didn't know a lot about the sport. I didn't know what it took to make the cars. However, we were battling a lot of internals by being down on horsepower.
"Originally, my excitement was huge, but then realized we were going to struggle midseason. I worked a lot with Hank Parker Jr. (former teammate) and Donnie Richeson (former crew chief for Mears) who was super helpful in getting me up to speed. We realized quickly that the parts and pieces weren't going to help us win races, so we had to do a reset toward the midpoint of the year to be realistic."
The 2002 Busch Series season marked his first Daytona experience. Racing at Daytona for the first time is special for any driver, especially if they had dreamed of someday racing at the famous superspeedway. However, for Mears, driving a stock car at the 2.5-mile track didn't really set in until years later in his career.
"You know, it's funny I had a very blank state when it came to NASCAR," he said. "I was looking at it strictly from how it drove and what I had to do to make the car go fast. I definitely underappreciated how important Daytona really was. When I first showed up in Daytona, I just wanted to get on the track and drive the car.
'I got to say, running the car wide open for me wasn't all that exciting since I had just come out of IndyCar. When I got in the race, my perspective really changed for me. Just racing in the pack, sliding around with the car, and understanding how to do the draft. It was a lot more than I expected."
After making his first start at Daytona, Mears struggled throughout the rest of the season by only earning one top-five and two Top-10 finishes with an average finish of 23.6. He reflects on whether or not there was a learning curve with the car or if it was just the equipment.
"It was a difficult environment to gauge myself," Mears added. "We knew we didn't have the equipment and the motors were down on power. How much of is it me and how much is it the car?
"I couldn't really compare my performances on a fair basis. I remember at the first Nashville race, racing with the No. 2 of Johnny Sauter (Richard Childress Racing) and he would just blow by me wide open in the corner. I can't compete. For the second Nashville, I told the team I wanted to shift because I wasn't going to be able to compete. I was the only one shifting on track and got a good finish of 10th."
A few years later in 2006, he earned his first NASCAR win in the Busch Series at Chicagoland by beating out Carl Edwards in the closing laps. Mears led 47 laps en route to victory. He recalled what that win still meant to him all these years later.
"The win was huge and a big weight lifted off my shoulders," he said. "I had Brad Parrott as my crew chief at the time and we were very competitive that year. To finally get a win for the team and for myself was big. That car was fun to drive on a weekly basis."
The following year in 2007, the now 45-year-old scored his first Cup Series career win in the Coca-Cola 600 driving the No. 25 National Guard Chevrolet for Hendrick Motorsports.
"I was very happy and proud of winning that race," Mears stated. "There were some people that were trying to knock the excitement down since it was a fuel mileage race. We ran inside the top five all day long and had a fast racecar. I don't know if we would've had the car to win, but the win was awesome.
"For a lot of reasons, it was a special win being Memorial Day weekend, and running the National Guard scheme. The Month of May has always been special for our family too, so to win on that weekend was a big win."
By continuing to reflect on his early years in NASCAR, the California native says the moment at Nashville back in 2002 was a learning moment in his career that he still remembers all these years later.
"I have to say it was that good result at Nashville," he emphasized. "The one thing that was cool about that was, I made the call to do the transmission change the way we did and it worked. Additionally, during that time of year, I was coming into my own of racing a stock car. That was a proud moment for me of getting that result."
The 45-year-old thought back about what, if anything, he would do differently or tell a younger version of himself back in 2002.
"Gosh, man, there would be a lot of things I would do differently knowing what I know now," Mears said. "I would say be patient and soak it all in. Do the best you can to learn from the people around you. When I came in, I felt like I had good speed and was confident in my abilities as a driver. However, I had a lot more to learn than I could've easily imagined in my rookie season."
Throughout his career, Mears has earned one win in the Cup Series (2007 Coca-Cola 600) with 13 top-five and 51 Top-10 finishes, and three pole positions. In what was then the Busch Series, he garnered one win (2006 Chicagoland), 16 top-five, and 34 Top-10 finishes with four pole positions. Other stats include three wins in the ARCA Menards Series and additional starts in the Indy Lights, and the CART Series.
Fans wanting to "follow" Mears on Social Media can do so on Twitter and Instagram. You can also "like" him on Facebook.