By Seth Eggert, Associate Editor and Olivia Whissell, Staff Writer
With the first ever Chicago Street Race this weekend there has been a lot of hype around NASCAR's first race on city streets.
When compared to other series that have street courses, some are not directly in the city center. Formula One races in cities around the world. IndyCar too has street circuits across North America. However, for 2009 Formula One Driver World Champion Jenson Button, there are a few that compare to the Chicago Street Course.
"I mean you could look at other street courses and compare – obviously Monaco is very different," Button explained. "I feel Monaco is tighter, much tighter than Chicago. There are a lot more street circuits in America that probably are similar, maybe the Detroit track for IndyCar. I do feel that Detroit was even bumpier than what we'll find – or I hope so anyway. I don't really know what to compare it to… Macau, maybe? Macau has big, long straights and fast, sweeping corners, whereas Chicago doesn't.
"I'd say it's more of a stand-alone. I think the big thing is also the bridges. There are two bridges we go over, which is going to be the trickiest situation, because we're braking as we go over those bridges. The rear-end is going to be going wide. People are going to be brave if they try to overtake there."
However, the notion that this is the first NASCAR street course race is not necessarily accurate. While it is the first for a NASCAR National Touring Series, four other divisions of NASCAR have run races on temporary street courses.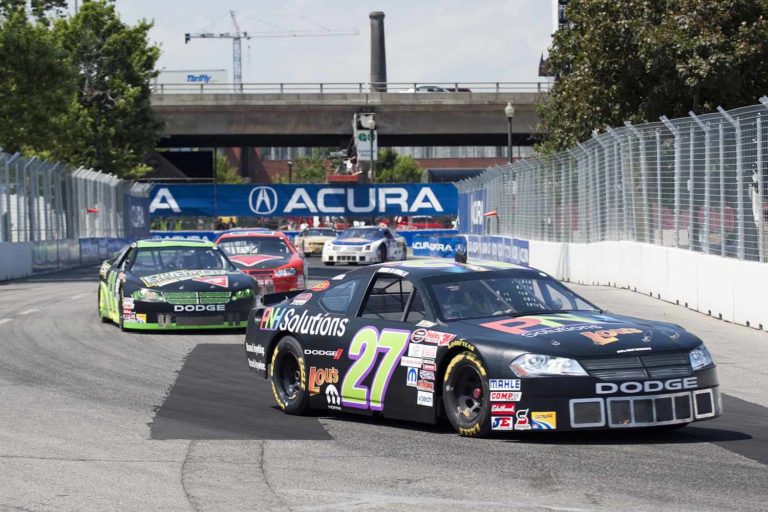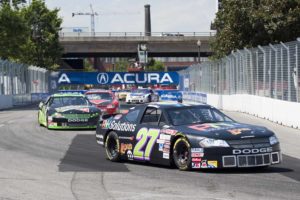 One division, the NASCAR Pinty's Series, has not one, but two street courses on their current schedule. Three drivers that are attempting the NASCAR Xfinity Series race have competed on the two street courses in the Pinty's Series, Alex Guenette, Alex Labbe, and Dexter Stacey.
The first NASCAR division to compete on street courses was the NASCAR Winston West Series, now known as the ARCA Menards Series West.
The races that the Western regional division had on street courses came in the 1980s, when NASCAR was developing the 'L-R Car' as referenced by NASCAR historians 'nascarma'n and Brock Beard for road course racing. Though that car never saw competition, it did lead to the West Series competing on the streets of Tacoma, WA and Spokane, WA.
While the two prototype L-R Cars were built and tested on the original Charlotte Motor Speedway Road Course, the rumored L-R Series never came to fruition. Coincidentally, the L-R Car was announced by NASCAR on July 2, 1985. 38 years later, the Cup Series' inaugural Street Course race in Chicago, IL is set to take place on Sunday, July 2, 2023.
Meanwhile, from the NASCAR Southwest Tour's races, one NASCAR Cup Series regular has experience in street course racing in a NASCAR-style car, Kevin Harvick. Though his runs in the Los Angeles Street Races were short-lived.
NASCAR Winston West Series
Tacoma, WA 1986-1987
In 1986 and 1987, the Winston West Series raced on the streets of Tacoma, WA. NASCAR Hall of Famer Hershel McGriff won the first-ever NASCAR street course race on a 1.59-mile course around the Tacoma Dome.
McGriff held off future Daytona 500 winner Derrike Cope to take the win in 1986. It was one of three victories that earned one of NASCAR's 75 Greatest Drivers his only West Series championship.
In 1987 Chad Little captured the checkered flag on the streets of Tacoma. Little translated that victory into a championship winning season.
Spokane, WA 1987-1988
After Tacoma, WA, the West Series visited Spokane, WA. The Spokane races, known as the Budweiser 300, took place on a 1.65-mile street course. Canadian Roy Smith took the checkered flag in both races.
The 1988 race Smith won by 3.34 seconds. It was one of three victories that propelled the Victoria, B.C. native to his fourth and final NASCAR Winston West Series championship.
ARCA Menards Series
Des Moines, IA 1994
Though it wasn't owned by NASCAR at the time, the ARCA Menards Series also had one street course race in Des Moines, IA in 1994. Scott Lagasse beat Frank Kimmel by four seconds to take the victory on the 1.6-mile track. NASCAR regulars Jimmy Spencer and Michael Waltrip also competed in the race.
NASCAR Southwest Tour
Los Angeles, CA 1998-2000
At the height of the surge in popularity of NASCAR in the late 1990s and early 2000s, the NASCAR Southwest Tour, a regional Late Model division, competed on the streets of Los Angeles, Calif. The Tour competed on the streets of L.A. from 1998 through 2000.
Unlike the Des Moines, Spokane, and Tacoma street course races, all three of the Los Angeles Street Races were marred by double digit cautions. One driver that will be in the first-ever Cup street course race and was in the inaugural Los Angeles Street Race was Harvick. His race ended after 21 laps due to electrical problems. Harvick's run in the 1999 edition was also shortened by electrical problems.
In 1998 Steve Portenga took the lead from NASCAR Hall of Famer Mark Martin and never looked back. A.J. Alsup dominated the 1999 race with Craig Raudman doing the same in 2000.
NASCAR Pinty's Series
The most successful NASCAR street courses to date have taken place in Canada.
Trois-Rivières, QC 2007-present
The Grand Prix de Trois-Rivières, at Circuit Trois-Rivières is the longest running street race in North America. The race, also known as GP3R, has been a staple of the NASCAR Pinty's series for 16 years. The Trois-Rivières street circuit has had no shortage of dramatic finishes.
The 11 corner circuit is highlighted by Pacifique Du Plessis that the driver must drive under. In 2007 Kerry Micks and Andrew Ranger crashed across the line in a photo-finish, separated by just 0.012 seconds.
Guenette is the only winner of a NASCAR sanctioned street race to run at Chicago this weekend. The winner of the most recent Grand Prix de Trois-Rivière, will attempt the Xfinity race in the No. 36 for DGM Racing.
Guenette's 2022 win, the first of his NASCAR career, came in dramatic fashion after a total of eight cautions and two red flags, including one following a wreck on the penultimate lap.
Heartbreak for @jf_dumoulin 💔

Just one lap and a single turn away from his first #NASCARPintys win@GP3R | #Les60ToursRousseau pic.twitter.com/YKt7ClE3jF

— NASCAR Canada (@NASCARPintys) August 8, 2022
Guenette got the lead on the first lap of overtime, and was able to maintain it to the checkered flag, having started 10th he became the driver with the furthest back starting spot in the race's history.
Toronto, ON 2010-2011, 2016-2019, 2022-present
The second street circuit on the Pinty's schedule is the streets of Toronto at Exhibition Place.
Running as a support race for the NTT IndyCar series, the race around downtown Toronto is a big spectacle with views of the Toronto skyline and the Princes' Gate.
Labbe, the 2017 Pinty's series champion and Stacey will both attempt the Xfinity race as well. Labbe has 11 career starts on street courses in Pinty's with five top-five finishes. Stacey has 10 starts on street courses with one top-10.
Other Drivers with Street Course Experience
In addition to Harvick and the three Canadians that have experience in NASCAR-style stock cars on street courses, there are several in both series that have experience in the narrow conditions as well.
Of the Cup Series regulars, only A.J. Allmendinger and Michael McDowell have competed on street courses. Allmendinger raced on the streets in Champ Car, winning in Toronto, ON and Denver, CO in 2006. McDowell ran one street course race in Champ Car in 2005.
Both of the Rick Ware Racing drivers, Button and Andy Lally have street course experience, Button in nearly every division he's competed in and Lally in IMSA. Trackhouse Racing's Project 91 driver Shane van Gisbergen has a plethora of experience on street courses in Repco Supercars.
"(My experience) definitely helps," Button said. "There are a few guys in the field that have raced on street circuits before – some very quick guys that have raced on street courses before. It's easier for me than COTA, because at COTA, I feel like I'm not used to using that much of a circuit.
"I normally drive within the white lines, and at COTA if you make a mistake, you just run wide and come back on. You don't really lose that much time, and again, it's a very different way of driving. Chicago should be better for me. I feel confident that I can have a better result, but it can also all end in Turn 1. So, it doesn't matter how quick you are, you also need to have a little bit of luck on your side."
In the Xfinity Series several drivers have street course experience.
Parker Chase has street course experience in GT World Challenge America. Both Justin Marks and Connor Mosack raced in the Music City Grand Prix on the streets of Nashville, TN in Trans-Am.
Sage Karam has street course experience in the NTT IndyCar Series, Indy NXT, and IMSA. Andre Castro, who is attempting his debut with Jesse Iwuji Motorsports, has experience on street courses in USF2000.
While most drivers that have competed in street course races did so in traditional disciplines, Sheldon Creed's experience came in Robby Gordon's Stadium Super Truck Series. The main difference being that in that series, where Creed scored three victories in Toronto, there are jumps placed on the track for the off-road style trucks.