By Jerry Jordan, Editor
AUSTIN – While some NASCAR drivers went to Pensacola, Florida last weekend for the Snowball Derby, about a half-dozen NASCAR drivers invaded the great state of Texas to get some early laps at the Circuit of the America's (COTA) road course ahead of next year's inaugural NASCAR event at the purpose-built F1 facility.
The plan was to turn laps, compete a little against the regulars in the upstart World Racing League – a revamped amateur-level racing series that was just completing its first full season – and get experience. The WRL offered endurance races that would put the drivers behind the wheel for several hours.
It started off well for the No. 3 Camaro co-piloted by Austin Dillon, Kaz Grala and Tyler Reddick on Friday. They put in some laps in practice and got the feel of the 3.4-mile, 20-turn course. It was Saturday that things went south. An engine problem and a bent rear brake caliper bracket sidelined their ride and they spent the day searching for a shop that could help them with the bracket.
"It's an awesome track and a great facility," Dillon said. "Friday we had a lot of fun and got a lot of practice. Saturday, unfortunately, didn't go the way we wanted it to."
Heading into Sunday's race, Dillon was optimistic that they could win but the most important thing was getting laps and experience on the track.
"Just seeing the track, this is the first time I have been able to drive around it, and the way (NASCAR) practice is you don't get a lot of opportunities now to get laps on it, so we're just out here having a little fun and trying to get better at road racing in general. It's nice to be in a big field of cars and learn how to race around people."
The WRL event hosted over 90 cars and has a no-contact rule; however, it's still racing and several cars showed battle scars at the end of the day.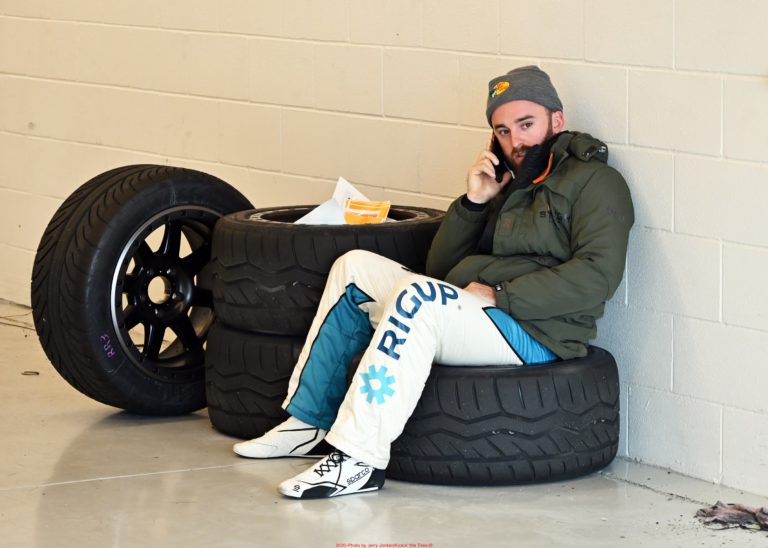 Dillon said he liked Turn 1, which is the track's signature turn. It is a massive elevation change along the front stretch with cars making a hard reverse left turn before getting back on the gas and going downhill for the Turn 2 righthander.
"The esses are going to be wild in the Cup race because it gets tight there for a little while but the stadium section is probably my favorite. You get down the long stretch, I think it is Turn 12 and you go left there and from that point on it is tricky, so it will be a lot of fun."
When they hit the track Sunday morning they had a new engine and a new bracket – courtesy of Jesse James, the CEO of Austin Speed and founder of the acclaimed West Coast Choppers. Grala took the wheel at the green but they had to come into the pits when oil overflowed and caused the car to smoke severely.
"I probably got the most laps of us three," Grala said, shortly after exiting the car on Sunday. "I really like this place. It is a lot of fun, so far, and I think it is going to be a good NASCAR race here. We're just out here trying to get laps and having fun.
"It's going to be a lot of fun. It is a really unique track. I have never been on a Formula 1 track, personally. I don't know if this is more the norm for them but there is definitely some really, really tight corners and super-long braking zones and then some crazy elevations. It is going to be way different for us running stock cars but I think it is going to put on a great race."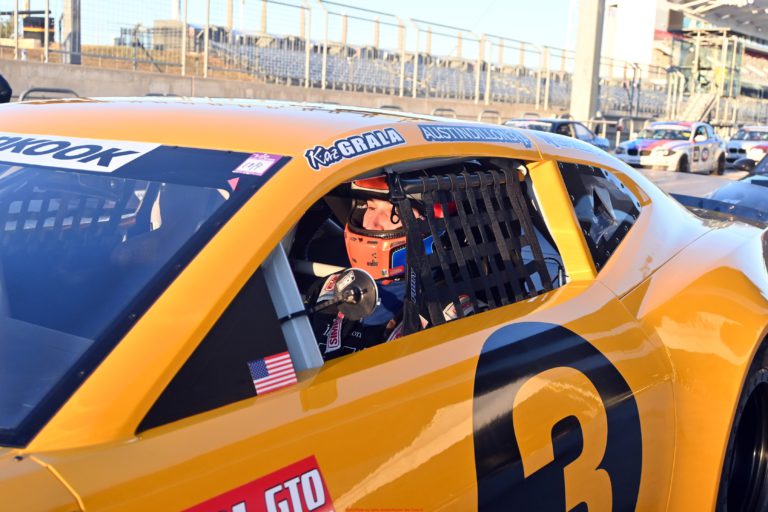 The trio of drivers did learn one thing about COTA – bring the right oil pan. Apparently, their Camaro, which did have some similarities to a Cup Series car, was set-up with an oil pan that was not designed to be used on a road course. It was an expensive mistake because they lost an engine.
Reddick said it was unfortunate they had the issues but the whole point of the trip to Austin was to be a learning experience for the Richard Childress Racing drivers' return in 2021. They accomplished their goals, he said.
"We learned about oil pans and things we, hopefully, don't find next year when we come back here," Reddick said. "We're getting plenty of track time. We were fortunate that we didn't have all these issues on practice day."
Dillon went back out and was making his way through the field when he got hit with a penalty during a caution as he eased by another car heading to the pits. Reddick also turned some fast laps and all three agreed the experience was worth it.
Reddick was happy he and his teammates were able to get the track time and they did stay out for the entire race from 8 a.m. to 4 p.m., on Sunday. He felt like that was a good baseline for them.
As for the trickiest parts of the track, Reddick joked it was really for him to go over them as he stood looking at a track map in the background.
"Well, I am not going to lie to you, I've got the track map right behind you here," he said. "Very speedy Turn 1 and obviously you are going flat out in Turn 2. The esses are very technical and very tight and what is going to be interesting is that the Cup drivers are going to try to run through their side-by-side, so a lot of action is going to happen in the esses right here. It is going to be a lot of fun. There will be a lot of bumping and banging in our stock cars and it is going to make for a great race."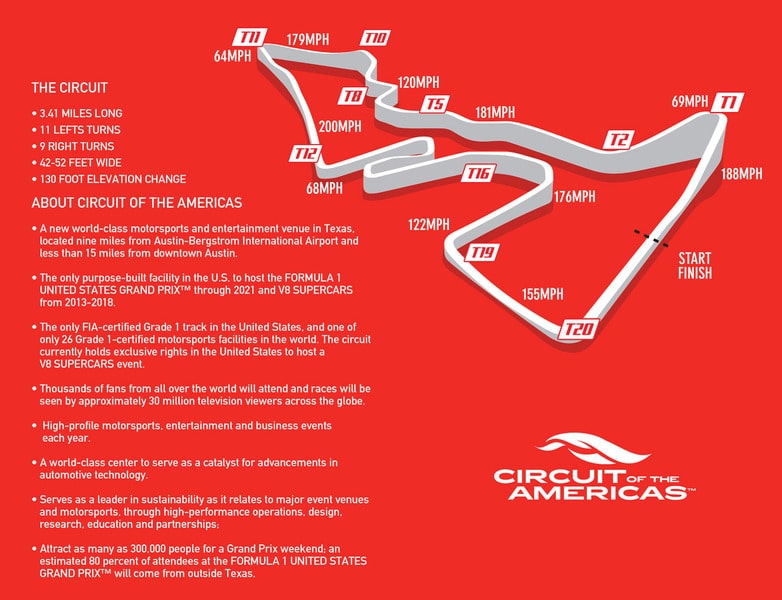 For Garrett Smithey, Tommy Joe Martins and Josh Bilicki Friday was anything but good. Their car broke a driveshaft (shattered it) not once but twice. That left them scrambling for a car to drive. Smithley found some love from JNR Racing in the No. 178 Honda Civic late Saturday afternoon and turned a few laps before the checkered flag fell on the 9-hour event. He raced the final stint on Sunday but came to the garage early when the brake pedal went to the floor. The team was done for the day and finished 12th out of 20 cars in their class.
"It was a blast being here for the World Racing league endurance race," Smithley said, all smiles as he climbed out of the car despite being sidelined a couple of hours early. "I have never done any endurance racing at all, it was a blast, so much fun. Unfortunately, my first ride ended up breaking so big thanks to these guys, Jonathan Newcombe with JNR Racing, to give me a spot today and a little bit yesterday and they allowed my sponsors to come on-board."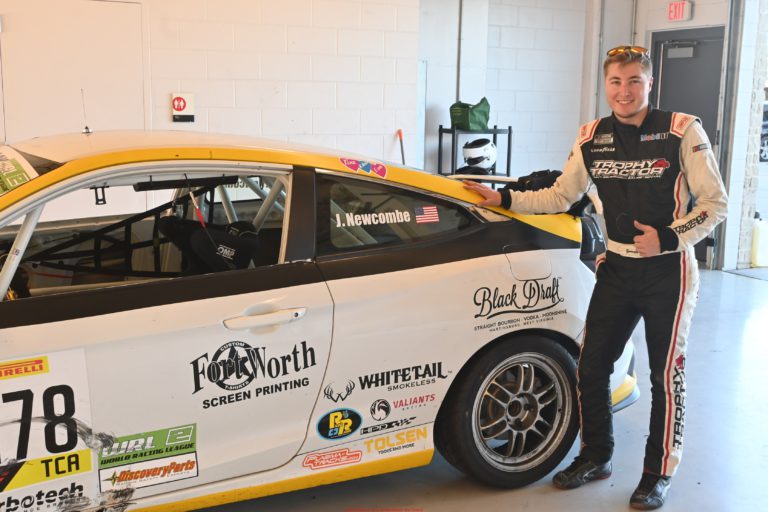 It was a learning experience for Smithley in more ways than one because not only had he never driven in an endurance race, he'd never raced in a Honda and despite his youth, he had never even driven a front-wheel-drive vehicle.
"I had a blast just getting track time around here. Even though we were in a smaller horsepower, the thing handled great," Smithley said. "It was the first time I ever drove a Honda racecar, the first time I ever drove a front-wheel-drive car, so still just a blast, I can't wait until NASCAR comes back.
"There's definitely a few spots in the track that are going to be tricky," he said. "Definitely be looking for the first restart, any restart. It was crazy with 90 cars going down into Turn 1. It is going to be crazy with 40 Cup cars going down there. Getting around here in a 750-hp Cup car is going to be a lot of fun, so stay tuned."
Bilicki secured a seat in the No. 91 Corvette belonging to W2W (Will to Win) Racing. Although his car expired early, he got in some good laps and he wins the award for the best-looking car of all the NASCAR drivers in the field. Martins left the track and went home after not being able to find a ride.
Additionally, Corey LaJoie picked up a ride in a Mazda Miata in the GP3. He was in the car Saturday and Sunday. Although drivers were listed in the results, he apparently made some pretty fast laps.