By Jerry Jordan, Editor
SONOMA, Ca. – Last week Carson Hocevar took a massive hit in the NASCAR Camping World Truck Series (NCWTS) race that saw him brought in an ambulance from World Wide Technology Raceway to a local hospital for treatment involving his lower right leg and ankle but sources have told Kickin' the Tires the 19-year-old driver is planning to get back behind the wheel despite undergoing surgery for his injuries.
Although Hocevar, who drives for Niece Motorsports, is clear by his personal medical doctor to race this weekend, NASCAR released a statement to Kickin' the Tires and another national media outlet confirming that the sanctioning body plans to meet with him ahead of the action on Friday, when the trucks will practice for Saturday's race.
"We received documentation from his physician that he is medically cleared to race. We plan to meet with him tomorrow (Friday) to ensure that he's ready to race from a safety perspective (ie: mobility)," reads the statement from NASCAR.
Hocevar revealed his plans in a tweet sent from his verified account Wednesday evening stating, "I'm feeling better every day and I'm looking forward to being behind the wheel of the No. 42 Worldwide Express Chevrolet this weekend. I'm thankful for Daniel Suarez's willingness to step up this weekend for our No. 42 team. None of this is possible without the great partnership Niece Motorsports has formed with Worldwide Express and Trackhouse Racing."
— Carson Hocevar (@CarsonHocevar) June 8, 2022
"Hocevar will have fellow Chevrolet driver, Daniel Saurez, on standby as a relief driver for the No. 42 Niece Motorsports Silverado RST," states a press release from Team Chevrolet. "Hocevar is entering the Sonoma race weekend in the eighth position in the NCWTS driver points standings. Both Hocevar and Suarez will get time behind the wheel during the NCWTS practice session on Friday."
Additionally, Hocevar's team has scheduled a 2 p.m. PST press conference to address questions from the media.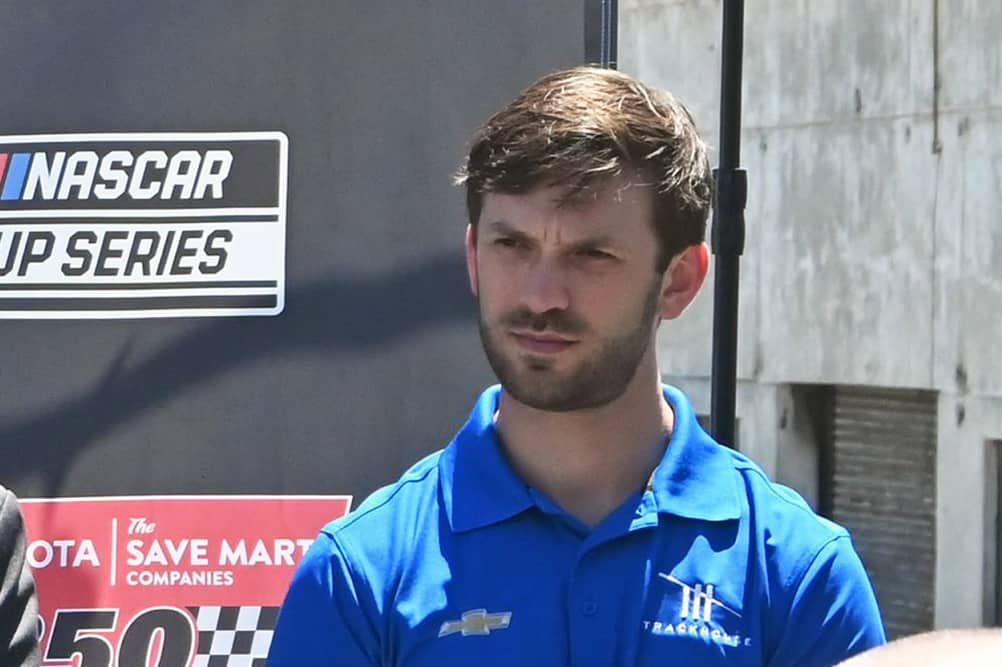 On Thursday, Suarez met with Kickin' the Tires following a NASCAR press conference at the Atwater Tavern in San Francisco and confirmed his status for the weekend and wished Hocevar well in his recovery. His answer shed doubt on whether Hocevar could or should actually be back in the truck following surgery.
"I mean, really I hope that he keeps recovering," Suarez said. "I think that he is in a very, very tough position with his surgery on his ankle. Heading into a place like Sonoma is very, very tough and I would say a road course and Martinsville is probably the most difficult situation he could be in. So, I am there to help and if the opportunity presents, hopefully, I can go out there and do the best I can."
Suarez said he has not been confirmed to be in the driver's seat because Hocevar has been able to get in and out of the truck and is dealing with his injury.
"You know, every day is different, right," Suarez said. "I think the decision is probably going to be made tomorrow. I mean, he had surgery, you know, I mean he is very tough but we will see. We will see. He was able to jump into the truck at the shop and I was able to jump into the truck, as well. I am going to have to sit on his seat, which he is a big boy and tall. I am going to need a chair to sit on top of the seat but I don't know, we will have to make some compromises but we will be fine either way."
The green flag for the NASCAR Camping World Truck Series DoorDash 250 is scheduled for 4:30 p.m. PST (7:30 p.m. EST) on Saturday.
VIDEO OF HOCEVAR'S CRASH: