By Seth Eggert, Associate Editor
All Bubba Wallace needed heading into Watkins Glen Int'l was a little reassurance, which he got from six-time NTT IndyCar Series champion Scott Dixon.
Although Wallace has one top-five and two top-10 finishes on road courses, the discipline has historically been where the 23XI Racing driver has struggled. The Mobile, AL native has openly admitted that he 'is not good on road courses.' However, the mental aspect is just as important for NASCAR Cup Series drivers as the talent behind the wheel.
Hours before the Go Bowling at The Glen, Wallace reached out to the current iron man of American open wheel racing, Dixon. The most recent winner of the Gallagher Grand Prix on the Indianapolis Motor Speedway Grand Prix Circuit told his NASCAR counterpart to believe and trust in himself.
"Shout out to Scott Dixon," Wallace said. "I actually talked to him this morning about the mental piece of it. It's hard when you come into a road course race, and you tell yourself that every time. He basically told me to shut the hell up and that I'm here for a reason and to trust in myself and believe in myself and this is what can happen. I don't think I had one lap where I said I was going to suck, so it was good."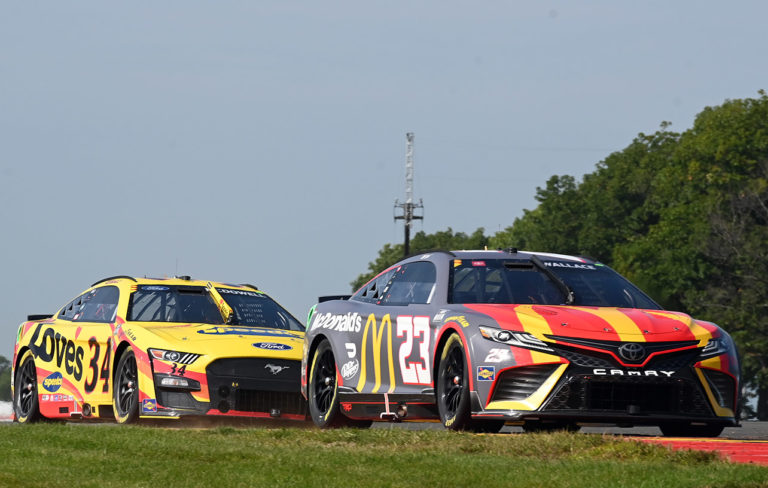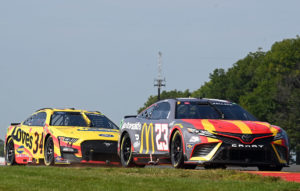 Dixon's words took Wallace to an eighth and ninth place finish in the first two stages of the 90-lap race. Only a caution for Chase Elliott's stalled car forced the Toyota Racing driver to drop outside of the top-10.
On the only restart of the fastest Cup Series race in the modern era of NASCAR (1972-present), Wallace picked off positions from both Brad Keselowski and Austin Cindric. The No. 23 McDonald's Toyota Camry picked up another position when Michael McDowell's engine failed.
Wallace snuck by Ricky Stenhouse, Jr. in the closing laps for 12th. The veteran Cup Series driver ran out of time as he tried to run down Todd Gilliland for 11th. Luckily for Wallace, a repeat winner in the form of William Byron kept the Toyota Racing driver on the playoff cutline, 16th on the playoff grid.
"Just (execution) really," Wallace explained. "Thanks to Bryon for winning that. Didn't have a new winner. I'm proud of myself. That's the first time I felt proud of myself at a road course race. I just executed and didn't lose focus — maybe one time. And that's the difference maker. You've got to stay on it at these places.
"Just hats off to my team for sticking with me and believing in me on these road courses. I know we still have one more to go, but we wanted to maintain our gap and not lose too many and we gained. Hats off to everybody on the effort we put in. Thanks to Toyota for believing in me, McDonalds and all of our partners involved. Just a great day for the 23 team. Now, we get to go in Daytona stressful as hell, but it takes a little bit of the edge off for sure."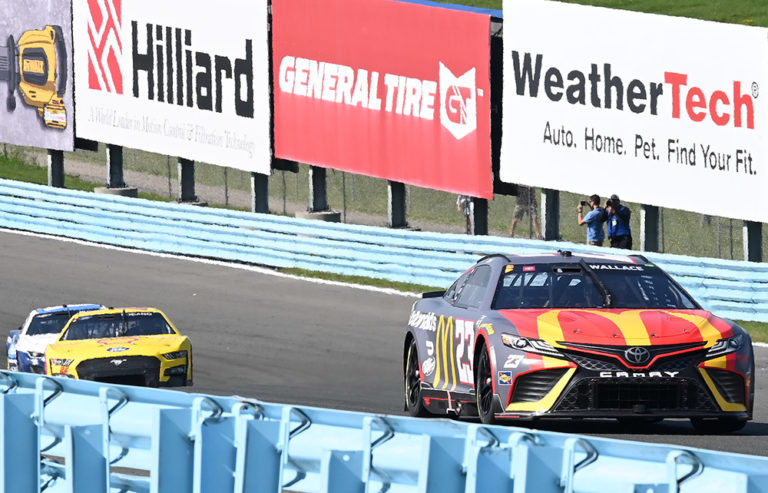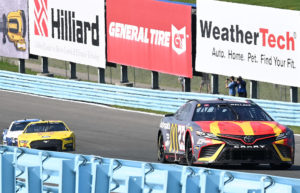 After Watkins Glen, Wallace has a 32-point cushion over fellow Toyota driver Ty Gibbs. With only one race left before the start of the 2023 NASCAR Cup Series Playoffs, it's unlikely that a driver will catch him for 16th on points alone.
There are two scenarios in which Wallace clinches the final playoff spot in the Coke Zero Sugar 400 at Daytona Int'l Speedway. If there's a repeat winner and neither Gibbs nor Daniel Suarez gain 33 or 44 points on him respectively, Wallace makes the playoffs. A victory would automatically lock the 29-year-old into the playoffs.
At Daytona Wallace has four top-five finishes. Three of those top-five finishes were runner-up finishes, two in the Daytona 500 and one in the 2021 running of the Coke Zero Sugar 400.
The Coke Zero Sugar 400 at Daytona is scheduled for Saturday, August 26, at 7:00 p.m. ET on NBC. The race will also be broadcast on the Motor Racing Network and SiriusXM NASCAR Radio, channel 90.