By Cole Cusumano, Staff Writer
After years of sacrifice and seeking change, Ryan Preece finally has something he can sink his teeth into. The 32-year-old Modified racing ace is back competing full time in the NASCAR Cup Series, this time piloting the No. 41 for powerhouse team Stewart-Haas Racing (SHR).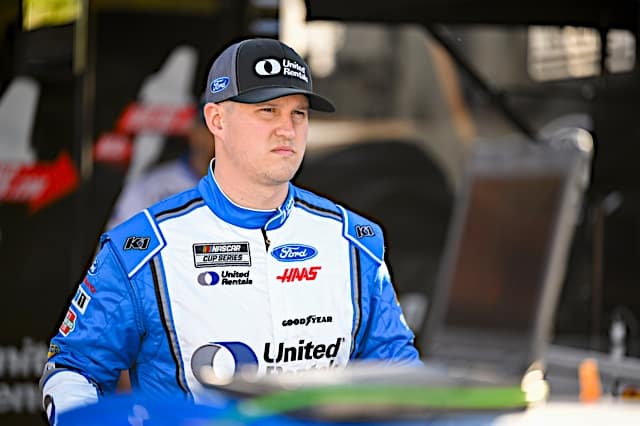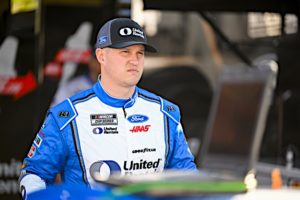 Preece spent three full-time seasons in the sport's top rank driving for JTG-Daugherty Racing, where he failed to finish higher than 26th in the driver standings and only recorded nine top-10s in 108 starts.
Years of mediocrity began to weigh on Preece, who knew his driving ability was better than what the stat sheets showed. This caused him to take a step back at the conclusion of the 2021 season in order to set him up for a prosperous future.
The Connecticut-born driver was signed by SHR as a reserve driver for 2022, where he made 15 starts between all three national series. Preece ended up placing top-10 in 11 events, which included a win in the NASCAR Craftsman Truck Series at Nashville Superspeedway.
Following another sluggish year from Cole Custer in the No. 41, Preece was promoted back to Cup racing full time, while his predecessor would return to the NASCAR Xfinity Series for a fourth campaign.
"I think, like any racer, you dream of this opportunity," Preece said. "It's been an uphill battle for sure to try and have an opportunity with a manufacturer-backed team and chase after wins week in week out.
"These first two races were like a breath of fresh air so to speak. It kind of shows you, 'Hey, you can do this,' and all the things that you learn and study certainly come into play."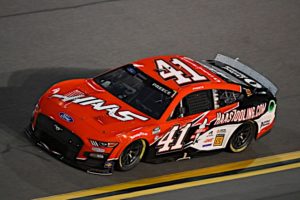 Preece's debut in the No. 41 for SHR came in the Busch Light Clash exhibition race, where he started 16th and led 43 laps en route to a seventh-place finish.
He was able to parlay success from the quarter-mile short track into yet another strong showing in the Daytona 500. Preece earned nine stage points after placing runner-up in Stage One to fellow Ford driver Brad Keselowski and ended up with four laps led in The Great American Race before getting involved in a wreck on Lap 181.
After years of seeking an opportunity to compete for a high-caliber team like Stewart-Haas Racing, team owner Tony Stewart instilled some words of encouragement to his new driver before turning any laps in the No. 41 Ford Mustang: 'The job is yours, now have fun.'
But for Preece, he understands he must maximize what's in front of him in his first full-time season at SHR, especially when teammates Kevin Harvick and Aric Almirola are entering the waning stages of their respective careers.
"We got to win races," Preece said. "That's really what it comes down to. My expectations are to be a contender week in and week out. We showed that [we can] in the two starts we've been together even though Chad (Johnston, crew chief) hasn't worked on this car and I'm a year behind when it comes to seat time.
"We take this very seriously, and if we can consistently show up with fast race cars, we're going to be just fine."
Despite only logging 414 laps through two starts in NASCAR's seventh-generation stock car last year, Preece is off to a rollicking start – albeit at two tracks where it's unlikely the team will be able to apply data to other venues – all signs point to a relatively brief acclimation period for the 32-year-old.
While Preece attributes his quick start to many people within the Ford Performance program during his time as a reserve driver last year, he admits 22-year Cup veteran and now teammate Harvick has been instrumental in getting him up to speed.
Between spending endless hours on the simulator and in the shop, as well as developing a rapport with Johnston as his crew chief in the Truck Series last year, he believes his hot start is a culmination of it all.
"Chad and I, we've already had a year and a half of working together and myself being at [Stewart-Haas Racing] for a year certainly helped the process of basically jumping into something," Preece said. "But I feel like it's all been going really well and hopefully the foundation that we've been laying and the bricks we continue to lay keep adding up to really great things."
For Preece and Johnston, NASCAR's three-race stint out west could not come at a better time. The positive atmosphere radiating around the No. 41 team as a result of their performance has been essential for the new driver-crew chief pairing, who are putting an emphasis on team chemistry as they begin their trek to Auto Club Speedway.
"You spend more time on the road when you're doing the West Coast, so you're spending more time around your guys and creating more opportunities to have team moments," Preece explained. "That's certainly something that's positive."
Stewart-Haas Racing overall had a competitive day in Fontana, California last year with two driver leading laps and placing top-10. Preece's predecessor Custer wound up 11th when it was all said and done in the No. 41 machine.
Although Preece only has two unsuccessful starts at the the two-mile track in Cup, he notched two top-10s in three starts in the Xfinity Series. He'll look to keep momentum rolling into Fontana in search of his 10th-career top-10 at the sport's premier level.
"I haven't had a whole lot of good experiences [at Fontana] yet, but I'm hoping to create one this weekend," Preece stated. "It's a wide race track, somewhere that creates a lot of opportunities to fan out and make speed. I'm looking forward to getting to California and seeing what kind of speed we have."
With his new opportunity, Preece aims to change his fortune in Auto Club Speedway's final race as a two-mile oval, the Pala Casino 400 on Sunday, February 26 at 3:30 p.m. ET on FOX.
The race will also be broadcast on the Motor Racing Network and SiriusXM NASCAR Radio, channel 90.