By Sarah Handy, Staff Writer
NASCAR Camping World Truck Series driver and owner Cory Roper has announced that Roper Racing will run the full 2021 NCWTS schedule.
The team based out of Mont Belvieu, TX will see Roper himself behind the wheel of the No. 04 Ford F-150 as the season kicks off on Friday February 12 at Daytona International Speedway. Alliance Aviation will return to the team as a partner in 2021 and serve as primary sponsor at Daytona. Alliance Aviation is a Fly Alliance Team that specializes in private jet travel, jet card membership and aircraft sales.
"We are very excited about running the entire schedule this upcoming year in the Truck Series and are eager to get to Daytona to start the new year. Alliance Aviation was a [very] helpful partner last year and we are thrilled to have them onboard with us again this upcoming season," said Cory Roper. "NASCAR is recognized for having one of the most passionate fanbases in all of sports. We look forward to continuing to build our relationship with Alliance Aviation."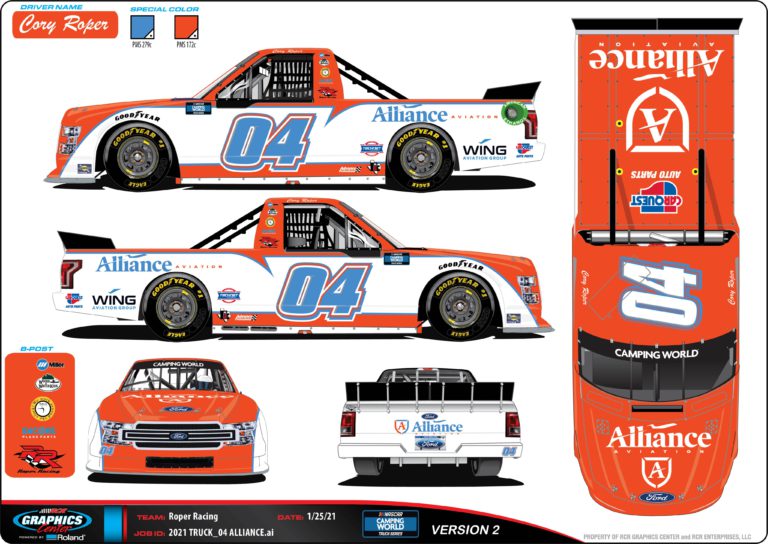 Roper Racing made their NASCAR Camping World Truck Series debut in 2018 at Martinsville Speedway. Roper went on to finish that event in 13th.  The team made five more starts that season with two more notable finishes; 8th at Iowa and 17th in the season finale at Homestead-Miami Speedway.
In 2019, Roper earned his best NCWTS finish to date at his home track of Texas Motor Speedway with a ninth-place result. Last season, the team made just 12 starts, earning a best finish of 14th in the season-opener at Daytona.
The NCWTS kicks off their season with the NextEra Energy 250 from Daytona on Friday February 12 at 7:30 p.m. ET on FS1 and MRN.
Feature Photo Credit: Nigel Kinrade Photography / NKP Photo