By Jerry Jordan, Editor
Looking back on the fight between Matt Crafton and Nick Sanchez, I have a few reservations about NASCAR fining either of them but I understand the decision. What I have trouble wrapping my head around is the fanbase proclaiming Sanchez as a saint, who was victimized by the evil Crafton. However, the most egregious aspect of the situation was that "Daddy Sanchez" felt the need to jump in.
Sure, Crafton can be gruff at times. He even lit me up once when I wasn't paying attention and called him Paul Menard, repeatedly. I am not sure who should have been more offended, him or Menard, but I've never made that mistake, again.
My interaction with Sanchez has been limited to a few media opportunities but he seemed like a nice guy. Notice, I didn't say "kid." That's because Sanchez has been an adult for the past five years, or so. He can fight for his country, smoke cigarettes if he chooses, drink alcohol legally and drive a racecar at nearly 200 mph. He should also be able to fight his own battles without Daddy helping him out.
Whether Crafton "sucker punched" Sanchez after the on-track incident at Talladega Superspeedway is debatable. Crafton has one side of the story and Sanchez has another. In fact, since the cameras weren't rolling it's unknown just how threatened Crafton felt being challenged by Nick and Rene Sanchez. Somewhere there is the truth about exactly what happened. However, I don't much care about the fight between the two drivers. This, by no means all-inclusive list below, proves there have been many drivers come to blows through the years.
Brad Keselowski vs. Jeff Gordon
Kyle Busch vs. Joey Logano
Greg Biffle vs. Kevin Harvick
Kevin Harvick vs. Jimmie Johnson
Ty Gibbs vs. Sam Mayer
Clint Bowyer vs. Ryan Newman
Daniel Suarez vs Michael McDowell
Denny Hamlin vs. Joey Logano
Noah Gragson vs. Ross Chastain
Daniel Hemric vs. Noah Gragson
Ross Chastain vs. Brendan Gaughan
Ross Chastain vs. Joey Gase
Matt Kenseth vs. Brad Keselowski
The common denominator with each of the above fights, aside from the fact neither driver was penalized by NASCAR, is that no one's dad jumped in to save, or assist, anyone.
NASCAR has not penalized driver-on-driver combat since John Wes Townley and Spencer Gallagher went WWE on the frontstretch at Gateway Motorsports Park in 2016. And that has been a good trend.
After reading hundreds of social media reactions to the situation and in response to posts from Crafton's side and Sanchez's side, it seems some people are overlooking that Sanchez caused a wreck that severely injured another driver. It also appears taboo to "sucker punch" someone but fighting two-on-one is just fine.
Greg Van Alst was taken to an area hospital and diagnosed with a fractured vertebra due to the very same accident that Crafton was upset about. It also wasn't the first time Sanchez has caused an accident and it won't be the last. He seems to be a repeat offender in the on-track poor choices department. His off-track choices weren't the greatest at Talladega, either.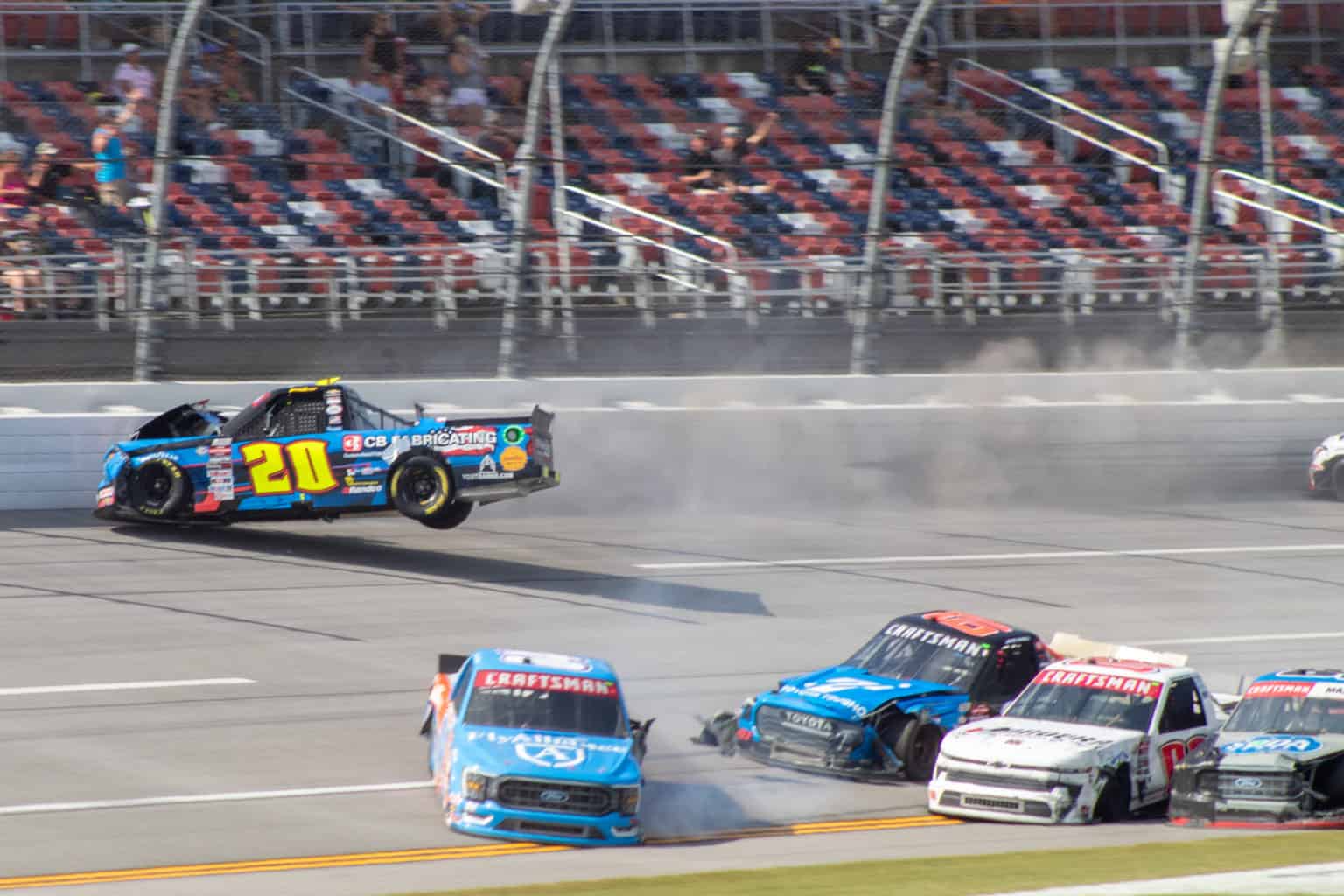 I guess he gets it honestly, since it was an even dumber move for his dad to interject himself in a fight between drivers, even if his son was on the receiving end of getting his butt kicked. The elder Sanchez had no business getting involved. Yes, Nick is his son and parents want to defend their children but as I have already pointed out, Nick is not a child. He is a grown adult.
The decision by Rene Sanchez to take a swing at Crafton was far worse than two drivers going after each other post-race. He should consider himself very lucky that his suspension from NASCAR is only until the season is over.