By Seth Eggert, Associate Editor
CONCORD, N.C. – Two weeks after scoring his first career top-10 in the NASCAR Craftsman Truck Series, Dean Thompson had a career race in Friday night's North Carolina Education Lottery 200.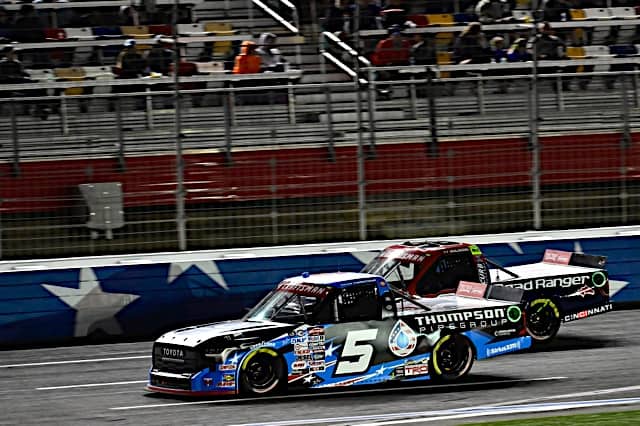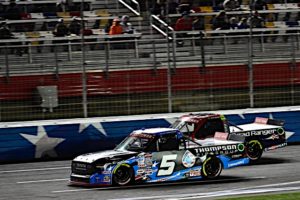 In the final 24-lap run to the finish at Charlotte Motor Speedway, Thompson found himself battling with his TRICON Garage teammate Corey Heim, and his former teammate Carson Hocevar. Thompson and Hocevar traded daring passes, barely clearing one another as they chased down Heim and eventual race winner Ben Rhodes.
While Heim had the short-run speed, the duo battling for third had the long run speed. However, Thompson couldn't find a way around his teammate. After several attempted passes, he switched to defense, holding off Hocevar's Niece Motorsports to take the checkered flag in third.
"All I could say is that (beating Hocevar) was everything," Thompson said. "(The speed of this truck is) everything I can ask for. The guys put it together, then I could get on the chip to go to win this race and it was in my hands to go win it. I think we had enough to win, but the cards didn't fall our way. We'll settle with third. It's pretty awesome for the season we've (had so far).
"This is the most badass team in the whole garage. These guys worked their tails off night in, night out. They just do everything they can to get this truck pristine. They're the first ones in the last ones out. I can't brag on my guys enough. I'm so thankful for them."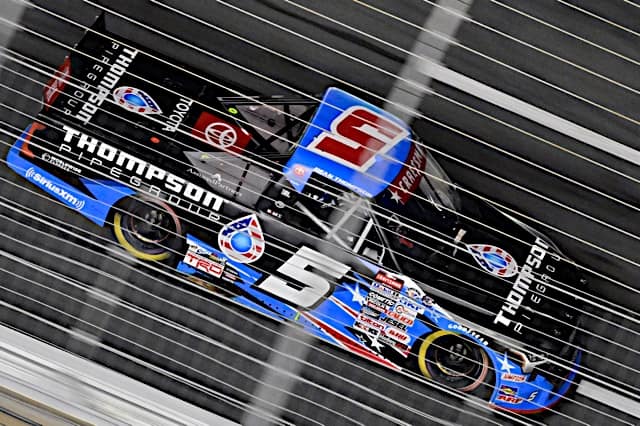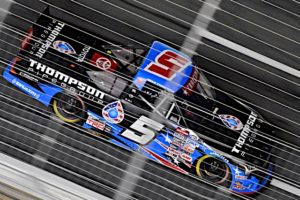 The third-place finish was a change in pace for the Anaheim, Calif. native. 11 races into the season Thompson has just four lead lap finishes. The No. 5 Thompson Pipe Group Toyota Tundra TRD Pro has five DNFs, largely due to forces outside of Thompson's control.
Despite the on-track incidents, the speed in Thompson's truck has been evident. In half of the races that he's completed he's finished inside the top-15. Of those that the 21-year-old has finished on the lead lap, half have been top-10s.
"We get in these crappy situations where we keep getting wrecked and we can't show the potential of our [truck], or we just have a bad day like Wilkesboro," Thompson admitted. "We just had a bad day that ended up worse so. These days don't come very often, and I have got to make sure they do (come more often). It's just up to me at this point."
Among those that Dean competed with Friday night was TRICON Garage team co-owner David Gilliland. The rare one-off appearance for Gilliland allowed Thompson's boss to evaluate both the equipment and his drivers. The sophomore driver's boss recognized the talent he has, but understands that Thompson is learning as the season progresses.
"Dean has for sure (changed his demeanor back at the shop)," Gilliland explained. "Racing these guys is tough. I experienced it myself tonight and they raced hard, and you got a lot of experience here. You got guys like Matt Craftonand Grant Enfinger, guys that have been racing in the series for years.
"Dean Thompson is fast, he's got good speed, but he doesn't have a lot of experience. He's learning as we go, and we really lean on each other in the shop to help speed that process up."
The third-place finish was Thompson's first career top-five in the Truck Series. It was also just his second career top-10 finish. Thompson also finished third in both stages, netting an additional 16 points.
The top-five moved Thompson up from 24th in the points standings to 20th. He is 246-poings behind teammate and leader Heim. Thompson is also 102-points behind the playoff cutline currently held by Matt DiBenedetto.
Next for the TRICON Garage driver is the Toyota 200 at World Wide Technology Raceway at Gateway on Saturday, June 3. Thompson has just one Truck Series start at the Madison, IL track, finishing 14th there last year.
The Toyota 200 is scheduled for Saturday, June 3, at 1:30 p.m. ET on Fox Sports 1. The race will also by broadcast on the Motor Racing Network and SiriusXM NASCAR Radio, channel 90.