By Seth Eggert, Staff Writer
While Ryan Preece is a part-time NASCAR Camping World Truck Series driver, the David Gilliland Racing truck he drove is in the Owner Playoffs. His third-place finish at Kansas Speedway advanced the No. 17 Ford F-150 into the Round of Eight.
Strategy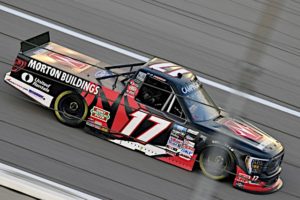 Under the final caution of the Kansas Lottery 200, Preece kept his No. 17 Morton Buildings Ford F-150 on track. The NASCAR veteran and his Chad Johnston-led team opted to cut the final run in half. Preece was one of the first to pit during the final 53-lap green flag run.
Once on fresh tires, Preece stormed through the field. The 31-year-old followed John Hunter Nemechek and Zane Smith through those trying to make it the distance on fuel. Among those attempting to make it on fuel was Carson Hocevar. The Niece Motorsports driver ran out of fuel on the final lap and finished second. That ultimately eliminated Hocevar and the Niece entry from both the Driver and Owner Playoffs.
Top-Five Finish
Preece snuck by his Ford Performance teammate, Smith for third. However, he ran out of time to catch Hocevar. Preece's top-five earned the No. 17 enough points to stay ahead of both the Niece No. 42 and ThorSport Racing's No. 98 in the Owner Playoffs and advance to the Round of Eight.
"Owner Points, that's what I am, I'm your Owner Points driver," Preece joked. "I've just learned a lot about myself as a communicator in order to thrive. I really like working with this group of guys, with Chad (Johnston). Myself as a driver, I know I can go out compete against whoever, and win. This is not about that. You've got to put yourself in the right situation around you, go out, and do your deal.
"I wish we could have had a caution. That thing was rolling the top at the end. Chad and I were talking, we're racers, we want to win, and we finished third. We're not happy with it. I appreciate driving fast cars and allowing me to do what I need to do, search for grip, pass trucks, and gain spots. I appreciate the fact that I get those here. It was a lot of fun. Ultimately, I wish we had a better finish, but it was a really fast truck."
Owner Points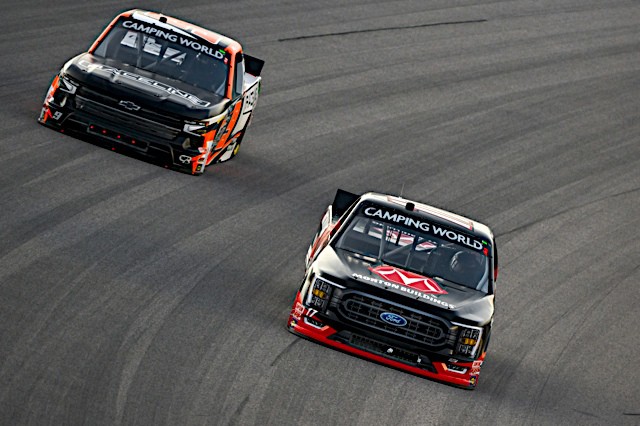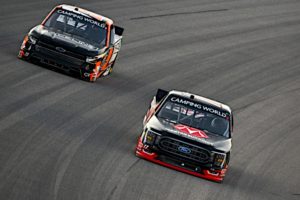 Though, the finishing position alone didn't earn the David Gilliland Racing No. 17 a spot in the Round of Eight. Preece finished the first two Stages in sixth and third respectively, netting an additional 13-points. By comparison, Christian Eckes earned 15-points in the Stages. The No. 98 entered Kansas one point behind the No. 17 and missed the Round of Eight by five points.
After the reseeding, the David Gilliland Racing entry is now seventh in Owner Points. It is four points below the cutline, held by the Kyle Busch Motorsports No. 51. The No. 17 is also 29-points behind fellow Ford Performance team, and leader, Front Row Motorsports.
Statistics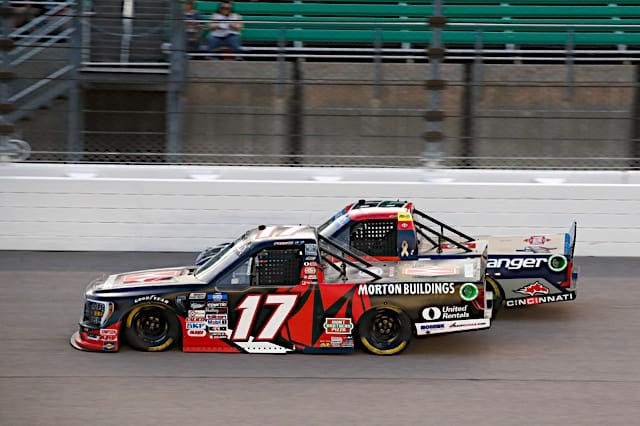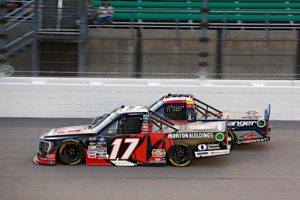 For Preece, the third-place finish was his fifth top-five this season. It is also his sixth career top-five in the Truck Series in 10 starts.
Initially the race at Kansas was scheduled to be Preece's final start of the season. Though post-race he admitted that though it's not confirmed, there's a chance his next race might be at Talladega Superspeedway.
"I haven't gotten confirmation, but there's been talk of Talladega and Homestead," Preece stated about possible upcoming races on his schedule.
Until that potential start for Preece at Talladega, Taylor Gray will likely return to the No. 17 Ford F-150 at Bristol Motor Speedway for the UNOH 200 on Thursday, September 15 at 9:00 p.m. on Fox Sports 1. The race will also be broadcasted on the Performance Racing Network and SiriusXM NASCAR Radio Channel 90.
Featured Photo Credit: Photo by Rachel Schuoler / Kickin' the Tires.