By Jacob Seelman, Kickin' the Tires
TALLADEGA, Ala. – For a split second, Sam Mayer saw the prospect of his first NASCAR Xfinity Series victory out the windshield of his No. 1 Chevrolet Camaro Saturday at Talladega Superspeedway.
However, A.J. Allmendinger denied the Franklin, Wis., teenager in heartbreaking fashion.
Mayer came up .015 seconds – roughly three feet – short of victory in the Sparks 300 after Allmendinger used a push from Landon Cassill to sneak ahead of Mayer coming to the finish line.
In an instant, the 19-year-old went from elated to stunned as the trophy – and a guaranteed spot in the second round of the Xfinity Series playoffs – slipped through his fingers.
"I thought we had it," Mayer lamented in the moments after the checkered flag waved.
Inside of five laps to go at the 2.66-mile Alabama oval, it appeared that Mayer had made all the right moves in pursuit of JR Motorsports' 14th Xfinity Series triumph of the season.
He shot a narrow gap through the middle coming off turn four on lap 109, surging to the lead and assuming control of a frenetic lead pack. It was a brave move, but the risk carried potential reward.
From there, Mayer and Allmendinger traded the lead twice before Mayer retook the spot coming to the white flag. He got out front, perhaps too far, and Allmendinger eventually pounced in the last few yards.
"I had a lot of confidence coming into the day that our car was going to be fast, and it was," noted Mayer. "JR Motorsports always brings fast cars to the superspeedways, and we showed that today was no different. We were leading at the white flag, and that's all you can ask for is a chance to be in position.
"I'm proud of my guys. They kicked ass today. We did everything right, pit-strategy wise, but we were just three feet short and there's really not much you can do about that."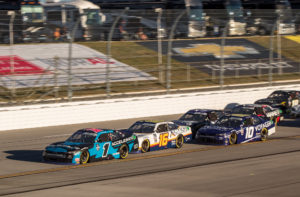 In reflecting on Allmendinger's slingshot move in the tri-oval, Mayer tried to find some move that he could have executed differently to try and hang on for the victory, but admitted that just finishing a superspeedway race at long last was rewarding in itself.
"[Spotter Brandon McReynolds] was telling me to get out there, and then drag back at the right time … and I drug back at the right time, I feel like, but I just didn't do it quite enough," he explained. "I didn't really realize it was six [laps to go when he first took the lead]; I thought it was more like four, and if it had been, it probably would have been perfect for us. But finally finishing a race here got a big monkey off my back.
"Overall, though, this was a big learning day for me in my first time ever doing something like this," added Mayer, who finished at a superspeedway for the first time in his young career. "I'm looking forward to the future and the chance to make different moves … and maybe end up in victory lane."
Though Mayer suffered a tough loss at Talladega, he expressed his usual optimism for the future as well.
"Everything [at the end] was kind of a surprise to me, but I feel like experiencing it once and feeling the car, the movements, how it reacted, shifting lanes and all that … will help me the next time I'm in that position," Mayer tipped. "It was a big learning day; I know I said that once, but it's all I can really say.
"I didn't think I'd be saying something like that a year into my (Xfinity Series) career … but I'm thankful I got the opportunity to [contend] like that and I'm looking forward to Daytona in the spring next year."
In that same vein, Mayer was pleased with the fact that he built a 12-point margin over the playoff cut line Saturday, with one race remaining in the opening round of the postseason on Oct. 8.
Though it's not a safe position, by any means, Mayer is a talented road racer and believes that heading to the Charlotte Motor Speedway ROVAL plays to his strengths in terms of advancing to the Round of 8.
"The ROVAL is one of those tracks where you just have to survive, but having a good points day here and putting ourselves in a positive spot going into that one is big. I think we're going to be good there and I have a lot of confidence in that track. It's a place we performed really well at last year when I ran the (No.) 8 car. I was second at the white flag in that one last season and I know we're capable of that again.
"I expect no different this year."
Through the disappointment of his bittersweet runner-up, Mayer still cracked a smile at the end of his television interview – a toothy grin that his fans have come to know and appreciate as he's climbed the NASCAR ladder.
"I just can't help but laugh about it," chuckled Mayer in regard to the finish. "Coming home second at a place like this puts a weird feeling in your stomach.
"But there's a lot more days like this ahead for me and that's what we have to focus on."