By Seth Eggert, Staff Writer
Of those that have gone through NASCAR's Drive for Diversity program, Rajah Caruth has had one of the more unique paths. Caruth started on iRacing. His rapid ascent from Legends Cars to Late Models, ARCA Menards Series East, and now the NASCAR Xfinity Series is reminiscent to NASCAR Cup Series driver William Byron. As a Caribbean-American, the Washington, D.C. native followed in the footsteps of Drive for Diversity alumnus Bubba Wallace.
Caruth's NASCAR journey started in the eNASCAR Ignite Series in 2018. Although the 19-year-old only made the feature race once, it was enough to propel him into the Drive for Diversity program in 2019. That year marked Caruth's first competing in real-life. In the Bojangles Summer Shootout Series at Charlotte Motor Speedway he finished 13th in points.
Fast forward two years and Caruth now competes full-time in the ARCA Menards Series East. In his first full season he earned two top-five and five top-10 finishes. Caruth also made four starts in the National ARCA tour, with one top-five and three top-10 finishes.
"This award (Development Series Driver Award), it feels pretty good and it's honestly hard to put into words," admitted Caruth. "It feels great to receive recognition. 2018, I came here for like the second time, went to (NASCAR) HQ for the first time and with the dreams of becoming a driver, but still on the outside, looking in.
"Now three, four years removed I'm on the road to making Xfinity starts next year, to go to Daytona for the first time (in ARCA), Talladega. It's really surreal. To receive this, this hardware is pretty weird seeing my name on it, but hopefully there'll be more to come. I'm just excited to go to Kansas in two weeks."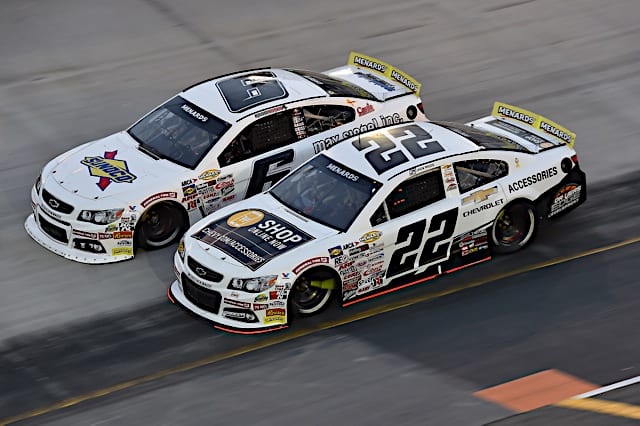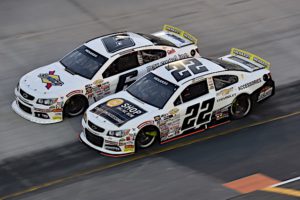 In addition to his success in the ARCA Menards Series, the honor of being one of the two Development Series Drivers of the year in the Drive for Diversity Awards Cermony was also awarded to Caruth for his successes in Late Model competition. He's earned four wins in the NASCAR Whelen All American Series (NWAAS) to date. His first, at Greenville-Pickens Speedway came last year. Since then, he's picked up two wins at Hickory Motor Speedway and one at Tri-County Speedway. In 16 NWAAS starts he's earned nine top-five and 12 top-10 finishes.
His starts in ARCA and Late Models have come with Rev Racing. The Max Siegel-owned team has fielded many of Drive for Diversity's talents over the past 13 years.
"I wouldn't be racing if it wasn't for NASCAR and Drive for Diversity, Rev Racing, the program being around for 13 years," reflected Caruth. "I'm forever in their debt. Extremely appreciative and internally grateful to have been picked from iRacing to be able to race in real life. Now I've been given a platform to continue to improve as a driver and as a young man. Hopefully, I'll be able to use what I've learned so far and use it in my craft and be a Cup driver one day."
Although Caruth has turned his attention more to professional racing in real-life, he hasn't forgotten his roots. He is till a dedicated sim-racer. Caruth has earned 25 wins and 91 top-five finishes in 228 starts in official iRacing competition for 2021. He also partnered with Spacestation Racing and competes for the team in the Monday Night Racing league. In the league, which features Kyle Busch, Ron Capps, and various other professional drivers and racing industry personnel, Caruth has three victories.
"In addition to Drive for Diversity, iRacing and what they've done for me and just their existence, I wouldn't be racing," Caruth continued. "I really appreciate Otto (Szebeni) and Drew (Adamson) and Steve (Myers) and everybody over there that just makes the sim work and believes in people like me.
"If it wasn't for the (eNASCAR) Ignite series, we wouldn't be talking right now. I'm extremely appreciative of them. I enjoyed being on that system every day, sometimes a little bit too much. I love the sim and would love to continue to be an ambassador for them as I progress as a driver."
The next step for Caruth in 2022 is a full season in the National ARCA Menards Series with Rev Racing. He will also make several NASCAR Xfinity Series starts for Alpha Prime Racing. Currently Caruth will make his Xfinity Series debut at Martinsville Speedway in 2022.
His ascension up the racing ladder mirrors the speed of Byron. Although the direction also matches both fellow Xfinity Series competitor Josh Berry and NASCAR Cup Series winner Wallace. The Winston-Salem State University Motorsports Management major already experiences comparisons to those that have traveled similar paths.
"I don't mean to sound overconfident or anything, but we already kind of see that now," stated Caruth. "And, I haven't even made a National Series start. I'm going to be myself. I'm going to do my best and that's, I feel like all I can do. Hopefully I can show through my results on the racetrack that I am worthy of such a comparison, to continue to attract sponsors and get aligned with Chevrolet and be with them for the rest of my career."
Caruth aims to compete for Rookie-of-the-Year honors in the Xfinity Series in 2023. His goal for 2022 in Xfinity is simply to run all the laps. Knowing that Alpha Prime Racing is not a Joe Gibbs Racing, Richard Childress Racing, or Team Penske, he's realistic with what his goals are.
Meanwhile for ARCA in 2022, Caruth is hopeful to at least be in the top-three in points. If he's top-three in points, he would also be in contention for the championship at season's end.
Featured Photo Credit: Photo by NKP / NKP Photo.