By Seth Eggert, Staff Writer
In a chaotic finish to the Sunoco Go Rewards 200 at Watkins Glen International, Sammy Smith earned a career best finish in the NASCAR Xfinity Series.
Final Restart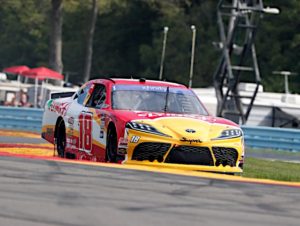 The Joe Gibbs Racing driver lined up fifth for the final five lap run to the finish in the No. 18 Pilot Flying J Toyota Supra TRD. Smith settled in behind his teammate, Ty Gibbs, as well as NASCAR Cup Series drivers William Byron and Kyle Larson. Contact between Gibbs and Byron sent the duo spinning in the bus stop. That left the battle for the lead, and the race win, between Larson, A.J. Allmendinger, and Smith.
"I felt like it was a good opportunity and I felt like I did a good job pushing Ty (Gibbs)," admitted Smith. "Then I'm not sure what happened between him and (William) Byron, but they got pushed wide and then I got pushed wide. I got put three wide in the esses and killed my momentum. Was in a bad spot going into the bus stop but did a good job coming out of there and it was a good day."
Battle for the Lead
The trio quickly opened up a gap to fourth place Kaz Grala. Though Smith's Toyota was the faster of the three leaders, he struggled to find a way by Allmendinger. At the same time, the Xfinity Series points leader was looking for a way by the defending Cup Series champion. As the laps clicked off, Smith continued to run in third. When the checkered flag eventually waved, the 18-year-old crossed the line in third.
"I learned a lot," explained Smith. "It was a good day overall. We had a good day as a team, and I was able to capitalize. The last few races I didn't feel like I was able to capitalize, and I feel like I did a better job today."
First Career Stage Win
With a little bit of strategy, Smith also won the first Stage of the race. A late caution in Stage 1 allowed the Johnston, IA native to stay out. Restarting third, Smith worked his way by Grala and race leader Allmendinger for the top spot. He cruised comfortably to his first career Stage win. However, that same strategy kept Smith outside the top-10 in the second Stage.
The third-place finish was the first top-five in Smith's Xfinity Series career. It was also his first top-10 finish. The 2021 ARCA Menards Series East champion's previous best finish in Xfinity competition was 12th at Michigan International Speedway.
Next Race
Smith's next race, as he explained post-race, is the Wawa 250 Powered by Coca-Cola at Daytona International Speedway next weekend. It will be his first career superspeedway race. Smith was ineligible for previous superspeedway races in both the Xfinity and ARCA Menards Series competition earlier this year as he was not yet old enough to compete. He turned 18-years-old on June 4.
"Looking forward to Daytona next week," stated Smith.
The Wawa 250 Powered by Coca-Cola at Daytona International Speedway is on Friday, August 26, at 7:30 p.m. ET. The race will be broadcasted on USA Network, the Motor Racing Network, and SiriusXM NASCAR Radio Channel 90.
Featured Photo Credit: Photo by Tim Parks / Harold Hinson Photography.