By Briar Starr, NHRA Staff Writer
In continuation of the Kickin' The Tires Question and Answers series, this week Kickin' The Tires catches up with four-time NHRA Top Fuel winner Justin Ashley. During this interview, Ashley discusses what Wally means the most to him in his collection, winning against Steve Torrence in the Countdown last year, his "Welcome to NHRA moment", and memories of his first Top Fuel qualifying run at Charlotte in 2019 among many other topics.
Kickin' The Tires:
You've run 46 races over your Top Fuel career since 2019 and scored four career victories since that time. During your three-year career, which do you feel was your best season and why?
Justin Ashley:
"I think that so far, this season is the best season I'm in," Ashley said. "Even though we're only 12 races into 2022, I think having two wins and four final rounds and the team I'm working with, the best overall experience and I'm really enjoying the team I work with. Mike Green and Tommy DeLago (Ashley's crew chiefs) and I always enjoy working with Dustin Davis. They're all really great to work with, but they're also all great off the track as well.
"So, I think this season (2022) so far has been really special and means a lot to me."
Kickin' The Tires:
You made the Countdown for the first time in your career last year in 2021. Scored one victory at Dallas against Steve Torrence and had a 13-6 record in the Countdown. How much did that victory mean to you during the playoffs, especially coming against Steve?
Justin Ashley:
"That victory meant so much to me," he said. "At that point in time, I had never won a race on a Sunday. The only race I won was a rain-delayed event in Indianapolis on a Saturday night. So, that was the first time I had an opportunity to go four full rounds on Sunday and leave with the victory. For me, the victory cemented my place in Top Fuel personally, like okay, I'm finally here now.
"I can race a guy like Steve Torrence, who to be honest with you, beat us even to eight times before I was able to beat him. That victory meant so much to our team. Steve (Torrence) is a tough competitor. We had to go through an absolute gauntlet on Sunday in Dallas. We had to race Billy Torrence, Brittany Force, and eventually Steve. Tough conditions, so that was a well-earned and deserved victory for our team."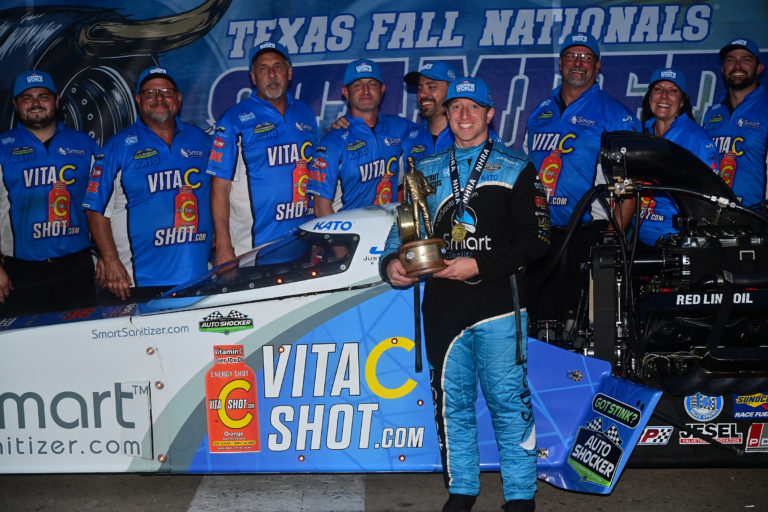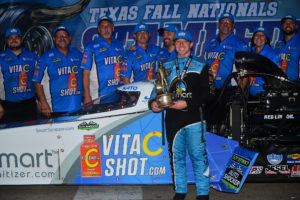 Kickin' The Tires:
At one moment during a driver's career, they usually experience an explosion in the car whether it's the body flying off or the motor blowing up, etc. What would you say is the most violent or wildest crash you've experienced?
Justin Ashley:
"I've been fortunate so far by the blessing of God to not have any close calls or incidents," Ashley said. "I've had a few times where you know, the car got a little sideways when I tried peddling it or the top end getting a little squirrely. Every time I go down the racetrack, I learn something new. I'm still continuing to learn, each and every run.
"When something like that happens, it's been drilled into my head that sometimes you have to live to go race another day. You have to make the smart decision, which sometimes isn't an easy decision but it's the best decision."
Kickin' The Tires:
Most drivers have their "Welcome to NHRA moment." For you, when did you have that moment and how did you take that learning lesson moving forward?
Justin Ashley:
"I would say that learning moment happened in Indianapolis in my rookie year in 2020 at the U.S. Nationals," he said. "It was the semi-finals against Shawn Langdon and the match was an absolute peddle fest. I lost the peddle fest and I lost the race, but the reason why I choose that moment is that both cars went out there, started smoking the tires right away and I tried peddling it but just couldn't do it as well as Shawn did.
"I realized at that moment, that I have to let the car settle down before I peddle it moving forward. That was my welcoming moment. I'm like okay, these guys and girls are the best at what they do and know how to do those things. There's no margin of error in races like that."
Kickin' The Tires:
I want to talk about your first ever NHRA race that came in Charlotte in 2019. Your first Top Fuel pass came in the first round of qualifying where you ran 3.831 and 319.67 mph, which was good enough to put you seventh on the board after the first round. I know you had an Alcohol dragster experience beforehand, but what was it like getting to make your first pass down the track?
Justin Ashley:
"There was nothing like it, being able to make a pass was special," Ashley said. "To be able to go out there first run and run a 3.80 right off the bat really was something special. My father was there at the starting line and we worked hard to get to that point. That run was validating due to all the hard work we got up to that point.
"Starting with junior dragster, bracket racing and then to Alcohol dragsters, and have the opportunity to work with Dustin Davis (Ashley's Team Owner) that right there was like wow, I made it to the big leagues. It'll be something I always remember."
Kickin' The Tires:
On Sunday, you had your first-round win coming against Mike Salinas. How much did that first round mean to you on your very first start that day?
Justin Ashley:
"Yeah, winning my first round meant a lot to me," the four-time winner said. "Mike is a great competitor and is someone I've gotten to know really well over the years. To be able to go up against him when he was in a battle for the championship was really special. Your first-round win is always special too.
"Collecting a round win in your first start isn't always an easy thing to do, but our team was able to get it done that Sunday."
Kickin' The Tires:
Your first Top Fuel victory came during COVID at the second Indy race against T.J. Zizzo. How crazy was that victory for you, especially during those crazy times?
Justin Ashley:
"We had to wait over 40 days to be able to complete that race due to rain and that race was run on a Saturday night at the U.S. Nationals," Ashley said. "The victory meant a lot to me, that was a long wait. To wait 40 days to run the final round in NHRA's top category. It was certainly worth the wait. That feeling to be able to hold the Wally after all the hard work and to be able to bring the Wally back to the pit area was special."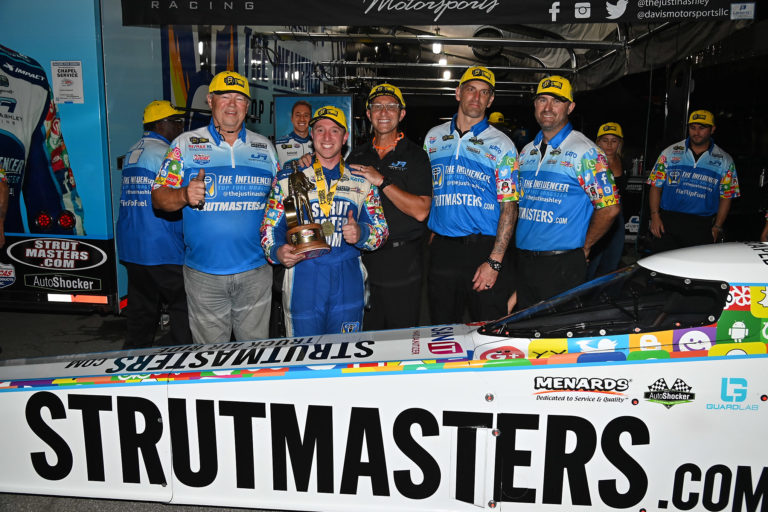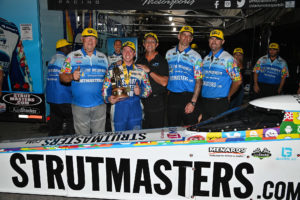 Kickin' The Tires:
If your driving career was over tomorrow, but you had the option to stay in the sport whether it's as a crew chief, engineer, specialist, in marketing, etc., what would your other career choice be if you stuck around in motorsports, but were not racing in Top Fuel?
Justin Ashley:
"I'd love to be a Team Owner," he said. "If I stopped driving, I would like the opportunity to continue in the sport as a Team Owner and be around the sport. I want to be involved in the business side and ownership side of things. Right now, I'm heavily involved in both of those categories with my team, which in my opinion, is 90% of the whole deal and the other 10% is racing.
"I really enjoy that part of it. If that were to ever happen, I would like to be on the ownership and focus solely on working with marketing partners and growing the program in a well-established business."
Kickin' The Tires::
Sometimes people get mistaken for other people and that especially happens in racing a lot. Have you ever been mistaken for someone vi while at the drag strip and if so, who?
Justin Ashley:
"Believe it or not and I don't know where this comes from, but I get mistaken for Cameron Ferre (current Top Fuel driver)," Ashley said. "People mix me up with Cameron, not really sure why. He's a bit taller than me. Really good due by the way. That happened a lot in my first year though, as people are getting a better understanding of what our team brings to the table."
Kickin' The Tires:
If you could relive a moment in your career, what moment are you choosing to relive?
Justin Ashley:
"The victory just a few weeks ago in Bristol," he said. "That was a special victory on Father's Day. I grew up going to multiple races at Bristol Dragway. I have a lot of friends in that area and my father was in attendance.
"Just the job that our team did that weekend. We only qualified 14th and we didn't make the full pull on Friday and Saturday. We went all four rounds on Sunday. We were super consistent. That was a true team victory and a prestigious race on Father's Day."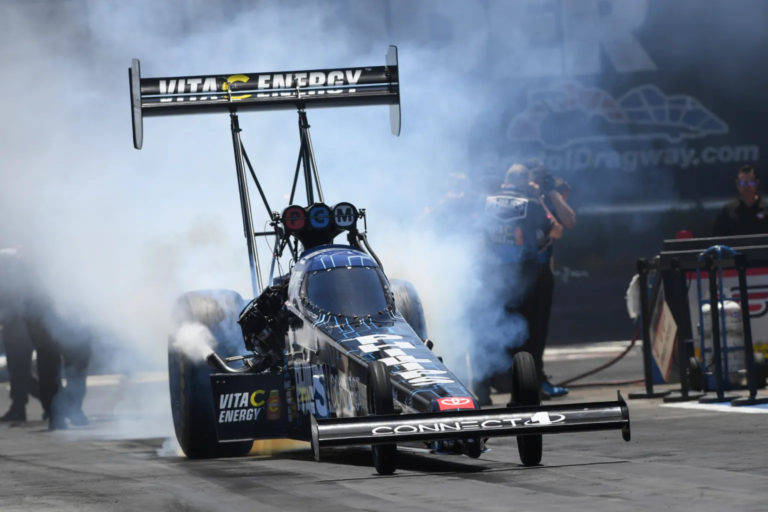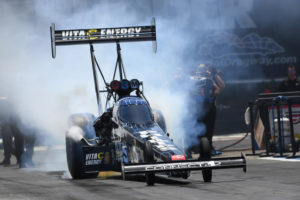 Kickin' The Tires:
Favorite Wally out of your collection that means the most to you?
Justin Ashley:
"The Wally that means the most to me is Pomona from earlier this year," Ashley said. "That was the first race with our new marketing partner, Phillips Connect.
"There were so many people from Phillips Connect because Pomona is a home race for them. The moment we unloaded the car, we were consistent every time down the track. To start the season like that, the first race of the year, new program, everyone did an amazing job."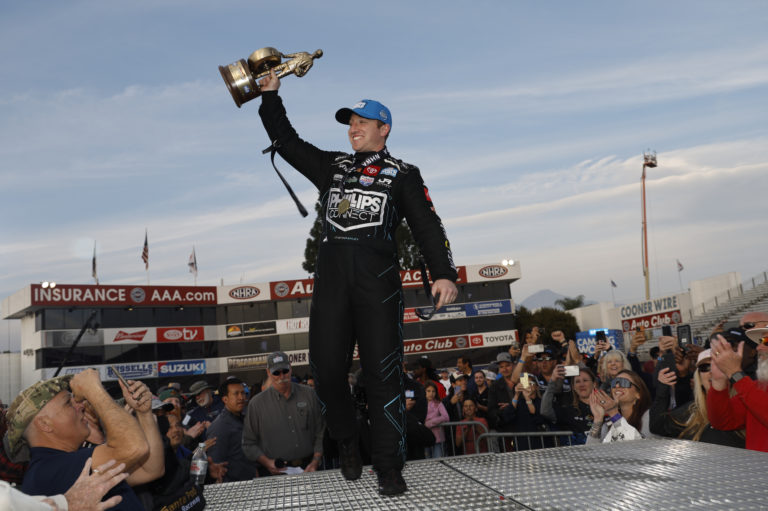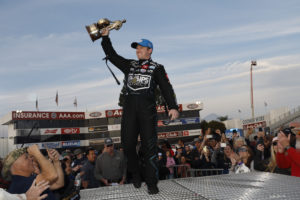 Kickin' The Tires:
Best race car that you had in your career but weren't able to win with it?
Justin Ashley:
"I'd have to go when I was racing in Alcohol dragster in 2017 with Randy Meyer Racing," Ashley said. "I won the first ever race I competed in at Gainesville, Florida. The following race was Charlotte and we made it to the finals. I had a really good opportunity to win my first two races back-to-back and it's not supposed to be this easy, and I knew that.
"I lost in the finals, but we had a great consistent racecar. That race will always stand out to me in 2017 because I thought we had a chance to win those races, but just missed it by a couple of feet."
Kickin' The Tires:
Let's say someone is going to play you in a racing movie. What would the title of the movie be and who is going to play Justin Ashley?
Justin Ashley:
"Keep Moving Forward," he said. "The person who would play me is Owen Wilson. Owen is a guy that I've gotten a lot of celebrity look-a-like. I think a guy like Owen Wilson would be able to play my role well because he's funny and he can show how much I enjoy and appreciate the sport. However, at the same time, show how hard I've worked to be in this position.
Throughout Ashley's career, the Plainview, New York native has competed in 46 Top Fuel races, scored four career victories and four runner-up finishes, 11 career final round appearances, and a career-best speed of 334.48 mph, and 10 semi-final round appearances, and one No. 1 qualifier. For the 2022 season, Ashley has a win-loss record of 22-11 and an overall career record of 60-42.
---
Fans of Justin Ashley can follow him on Twitter , Facebook, and Instagram.
For more NHRA coverage and content, visit https://kickinthetires.net