By Jerry Jordan, Editor
Each week, I try to copy the early lines from our friends over at the WynnBET Sportsbook to track how drivers' odds change from the early lines to the race-day lines and usually the changes are minimal; however, heading into the Bristol Motor Speedway Dirt Race, that isn't the case.
Martin Truex Jr., for example, jumped up to 24 to 1 (+2400) from 14 to 1 (1400) odds between Wednesday and Sunday and Tyler Reddick dropped from 14 to 1 (+1400) to 8.5 to 1 (+850). Those are two noticeable changes whereas Christopher Bell dropping from 8.5 to 1 (+850) to 7 to 1 (+750) isn't such a big deal. Truex is starting in 30th after a lackluster qualifying heat where he finished next to last. It was the same qualifying heat that Reddick went on to win, Cole Custer finished second, Todd Gilliland finished fifth and Ross Chastain finished last.
Apparently, those finishes moved the needle a lot for the oddsmakers. Custer's odds went from 150 to 1 (+15000) to 32 to 1 (+3200); Gilliland went from 250 to 1 (+25000) to 45 to 1 (+4500). Those are some huge swings but what I don't get is that Ross Chastain finished dead last in the same heat and his odds only shifted from 33 to 1 (+3300) to 35 to 1 (+3500).
I am not sure what I am missing but it isn't really changing my play much this week. My argument is that just because a driver did well in a heat race it shouldn't move his line by such a massive amount. But I am not a WynnBET Sportsbook oddsmaker, so I will take the gifts they give us and you'll see why in just a few paragraphs.
After a disappointing ending to last week's race at Martinsville, where I thought Blaney was in position to make a run as the leaders battled just ahead of him, it's time to regroup and post up for this week's action. Make no mistake, I am still jazzed about that Denny Hamlin win at Richmond Raceway and that bonus bet payoff brought me close to even for the season.
As the green flag gets ready to wave on this rare Easter Sunday NASCAR Cup Series race, I am going with Bell as my favorite to win. Even though his odds shifted, making him a little less desirable from a money perspective, he was in Buddy Kofoid's ear all night during the truck races giving him guidance on how the track was changing and where the rookie driver needed to run. His assistance helped Kofoid work his way through the field, where he held third for most of the night before getting wrecked late in the race.
Bell is a natural on dirt and his past wins at the Chili Bowl, the Tulsa Shootout and at his first NASCAR Camping World Truck Series race at Eldora Speedway are why he gets my pick this week.
But there is one more driver that shouldn't be overlooked. Kyle Busch has been racing on dirt with his son Brexton this year, so he definitely has a "feel" for it. His odds are 13 to 1 (+1300) and he is always a threat on any track.
As for a mid-tier or value pick this week, it's a little more difficult because of the shifting odds but I am sticking with Chastain. His 35 to 1 odds actually make it a little better if he muscles his way to victory lane, since a $5 bet with now pay $175 instead of $165 plus your original bet amount.
Chastain has been hot this year and after the win at Circuit of the Americas a few weeks ago, he hasn't let up. He's already qualified from the NASCAR Playoffs so any win he gets just adds bonus points to his numbers. Plus, when I asked Chastain about how he prepares for the dirt races he said he builds a makeshift dirt track in the watermelon field and races around it to get the feel of how the dirt/mud affects handling. I forgot to ask what he was actually driving to accomplish this but I don't think his tractor goes fast enough to have the wheelspin he needs slide around the corners. LOL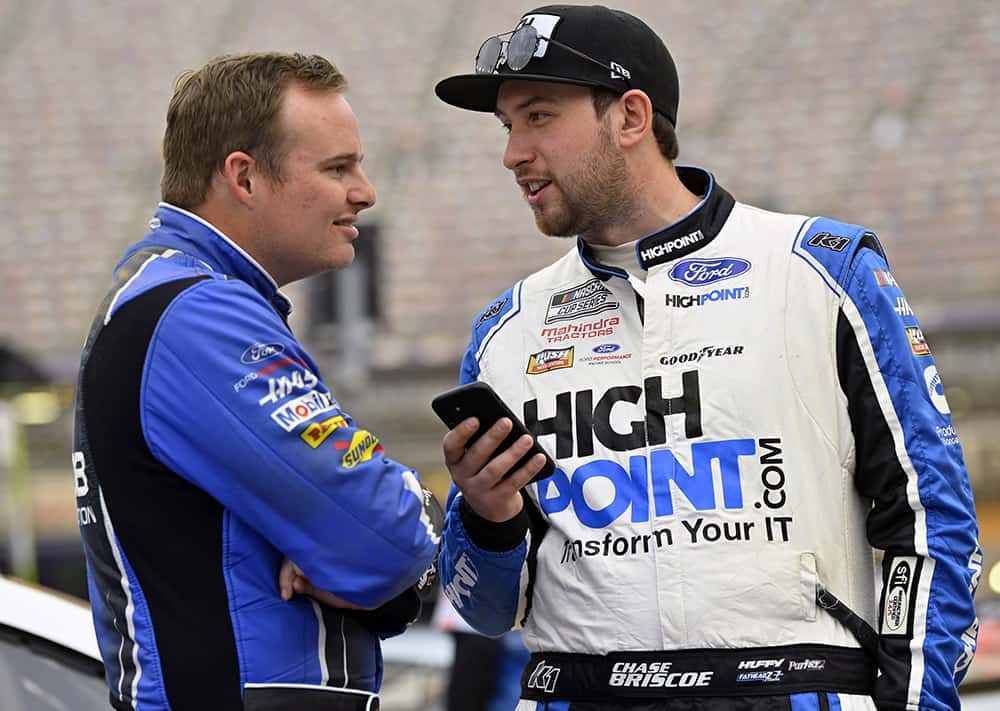 That leaves me with my longshot pick of the week. If this bet pays off, it's going to be a great post-race celebration at the payout window. Because this weekend was Easter, I wasn't sure what my plans would be for family, etc. and I didn't want to miss getting my bets in. In order to bet, I have to drive about 40 miles to Louisiana to get the apps to work, so I went early this week. I didn't know Custer would move up the board from 150 to 1 to 32 to 1 but that is my pick. Trust me, it may look like a smart play after the qualifying heat left him starting tonight's race from the pole but I just got lucky. He may not win the race but having the even longer odds will make for a nice payout. For the record, I probably wouldn't have picked him this week if his odds were at 32 to 1 when I activated my app.
Remember, my suggestions are based on what I see at the track and from past performances by drivers. It's called gambling for a reason and there is no guarantee the drivers I pick will end up in victory lane. If you can't afford to bet, then don't. And if you aren't 21 years of age, you cannot legally gamble, so don't even think about it. Should you have a problem with sports betting or other forms of gaming, you can get help at 1-800-GAMBLER.
| | | |
| --- | --- | --- |
| WynnBET Sportsbook | Early Odds | Race-Day Odds |
| Bristol Dirt Race | | |
| Kyle Larson | 5.5 to 1 or +550 | 3.5 to 1 or +350 |
| Christopher Bell | 8.5 to 1 or +850 | 7 to 1 or +700 |
| Joey Logano | 9 to 1 or +900 | 12 to 1 or +1200 |
| Chase Elliott | 11 to 1 or +1100 | 15 to 1 or +1500 |
| William Byron | 12 to 1 or +1200 | 17 to 1 or +1700 |
| Chase Briscoe | 14 to 1 or +1400 | 12 to 1 or +1200 |
| Martin Truex Jr | 14 to 1 or +1400 | 24 to 1 or +2400 |
| Tyler Reddick | 14 to 1 or +1400 | 8.5 to 1 or +850 |
| Alex Bowman | 15 to 1 or +1500 | 17 to 1 or +1700 |
| Denny Hamlin | 16 to 1 or +1600 | 17 to 1 or +1700 |
| Kyle Busch | 16 to 1 or +1600 | 13 to 1 or +1300 |
| Daniel Suarez | 21 to 1 or +2100 | 26 to 1 or +2600 |
| Ryan Blaney | N/A | 24 to 1 or +2400 |
| Ricky Stenhouse Jr | 25 to 1 or +2500 | 20 to 1 or +2000 |
| Bubba Wallace | 33 to 1 or +3300 | 50 to 1 or +5000 |
| Kevin Harvick | 33 to 1 or +3300 | 50 to 1 or +5000 |
| Ross Chastain | 33 to 1 or +3300 | 35 to 1 or +3500 |
| Austin Cindric | 40 to 1 or +4000 | 40 to 1 or +4000 |
| Austin Dillon | 40 to 1 or +4000 | 40 to 1 or +4000 |
| Brad Keselowski | 40 to 1 or +4000 | 35 to 1 or +3500 |
| Erik Jones | 45 to 1 or +4500 | 47.5 to 1 or +4750 |
| Kurt Busch | 50 to 1 or +5000 | 50 to 1 or +5000 |
| Aric Almirola | 55 to 1 or +5500 | 50 to 1 or +5000 |
| Chris Buescher | 66 to 1 or +6600 | 60 to 1 or +6000 |
| Michael McDowell | 80 to 1 or +8000 | 60 to 1 or +6000 |
| Ty Dillon | 100 to 1 or +10000 | 60 to 1 or +6000 |
| Cole Custer | 150 to 1 or +15000 | 32 to 1 or +3200 |
| Harrison Burton | 250 to 1 or +25000 | 200 to 1 or +20000 |
| Justin Haley | 250 to 1 or +25000 | 40 to 1 or +4000 |
| Todd Gilliland | 250 to 1 or +25000 | 45 to 1 or +4500 |
| Corey Lajoie | 500 to 1 or +50000 | 500 to 1 or +50000 |
| Noah Gragson | 500 to 1 or +50000 | 250 to 1 or +25000 |
| Cody Ware | 1000 to 1 or +100000 | 1000 to 1 or +100000 |
| JJ Yeley | 1000 to 1 or +100000 | 1000 to 1 or +100000 |
| Josh Williams | 1000 to 1 or +100000 | 1000 to 1 or +100000 |